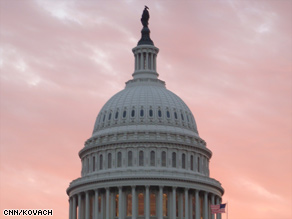 The CNN Washington Bureau's morning speed read of the top stories making news from around the country and the world.
WASHINGTON/POLITICAL
For the latest political news: www.CNNPolitics.com
CNN: Not rational to give up on offshore drilling, Vitter says
A Republican senator from the state so far the hardest hit by the Gulf oil spill said Sunday that the environmental catastrophe was not a reason to put a stop to all domestic offshore oil drilling. "By the same token, after every plane crash, you and I should both oppose plane travel," Sen. David Vitter, R-Louisiana, told CNN Chief Political Correspondent Candy Crowley on CNN's State of the Union. "I don't think that is rational." Vitter added that it was necessary to determine what went wrong in the sequence of events that led up to the explosion of the Deepwater Horizon oil rig on April 20 which caused the largest oil spill in U.S. history.
CNN: White House admits effort to keep Sestak out of Senate race
White House Chief of Staff Rahm Emanuel used former President Bill Clinton as an intermediary last year as part of a failed administration effort to dissuade Pennsylvania Rep. Joe Sestak from running for the U.S. Senate, according to a publicly released memorandum from the White House legal counsel's office. Top White House lawyer Robert Bauer conceded that "options for Executive Branch service were raised" for Sestak, but insisted that administration officials did not act improperly. He characterized the attempt to influence Pennsylvania's Democratic Senate primary - ultimately won by Sestak - as no different from political maneuvers by past administrations from both political parties. Key Republicans disagreed with Bauer's assessment. Several House GOP members sent a letter to the FBI Friday asking for an investigation.
Wall Street Journal: Primary Fight Alters Dynamic in Race vs. Reid
Republican Sue Lowden was expected to pose a stiff challenge to Majority Leader Harry Reid of Nevada this fall, in one of the nation's most closely watched Senate races. But Mr. Reid, facing a tide of unpopularity in his home state, began pounding Ms. Lowden in the past few months. Democratic Party volunteers have suited up in chicken costumes at her public events to draw attention to what became known as the "chickens for check-ups" gaffe, after Ms. Lowden suggested that people should barter for health care. The negative campaigning, along with a series of other missteps from the Lowden campaign, may have contributed to an erosion of support for a candidate the Republican establishment once had seen as its best hope for toppling Mr. Reid.
CNN: 'They should not have done this,' Dem says of DADT fast track
A leading Democratic voice on military affairs has criticized members of his own party for the hurried way in which congressional Democrats and the White House are pushing through the repeal of the military's "Don't Ask, Don't Tell" policy. President Obama, Defense Secretary Robert Gates and Adm. Mike Mullen, Chairman of the Joint Chiefs of Staff, have all stated their belief that the policy should be changed. In an effort to lay the groundwork to do away with "Don't Ask, Don't Tell," Gates and Mullen have commissioned a thorough survey of U.S. service members in order to ascertain how the force structure feels as a whole about having openly gay and lesbian members serving within their midst.
The Hill: Iowa Dems say Wall Street, mood against incumbents will help topple Grassley
Iowa Democrats are cautiously optimistic that simmering anger over the Wall Street financial bailout and voters' anti-incumbent mood will help them defeat Sen. Chuck Grassley (R-Iowa). "What I hear most is how angry people are about the Wall Street bailout," Democratic Senate candidate Roxanne Conlin told The Hill. "They clearly see the connection between the fact that they, their family, their friends are unemployed and Wall Street. They know what happened here, Wall Street drove the economy off a cliff." Conlin is one of three Democratic candidates vying to challenge Grassley in November. She's expected to win the June 8 primary.
CNN: Bill Clinton praises Lincoln, claims unions trying to manipulate voters to 'terrify' Dems
An impassioned Bill Clinton campaigned for Sen. Blanche Lincoln's re-election on Friday, telling voters the Democrat "has worked her heart out" on behalf of Arkansas in the Senate. And, using very harsh words, Clinton accused national labor unions campaigning for Lincoln's opponent, Lt. Gov. Bill Halter, of trying to manipulate Arkansas voters to "terrify" other Democrats in Congress into cowering to union demands.
Washington Post: Sharp swings mark Republican governor's race in California
At a time when California's economy ranks among the worst in the nation, there is still at least one bull market in the state. The battle for the Republican gubernatorial nomination is recession-proof. Front-runner Meg Whitman, the billionaire former chief executive of eBay, and state insurance commissioner Steve Poizner, a former Silicon Valley entrepreneur, have filled the state's television screens and mailboxes with a series of attacks over immigration and challenges to the other's conservative credentials. The volley of charges and countercharges between Whitman and Poizner has produced a roller-coaster effect in the
Politico: Ed Case drops out of Hawaii race
Former Rep. Ed Case (D-Hawaii), who recently finished third in a House special election, says he will not run in November against newly-minted GOP Rep. Charles Djou. In an e-mail to supporters Sunday afternoon titled, "Heart Says Yes, Head Says No," Case announced that, "today I'm withdrawing my candidacy for the U. S. House of Representatives from Hawaii's great First District for the upcoming 112th Congress." The announcement came one week after Case and state Senate President Colleen Hanabusa split the Democratic vote in the May 22 special election for the Honolulu-based seat former Democratic Rep. Neil Abercrombie vacated to run for governor. Case finished in third place, an unexpected outcome for the former Democratic congressman.
New York Times: G.O.P. Finds a Nomination Unpredictable
The Steve Levy experiment is looking more imperiled by the minute. As the New York Republican Party prepares to gather in Manhattan this week to designate its candidate for governor, the final outcome is more unpredictable than ever. And Mr. Levy's path to the nomination is cluttered with obstacles. A fourth Republican candidate for governor emerged last week, further unsettling a contest that has been driven by intraparty feuding. Since March, when Edward F. Cox, the state Republican chairman, recruited him away from the Democratic Party, Mr. Levy has struggled to build support. And some of the backing he had been able to gain has started draining away.
Washington Post: Illinois Senate candidate admits claim about military award was inaccurate
The Republican candidate for President Obama's old Senate seat has admitted to inaccurately claiming he received the U.S. Navy's Intelligence Officer of the Year award for his service during NATO's conflict with Serbia in the late 1990s. Rep. Mark Kirk, a Navy reservist who was elected to Congress in 2001, acknowledged the error in his official biography after The Washington Post began looking into whether he had received the prestigious award, which is given by top Navy officials to a single individual annually. The Post's inquiries were sparked by complaints from a representative of state Treasurer Alexi Giannoulias, Kirk's Democratic opponent in the Illinois Senate race.
Salt Lake Tribune: Anti-Bennett ad may have hurt Lee, poll shows
A new post-convention survey shows Republican delegates were highly offended by an inflammatory flier that used an image of an LDS temple and popular Mormon phrases to disparage Sen. Bob Bennett. GOP delegates saw the use of the religious symbols as inappropriate and the direct-mail piece - purporting to support Senate candidate Mike Lee - may have been among the factors that cost Lee his front-runner status at the Utah Republican Convention earlier this month, according to a survey by Brigham Young University's Center for the Study of Elections and Democracy.
Washington Post: Tea party could add to Republicans' numbers in Congress but shake up their unity
News flash (not): All over the country, tea-party-backed candidates are winning. What we know: If any or all of the tea party candidates are elected this fall, they will join a broadened group of Republican senators. Currently holding 41 seats, the GOP is well positioned to win seats being vacated by Democrats in North Dakota, Delaware, Illinois and Indiana. Most neutral observers expect the GOP to gain at least four seats in November; eight seats is generally regarded as the ceiling. Those likely gains would seem to be good news for the Senate minority leader, Mitch McConnell (Ky.). But the prospects of Paul, Angle and other "true believers" in the Senate will almost certainly make it more difficult for McConnell to assert the rigid voting discipline that GOP strategists credit with bringing Republicans back from the brink of political extinction over the past 18 months.
CNN: Thousands descend on Phoenix to protest immigration law
Protesters from several states swarmed the streets of Phoenix on Saturday to rally against Arizona's controversial immigration law. Sarahi Uribe, one of the organizers for the National Day of Action, estimated 50,000 people were expected to turn out for a five-mile march to the state Capitol.
CNN: Paul: No citizenship for children of undocumented immigrants
Republican Senate candidate Rand Paul is once again making waves, this time for saying he opposes citizenship for U.S. born children of undocumented immigrants. In an interview posted Wednesday on RT.com, a Russian television station that broadcasts in English, Paul said he favors modifying current law.
Arizona Republic: Arizona immigration law was crafted by rising star activist
Arizona lawmakers rarely write the laws they pass. Sometimes the state's legislative attorneys pen them; sometimes lawmakers just copy language from other states; and sometimes advocacy groups or outside experts write the bills. The latter was the case with Arizona's new immigration law. While the vision belonged to Sen. Russell Pearce, many of the words were crafted by Kansas attorney Kris Kobach, an authority on immigration enforcement with a growing national reputation. Kobach, who has an Ivy League education and ties to a controversial Washington, D.C.-based anti-immigration group, has been writing and defending city and state immigration laws since 2001. But it's his efforts – and successes – in Arizona that have cemented his reputation as an immigration expert. Arizona has become his test case to prove that ratcheting up laws that crack down on illegal immigration will motivate illegal immigrants to leave on their own.
NATIONAL
For the latest national news: www.CNN.com
CNN: Poll: Fear of terrorist attack in U.S. rises
For the first time in nearly four years, a majority of Americans think that a terrorist attack is likely to occur somewhere in the United States in the next few weeks, according to a new national poll. But a CNN/Opinion Research Corporation survey released Friday morning indicates only one in 20 Americans think that terrorism is the most important problem facing the country today.
CNN: Poll: Instability in Iraq could diminish support for troop withdrawal
Support for President Barack Obama's planned removal of U.S. troops from Iraq by the end of the August could drop significantly if Iraq cannot solve its current problems in time, according to a new national poll. A CNN/Opinion Research Corporation survey released Saturday indicates that 64 percent of Americans favor the president's plan to keep just 50,000 U.S. troops in Iraq by the end of the summer, with 35 percent opposed.
CNN: BP chief to Gulf residents: 'I'm sorry'
BP's CEO said Sunday he's sorry for the largest oil spill in U.S. history and the "massive disruption" it has caused the Gulf Coast, telling reporters the company hopes to corral most of the crude offshore. "The first thing to say is I'm sorry," Tony Hayward said when asked what he would tell people in Louisiana, where heavy oil has already reached parts of the state's southeastern marshes.
INTERNATIONAL
For the latest international news: http://edition.cnn.com
CNN: Top Colombian presidential candidates head for runoff election
The two leading candidates in Colombia's presidential race will compete in a runoff June 20, since neither garnered more than 50 percent of the vote in Sunday's election. With 99 percent of polling stations reporting, Colombia's National Civil Registry said Defense Minister Juan Manuel Santos had 46.6 percent of votes while former Bogota Mayor Antanas Mockus received 21.5 percent of votes. Polls had placed the two in a statistical dead heat going into Sunday's election, but more than twice as many voters cast their ballots for Santos - who has led high-profile operations against leftist guerrillas during his tenure.
CNN: Israeli military boards ship in Gaza flotilla
More than 10 people onboard a flotilla carrying aid for the Palestinian territory of Gaza were killed when security forces boarded the boats Monday, the Israeli military said. Four soldiers were wounded, the military added. Soldiers boarded six ships, the military said, after the flotilla refused to heed warnings to dock at Israel's Ashdod port, where supplies would be unloaded and transferred to Gaza.
CNN: At least 6 Afghan police killed in two separate incidents
Six Afghan policemen were killed and two others were wounded Sunday in a roadside mine explosion, according to the governor of Afghanistan's Badakhsan province. Separately, the Taliban claimed responsibility for a suicide bombing, saying the attack killed nine policemen and wounded 23 others. Local officials could not immediately confirm the casualties. Taliban spokesman Zadiullah Mujahid said the suicide attack happened in Karway Saray, Khost province.
CNN: Thai prime minister says state of emergency may be lifted
Thai Prime Minister Abhisit Vejjajiva said the country was calm Sunday morning after the first night without a government-imposed curfew in 10 days, state media said. In his weekly television address, Abhisit said the state of emergency could be lifted, but did not say when a relaxation or removal of emergency regulations would take place, the Thai News Agency reported.
BBC News: Second firm withdraws drugs from Greece over cuts
Another Danish pharmaceutical company is withdrawing products from Greece in protest at the government's decision to cut the prices of medicines by 25%. The Leo Pharma company says it is suspending sales of two popular drugs because the price reductions will cause job losses across Europe.
CNN: Chinese premier says leaders on Korean peninsula must push for peace
Chinese Premier Wen Jiabao said Sunday that Northeast Asia - which includes the Korean Peninsula - must push for peace and avoid violent clashes in the aftermath of the sinking of a South Korean warship, state news reported. His comments to reporters came after two days of meetings with South Korean President Lee Myung-bak and Japanese Prime Minister Yukio Hatoyama on the South Korean island of Jeju. Lee has said that his government planned to bring the issue before the U.N. Security Council. But any attempts to seek penalties against North Korea there would need the cooperation of China - which has veto power on the council. North Korea has denied the South Korean report's claims. And China, long North Korea's main international supporter, has steered clear of publicly taking sides on the issue.
BBC News: Web-obsessed South Korea father jailed for baby neglect
A South Korean man whose baby daughter starved to death while he spent much of his time playing a fantasy game online has been jailed for two years. The 41-year-old's wife was also sentenced to two years in jail, but her sentence was suspended. The judge said he had shown the woman leniency because she was pregnant with another child.
CNN: Party quits coalition government over Okinawa dispute
Japan's Social Democratic Party is leaving the coalition government over a dispute regarding the relocation of a U.S. base, the party's leader said Sunday. Party leader Mizuho Fukushima announced the party's decision at a news conference Sunday. Fukishima, formerly the Minister of Consumers, was let go from Prime Minister Yukio Hatoyama's Cabinet on Friday because she and her party failed to support the government's decision not to move the U.S. Futenma Air Base from Okinawa Island.
BBC News: Bangladesh drops leader Sheikh Hasina corruption case
Corruption charges against Bangladeshi Prime Minister Sheikh Hasina have been dropped – the last of 15 cases she faced when she came to office in 2009. Anti-corruption officials had accused her of wasting state money by paying for lobbying in the US during her 1996-2001 administration. But judges ruled that the accusations did not constitute a criminal offence. Sheikh Hasina's supporters say the criminal cases against her were politically motivated.
BUSINESS
For the latest business news: www.CNNMoney.com
CNNMoney: Oil spill damage spreads through Gulf economies
As efforts to plug the ruptured well in the Gulf of Mexico continue to fall short, the stakes for the region's economy grow ever higher. The numbers being batted around when it comes to how much the oil spill will ultimately cost BP and the local Gulf of Mexico economies are huge. $3 billion. $14 billion. One politician put it at over $100 billion. The range is so big because two important questions remain unanswered: When will the leak be sealed, and will most of the oil wash ashore? Until those are answered no one will know the price tag of the damages for sure.
Wall Street Journal: Dow's Worst May Since '40
Between the "Flash Crash" and angst over the worsening crisis in Europe, stocks suffered a dismal May, posting their worst decline for the month since Franklin Roosevelt was in the White House. The month ended with a thud Friday as the Dow Jones Industrial Average fell 122.36 points, or 1.2%, to 10136.63, leaving it in negative territory for the week, the month and the year. For market stalwarts the sharp drop has added further credence to the truism, "sell in May and go away." The Dow fell 871.98 points, or 7.92%, for the month. That was the worst May in percentage terms since 1940, when shares dropped 22%, and the worst May ever measured by points. Crude oil had its worst month since December 2008.
CNNMoney: How much health insurers actually spend on you
Consumers spend thousands of dollars a year on health insurance premiums, and the reform law aims to regulate just how much of that money insurers actually spend on medical costs. Health care reform will require that commercial insurers spend at least 85 cents out of every premium dollar on medical claims for its large-group policyholders. For small-group and individual policies, the figure is 80 cents. To enforce this new health care spending requirement, which the industry refers to as the medical loss ratio, regulators are now trying to determine which costs should be classified as medical and which are administrative.
Washington Post: AIG faces lower offer for Asian unit as negotiations continue
American International Group, the bailed-out insurer, remains in negotiations to salvage the sale of its main Asia unit after Prudential requested a lower price to win shareholders' approval. AIG was forced to reopen negotiations when some of London-based Prudential's biggest shareholders said they may reject the transaction at a June 7 meeting. The U.S. Treasury Department, which helped rescue AIG in 2008, said it hadn't considered alternatives to the original terms as of late Friday. AIG signaled that it has other options for AIA, according to a person briefed on the stance of management.
New York Times: Web Start-Ups Offer Bargains for Users' Data
As concern increases in Washington about the amount of private data online, and as big sites like Facebook draw criticism that they collect consumers' information in a stealthy manner, many Web start-ups are pursuing a more reciprocal approach — saying, in essence: give us your data and get something in return. These early efforts are predicated on a shift in the relationship between consumer and company. Influenced by consumers' willingness to trade data online, the sites are pushing to see how much information people will turn over. New companies including WeShop, Aprizi, Blippy and Dopplr are trying to exploit the data that people seem so willing to give up.
Bloomberg: China Real Estate Bubble Bursts in Bond Market: Credit Markets
Dollar bonds sold by China real estate companies this year are the worst performers among Asian non-financial corporate debt denominated in the U.S. currency amid concern the nation's property market is overheating. Yields on the $3.9 billion of bonds issued by Kaisa Group Holdings Ltd., Country Garden Holdings Co. and seven other developers since January widened by an average 2.26 percentage points relative to Treasuries as of last week, according to data compiled by Bloomberg. That's more than the 2.05 percentage- point increase in spreads for the seven dollar-denominated bonds sold by other companies in Asia outside Japan. Investors are demanding greater yields to lend to China property firms, a sign they expect borrowers will have a harder time meeting debt payments amid a government clampdown down on lending.
Wall Street Journal: Spanish Banks in Merger Mode
In a tumultuous seven days, 12 of Spain's 45 savings banks have begun merger talks and a 13th has been rescued by the central bank. The troubled sector, which had long resisted government pressure to merge, now is bowing to the inevitable, hastened by the Bank of Spain's willingness to take over ailing lenders and by new rules it has proposed that would require all Spanish banks to speed up the recognition of losses from bad loans. The savings banks, or cajas, are bearing the brunt of the collapse of Spain's decade-long housing boom. Their worsening finances come at the same time that international investors are jittery about the government's fast-rising debt. Friday, Fitch Ratings cut the country's triple-A credit rating by a notch after European markets had closed, adding to the pressure on an already weakened euro and likely to push down the Spanish stock market on Monday.
Financial Times: Honda presses staff not to strike
Honda has asked workers at one of its Chinese factories, closed since last week by an unprecedented strike, to pledge that they will refrain from further industrial action. The Japanese company's hard line against union activity emerged even as it struggled to resolve the wage dispute at a transmission factory that has also forced the closure of its three joint-venture car plants in Guangzhou, capital of southern Guangdong province, and Wuhan in central China. The Honda strike coupled with recent suicides at Foxconn , the world's biggest contract maker of electronics and China's largest employer, are increasingly shining a spotlight on the conditions workers face in Chinese factories.
In Case You Missed It
The Obama administration is defending its role in the response to the oil spill disaster. CNN's Dan Lothian reports.
Joint Chiefs Chairman Adm. Mike Mullen says the military has a limited role in the oil spill cleanup effort.
Subscribe to the CNN=Politics DAILY podcast at http://www.cnn.com/politicalpodcast
And now stay posted on the latest from the campaign trail by downloading the CNN=Politics SCREENSAVER at http://www.CNN.com/situationroom