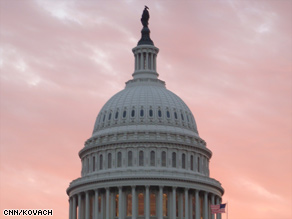 The CNN Washington Bureau's morning speed read of the top stories making news from around the country and the world.
WASHINGTON/POLITICAL
For the latest political news: www.CNNPolitics.com
CNN: Voters could make history in Tuesday's primaries
Three states – Alabama, Mississippi, and New Mexico – hold primaries Tuesday, and in one of those states voters could make history. Rep. Artur Davis faces off against Agriculture Commissioner Ron Sparks in Alabama's Democratic gubernatorial contest. If the four-term congressman wins Tuesday's primary, he would become the state's first African-American Democratic nominee for governor. If Davis is elected in November, he would make history again, becoming Alabama's first black governor.
New York Times: Using Obama Model, Alabaman Runs Coalition Campaign
When Mr. Davis announced his plan to run for governor early last year, the president's popularity was at its peak. Mr. Obama had won the state's primary, and even though he suffered a 20-point defeat in the general election, the enthusiasm surrounding the arrival of the first black president added to the notion that voters in Alabama, too, might be ready for change. Mr. Davis, 42, is among the nation's new guard of black political figures. But since he was elected to Congress in 2002, he has often been at odds with much of the state's black political establishment. He never sought — or earned — their blessing to run for governor. And the civil rights organizations that have long carried influence over many black voters in the state have lined up behind Mr. Davis's opponent, Ron Sparks, the state agriculture commissioner, who is white.
CNN: Obama to meet Tuesday with heads of oil spill commission
President Barack Obama will meet Tuesday at the White House with former Sen. Bob Graham of Florida and former Environmental Protection Agency administrator William Reilly, the co-chairs of a new presidential commission investigating how to prevent another oil spill like the devastating leak in the Gulf of Mexico. White House aides said Obama will make public comments after he meets with Graham and Reilly, new co-chairs of the National Commission on the BP Deepwater Horizon Oil Spill and Offshore Drilling, which Obama created earlier this month by executive order.
CNN: Markey calls for BP to prove claim of no underwater oil plume
Rep. Edward Markey on Monday challenged the assertion by oil giant BP's chief executive that no underwater oil plumes have formed because of the Gulf of Mexico spill. In a letter to BP, Markey, D-Massachusetts, said scientific evidence showed such plumes have formed and he asked for BP CEO Tony Hayward to provide evidence to back up Hayward's claim Sunday that the spilled oil had gone to the surface.
The Hill: Election-year jitters, new Pelosi rules decrease recess trips
Lawmakers say that heightened election-year politics and harsher travel rules are behind the decrease in member CODELs over the Memorial Day recess. Those members who opted to go on congressional delegation trips this week will travel to hotspots and combat zones around the world, according to lawmakers familiar with the count of CODELs. House Homeland Security Committee ranking member Rep. Peter King (R-N.Y.), who hustled to Afghanistan on an intelligence panel fact-finding trip, told The Hill that he heard "through the pipeline" that members didn't want the grief associated with foreign travel on the taxpayer's dime.