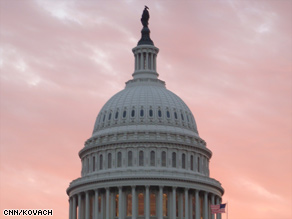 The CNN Washington Bureau's morning speed read of the top stories making news from around the country and the world.
WASHINGTON/POLITICAL
For the latest political news: www.CNNPolitics.com
CNN: Voters could make history in Tuesday's primaries
Three states – Alabama, Mississippi, and New Mexico – hold primaries Tuesday, and in one of those states voters could make history. Rep. Artur Davis faces off against Agriculture Commissioner Ron Sparks in Alabama's Democratic gubernatorial contest. If the four-term congressman wins Tuesday's primary, he would become the state's first African-American Democratic nominee for governor. If Davis is elected in November, he would make history again, becoming Alabama's first black governor.
New York Times: Using Obama Model, Alabaman Runs Coalition Campaign
When Mr. Davis announced his plan to run for governor early last year, the president's popularity was at its peak. Mr. Obama had won the state's primary, and even though he suffered a 20-point defeat in the general election, the enthusiasm surrounding the arrival of the first black president added to the notion that voters in Alabama, too, might be ready for change. Mr. Davis, 42, is among the nation's new guard of black political figures. But since he was elected to Congress in 2002, he has often been at odds with much of the state's black political establishment. He never sought — or earned — their blessing to run for governor. And the civil rights organizations that have long carried influence over many black voters in the state have lined up behind Mr. Davis's opponent, Ron Sparks, the state agriculture commissioner, who is white.
CNN: Obama to meet Tuesday with heads of oil spill commission
President Barack Obama will meet Tuesday at the White House with former Sen. Bob Graham of Florida and former Environmental Protection Agency administrator William Reilly, the co-chairs of a new presidential commission investigating how to prevent another oil spill like the devastating leak in the Gulf of Mexico. White House aides said Obama will make public comments after he meets with Graham and Reilly, new co-chairs of the National Commission on the BP Deepwater Horizon Oil Spill and Offshore Drilling, which Obama created earlier this month by executive order.
CNN: Markey calls for BP to prove claim of no underwater oil plume
Rep. Edward Markey on Monday challenged the assertion by oil giant BP's chief executive that no underwater oil plumes have formed because of the Gulf of Mexico spill. In a letter to BP, Markey, D-Massachusetts, said scientific evidence showed such plumes have formed and he asked for BP CEO Tony Hayward to provide evidence to back up Hayward's claim Sunday that the spilled oil had gone to the surface.
The Hill: Election-year jitters, new Pelosi rules decrease recess trips
Lawmakers say that heightened election-year politics and harsher travel rules are behind the decrease in member CODELs over the Memorial Day recess. Those members who opted to go on congressional delegation trips this week will travel to hotspots and combat zones around the world, according to lawmakers familiar with the count of CODELs. House Homeland Security Committee ranking member Rep. Peter King (R-N.Y.), who hustled to Afghanistan on an intelligence panel fact-finding trip, told The Hill that he heard "through the pipeline" that members didn't want the grief associated with foreign travel on the taxpayer's dime.
Cleveland Plain Dealer: Freshman Democrat John Boccieri is Northeast Ohio's top target for Republicans seeking control of the U.S. House
Rep. John Boccieri likes to compare his current gig in Congress to his old job piloting C-130 cargo planes. Boccieri, a U.S. Air Force Reserves major who has logged flight time in Iraq and Afghanistan, is Northeast Ohio's top target for Republicans who want to take back the House of Representatives. He dodges plenty of hostile fire, even at the U.S. Capitol.
CNN: Arizona Immigration law divides Californians
Half of all Californians support Arizona's controversial new immigration law, but the measure, which is a hot topic in next week's primaries, is dividing Golden State voters by age, ethnicity, and gender, according to a new poll. A USC/Los Angeles Times survey released Monday indicates that 50 percent of California voters favor the Arizona measure, with 43 percent opposed and five percent unsure. Support for the law is higher in most national polls conducted over the past two months.
Wall Street Journal: GOP Drama Nears Climax
Fractious Republicans gather in Manhattan this week to back a candidate for governor after three months of infighting between a Democrat-turned-Republican supported by the party chairman and a former congressman who appears to have the edge with convention delegates. Hanging in the balance is the fate of state GOP Chairman Edward Cox, the son-in-law of President Nixon, and his favorite for governor, Steve Levy, the Suffolk County executive whom Mr. Cox persuaded to switch to Republican from Democrat.
Washington Post: Union fails in move aimed at N.C. Democrats who opposed health bill
A defiant move by one of the nation's most powerful unions to help oust Democrats who voted against the health care bill by establishing a third political party in North Carolina has failed because organizers did not collect enough signatures to qualify for the November midterm elections. The Service Employees International Union and its North Carolina affiliate did not gather the 85,000 signatures by Tuesday's deadline, meaning the third party, North Carolina First, will not be recognized on the general election ballot.
CNN: Kirk admits mischaracterizing military record
The Republican vying for President Barack Obama's former Senate seat admitted he has previously mischaracterized an aspect of his lengthy service in the United States Navy. The admission Sunday came after Kirk's opponent in the divisive Senate race, Democrat Alexi Giannoulias, raised questions with the Washington Post about the Intelligence Officer of the Year Award Kirk claimed to have received during his service in the Kosovo conflict 10 years ago. In a post on his blog Sunday, Kirk said he and his staff discovered last week that they had inadvertently misidentified the award in his official biography and on other occasions.
The Hill: Over break, House Dems asked to sound warnings back home of GOP takeback
House Democrats are being urged this recess to combine their electoral sales pitch on issues like healthcare and jobs with warnings about how a Republican Congress would jeopardize the party's legislative accomplishments. "Plan your public events, communications, and editorial board visits at home to highlight what Republican control of Congress would mean, and your hard work for the middle class on issues," the Memorial Day recess packet prepared for rank-and-file House Democrats reads. "Democrats have a strong story to tell, and we hope you'll highlight this contrast with Republicans back home." Democrats have spent the weeks since passing their signature healthcare law talking up their record on that issue and the economy.
Washington Post: Political ads are tough sell for image-conscious corporations
All over the country, corporate CEOs and trade groups are asking their lawyers the same question: How can we get our companies involved in this political election season without leaving tracks? After a landmark Supreme Court ruling this year freed executives to spend unlimited corporate cash on campaigns, some predicted that businesses would flood television airwaves with pro-industry political ads - but that just hasn't happened yet. Image-sensitive corporations are still trying to make sure that, if they jump into 2010 politicking, they do so as anonymously as possible, according to Republican political operatives and trade group leaders.
NATIONAL
For the latest national news: www.CNN.com
CNN: Lawmaker disputes BP's claims about underwater oil
BP's latest plan to cap the undersea well has been modified to collect more crude and to prepare for a possible hurricane, the company said late Monday night. Also, the federal government ordered another 1,200 square miles of the Gulf of Mexico closed to fishing Monday, extending the restricted zone off Louisiana toward the coasts of Alabama and Mississippi. The latest order from the National Oceanographic and Atmospheric Administration means about 26 percent of the Gulf is closed to fishing, up only slightly from 25 percent last week. But it comes on the eve of the opening of the recreational fishing season for red snapper, a strong draw for sport fishing in the region.
CNN: Who wants to be U.S. intelligence chief?
Now that Dennis Blair has packed his bags after 16 months as the nation's chief intelligence officer, finding a new director to lead the 16 agencies of the intelligence community is turning out to be a tough sell. CIA Director Leon Panetta is a top choice of the Obama administration for the new director of national intelligence, said administration officials, but with three directors coming and going within five years, some, including Panetta, appear wary of the position. Panetta would likely face little opposition on Capitol Hill.
CNN: Alleged Fort Hood shooter to appear in courtroom for first time
Maj. Nidal Hasan, the Army psychiatrist accused of killing 13 people in a shooting spree here last November, will make his first courtroom appearance in connection with the case on Tuesday morning. It is the first part of an Article 32 hearing, the military procedure similar to a civilian grand jury, for the case being built against him by the Army. Hasan, who is wheelchair-bound from gunshot wounds he sustained in the November 5 incident, will arrive under heavy security from a nearby civilian jail where he's being held.


CNN: U.S. on track in Iraq, Casey says
The drawdown of U.S. forces in Iraq remains on track, and the military will meet the troop level benchmark laid out by President Obama, according to the Army Chief of Staff. In an interview with CNN Chief National Correspondent John King, Gen. George Casey said the military is slated to reduce troop levels to 50,000 by the end of August.
INTERNATIONAL
For the latest international news: http://edition.cnn.com
CNN: Israeli raid met with global protests
As world leaders came out Monday against an Israeli raid on a flotilla carrying humanitarian supplies to Gaza, so did protesters in various cities around the world. In New York's Times Square, more than 500 people gathered and then marched through midtown to the Israeli consulate. One of the protest's organizers, Lamis Deek, told CNN that planning for the protest began almost immediately as soon as news of the Israel's storming of the flotilla was broadcast. At least nine pro-Palestinian activists, who were trying to deliver aid to Gaza by circumventing an Israeli blockade, were killed.
CNN: Netanyahu cancels upcoming meeting with Obama
Israeli Prime Minister Benjamin Netanyahu has canceled this week's scheduled meeting with U.S. President Barack Obama, Israeli government officials said Monday. The two leaders were slated to meet Tuesday during a visit by Netanyahu to Washington. Netanyahu also decided to cut short a visit to Canada and return to Israel, according to an e-mail statement from his media adviser.
Jerusalem Post: 480 activists held in Israeli jails
Some 480 passengers from the Gaza-bound flotilla which was raided by Israeli forces were detained on Monday evening and Tuesday morning. During the course of their investigations, authorities will decide which activists will be deported and which will be detained. According to Israel Radio, most of the detainees were slated for deportation. Early Tuesday morning, 48 of the detainees were transferred to Ben Gurion International Airport for deportation to their countries of residence.
CNN: Group: Al Qaeda says No. 3 man has died
Al Qaeda says its No. 3 man and commander of its operations in Afghanistan has died, according to a group that monitors Islamist Web sites. Al Qaeda announced the death of Mustafa Abu Yazid in a message posted on such Web sites on Monday, the Maryland-based SITE Intelligence Group said. While the message didn't detail the circumstances of Yazid's death, it did say his wife, three of his daughters, a granddaughter and others were killed, according to SITE. Yazid, an Egyptian national, is believed to be a financial manager for al Qaeda, as well as a co-founder of the terrorist group, according to SITE.
CNN: German president resigns over criticism of comments about military
German President Horst Koehler resigned suddenly Monday over what he said was heavy criticism about comments he made on Germany's military role in the world, which he said had been misinterpreted. It was the first time in German history that a president has resigned, the government-funded Deutsche Welle news agency reported. Koehler said May 22 upon his return from a trip to Afghanistan that "in emergencies, military intervention is necessary to uphold our interests, like for example free trade routes, for example to prevent regional instabilities which could have a negative impact on our chances in terms of trade, jobs and income." He later said he meant the protection of shipping routes along the Gulf of Aden against piracy, for example, and not any reference to Germany's role in Afghanistan. But his comments came in for widespread criticism.
CNN: South Africa plays down World Cup terror threat
South Africa's police minister has claimed there is currently no terrorist threat to the upcoming World Cup. Nathi Mthethwa sought to refute recent media reports alleging that South Africa is vulnerable to some form of terrorist attack during the June 11 to July 11 tournament. He said South African police have been working closely with intelligence agencies in each of the 31 countries sending teams to South Africa.
New York Times: U.N. Report Says Iran Has Fuel for 2 Nuclear Weapons
In their last report before the United Nations Security Council votes on sanctions against Iran, international nuclear inspectors declared Monday that Iran has now produced a stockpile of nuclear fuel that experts say would be enough, with further enrichment, to make two nuclear weapons. The report, by the International Atomic Energy Agency, a branch of the United Nations, appears likely to bolster the Obama administration's case for a fourth round of economic sanctions against Iran and further diminish its interest in a deal, recently revived by Turkey and Brazil, in which Iran would send a portion of its nuclear stockpile out of the country.
Wall Street Journal: Seoul Weighs Shift in U.S. Military Ties
South Korea is reviewing its defense policy following North Korea's alleged sinking of a South Korean naval vessel, a process that could significantly change Seoul's military alliance with Washington, according to officials engaged in the process. Over the past week, U.S. and South Korean leaders have outlined plans to conduct war games and strategy sessions to better equip the South for combating the type of submarine attack Pyongyang is accused by international investigators to have staged in March, killing 46 South Korean sailors. For the longer term, President Lee Myung-bak's conservative government could seek to alter the alliance's command structure and Seoul's weapons arsenal in ways that would affect the Pentagon's current strategic planning for Northeast Asia, according to these officials.


BBC News: International Criminal Court 'altered behaviour' – UN
The International Criminal Court has forced governments to alter their behaviour in the eight years of its existence, the UN chief has said. Ban Ki-moon told a summit in Uganda discussing the Hague-based court that it had curtailed impunity and had broken new ground on victims' rights. But he called on member countries to step up co-operation.
BBC News: France-Africa summit in Nice seeks business boost
France aims to give a new push to business ties with Africa at a two-day summit opening in the Mediterranean city of Nice. President Nicolas Sarkozy is hosting the Africa-France summit for the first time. Thirty-eight African leaders and 250 business executives will be there. The military junta leaders of two former French colonies – Guinea and Niger – are among those attending. France is vying with China and other emerging powers for markets in Africa.
BUSINESS
For the latest business news: www.CNNMoney.com
CNNMoney: Want a loan modification? Get your paperwork ready.
Attention delinquent borrowers: If you want to get into the Obama administration's mortgage modification program, you'd better have your paperwork ready. New Treasury Department guidelines go into effect on June 1 that will require loan servicers to verify applicants' income and financial hardship before placing them into trial modifications. This will make it much tougher to get temporary relief from unaffordable mortgage payments. But if you make it into a trial modification, you're more likely to get long-term assistance, providing you send in your check on time.
Fortune: 2 million iPads in 59 days
Apple is moving iPads as fast it can make them. It took the company 28 days to sell its first million iPads, despite stockouts in nearly every Apple Store in the U.S. On Monday - three days after it began selling the device in nine countries outside the U.S. - Apple announced that it had sold its second million iPads in the space of 31 days. That's 2 million iPads in 59 days, or nearly 24 iPads per minute. And once again, the device's sales seem to be constrained only by its supply.


Business Week: Google's Latest Launch: Its Own Trading Floor
Last fall, some unusual job listings began cropping up on Google's website. Amid the requests for programmers and engineers were postings for bond traders and portfolio analysts. By spring, tech blogs were speculating about what was going on at Google. The answer was very un-Silicon Valley. Google, it turns out, has launched a trading floor to manage its $26.5 billion in cash and short-term investments. The hoard is the third-biggest cash pile among U.S. tech companies, after Microsoft and Cisco's.
Wall Street Journal: AIG Deal Tests Prudential's CEO
As American International Group Inc. chief Robert Benmosche informed Prudential PLC CEO Tidjane Thiam that his $35.5 billion bid to acquire AIG's main life-insurance business in Asia had been accepted by the U.S. insurer's board, he gave him a jocular warning: "Hey buddy, this is your wake-up call. You won't be sleeping for a long time." It was an understatement. Mr. Thiam, the 47-year-old Ivory Coast native who just took the helm of Prudential last October, has spent three months racing to cope with one threat after another to a deal that was meant to transform the 162-year-old British insurer, but which may instead cast it adrift and derail his career.
New York Times: Owners Stop Paying Mortgages, and Stop Fretting
A growing number of the people whose homes are in foreclosure are refusing to slink away in shame. They are fashioning a sort of homemade mortgage modification, one that brings their payments all the way down to zero. They use the money they save to get back on their feet or just get by. This type of modification does not beg for a lender's permission but is delivered as an ultimatum: Force me out if you can. Any moral qualms are overshadowed by a conviction that the banks created the crisis by snookering homeowners with loans that got them in over their heads. Foreclosure procedures have been initiated against 1.7 million of the nation's households. The pace of resolving these problem loans is slow and getting slower because of legal challenges, foreclosure moratoriums, government pressure to offer modifications and the inability of the lenders to cope with so many souring mortgages.


Fortune: Three American cities on the brink of broke
Several downtrodden cities are on the verge of defaulting on their debt, putting financially encumbered states and taxpayers on the hook to pick up the tab. The National League of Cities says municipal governments will probably come up $56 billion to $83 billion short between now and 2012. That's the tab for decades of binge spending; municipal defaults could be our collective hangover. Municipal bonds, issued to fund public projects such as roads and public buildings, have historically been seen as one of the safest places to invest, which is why 80% of municipal bond holders are individual households and mutual fund investors, explains Jeffrey Cleveland, municipal bond analyst at Payden & Rygel Investment Management.
Business Week: ECB Says Europe Banks Face Bond Sales Risk, Higher Loan Losses
Europe's banks will have to write off more loans this year than in 2009 and their ability to sell bonds may be curtailed by governments seeking to finance fiscal deficits, the European Central Bank said. With governments facing "heavy financing requirements over the coming years" there's a "risk of bank bond issuance being crowded out," the Frankfurt-based ECB said in its biannual Financial Stability Report yesterday. "The risk that this implies for bank funding costs also raises the possibility of a setback to the recovery in banking sector profitability." The report reflects the aftershocks of a global financial crisis that led to more than $1.7 trillion in writedowns and credit losses since early 2007.
In Case You Missed It
CNN's Brian Todd reports on newly-released documents showing previous problems with the oil well site.
The Israeli Defense Forces release video they claim shows their troops being attacked as they board the aid ship Flotilla.
Subscribe to the CNN=Politics DAILY podcast at http://www.cnn.com/politicalpodcast
And now stay posted on the latest from the campaign trail by downloading the CNN=Politics SCREENSAVER at http://www.CNN.com/situationroom