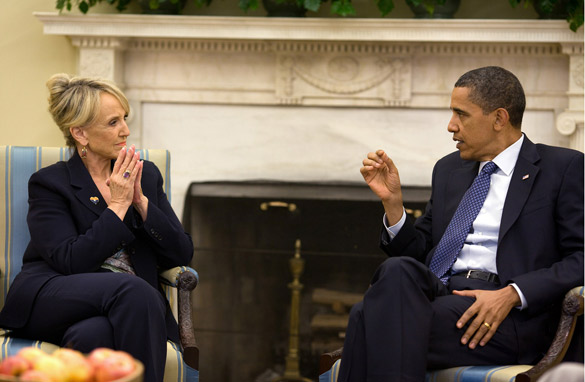 The president and Arizona Gov. Jan Brewer, a Republican, met Thursday at the White House. (Photo Credit: Pete Souza/Official White House Photo)
Washington (CNN) - Arizona Gov. Jan Brewer emerged from a meeting Thursday with President Barack Obama and said the two had "agreed to work together in order to find some solution" to the immigration issue.
Brewer, who signed the state's immigration law that Obama has called misguided, described the tone of the talks as "very cordial" but said disagreements remained. "We know we're not going to agree on some issues until other issues are worked out," she told reporters.
Brewer said Obama agreed to send staffers to Arizona "in a couple of weeks" to discuss using federal resources to tighten the border, including the allocation of 1,200 National Guard troops and $500 million.
"He assured us that the majority of those resources would be coming to Arizona," Brewer said.
She added, "I am encouraged there is going to be much better dialogue between the federal government and the state of Arizona. I hope that that's not wishful thinking; I hope that that's positive thinking."
The meeting came after the governor said this week she is not worried about a potential legal challenge from the Obama administration over the law.
"We'll meet you in court," Brewer told CNN's "John King, USA." "I have a pretty good record of winning in court."
Updated: 3:20 p.m.