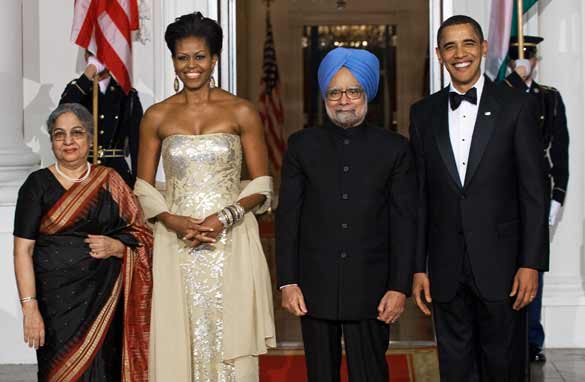 The president and first lady hosted Indian Prime Minister Manmohan Singh and his wife Gursharan Kaur for their first state dinner. (Photo Credit: Getty Images/File)
(CNN) - President Barack Obama said Thursday he will visit India in November in response to a standing invitation from Prime Minister Singh.
"I'm delighted to announce tonight that I plan to visit India in early November," Obama told a reception at the United States-India Strategic Dialogue.
Obama hosted Singh at the first state dinner of his administration last year. Singh extended the invitation for Obama to visit India at that time.

In a separate announcement Thursday, the White House said that the 2011 leaders meeting of the Asia-Pacific Economic Cooperation group will take place in Honolulu, Hawaii, on November 12 and 13 of next year.
"The United States will use the opportunity of chairing APEC in 2011 to highlight the vast potential the Asia-Pacific region holds for American companies and workers, to help shape the future of Asia-Pacific's regional architecture, and to promote APEC's core mission of spurring mutually beneficial regional economic integration," the White House statement said.
Updated 7:08 p.m.