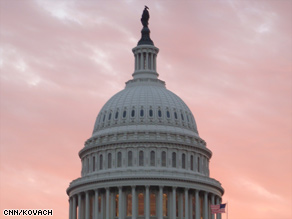 The CNN Washington Bureau's morning speed read of the top stories making news from around the country and the world.
WASHINGTON/POLITICAL
For the latest political news: www.CNNPolitics.com
CNN Poll: Americans split on top two Obama initiatives
Two of President Barack Obama's top legislative initiatives – health care reform and financial regulation – are getting different reactions from the American public, according to a new national poll. A CNN/Opinion Research Corporation survey released Wednesday indicates that a growing number of Americans support increased federal regulation over Wall Street banks and other financial institutions. Six out of ten people questioned in the poll say they favor the legislation, with 38 percent opposed. Support for the bill is up seven points from March, and opposition is down five points. The poll suggests that most Americans continue to oppose the passage of the health care bill which Obama signed into law in April, although the public may be slightly more optimistic about the bill's ultimate effect on the country.
CNN: Romanoff details White House contact over possible job
A Colorado Senate candidate, who is challenging Sen. Michael Bennet in the Democratic primary, said Wednesday that a senior White House aide suggested last year that three administration jobs might be open to him if he abandoned plans to run against Bennet. But the candidate, former Colorado House Speaker Andrew Romanoff, also noted that he was never offered a position by the White House.
CNN: Obama orders more benefits for same-sex partners of federal workers
President Barack Obama on Wednesday ordered executive-branch agencies to extend to employees' same-sex partners the same benefits provided to their opposite-sex partners, to the extent allowed by law. The move followed up on Obama's memorandum last year that extended some benefits to same-sex partners of government workers and ordered federal agencies to review additional benefits that also could be available under existing laws.
Wall Street Journal: Fiorina Pivots to Challenge Boxer in California
With California's Republican Senate primary yet to be decided, front-runner Carly Fiorina is already setting her sights on the November general election and laying the groundwork for a fight against Democratic incumbent Sen. Barbara Boxer. Ms. Fiorina's strategy against Ms. Boxer calls for almost no let-up in the campaigning she has waged for months. If she wins Tuesday's GOP primary, Ms. Fiorina said this past weekend, she would challenge Ms. Boxer to "Meet me in Mendota," one of California's most economically stricken cities, with a 45% jobless rate in April.
Politico: Deep pockets for Nevada primaries
Nevada's Senate Republican primary has taken a heavy financial toll on the candidates salivating for the chance to take down Democratic Sen. Harry Reid, raising questions on whether the eventual GOP nominee can keep pace with the well-financed Senate majority leader who is sitting on more than $9 million in campaign cash. Sue Lowden, the former chairman of the state Republican Party, cut herself a $100,000 check in the final weeks of her primary campaign, adding to the $1.25 million loan she already took out in January. In addition, she paid $220,000 to advertise on Nevada airwaves in the final weeks of her campaign, but it's unclear how she paid for half that ad buy – since she now appears to be carrying a deficit of some $110,000 into Tuesday's primary.
CNN: Haley faces second claim of affair
A well-connected South Carolina lobbyist and political consultant claimed Wednesday that he had a one night stand with gubernatorial candidate Nikki Haley – making him the second man to allege an affair with the frontrunner for the Republican nomination. Larry Marchant, a familiar face at the South Carolina State House who has lobbied legislators on behalf of the insurance industry and the state Chamber of Commerce, told CNN he had a "one night, one night only" sexual relationship with Haley at a school choice conference held in Salt Lake City, Utah in 2008. Marchant offered no specific evidence of the affair and the Haley campaign forcefully rejected the latest accusation.
CNN: Crist questions why BP ever allowed to do deepwater drilling
The man who leads the state is likely the next to fall victim to the spreading oil spill questioned Wednesday whether embattled energy giant BP should have ever been allowed to engage in deepwater drilling. In an article published in the Financial Times Tuesday, BP CEO Tony Hayward admitted that his company had not been fully prepared to deal with a deepwater oil leak like the one it is now contending with in the Gulf of Mexico. "'What is undoubtedly true is that we did not have the tools you would want in your tool-kit,'" Hayward told the British newspaper. Asked about Hayward's comments on CNN's John King, USA, Florida Gov. Charlie Crist said that BP should have never been allowed to drill at depths like those of the gushing well, located some 5,000 feet below the sea's surface.
New York Times: Blagojevich Corruption Trial Opens Political Window
As jury selection in the corruption trial of Rod R. Blagojevich begins on Thursday, people here are less curious about what they may learn about the impeached former Illinois governor than they are about who else will be tainted in the proceedings. The trial may finally open a window into Mr. Blagojevich's interactions with other politicians and political strategists, business and union leaders and others. Consider a tantalizing detail: Much of the prosecution's case is expected to center on phone calls federal agents secretly recorded; through roughly 500 hours of recordings of Mr. Blagojevich's conversations, most of which have never been made public, someone was on the other end of the line. Mr. Blagojevich's fellow Democrats in Illinois, in particular, are worried about what will be revealed over the course of a trial that could last until close to Election Day.
Salt Lake Tribune: Lee goes on the offensive in GOP Senate debate
Republican Senate candidate Mike Lee is beginning to take off the gloves. Lee issued pointed challenges to Tim Bridgewater's record Wednesday, accusing his opponent of supporting programs that expanded the role of the federal government, increased spending and eroded state sovereignty. Lee accused Bridgewater of supporting the No Child Left Behind Act, which he said gave the federal government more power to impose education mandates on the states, and of supporting a Medicare prescription drug expansion when he was a congressional candidate in 2003.
CQ Politics: Primary Shakeup Changes Dynamic of Alabama Race
Mo Brooks demonstrated his electoral strength by ousting party-switching Rep. Parker Griffith in this week's Republican primary in Alabama's 5th district. But without Griffith's fundraising machine, what comes next is a bit uncertain. The district has not elected a Republican since Reconstruction, so Democrats have reason to hope they can reclaim the seat that Griffith took from them when he left the party late last year. As they look to the general election, Brooks and Democrat Steve Raby will find their first fight is a scramble for dollars.
Lexington Herald-Leader: GOP-led state Senate rebukes Paul on civil rights
The Republican-led Kentucky Senate approved a sharply worded resolution Friday that was aimed at rebuking Republican U.S. Senate candidate Rand Paul's recent questioning of the Civil Rights Act of 1964. Senate Resolution 31, filed by Sen. Gerald Neal, D-Louisville, and co-sponsored by all but one of his Republican and Democratic colleagues, expressed the Senate's support for the Civil Rights Act and criticized as "outside the mainstream of American values" those who oppose any part of the law. The Senate adopted the resolution, which did not name Paul, on a voice vote.
Washington Post: New memos detail Republican Frederic Malek's role in Nixon campaign against Jews
Frederic V. Malek, who is among Washington's wealthiest Republican power brokers, is discovering that even a single problematic episode in government service can be hard to shake. As Malek assumes a widening role in national and Virginia politics, Democrats are calling attention to the recent disclosure of more memos that detail his part in carrying out President Richard M. Nixon's program to enforce ideological and religious purity.
Politico: Halliburton campaign donations spike
As Congress investigated its role in the doomed Deep Horizon oil rig, Halliburton donated $17,000 to candidates running for federal office, giving money to several lawmakers on committees that have launched inquiries into the massive spill. The Texas-based oil giant's political action committee made 14 contributions during the month of May, according to a federal campaign report filed Wednesday — 13 to Republicans and one to a Democrat. It was the busiest donation month for Halliburton's PAC since September 2008. Of the 10 current members of Congress who got money from Halliburton in May, seven are on committees with oversight of the oil spill and its aftermath.
CNN: Paul McCartney receives Gershwin Prize, plays hits at White House
A long and winding road brought Sir Paul McCartney to the White House on Wednesday, where he was honored by the president of the United States and performed some of the most famous songs from his catalogue with the Beatles and after. President Barack Obama awarded McCartney the Library of Congress Gershwin Prize for Popular Song and then, along with a little help from some of his friends, such as Stevie Wonder, Faith Hill, Elvis Costello, Emmylou Harris and others, McCartney rocked the East Room of the White House.
NATIONAL
For the latest national news: www.CNN.com
CNN: BP drops diamond saw; 'top hat' plan back
BP has abandoned its original plan to use a diamond wire cutter that its engineers had hoped would cleanly cut the riser pipe spewing oil into the Gulf of Mexico. It will instead use a more effective, if less precise, cutter, the federal government's point man on the disaster said Wednesday. The diamond wire cutter plan was dumped after the device got stuck midway through the pipe. It was freed at 2:10 p.m. ET and taken to the surface, Coast Guard Adm. Thad Allen told CNN. The next move will be to use the sheer-cutting device that made Tuesday's successful cut on the riser.
CNN: Louisiana gets White House OK for dredge plan
The White House has ordered BP to fully fund Louisiana's plan to dredge up walls of sand to protect coastal marshes from the massive Gulf of Mexico oil spill, Louisiana Gov. Bobby Jindal announced Wednesday. The news comes about a week after the federal government approved one segment of the plan on a trial basis. But U.S. officials raised concerns about the long-term environmental effects of what would effectively amount to building dozens of miles of new barrier islands off Louisiana.
New York Times: Nuclear Option on Gulf Oil Spill? No Way, U.S. Says
The chatter began weeks ago as armchair engineers brainstormed for ways to stop the torrent of oil spilling into the Gulf of Mexico: What about nuking the well? Decades ago, the Soviet Union reportedly used nuclear blasts to successfully seal off runaway gas wells, inserting a bomb deep underground and letting its fiery heat melt the surrounding rock to shut off the flow. Why not try it here? The idea has gained fans with each failed attempt to stem the leak and each new setback — on Wednesday, the latest rescue effort stalled when a wire saw being used to slice through the riser pipe got stuck.
INTERNATIONAL
For the latest international news: http://edition.cnn.com
CNN: Netanyahu defends Israel actions; flotilla activists arrive in Turkey
Three Turkish Airlines planes carrying 466 activists and nine bodies landed Thursday morning in Istanbul, marking the end of the activists' involvement in a humanitarian mission to aid Gaza that went tragically awry, an official said. Most of the passengers were Turks, who made up the majority of the activists whose mission to challenge the Israeli blockade and deliver medicines, wheelchairs and building materials to Gaza turned into a bloodbath Monday morning in international waters off Gaza and sparked worldwide recriminations against Israel. On Wednesday, Prime Minister Benjamin Netanyahu defended Israel's actions even as other activists vowed to carry out more such efforts.
New York Times: New Israeli Tack Needed on Gaza, U.S. Officials Say
The Obama administration considers Israel's blockade of Gaza to be untenable and plans to press for another approach to ensure Israel's security while allowing more supplies into the impoverished Palestinian area, senior American officials said Wednesday. The officials say that Israel's deadly attack on a flotilla trying to break the siege and the resulting international condemnation create a new opportunity to push for increased engagement with the Palestinian Authority and a less harsh policy toward Gaza. Israel would insist that any approach take into account three factors: Israel's security; the need to prevent any benefit to Hamas, the Islamist rulers of Gaza; and the four-year-old captivity of an Israeli soldier held by Hamas, Staff Sgt. Gilad Shalit.
CNN: Former suspect in Natalee Holloway case wanted in Peruvian murder case
Joran van der Sloot, the Dutch man once considered a suspect in the 2005 disappearance of Alabama teenager Natalee Holloway, is the suspect in the killing of a woman in Peru, Peruvian police officials said Wednesday. Authorities in neighboring Chile are on a manhunt for van der Sloot, who fled there, Chile Interpol Deputy Prefect Eugenio Buines Arevalo told CNN. Chilean police are looking for van der Sloot in various hotels and other overnight accommodations in the border region with Peru, he said. Van der Sloot will be extradited to Peru if captured, he said.
Washington Post: State Department hosting high-level meetings with India
The Obama administration is hosting a high-level dialogue this week with India, part of an ongoing effort to convince the South Asian behemoth that Washington cares about more than counterterrorism in the region and supports India's claim to global power. External Affairs Minister S.M. Krishna will head a high-level delegation at a State Department meeting Thursday with Secretary of State Hillary Rodham Clinton, national security adviser James L. Jones and other senior officials. The meeting follows similar "strategic dialogue" sessions with Afghanistan last month and Pakistan in March, and it will bring together Cabinet officials from across the government to meet with their counterparts.
CNN: Body found after 12 killed in northern England shooting spree
At least 12 people have been killed and 25 injured after a gunman - believed to be a local taxi driver - went on a shooting spree through three small towns in the English county of Cumbria on Wednesday. After a large scale search, Cumbria police found the body of the suspected gunman, 52-year-old Derrick Bird, in a wooded area of Boot, a village in the Lake District, a popular tourist area. Authorities seized a gun from the scene where the body was found. Cumbria Police Deputy Constable Stuart Hyde said investigators believe Bird committed suicide.
BBC News: Setback for South Korea's president in local elections
South Korean President Lee Myung-bak has suffered a setback in local polls held amid tensions over the sinking of a navy ship in March. With almost all the votes counted, official results show the opposition Democratic Party won seven mayoral and governor posts. Mr. Lee's Grand National Party won only six posts. The result is seen as a blow for Mr. Lee's tough stance on North Korea, accused of sinking the Cheonan.
CNN: Troops capture Taliban 'governor' after killing ex-gov
Troops in Afghanistan have captured a Taliban shadow governor not long after killing his predecessor, the NATO-led International Security Assistance Force said Wednesday. Afghan and international forces captured the Taliban shadow governor of Baghlan province, in northern Afghanistan, as he prepared to go to Pakistan on Monday, the NATO-led military command said in a statement. The capture came just after an airstrike killed the former shadow governor.
Wall Street Journal: German Prosecutors Investigate Archbishop's Actions
German prosecutors said they have begun a preliminary investigation into allegations that the country's highest-ranking bishop had allowed a priest accused of sexually abusing a child in the 1960s to be assigned to a parish some two decades later, in a further escalation of Germany's clerical-abuse scandal. Prosecutors in the southwestern city of Freiburg said they launched the investigation after an alleged victim of the priest filed a complaint that Robert Zollitsch, archbishop of Freiburg and head of Germany's Bishops' Conference, abetted the priest's sexual abuse by reassigning him while Archbishop Zollitsch was the archdiocese's personnel chief in the 1980s. The allegations make 71-year-old Archbishop Zollitsch the highest-ranking official to be touched by a sexual-abuse crisis that has shaken the Catholic Church in Germany, though he himself hasn't been accused of any abuse.
Bloomberg: Kan Learns Fiscal Discipline as Leadership Beckons
Naoto Kan, the front-runner to become Japan's prime minister, has begun leading a drive to contain the world's largest public debt just months after warning it would be a "challenge" to maintain fiscal discipline this year. Kan's change reflects his deepening anxiety over the budget deficit after participating in meetings of Group of 20 and G-7 that were dominated by Europe's debt crisis, a Finance Ministry official said on condition of anonymity. Kan, 63, surprised ministry officials and Prime Minister Yukio Hatoyama last month by extending a pledge to cap bond sales through next year.
BUSINESS
For the latest business news: www.CNNMoney.com
CNNMoney: Senators push BP to suspend dividend
BP should suspend dividend payments to shareholders until the full costs for cleaning up the oil spill in the Gulf of Mexico can be calculated, two U.S. senators said Wednesday. In a letter to Tony Hayward, the British oil company's chief executive, Senators Charles Schumer, D-NY, and Ron Wyden, D-Ore., said paying a dividend before the ultimate cost of the disaster has been tallied would be "unfathomable." BP paid a dividend of 56 cents per share last year, for a total 2009 payment of $10.5 billion, according to the company's annual report. According to several published reports, Hayward is scheduled to talk to investors later this week and reassure them that BP will continue to pay its dividend.
Investors Business Daily: Union-Run Pensions Are In Dire Straits; Time For A Bailout?
A quiet battle is brewing over what might be the nation's next big bailout: private union-run multiemployer pension plans. A 2009 Moody's study found the plans underfunded by $165 billion, but Washington is conflicted over what — if anything — to do about it. Democrats such as Sen. Bob Casey of Pennsylvania are pushing legislation to have the federal government step in and pay the benefits for some troubled plans. But the administration, already reeling from the backlash over earlier bailouts of Wall Street and the auto industry, rebuffed that idea in a Senate hearing last week.
CNNMoney: AT&T's new iPhone, iPad plan: Cheaper but limited
AT&T announced new 3G pricing plans Wednesday that will make iPhone and iPad bills less expensive for most customers, but will also put a stop to unlimited data plans. Under the new pricing scheme, 3G data service for AT&T smart phones (including the iPhone) will cost $15 a month for 200 megabytes. If customers download more than 200 MB, they will be charged an additional $15 for each subsequent 200 MB that they download. For iPad customers and heavier smart phone users, AT&T will start offering a $25-per-month plan for 2 gigabytes of data. Under that plan, if customers exceed their allotment, they will be charged $10 a month for each additional gigabyte of data that they use.
CNNMoney: Corporate bonds grind to a halt
The corporate bond market is in the middle of a slump as the appetite for riskier assets has once again dwindled. No companies issued corporate debt on Friday - the day before Memorial Day weekend - and only five sold bonds the day after the long weekend, according to Dealogic, a financial analytics firm. The last time that happened on a trading day was Sept. 4, 2009 - the Friday before Labor Day weekend. While this could be partially attributed to the Memorial Day holiday, the slump in corporate bond sales, coupled with rising prices to insure those bonds against default, could be signs that credit markets are tightening again.
New York Times: Bids Submitted for Newsweek Sale
Two magnates, a conservative publisher and the company that bought TV Guide for $1 have all raised their hands as potential buyers of Newsweek. By the time the deadline to submit preliminary bids for the magazine expired Wednesday at 5 p.m., at least four parties had indicated an interest to the Washington Post Company, which has said it no longer views Newsweek as an economically viable operation. It was unknown whether the Post Company considered any of the bids to be financially attractive. None of the parties that submitted bids would say how much they offered, nor would they disclose other terms of their proposals.
CNNMoney: Target set to sell Amazon's Kindle nationwide
On June 6, Target will become the first brick-and-mortar retailer to sell Amazon's Kindle electronic reader at its stores across the United States, the company said on Wednesday. In late April, Target began selling the Kindle at its flagship Minneapolis store and 102 others in south Florida, as part of a test program. Wednesday's announcement marks the roll-out of the device to stores nationwide. The discount retailer, which is best known for its "cheap chic" merchandise, said it will sell Amazon's popular e-readers for $259 each, the same price as on Amazon.com.
CNNMoney: GM, Ford sales gains outpace Toyota
Major automakers all reported large gains in May sales, with industry totals helped greatly by a spike in sales to business customers rather than to individual consumers. Overall U.S. auto sales increased 19% compared to the very weak sales of a year ago, according to sales tracker Autodata. That was a bit higher than even the most bullish forecasts. But much of the better-than-expected results came from the fleet sales, not more profitable retail sales, a sign that even in an improving economic environment many consumers remain hesitant to make a big-ticket purchase such as an automobile.
In Case You Missed It
Dr. Sanjay Gupta reports that local people hired by BP to clean up the oil spill are worried about getting sick.
James Carville tells CNN's Wolf Blitzer about running into a few unexpected dinner guests in Louisiana.
Subscribe to the CNN=Politics DAILY podcast at http://www.cnn.com/politicalpodcast
And now stay posted on the latest from the campaign trail by downloading the CNN=Politics SCREENSAVER at http://www.CNN.com/situationroom