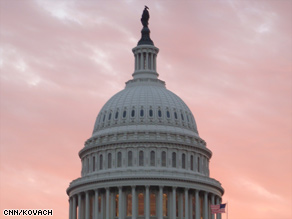 The CNN Washington Bureau's morning speed read of the top stories making news from around the country and the world.
WASHINGTON/POLITICAL
For the latest political news: www.CNNPolitics.com
CNNMoney: White House sends BP a $69 million bill
The Obama administration has sent a $69 million bill to BP for the U.S. government's efforts to help deal with the energy company's oil spill in the Gulf of Mexico. The current $69 million bill accounts for 75% of what BP owes to date, and the company has until July 1 to pay the full amount, an administration official said Thursday. The Obama administration will bill BP regularly for costs related to the spill, according to the Deepwater Horizon Unified Command, which is the government and industry task force managing the spill response.
CNN: For new ad campaign, BP looks outside Madison Avenue
Energy giant BP has hired a Washington-based, bipartisan political consulting firm to produce its new aggressive national advertising push, including a national TV spot released Thursday, CNN has learned. Sources familiar with the arrangement say that Purple Strategies, headed up by veteran political consultants Steve McMahon, a Democrat, and Alex Castellanos, a Republican, produced new advertisements now running on both television and in newspapers. The sources say that BP hired Purple Strategies to produce what will likely be a series of advertisements as part of BP's attempt to rehabilitate its battered image.
Bloomberg: 'Drill, Baby, Drill' May Haunt Republican Effort to Taint Obama
Republicans' embrace of offshore oil drilling and their skepticism of "big" government may hamper the party's efforts to gain politically from President Barack Obama's handling of the disaster in the Gulf of Mexico. Mississippi Governor Haley Barbour, who heads the Republican Governors Association, has said the BP Plc oil spill that followed the April 20 explosion of a deepwater rig is no reason for the U.S. to abandon offshore oil and gas exploration. As oil washes ashore in Gulf Coast states, Louisiana Governor Bobby Jindal, also a Republican, sent a letter to Obama this week expressing "grave concerns" with the president's decision to suspend activity at 33 deepwater rigs. "They're kind of stuck because they're the party of 'Drill, Baby, Drill,'" said David Lanoue, head of the political science department of the University of Alabama, referring to a Republican slogan during the 2008 presidential campaign. "If you're an ambitious Republican governor, where do you go with this?"
CNN Poll: Obama at 48 percent approval at 500 day mark
As President Barack Obama marks 500 days in the White House, a new average of the most recent national polls indicates that less than half of the public approves of the job he's doing in office. According to a CNN Poll of Polls, 48 percent of Americans approve of the job Obama's doing, with 45 percent saying they disapprove of the president's performance. This stands in sharp contrast to Obama's popularity after his first 100 days in office, which was at 63 percent in a CNN Poll of Polls compiled for that occasion.
CNN Poll: Tea Party candidate in Nevada surging
A new poll suggests that a Tea Party-backed candidate is now in the lead in the battle for Nevada's Republican Senate nomination. According to a Suffolk University Political Research Center survey released Thursday morning, 33 percent state GOP voters back Sharron Angle in Tuesday's primary. The former member of the Nevada Assembly has won the endorsements and help in recent months of many conservative organizations, including the Tea Party Express and the Club for Growth. The poll indicates that 26 percent support Las Vegas businessman and former University of Nevada Las Vegas basketball star Danny Tarkanian, with businesswoman and former Nevada Republican Party Chairwoman Sue Lowden at 25 percent. The remaining candidates in the field of 13 bidding for the Republican Senate nomination are in single digits in the survey.
Las Vegas Sun: What's behind Sue Lowden pelting?
In politics, candidates can tell they're gaining traction when their opponents start attacking them. Sue Lowden, for example, has hammered Sharron Angle in recent weeks, coinciding with polls showing the Tea Party Express-endorsed candidate pulling even with the former front-runner in the Republican U.S. Senate primary. It may be telling then that Senate Majority Leader Harry Reid and his allies continue to attack Lowden, while leaving untouched the mistakes and records of the surging Angle and Danny Tarkanian, the other potential victor in Tuesday's primary. At the same time, they have tried to make the case that they have no preference in who wins.
CNN: Nikki Haley called 'raghead' by political opponent
A longtime South Carolina state Senator with a reputation for blunt language used the term "raghead" to describe Republican gubernatorial candidate Nikki Haley and President Obama during an appearance on a political talk show Thursday. Haley is of Indian-American descent. State Sen. Jake Knotts, who backs Lt. Gov. Andre Bauer in the four-way Republican primary battle, made the remark during an interview on "Pub Politics," a popular online political talk show in Columbia. Knotts made the comment after discussing Haley's Sikh background, said Phil Bailey, one of the show's hosts and the communications director for the South Carolina Senate Democratic Caucus. Haley was raised in a Sikh family but is now a practicing Methodist.
Lexington Herald-Leader: Paul says there 'wasn't enough' regulation of offshore drilling
Republican U.S. Senate candidate Rand Paul softened his stance Thursday on the federal government's response to the BP oil spill in the Gulf of Mexico. Almost two weeks after saying that President Barack Obama's criticisms of BP sounded "really un-American," Paul told a Louisville radio station that government regulations of offshore drilling were not adequate. Paul, calling the spill "a great tragedy," told Tony Cruise on WHAS-AM that "I think we do have to have regulations, and we do have regulations in place but apparently wasn't enough. Those remarks sounded a much different tone than ones he made last month on ABC's Good Morning America.
The Hill: Reid pushes to move energy bill in July
Senate Majority Leader Harry Reid alerted Senate committee chairmen Thursday that he plans to move comprehensive energy legislation in July. Reid asked the chairmen to recommend legislation to deal with the Gulf oil spill before July 4 so that leaders can include those ideas in the comprehensive energy package.
Myrtle Beach Sun News: Democratic gubernatorial hopefuls debate at Coastal Carolina University
The three Democratic candidates for S.C. governor met at Coastal Carolina University Thursday night to debate economic issues, for what likely will be the last time before they face each other in Tuesday's primary. Senators Robert Ford and Vince Sheheen along with State Superintendent of Education Jim Rex fielded questions including how to promote job growth, pay for needed programs and reform the state's ailing tax system. The three joked with each other and the audience throughout the debate, taking a few jabs at their Republican counterparts, but mostly focused on their messages about economic development in the state. Ford wasted no time bringing up his plan to bring video poker back to the state and a possible casino to Myrtle Beach to help increase the state's revenue base. Both of his opponents said they did not favor the idea, but Ford used almost every question asked to direct people back to his plan to generate gaming revenue.
Washington Post: Michele Bachmann is cool to mainstream media, and an increasingly hot property
No other House member in recent memory has risen so swiftly on the basis of speaking up. Although only in her second term, the Republican [Michele] Bachmann is already better known than many senators in her party, widely popular with conservatives and "tea party" supporters. She has labeled the Obama administration a "gangster government" and expressed concerns that the president might harbor "un-American" views. At once revered and reviled, she is a talk-show producer's dream, a fundraising juggernaut. Along with a few firebrand conservatives including Florida Republican senatorial hopeful Marco Rubio, she has built a large army of small donors.
Salt Lake Tribune: Lawmakers say Lee acted as lobbyist
Two state senators say unequivocally that Mike Lee lobbied lawmakers on behalf of 1-800-Contacts last year, a revelation that might cause problems for the now-U.S. Senate challenger who never registered with the state as a lobbyist. Sen. Steve Urquhart, who favored the Draper-based company's bill, said he was "100 percent" sure Lee lobbied on behalf of the measure during the 2009 session on more than one occasion. "He actually was a pretty good lobbyist; he had some effectiveness," said Urquhart, R-St. George, who backed Sen. Bob Bennett in the Republican Convention battle and has not endorsed either of the two GOP primary candidates. "I was quite surprised to learn - I just learned a couple weeks ago - that he never registered." Lee listed 1-800-Contacts as one of his clients at his law firm in his personal financial disclosure for last year.
CNN: Calif. GOP candidates targeted by Planned Parenthood
A Los Angeles chapter of Planned Parenthood is taking on the Republican candidates for governor, accusing them of misleading voters on their views on abortion rights in the final days of the campaign. In a radio ad airing in the Los Angeles market, the group tells voters, who support abortion rights, to "Say no to Meg Whitman and no to Steve Poizner." The $100,000 buy from the Planned Parenthood Affiliates of California, says neither candidate agreed to meet with the statewide group or support their mission. California has a history of electing candidates who support abortion rights for statewide office and both Whitman and Poizner say they support this position.
St. Petersburg Times: Crist distances himself from arrested former Republican party chairman Jim Greer
Gov. Charlie Crist, who placed and protected Jim Greer at the helm of the Florida GOP, on Thursday denied knowing anything about a secret contract at the center of the six-count criminal fraud indictment against the former Republican leader. Greer, 47, was arrested Wednesday, accused of defrauding the Republican Party and donors to a political committee by laundering $165,000 through a shell company called Victory Strategies.
CQ Politics: Money's Rolling In To Rossi
Former state Sen. Dino Rossi (R) said in a statement Thursday that his campaign has raised over $600,000 in the week since he officially entered the Washington Senate race on May 26. Of that total some $200,000 came in the form of online contributions. Rossi has also attracted over 20,000 Facebook followers since entering the crowded GOP primary to take on Sen. Patty Murray (D).
Washington Post: Report: More than 1,400 former lawmakers, Hill staffers are financial lobbyists
Even for Washington, the revolving door between government and Wall Street spins at a dizzying pace. More than 1,400 former members of Congress, Capitol Hill staffers or federal employees registered as lobbyists on behalf of the financial services sector since the start of 2009, according to an exhaustive new study issued Thursday. The analysis by two nonpartisan groups, Public Citizen and the Center for Responsive Politics, found that the "small army" of financial lobbyists included at least 73 former lawmakers and 148 ex-staffers connected to the House or Senate banking committees. More than 40 former Treasury Department employees also ply their trade as lobbyists for Wall Street firms, the study found.
CNN: Obama to travel to India in November
President Barack Obama said Thursday he will visit India in November in response to a standing invitation from Prime Minister Singh. "I'm delighted to announce tonight that I plan to visit India in early November," Obama told a reception at the United States-India Strategic Dialogue. Obama hosted Singh at the first state dinner of his administration last year. Singh extended the invitation for Obama to visit India at that time.
NATIONAL
For the latest national news: www.CNN.com
CNN: BP robots steer cap to spewing well
Robot submarines steered a new cap to BP's ruptured undersea well in the Gulf of Mexico on Thursday in the company's latest attempt to rein in the largest oil spill in U.S. history. The cap was placed atop the pipe before 10 p.m., but oil and gas continued to spew as engineers attempted to adjust it. BP CEO Tony Hayward announced that the company had crossed a "milestone" earlier in the day by cutting away the remains of the well's damaged riser pipe. That cleared the way for the dome to be lowered down to the well, 5,000 feet below the surface of the Gulf, but Hayward said the operation would need several more hours to complete.
Washington Post: U.S. 'secret war' expands globally as Special Operations forces take larger role
Beneath its commitment to soft-spoken diplomacy and beyond the combat zones of Afghanistan and Iraq, the Obama administration has significantly expanded a largely secret U.S. war against al-Qaeda and other radical groups, according to senior military and administration officials. Special Operations forces have grown both in number and budget, and are deployed in 75 countries, compared with about 60 at the beginning of last year. In addition to units that have spent years in the Philippines and Colombia, teams are operating in Yemen and elsewhere in the Middle East, Africa and Central Asia. Special Operations commanders have also become a far more regular presence at the White House than they were under George W. Bush's administration, when most briefings on potential future operations were run through the Pentagon chain of command and were conducted by the defense secretary or the chairman of the Joint Chiefs of Staff.
Arizona Republic: Immigration-law supporters plan rallies at Arizona Capitol
Backers of Arizona's new immigration law will rally at the state Capitol on Saturday and the following weekend in another round of demonstrations over the controversial legislation. Saturday's "Phoenix Rising" rally comes about a week after thousands of people on both sides of the Senate Bill 1070 dispute demonstrated in Phoenix and Tempe. The rally June 12 is being led by two Florida radio-show hosts. Opponents of the law also have promised more demonstrations through the summer.
INTERNATIONAL
For the latest international news: http://edition.cnn.com
CNN: Suspect in Peru woman's slaying arrested in Chile, police say
Joran van der Sloot, the suspect in a young woman's slaying this week in Peru and previously considered a suspect in the 2005 disappearance of Alabama teenager Natalee Holloway in Aruba, was captured Thursday in Chile, authorities said. Van der Sloot is the main suspect in this week's slaying of 21-year-old Stephany Flores Ramirez, who was found Wednesday in a Lima, Peru, hotel room registered to the Dutch man. Chilean police told CNN that paperwork showed that van der Sloot entered Chile on Wednesday. Peruvian Interior Minister Octavio Salazar Miranda said Thursday that Peru has made arrangements with Interpol to extradite van der Sloot.
CNN: Lower house of Japan's parliament elects new prime minister
The lower house of Japan's parliament elected Finance Minister Naoto Kan to be the nation's new prime minister Friday, following the resignation of Yukio Hatoyama from the post earlier this week. The upper house of the Diet, Japan's parliament, was expected to confirm Kan as prime minister in a vote scheduled later Friday. The vote came a few hours after the Democratic Party of Japan tapped Kan to lead the party.
CNN: China's Korean conundrum
China is already caught in the diplomatic crossfire. South Korea has been trying to convince China that North Korea was the culprit. It wants to penalize the North at the United Nations Security Council with a condemnatory resolution and harsh sanctions. Getting China's backing is crucial because it holds veto power as a permanent member of the Security Council and it is a close ally of North Korea. But political observers say China is reluctant to take sides.
CNN: Twin brother among UK gunman's victims
The twin brother of the man allegedly responsible for one of the worst massacres in recent British history was among 12 people killed before the gunman took his own life, police said Thursday. The series of drive-by shootings in northern England also left 11 people wounded. David Bird, the 52-year-old twin brother of alleged shooter Derrick Bird, was found dead at his home in the English village of Lamplugh, police said. David Bird, they noted, was the father of three daughters. Early Wednesday evening, British authorities identified four other victims.
CNN: Irish aid ship bound for Gaza won't stop 'unless forced to'
An Irish-owned aid ship headed for Gaza won't stop until it's forced to, a former U.N. official aboard the ship told CNN Thursday. The MV Rachel Corrie, named for an American activist killed in Gaza several years ago, was expected to arrive late Friday or early Saturday off the coast of Gaza. Israel was offering to unload its cargo in Israel's Ashdod port, screen the material and then deliver it to Gaza, but fears of another high-seas confrontation were in the offing. However, Halliday said the 11 people aboard the ship - which is carrying 550 tons of cement to help in the effort to rebuild schools, homes and other building destroyed in Gaza - had no plans of confronting Israelis who may stop the vessel.
BBC News: DR Congo human rights activist found dead in Kinshasa
A leading rights activist in the Democratic Republic of Congo has been found dead in the capital, Kinshasa. Floribert Chebeya's body was discovered, partially clothed, on the back seat of his own car. A BBC reporter says Mr Chebeya had received regular threats from police in the past, and had been ordered to meet the national police chief on Tuesday. Rights group Amnesty International says oppression of activists in DR Congo is growing.
Wall Street Journal: Merkel's Coalition Selects Candidate
Germany's ruling center-right coalition agreed to nominate Christian Wulff as the country's head of state, acting quickly to end a crisis caused by this week's surprise resignation of Federal President Horst Köhler. Mr. Wulff, the 50-year-old conservative premier of the state of Lower Saxony, is expected to secure a majority in the assembly of federal lawmakers and delegates from Germany's 16 states that will elect a new president on June 30. The German presidency is largely a ceremonial role, but also carries limited and rarely used powers to veto laws and dissolve parliament. The more influential past presidents, such as Richard von Weizsäcker, have used the post as a bully pulpit, shaping Germany's civic values and the country's view of its thorny history.
BBC News: New Saudi marriage contracts to ask the bride's age
Saudi Arabia has started issuing new marriage contracts that require the age of the bride to be given, in an attempt to stop underage girls from marrying. The kingdom had promised new measures after a series of high-profile cases involving young brides. Human rights groups have welcomed the new measures, saying clear-cut rules were needed to ensure underage girls were not harmed. Saudi Arabia has no law against child marriage.
BBC News: Bolivia woman 'sold new-born baby for $140'
A woman in Bolivia has been arrested after admitting that she sold her new-born baby to a woman who could not have children of her own, police say. The mother, identified as Jesusa Molle, had initially pretended that her child had been snatched from the maternity ward in the central city of Cochabamba.
BUSINESS
For the latest business news: www.CNNMoney.com
CNNMoney: Drilling ban to cost thousands of jobs
The White House responded Thursday to concerns that the ban on drilling for oil in the deep waters of the Gulf of Mexico will cost the region thousands of jobs. But Louisiana Governor Bobby Jindal said that prohibiting deepwater drilling could cost the state up to 6,000 jobs this month, and 10,000 jobs over the next few months, in a letter sent Wednesday to president Obama. If the ban continues for an "extended period," Jindal said, the state could lose up to 20,000 existing and new jobs by next year.
Wall Street Journal: Global Bank Pact Advances
International regulators are moving closer to an agreement that would require large multinational banks to raise vast sums to cushion any future losses. But in a concession to the banking industry and some governments, the rules are likely to take effect later than expected, according to people familiar with the matter. In the aftermath of the worst banking crisis since the Great Depression, regulators and finance ministers from more than 20 nations are racing to hammer out by year end the new rules concerning bank capital and liquidity. The overhaul is expected to be a focal point of this weekend's Group of 20 meetings in South Korea. It is also expected to gain momentum at a meeting of the Basel Committee on Banking Supervision. The talks remain fluid, and some U.S. officials are nervous that nationalistic turf battles could threaten a final deal, say people familiar with the process.
CNNMoney: Stocks stage recovery
Stocks managed gains Thursday following a choppy session in which investors mulled mixed economic news ahead of Friday's big monthly jobs report. Stocks gained in the morning, turned mixed in the afternoon as the euro retreated and then staged another rally near the close. The weak euro, a spike in crude oil prices and a rise in Treasury prices were all in play during the session. Financial shares were mostly lower, while Nasdaq components Microsoft, Yahoo and Dell helped lift that index.
Business Week: Facebook Gaining on Google's YouTube in Web Video
Social-networking website Facebook Inc. is growing faster than Google Inc.'s YouTube as a place to watch videos. Clips generated by Facebook users were watched by 41 million people in April, more than three times as many as a year earlier, when there were 13 million. YouTube grew 25 percent to 135 million unique viewers over the same period, Reston, Virginia-based data researcher ComScore Inc. said this week. Contending with Google in video is a step in Facebook's bid to become the go-to website for content-sharing.
New York Times: Report Warned Wal-Mart of Risks Before Bias Suit
More than six years before the biggest sex discrimination lawsuit in history was filed against Wal-Mart Stores, the company hired a prominent law firm to examine its vulnerability to just such a suit. The law firm, Akin Gump Strauss Hauer & Feld, found widespread gender disparities in pay and promotion at Wal-Mart and Sam's Club stores and urged the company to take basic steps — like posting every job opening and creating specific goals to promote women and minorities — to avoid liability.
CNNMoney: Why U.S. debt matters to you
Letting U.S. debt grow unabated is often framed as an unforgivable burden to heap on one's grandchildren. But there are plenty of reasons today's parents might be concerned for themselves and their kids. If Congress doesn't craft a plan to address long-term fiscal shortfalls after the economy recovers, potential problems could arise sooner rather than later, debt experts say.
Business Week: In Search of the Ideal Jobless Rate
America may have a new Nairu. Developed by the late economist Milton Friedman, Nairu is the unemployment equivalent of Goldilocks' perfect bowl of porridge—a jobless rate that's not so high it triggers deflation or so low it sets off galloping inflation. Nairu stands for nonaccelerating inflation rate of unemployment. Every economy has one. Sometimes it is referred to as the natural rate of unemployment. The factors that influence a country's natural rate of unemployment are many: The bargaining power of unions, the productivity of the workforce, the presence of minimum wage laws, and the willingness of workers to relocate are just a few of them. Europe's Nairu has traditionally been around 8 percent, says Johns Hopkins University economist Laurence Ball. Economists estimate that the U.S. has had a natural rate of unemployment of 5 percent since the mid-1990s. That relatively low level has given the Federal Reserve room to maneuver in setting interest rates.
Investors Business Daily: Retail Sales In May Disappoint, Temper Hope For Recovery
Retailers saw moderate sales gains in May, missing views Thursday as a late Memorial Day weekend, ongoing job worries and dreary weather caused consumers to restrain spending. But reports of a pickup in business at the end of the month suggest retailers could enjoy a better showing in June as the retail recovery continues, say analysts.
In Case You Missed It
CNN's Lisa Sylvester examines the pros and cons of extending the ban on deep water oil drilling.
Pres. Obama discusses his meeting with Ariz. Gov. Jan Brewer during an interview with CNN's Larry King.
Subscribe to the CNN=Politics DAILY podcast at http://www.cnn.com/politicalpodcast
And now stay posted on the latest from the campaign trail by downloading the CNN=Politics SCREENSAVER at http://www.CNN.com/situationroom