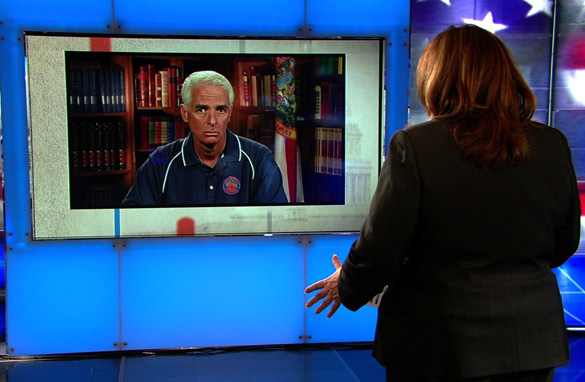 Florida Gov. Charlie Crist said Sunday that he did not know about a consulting company set up by the former head of the Florida GOP which was allegedly used to funnel party funds to the ex-party chair. (Photo Credit: CNN)
(CNN) – Florida Gov. Charlie Crist denied any knowledge Sunday of an alleged scheme by Jim Greer, the former head of the Florida Republican Party, to funnel the party's funds into a shell company for Greer's personal use.
Greer was charged Wednesday with six felony counts for allegedly directing state party funds to Victory Strategies, Greer's consulting company, which then paid him. Greer, 47, faces one count of organized fraud, four counts of grand theft and one count of money laundering. Crist appointed Greer chairman of the Florida GOP in 2007. Greer left the post in February of this year after a chorus of state Republican leaders and donors raised questions about his leadership and management of party funds.
Related: Greer accused of 6 felonies
Greer's attorney has said that Crist knew about Victory Strategies and had a role on working on the consulting company with Greer, claims that Crist denied on CNN's State of the Union.
Crist told CNN Chief Political Correspondent Candy Crowley that the attorney's assertions were "absolutely untrue."
"You know sometimes desperate people say desperate things and it's very sad," the governor added.
Crist also called the criminal case against Greer were "an unfortunate situation. It's very disappointing and sometimes people disappoint you. And that's what's happened here."