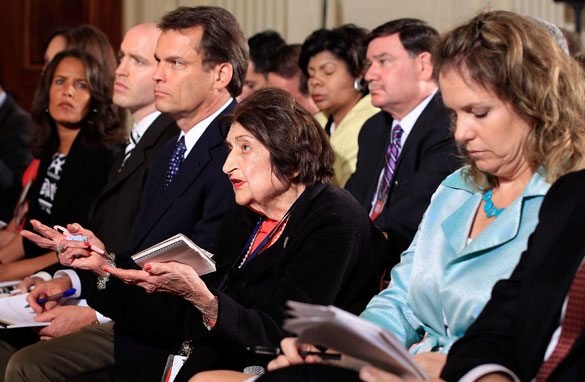 Veteran White House reporter Helen Thomas, 89, (pictured, center) was considered the dean of the White House press corps and held a privileged seat in the front row of the White House press briefing room. (Photo Credit: Getty Images/File)
Washington (CNN) – Longtime White House reporter Helen Thomas has retired effective immediately, Hearst Corporation said Monday.
The media conglomerate had employed Thomas, age 89, as a syndicated columnist for its newspaper chain.
Thomas, who was considered the dean of the White House press corps, had come under fire since late last week when a YouTube video surfaced showing her saying that Israel should "get the hell out of Palestine," and that the Jewish people should go home to "Poland, Germany … and America and everywhere else."
In a posting on her website last Friday, Thomas apologized for her remarks. "They do not reflect my heart-felt belief that peace will come to the Middle East only when all parties recognize the need for mutual respect and tolerance. May that day come soon," she wrote.
But the apology was not enough to silence critics who began a rising chorus of calls for Thomas either to be terminated or suspended by Hearst.
Related video: Ari Fleischer slams Thomas

Just prior to Hearst's announcement, the board of the White House Correspondents Association released a statement condemning Thomas' remarks. The group of White House reporters, which includes CNN's Ed Henry, called Thomas' remarks "indefensible."
The reporters' statement said, "Many in our profession who have known Helen for years were saddened by the comments, which were especially unfortunate in light of her role as a trailblazer on the White House beat."
And during a Monday morning briefing, White House press secretary Robert Gibbs also criticized Thomas, saying, "Those remarks were offensive and reprehensible. I think she should and has apologized because obviously those remarks do not reflect the - certainly the opinion of, I assume, most of the people in here and certainly not of the administration."
Updated: 12:59 p.m.