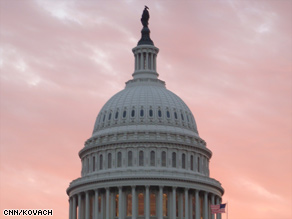 The CNN Washington Bureau's morning speed read of the top stories making news from around the country and the world.
WASHINGTON/POLITICAL
For the latest political news: www.CNNPolitics.com
CNN: Coast Guard's Allen: Too early to be 'pleased' with BP progress
The federal government's response manager to the Gulf oil disaster said Sunday that BP has made progress, but cautioned it was too early to call the effort a success. "We're making the right progress. I don't think anyone should be pleased as long as there's oil in the water," Coast Guard Adm. Thad Allen said on CNN's "State of the Union" on Sunday. Allen was responding to remarks over the weekend by BP's senior vice president, Bob Fryar, who said the company was "pleased" with its operation to funnel crude up from the ruptured undersea well to a drilling ship a mile above on the Gulf of Mexico.
New Orleans Times Picayune: Plaquemines Parish President Billy Nungesser becomes the face of oil spill frustration
A sweat-soaked fixture on national TV news programs, the gravelly voiced businessman-turned-politician Plaquemines Parish President Billy Nungesser has become a spokesman for thousands of people whose livelihoods depend on the fishing and offshore oil industries. In slamming the sluggish oil-spill response for appearing to "be run by a bunch of seventh-graders," Nungesser has blasted seemingly every federal official from President Barack Obama on down, prompting The New York Times to dub him the "angry everyman."
CNN: Poll: Tea Party backed candidate in Nevada surging
A second straight poll suggests that a candidate backed by a national Tea Party organization is now in the lead in the battle for Nevada's Republican Senate nomination. With two days to go until Nevada's primary, a new Mason-Dixon survey conducted for the Las Vegas Review-Journal indicates that 32 percent of likely GOP primary voters back Sharron Angle. The former member of the Nevada Assembly has won endorsements in recent months from many conservative organizations, including significant financial backing from the Tea Party Express, a national Tea Party group best known for running three cross country bus caravans, and the Club for Growth, a fiscally conservative organization.
CNN: Poll: Fiorina front-runner in California GOP Senate battle
With three days to go until California's primary, a second straight survey indicates that former Hewlett Packard CEO Carly Fiorina is the front runner in the battle for the Republican Senate nomination. According to a Field Poll released Saturday, 37 percent of likely GOP primary voters back Fiorina, with 22 percent supporting former Rep. Tom Campbell and 19 percent pulling for state Assemblyman Chuck DeVore, with one in five undecided.
Wall Street Journal: Big States Dilute Tea-Party Strength
The raucous and costly Republican primary races in California and Nevada, like those in other states, attest to the tea-party movement's rising influence. But Tuesday's votes in the two states will be the first big test of the movement's promise and limits—and offer clues to its nationwide strength this fall. In Nevada, voters are poised to deliver an upset in the race for the GOP Senate nomination, as tea-party favorite Sharron Angle leads her establishment-supported rival in recent polls. The pride of the California tea party, Chuck DeVore, has failed to catch fire in the Republican Senate race to challenge Democratic Sen. Barbara Boxer. The California and Nevada primaries illustrate a potential weakness of the tea-party movement: The bigger and more complex the stage, the more money and organization the movement needs. It has little of either now.
CNN: 'I'm up against a lot,' says Lincoln
With only days left until her political future is decided in Arkansas' Senate Democratic primary runoff, incumbent Blanche Lincoln criticized her opponent and defended her moderate record which has drawn fire from both conservatives and liberals during this midterm election year. Asked by CNN Chief Political Correspondent Candy Crowley about the voter anger that has been directed at her from both conservatives and liberals, Lincoln said the challenges she is facing in her re-election bid are part of a wider political trend.
CNN: Halter coy on union issues
Even though his upstart Democratic primary challenge to incumbent Sen. Blanche Lincoln has been powered by union support, Arkansas Lt. Gov. Bill Halter was coy Sunday when asked about his union backing and the Employee Free Choice Act (or "card check" bill), a piece of legislation backed by some of the country's largest and most influential unions. Halter has the been the beneficiary of unions' ire directed at Lincoln for her failure to support passage of the card check bill and for her decision not to support a public insurance option as part of Democrats' health care bill.
Washington Post: Haley leads Republican governor's race in South Carolina despite sex allegations
Even in a state that's accustomed to two-fisted politics, this year's Republican race for governor stands out. As the contenders barreled across South Carolina in a mad frenzy before Tuesday's primary, they confronted at every turn the salacious accusations of adultery swirling around Nikki Haley, the woman who has rocketed to the lead. The other candidates have bigger names and longer résumés, but Haley, the only woman among them, built a sizable lead by making sport of busting the old-boy fraternity that she says dominates, even corrupts, South Carolina politics.
Palm Beach Post: Crist taps Democratic media firm used by Obama, Lieberman, Bloomberg
Charlie Crist's hiring of the SKD Knickerbocker media firm is another sign the Republican-turned-indie guv is making a serious play for Democratic votes in his U.S. Senate bid. Crist has already signed "fire-breathing liberal" Democrat Robert Wexler's former political consultant, Eric Johnson, to help him in Dem-heavy South Florida.
CQ Politics: Minnesota: Reed Drops Out, Clears Field for Clark to Face Bachmann
Physician Maureen Reed announced Sunday that she is ending her Democratic primary challenge to state Sen. Tarryl Clark in Minnesota's 6th district, clearing the way for the state party-endorsed candidate to be the nominee against GOP Rep. Michele Bachmann in November. Reed's exit from the contest allows Clark to train all of her focus and resources on what is expected to be an expensive general election contest, instead of having to contend with an August primary.
Washington Post: Arizona leaders lament as state's image takes beating with new immigration law
Arizona finds itself at the vortex of an immigration debate that is increasingly bitter and, figures on both sides say, increasingly unwinnable. Opinions are split, with fear of harassment rising among Hispanics and worry about an economic boycott growing among the state's leaders. Gov. Jan Brewer (R) has appointed a committee and allocated $250,000 to re-brand the state's image, while 13 Arizona chamber of commerce executives appealed to Major League Baseball Commissioner Bud Selig to keep the 2011 All-Star Game in Phoenix after he faced pressure to change locations. They said it would preserve jobs for "innocent citizens, including our Hispanic community." The governor met last week with President Obama at the White House, pressing her point that federal inaction forced Arizona to act.
New York Times: To Avoid Voter Rage, Democrats Skip Town Halls
If the time-honored tradition of the political meeting is not quite dead, it seems to be teetering closer to extinction. Of the 255 Democrats who make up the majority in the House, only a handful held town-hall-style forums as legislators spent last week at home in their districts. It was no scheduling accident. With images of overheated, finger-waving crowds still seared into their minds from the discontent of last August, many Democrats heeded the advice of party leaders and tried to avoid unscripted question-and-answer sessions. The recommendations were clear: hold events in controlled settings — a bank or credit union, for example — or tour local businesses or participate in community service projects.
CNN: Steele keeps pressure on White House over Sestak, Romanoff
Republican National Committee Chairman Michael Steele is keeping pressure on the White House amid revelations administration officials attempted to dissuade certain Democrats from launching Senate primary campaigns. "From day one of this current flap involving Congressman Joe Sestak and now Andrew Romanoff, the White House efforts to deny, obfuscate, and mislead have only served to raise suspicions even further," Steele says in the weekly Republican radio and internet address.
CNN: Helen Thomas under fire for saying Jews in Israel should go back to Germany, Poland
Lanny Davis joined Ari Fleischer Sunday in calling for Hearst Corporation to take quick action against legendary White House correspondent Helen Thomas for recently saying that Israel should "get the hell out of Palestine," and that the Jewish people should go home to "Poland, Germany … and America and everywhere else." Thomas was also dropped by her agent Nine Speakers, Inc. Sunday, CNN has learned, and Craig Crawford, who coauthored "Listen Up, Mr. President" with Thomas, said in a blog post that he "will no longer be working with Helen on our book projects." Thomas has apologized for her comments that she made to Rabbilive.com about Israel.
NATIONAL
For the latest national news: www.CNN.com
CNN: N.J. men planned to 'wage violent jihad,' feds say
Two New Jersey men arrested at a New York airport planned to travel to Somalia to "wage violent jihad," and also had expressed a willingness to commit violent acts in the United States, according to prosecutors and a federal criminal complaint. Mohamed Mahmoud Alessa, 20, of North Bergen, New Jersey, and Carlos Eduardo Almonte, 24, of Elmwood Park, New Jersey, were taken into custody Saturday at John F. Kennedy International Airport. The two intended to take separate flights to Egypt on their way to Somalia "to join designated foreign terrorist organization al-Shabaab and wage violent jihad," federal prosecutors said in a statement.
CNN: Obama nominates new director of national intelligence
Calling him one of America's "most experienced and most respected intelligence professionals," President Barack Obama has nominated Air Force Lt. Gen. James Clapper to be the new director of national intelligence. Clapper, who retired from the Air Force in 1995 after a 32-year career, served as head of the National Geospatial-Intelligence Agency from September 2001 to June 2006.Clapper, now a top Pentagon intelligence official, would replace Dennis Blair, who resigned at the end of last month.
CNN: BP official grilled by frustrated mayors at news conference
Frustrated Gulf Coast mayors confronted a BP official during a news conference Saturday after they said requests to meet with high-ranking executives at the oil company went unanswered. The incident occurred as BP's senior vice president briefed reporters in Mobile, Alabama, about the ongoing efforts to contain the massive oil spill in the Gulf of Mexico. Bob Fryar said an operation underway to funnel crude from the underwater gusher to a surface vessel was going "extremely well," and that he was "pleased" with the effort thus far.
INTERNATIONAL
For the latest international news: http://edition.cnn.com
CNN: Israel: Seized aid ship's passengers being deported
All 19 passengers and crew members of the Rachel Corrie have signed deportation papers and will leave the country Sunday, an Israeli interior ministry spokesman said. Seven were deported into Jordan on Sunday, along with one person who was injured in the Israeli seizure of another ship trying to break the Israeli blockade of Gaza, Foreign Ministry spokesman Yigal Palmor said. The Free Gaza Movement, which organized the flotilla, said it had not been able to speak to anyone who had been aboard the Rachel Corrie.
BBC News: Cairo court rules on Egyptians married to Israeli women
A court in Cairo has upheld a ruling urging the government to consider stripping Egyptian men who are married to Israeli women of their citizenship. The ruling requires officials to send all such cases to the cabinet, to be decided on an individual basis. The new decision is seen as a sign of negative feeling towards Israel in Egypt, despite a 1979 peace treaty.
CNN: Van der Sloot remains jailed as murder investigation continues
A judge has extended the investigation into murder suspect Joran van der Sloot, accused of killing a Peruvian woman, for another week, a spokeswoman for Peru's Interior Ministry said Sunday. Van der Sloot, a Dutch citizen, will remain jailed at the investigations building of Peru's national police where he spent the night, Rut Cardenas said. Cardenas said a judge has given investigators another week to gather information about the killing of the woman last week.
CNN: Pope launches Middle East bishops group
Pope Benedict XVI launched a "special assembly" of bishops focused on the Middle East on Sunday, during a visit to the divided island of Cyprus. The group aims to "help to focus the attention of the international community on the plight of those Christians in the Middle East who suffer for their beliefs," he said in announcing the group, a part of the Catholic Church's Synod of Bishops. A Vatican statement outlining the church's position on Christians in the Middle East, introduced by the Pope on Sunday and On the Vatican website, says the interfaith strife arises from Muslim theocracies.
Times of London: No one will escape the cuts, warns Cameron
The British way of life will have to change, David Cameron will warn today as he readies the country for the biggest cuts in government spending since the Second World War. Using some of his strongest language yet, the Prime Minister will give warning that the cuts will affect every person in the country and the effects will last for decades to come. The coalition Government plans to consult widely before making an announcement, likely in November. Public meetings will be held and people will be invited to go online and tell ministers about their priorities.
BBC News: Mexico City debtor accused of giving away his children
A Mexican man has been accused of giving his two children away to cancel a 25,000 peso debt, then pretending they had been abducted. Javier Covarrubias confessed to the alleged crimes after detectives confronted him with evidence that his story was false, prosecutors say.
CNN: Afghan officials quit over peace conference attack
Afghanistan's interior minister and director of national security have resigned in the wake of an attack on a high-level peace conference last week, a spokesman for President Hamid Karzai said Sunday. Karzai demanded an explanation of the security breach from Interior Minister Hanif Atmar and NDS chief Amrullah Saleh, and when they could not provide one, he accepted their resignations, the president's office said. Karzai planned the peace gathering with tribal leaders to discuss a reintegration plan for Taliban members who renounce violence and lay down their arms.
BBC News: Bhopal verdict due after 25 years
A court in the Indian city of Bhopal is due to rule on whether a gas plant leak that killed thousands of people more than 25 years ago was a criminal act. The leak at the Union Carbide plant was worst industrial disaster in history.
CNN: Sudanese leader not invited to African Union Conference, Uganda says
Sudanese President Omar al-Bashir has not been invited to attend the African Union Conference in Uganda next month as he faces charges for alleged war crimes in Sudan's restive Darfur region, Ugandan officials said Sunday. The decision to exclude al-Bashir from the conference was made after an AU committee investigating the alleged crimes said it is in agreement with an ICC indictment against al-Bashir, according to Mirundi spokesman Joseph Tamale Mirundi.
Wall Street Journal: South Korea Sharpens Rhetoric at Pyongyang
South Korean President Lee Myung-bak over the weekend sharpened his criticism of North Korea for the alleged sinking of one the South's warships, but acknowledged his country can't go to war over it. Mr. Lee's statements to different audiences during a Singapore stay made plain the difficulty of balancing the desire to penalize North Korea with the worries that many South Koreans feel—and some expressed in an election of local officeholders last week—about what North Korea will do if antagonized. During his visit, Mr. Lee didn't acknowledge the losses his political party took in the local elections, which some analysts attribute to voters being upset by him reacting too strongly against North Korea.
BUSINESS
For the latest business news: www.CNNMoney.com
CNN: Asia stocks open sharply lower, euro continues slide
The global stock sell-off that began Friday on the back of worse than expected U.S. unemployment data rolled into Asia trade on Monday morning, as stocks opened sharply lower. The euro continued its downward slide. It was trading at $1.19 on Monday morning after falling below $1.20 for the first time in four years on Friday. Traders consider the $1.20 mark a key technical level for the euro.
CNNMoney: Chrysler recalls 285,000 vehicles for possible fire issue
Chrysler Group is recalling about 285,000 model year 2008 and 2009 Dodge Caravan and Chrysler Town & Country cars in the U.S. because of possible fire hazards. The National Highway Safety Administration said some of the vehicles, manufactured between February and September 2007, may have been built with "an improperly routed wire harness" that could short circuit and ultimately cause a fire.
Fortune: Steve Jobs' troops are in town
In sheer numbers - and security measures - Apple's WWDC 2010 can't compete with "Israel in the Gardens," the annual festival for Bay Area Jews that stationed metal-detecting guards at every entrance of San Francisco's lovely Yerba Buena Gardens Sunday and drew a crowd of nearly 20,000. But in the world of Apple, the Worldwide Developers Conference that begins Monday with Steve Jobs' keynote in the Moscone West auditorium - just across the street from the gardens - is a very big deal. It's the company's premier technical conference, and this year's edition sold out in a record eight days as 5,000 developers shelled out $1,595 (not counting travel, lodging and food) for a chance to hear - from the co-founder himself - what Apple has in store for them.
Wall Street Journal: Federal Agency Data Show Mortgage Delinquencies Slowing
The government agency that backs home loans may have some good news for taxpayers. Home mortgages insured by the Federal Housing Administration are falling into delinquency at a slower rate than they have in the past. If the trend is maintained, it could help the government agency avoid a taxpayer bailout. In April, nearly 8.5% of loans backed by the agency were 90 days or more past due. While that was still higher than a year earlier, April marked the third consecutive month in which delinquencies, which peaked at 9.4% in January, declined. The FHA figures come amid other signs that mortgage delinquencies may have plateaued.
CNNMoney: BP flexes muscle in D.C.
Even before the April 20 explosion on its rig off the Louisiana coast, BP spent millions of dollars lobbying Washington's power players. BP will now tap that power and influence as it tries to repair its image. In 2009, BP spent $16 million on lobbying, according to the Center for Responsive Politics. This year, it has spent $3.5 million through the end of March. The lobbying firms working for BP are among Washington's most influential, including one headed by Ken Duberstein, a chief of staff for President Ronald Reagan, and another led by Tony Podesta, whose brother was President Bill Clinton's chief of staff.
Wall Street Journal: Rival Chains Secretly Fund Opposition to Wal-Mart
Supermarkets that have funded campaigns to stop Wal-Mart are concerned about having to match the retailing giant's low prices lest they lose market share. Although they have managed to stop some projects, they haven't put much of a dent in Wal-Mart's growth in the U.S., where it has more than 2,700 supercenters—large stores that sell groceries and general merchandise. Last year, 51% of Wal-Mart's $258 billion in U.S. revenue came from grocery sales. In many cases, the pitched battles have more than doubled the amount of time it takes Wal-Mart to open a store, says a person close to the company. And the fights generate negative publicity for the retailer.
Business Week: Hesse Plots a Big Win with Sprint's 4G Debut
Sprint Nextel Chief Executive Officer Dan Hesse might be the most recognizable head of any wireless company in the world. Since late 2007, Hesse has been the face of Sprint as he lauds the third-largest U.S. carrier's virtues in TV and radio ads. When it comes to phones, Sprint has struggled to find one that can deliver the recognition its chief executive has achieved. Although the company has recorded strong sales of Palm's Pre and some Samsung models, none has become a must-have gadget the way Apple's iPhone, exclusive to AT&T, or Verizon Wireless' Droid smartphones have done. Now Sprint is counting on the anticipated HTC Evo 4G to spur interest in its brand.
In Case You Missed It
CNN's Candy Crowley discusses upcoming races, including, the race against Harry Reid in Nevada.
The Tea Party rally in Arizona sparks debate among some Latinos. CNN's Thelma Gutierrez has their story.
Subscribe to the CNN=Politics DAILY podcast at http://www.cnn.com/politicalpodcast
And now stay posted on the latest from the campaign trail by downloading the CNN=Politics SCREENSAVER at http://www.CNN.com/situationroom