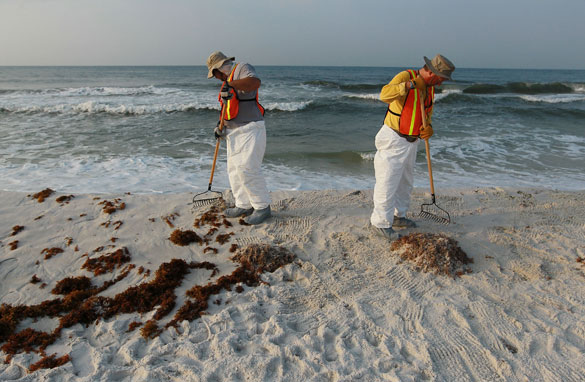 Workers clean up oil residue on Pensacola Beach in Florida. (PHOTO CREDIT: Getty Images)

Washington (CNN) - Nearly three out of four Americans say the oil spill in the Gulf of Mexico is a major environmental disaster, and a majority wants legal action against BP and its partners, according to a new national poll.
An ABC News/Washington Post survey released Monday indicates that 73 percent of the public considers the spill a major environmental disaster, with one in four saying it's a serious problem but not an environmental disaster.
Fifty-one percent of people questioned in the poll say that they feel strongly that the federal government should pursue criminal charges against BP and the other companies involved in the spill, with another 14 percent saying they feel somewhat strongly that Washington should pursue criminal charges, and 28 percent saying no to such action.
The Justice Department launched both criminal and civil investigations into the disaster in recent days.
According to the survey, nearly seven in ten say the federal government's done a not so good or poor job handling the spill, with more than eight in ten giving BP a thumbs down. The poll indicates that this dissatisfaction crosses party lines.
The ABC News/Washington Post poll was conducted June 3-6, with 1,004 adults questioned by telephone. The survey's overall sampling error is plus or minus three percentage points.
–CNN Deputy Political Director Paul Steinhauser contributed to this report.