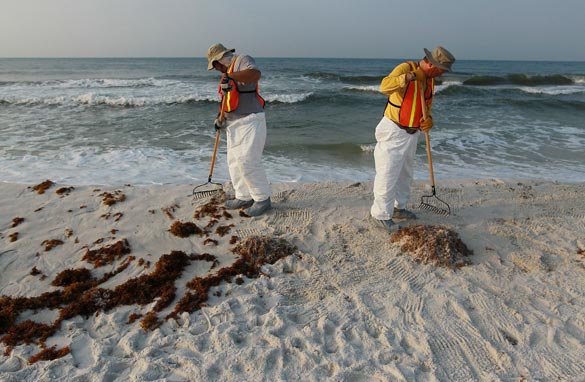 Workers cleared a Pensacola, Florida beach Monday as oil residue washed ashore . (Photo Credit: Getty Images)
Washington (CNN) - Top Senate Democrats called Tuesday for a sweeping overhaul of the nation's corporate liability laws in the wake of the Gulf of Mexico oil disaster, arguing that companies currently have little incentive to make safety and environmental concerns a top priority.
Specifically, the senators blasted a 2008 U.S. Supreme Court ruling that cut the amount of punitive damages a jury awarded to victims of the 1989 Exxon Valdez oil spill by $2 billion. They also criticized the 1990 Oil Pollution Act, which would potentially limit BP's liability for economic damages incurred by the Gulf spill to $75 million. Critics note that the amount is a small fraction of the cost a major oil spill like the Gulf disaster will inflict on communities.
At the same time, the senators sharply questioned an 1851 law limiting shipowners' post-accident liability to the value of a sunken vessel. Rig owner Transocean used the law in the days immediately following the April 20 explosion to attempt to limit its liability to $26 million.
The various measures were the focus of what became a heated hearing conducted by the Senate Judiciary Committee.