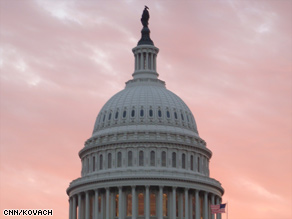 The CNN Washington Bureau's morning speed read of the top stories making news from around the country and the world.
WASHINGTON/POLITICAL
For the latest political news: www.CNNPolitics.com
CNN: Crucial contests from coast to coast Tuesday
A number of high-profile primary battles highlight races in 12 states Tuesday, including a senator trying to save her political life and a runoff in a special congressional election to fill a vacant House seat. Iowa, Maine, Montana, New Jersey, North Dakota, South Dakota and Virginia also are holding primaries Tuesday. There's also a runoff in Georgia to fill the seat of former Rep. Nathan Deal, a Republican who stepped down this year to run for governor. Both candidates in the runoff contest are Republicans.
San Francisco Gate: Candidates blitz state in final push for votes
In a last weekend of frenzied campaigning before the June 8 primary, candidates for statewide office marshaled last-minute ads, attacks – even visits from Karl Rove and a fictional "Queen Meg" – to appeal to voters in what's been a record-breaking season of political spending. GOP billionaire and former eBay CEO Meg Whitman, who has spent a stunning $81 million on her gubernatorial primary effort, dropped a few more dollars Sunday by offering free barbecue and live music to supporters who showed up at rallies in Madera and Sacramento.
The State: Voter turnout expected to be light
Voters go the polls for statewide primary elections Tuesday in South Carolina for the first time since the record-setting turnout of 2008. There was a riveting presidential election on the ballot that year, when 520,000 Democrats voted in their primary, and 446,000 Republicans voted in theirs. The top office in the land isn't up for grabs this year, but much is at stake. For the first time since 1994, the governor's seat is wide open; Republican Gov. Mark Sanford cannot run again. And no incumbent will be returning to the lieutenant governor's office this year, either.
Politico: Harry Reid lays out huge Senate agenda
Majority Leader Harry Reid laid out an daunting summer agenda for the Senate on Monday afternoon, including a tax extenders bill, an emergency extension of unemployment benefits, a small-business jobs bill, the financial reform conference report and a war funding bill. To top that off, the Senate also has to begin the confirmation hearings of Supreme Court nominee Elena Kagan and deal with the ongoing oil spill crisis in the Gulf. As if that's not enough to deal with, Reid wants key Senate committees to draw up an energy bill in wake of the oil spill.
CNN: California Dems spar over Facebook privacy settings
Facebook's privacy settings have turned into a political talking point in the California Democratic attorney general primary race. After candidate Kamala Harris released two advertisements leading up to Tuesday's primary that attacked Facebook and her opponent Chris Kelly, Facebook's former chief privacy officer, Kelly's campaign says the issue is simply a "distraction."
Wall Street Journal: Candidates Go After Their Rivals' Ties to Wall Street
In a year of anger over big bank bailouts and hefty banker bonuses, candidates are aiming the "Wall Street insider" epithet at their rivals with a new aggressiveness and intensity. Candidates who have worked for Wall Street firms or banks elsewhere are seeing their rivals try to tie those stints to voters' economic anxieties. The tactic has forced several of the targets to spend valuable time explaining their work histories. They include Democrat Alex Sink, who is trailing in the polls in her bid for Florida governor, and Republican John Kasich, who is in a close race for governor of Ohio.
CNN: Men charged with threatening Stupak
Angry over Rep. Bart Stupak's decisive vote for health care reform, a man threatened to "... paint the Mackinaw Bridge with the blood of you and your family members ...," in an anonymous letter to the congressman last month, according to the U.S. Attorney in Michigan. Russell Hesch, 73, of West Branch, Michigan, and his son, David Hesch, 50, of Loveland, Colorado, were charged with threatening to assault, kidnap or murder Stupak, a United States Official, according to a criminal complaint filed Monday by the U.S. Attorney. Both men have been arrested and will appear in federal court in Bay City, Michigan and Denver, Colorado.
Pittsburgh Post-Gazette: Some Specter loyalists line up to support Toomey
Former Specter chief of staff David Urban is pulling together a group of Republicans with Pennsylvania ties – some of whom stayed loyal to Mr. Specter when he switched parties last year – to get behind Republican Pat Toomey for the fall Senate race. Mr. Urban, a Washington lobbyist who was Mr. Specter's top staffer from 1997 to 2002, said he will convene more than a dozen current and former Republican chiefs of staff from the Pennsylvania delegation to discuss how to help Mr. Toomey.
CQ Politics: OFA Looks to Boost Democratic Candidates in Midterms
Organizing for America, the grass-roots arm of the Democratic National Committee, is kicking off a campaign to try to re-create the fervor of Barack Obama 's 2008 presidential campaign and lure those first-time voters back to the polls to help Democratic candidates this fall. But even OFA's plan to pour $50 million into the effort may not be enough to convince House Members that OFA is an effective ally since some feel that it failed to deliver help during the contentious health care debate when they needed it the most.
Wall Street Journal: Three Men to Shape Finance
Three men burnished and tarnished by the financial crisis are expected to wield disproportionate influence over Congress's final push to write a new law for financial regulations. Treasury Secretary Timothy Geithner, House Financial Services Committee Chairman Barney Frank and Senate Banking Committee Chairman Christopher Dodd bring to the negotiations experience from the government's rapid and often ad hoc response to the financial crisis, including the controversial decision to risk taxpayer money to bail out the financial sector. The three have said that the experience from the financial crisis should serve as the foundation for what new regulations should look like. As a result, people who know them say, they are likely to show willingness to negotiate on parts of the bill they don't view as core, while being intractable on pieces they view as elemental.
Washington Post: White House is directing agencies to cut budgets
The White House is directing agencies to develop plans for trimming at least 5 percent from their budgets by identifying programs that do little to advance their missions or President Obama's agenda. The request, made amid rising public anxiety over government spending, comes on top of a pledge by Obama this winter to freeze spending at most agencies for the next three years. In a joint memo to be delivered Tuesday morning, White House Chief of Staff Rahm Emanuel and budget director Peter Orszag order agency heads to go further by listing the programs that "are least critical" to their overall goals.
The Hill: Advocates push back against black lawmakers on ethics office
Watchdog groups are trying to insulate a new House ethics panel from an attempt to peel away its powers. Democracy 21 and the Campaign Legal Center are calling on Speaker Nancy Pelosi to stand up and defend the Office of Congressional Ethics (OCE), which was created under her leadership to help police members' activities after a rash of corruption and ethics scandals during GOP control of the chamber. Other groups, such as Common Cause, U.S. PIRG and Public Citizen, have sent letters supporting the OCE in the past and this week will likely join in urging Pelosi to strongly support the new, more independent layer of ethics scrutiny.
Washington Post: Vehicle safety bills reflect compromise between U.S. legislators and automakers
Automakers have reached a series of compromises with lawmakers over both the House and Senate versions of auto safety legislation aimed at forcing the National Highway Traffic Safety Administration to set and enforce stricter standards, according to records and interviews. The proposed legislation, known as the Motor Safety Vehicle Act of 2010, would require the agency to set standards for the first time on electronic components in vehicles, increase penalties for automakers who lie or mislead the agency about safety defects and bar agency officials hired by automakers from working with the agency for three years.
CNN: White House correspondent Thomas retires amid controversial comments
Longtime White House reporter Helen Thomas has retired effective immediately, Hearst Corporation said Monday. The media conglomerate had employed Thomas as a syndicated columnist for its newspaper chain. Her retirement comes amid a furor created last week by her controversial comments regarding Jewish people. Thomas, 89, was considered the dean of the White House press corps, as she was the longest-serving White House journalist.
CNN: Poll: Oil spill a major disaster
Nearly three out of four Americans say the oil spill in the Gulf of Mexico is a major environmental disaster, and a majority wants legal action against BP and its partners, according to a new national poll. An ABC News/Washington Post survey released Monday indicates that 73 percent of the public considers the spill a major environmental disaster, with one in four saying it's a serious problem but not an environmental disaster.
NATIONAL
For the latest national news: www.CNN.com
CNN: Gulf oil disaster cleanup to take years, Allen says
Workers scraped oil off beaches and skimmed it out of waterways from Louisiana to the Florida Panhandle on Monday, but the impact of the Gulf oil disaster will be felt for years, authorities said. Restoring wetlands and wildlife habitats along the Gulf Coast will take far beyond the time needed to cap the ruptured undersea well at the heart of the disaster, Coast Guard Adm. Thad Allen, the head of the federal government's response effort, told reporters at the White House.
CNN: Obama looking for 'whose ass to kick'
President Barack Obama bluntly defended his administration's response to the undersea gusher fouling the Gulf of Mexico on Monday, telling an interviewer he has met with experts to learn "whose ass to kick." A variety of critics have accused Obama of being too cerebral in his reaction to the undersea gusher now fouling the Gulf of Mexico, of failing to put the full force of the administration and of putting too much trust in oil company BP. But Obama told NBC his deliberations have been more than academic.
CNN: Terror suspects yearned for fame, documents allege
One of two New Jersey men accused of planning to "wage violent jihad" once boasted, "I wanna, like, be the world's known terrorist," according to a court affidavit. An undercover agent recorded the statement allegedly made by Mohamed Mahmoud Alessa, a 20-year-old from North Bergen, New Jersey, to 24-year-old Eduardo Almonte, who lived in the nearby borough of Elmwood Park. The two men appeared Monday before a federal magistrate, who ordered them held without bond on charges of conspiring to kill, maim and kidnap people outside the United States, which carry a maximum sentence of life in prison. Both men requested court-appointed attorneys.
INTERNATIONAL
For the latest international news: http://edition.cnn.com
CNN: Israel appoints 'experts' to examine flotilla incident
The Israeli military's chief of general staff has appointed a reserve general to lead "a team of experts" to examine Israel's interception of a flotilla bound for Gaza last week in order to "establish lessons from the event," the Israel Defense Forces said in a statement. Israeli commandos intercepted the first convoy at sea May 31 and stormed the largest vessel, the Turkish-flagged Mavi Marmara. At least nine people aboard the ship were killed.
CNN: Iran Red Crescent to send aid to Gaza
Iran's Red Crescent Society will try to break the Israeli blockade of Gaza by sending food and medical supplies to the besieged Palestinian territory, an Iranian Foreign Ministry spokesman said Monday. Red Crescent official Abdul Rauf Adibzadeh said one shipment of relief goods will arrive in Gaza via Egypt by the end of the week, Iranian media reported.
CNN: Van der Sloot confesses to murder, Peruvian authorities say
Joran van der Sloot could be formally charged as early as Tuesday in the killing of Stephany Flores Ramirez, Peruvian government authorities said. Van der Sloot, who confessed to murder in the case on Monday, will likely be held at one of three maximum security prisons - Castro Castro, Piedras Gordas and Lurigancho, authorities said. At his first court appearance, the judge may set a hearing date for van der Sloot and could order additional investigations in the case. The Peruvian justice system often issues a lighter sentence in cases where the suspect confesses. That may have influenced his alleged confession.
Wall Street Journal: India's Welfare Gamble: Add 100 Million to the Dole
India, one of the world's fastest growing economies, is now embarking on a major reassessment of poverty levels. At a stroke, tens of millions of people could flood onto the welfare rolls. Generating a reliable list of poor households has become a top priority for the government of Prime Minister Manmohan Singh, which has pledged to spread the benefits of India's rapid growth to the aam aadmi, or common man. The government launched its review of poverty as it drafts legislation to give the poorest Indians a right to subsidized food-grains.
CNN: Mexican authorities recover 55 bodies from mine shaft
Mexican authorities found 55 bodies inside a mine ventilation shaft that was used as a mass grave in the city of Taxco, officials said Monday. Bodies were first discovered in the mine shaft a week ago, and Monday's announcement concluded the weeklong recovery effort. Of the 55 bodies, three were mummified, and two were skeletal remains, the Guerrero state attorney general's office said.
New York Times: N. Korea Reshuffle Seen as Part of Succession Plan
As its leader, Kim Jong-il, was watching, North Korea's rubber-stamp Parliament fired its prime minister and elevated his brother-in-law to the government's No. 2 post on Monday in a sweeping government reshuffle. Mr. Kim, who is believed to be in failing health, is grappling with two daunting tasks simultaneously. He is trying to engineer a succession of power to his third son, Kim Jong-un, 27. And he is also struggling to provide for the needs of his people, who have suffered years of food shortages and the near collapse of the centrally planned economy.
BBC News: Japanese PM Naoto Kan and cabinet to be sworn in
Japan's new Prime Minister Naoto Kan is due to name his cabinet and be formally sworn in by Emperor Akihito. Mr. Kan was elected prime minister by lawmakers on Friday, two days after the abrupt resignation of Yukio Hatoyama. The former PM stepped down amid tensions over a controversial US military base on the island of Okinawa.
Washington Post: Britain, Germany pledge cuts in spending
Two of Europe's largest countries on Monday pledged an assault on government spending as the euro remained weak and the International Monetary Fund issued a fresh call to restructure ailing European economies. The move by officials in Britain and Germany was a reminder that the crisis over government debt in Europe is being felt not just in weak nations such as Greece, but in ones that have served as the continent's economic pillars.
CNN: 10 troops killed in Afghanistan
Attacks across Afghanistan on Monday killed 10 allied troops, including seven Americans, in the deadliest day for coalition forces this year, officials said. Two of the dead were Australians killed by a blast during patrol in the Mirabad Valley of southern Afghanistan acting Australian Defense Minister Greg Combet said. They were the first Australian service personnel killed in Afghanistan in nearly a year.
BBC News: Spanish public sector to strike against austerity plan
Spanish public sector workers are preparing to strike in protest against an average 5% cut in pay that comes into effect this month. The cuts are part of a government austerity package aimed at reducing the country's budget deficit, swollen by almost two years of recession. The protests come amid a European debt crisis that began in Greece.
BUSINESS
For the latest business news: www.CNNMoney.com
CNN: Apple CEO has live technical issues
Just after Apple CEO Steve Jobs debuted the next version of his company's iPhone to the world, the tech luminary had a bit of technical trouble. "Well jeez," Jobs said, struggling to get the spanking new iPhone 4 to do much of anything without a connection to a Wi-Fi network. The technical faux pas came during Jobs' keynote address at Apple's Worldwide Developers Conference in San Francisco, California.
CNNMoney: $250 Medicare checks coming
The government is mailing $250 checks this week to seniors who fall into the gap in Medicare's prescription drug coverage. The first checks will be sent June 10, three weeks earlier than scheduled, to about 80,000 people. The rebates are the first step in closing the Medicare "donut hole." The Department of Health and Human Services estimates that about 4 million seniors will get the rebates in 2010.
CNNMoney: Dow at 7-month lows
Stocks slumped Monday, with the Dow and S&P 500 ending at 7-month lows, after the euro hit a fresh four-year low, adding to worries about the global economy. The Dow Jones industrial average lost 115 points, or 1.2%, closing at the lowest point since Nov. 4. The S&P 500 index lost 14 points, or 1.4%, and closed at its lowest point since Nov. 4. The Nasdaq composite fell 45 points, or 2%, and closed at its lowest point since Feb. 11.
Business Week: Bernanke Says Recovery Unlikely to Lower Joblessness Quickly
Federal Reserve Chairman Ben S. Bernanke said the U.S. recovery probably won't quickly bring down the unemployment rate, which is likely to stay "high for a while." Given the depth of the recession, the recovery is "moderate paced," Bernanke said last night in a question-and- answer session with Sam Donaldson, the ABC News journalist, in Washington. In Europe, policy makers "are committed to avoiding default in Greece" and elsewhere, he said.
Washington Post: As growth in U.S. slows, Wal-Mart puts more emphasis on foreign stores
This is the next phase of Wal-Mart domination. It built its business in small towns and suburbs across the United States, but now international sales are growing at almost nine times the rate of domestic sales. Wal-Mart already was facing stalled growth at home after saturating the market, and that has been exacerbated by the weak labor market and high gas prices, which have battered the chain's core customers and depressed sales. That means the company has become increasingly reliant on the appetites of international shoppers to pick up the slack and drive growth, mirroring a broader global shift in purchasing power.
CNNMoney: Lawmakers: Tylenol maker hasn't delivered documents
Johnson & Johnson, whose drugmaking unit McNeil PPC, is already under government investigation over a string of drug recalls, failed to meet a Monday deadline set by Congress to deliver documents pertaining to what lawmakers cite as an alleged surreptitious recall last year of close to 90,000 Motrin tablets. The Congressional Committee on Oversight & Government Reform had set a 4:00 p.m. deadline on June 7 for Johnson & Johnson to provide more information and records about an attempted 2009 "phantom" recall of Motrin.
CNNMoney: Goldman Sachs subpoenaed by crisis panel
A government panel charged with examining the financial crisis said Monday it had subpoenaed Goldman Sachs after what it believed were deliberate attempts by the banking giant to impede its investigation. The legal order was officially filed late last week by the Financial Crisis Inquiry Commission, a 10-member, bipartisan panel appointed last summer by Congress. Phil Angelides, the former California treasurer who is heading up the probe, said that investigators made numerous attempts in recent months to secure documents and schedule interviews with executives from Goldman.
CNNMoney: Foreclosure tricks cost Countrywide $108 million
Mortgage lender Countrywide Home Loans Inc. agreed to pay $108 million Monday to settle government claims that it charged homeowners facing foreclosure inflated service fees. The settlement with the Federal Trade Commission, one of the largest imposed in an agency case, will reimburse overcharged borrowers whose loans were serviced by Countrywide before it was acquired by Bank of America in July 2008.
In Case You Missed It
Joran Van der Sloot, once a suspect in a U.S. teen's disappearance in Aruba, confesses to killing a woman in Peru.
GOP Gubernatorial candidate Steve Poizner talks about illegal immigration with CNN's Jessica Yellin.
Subscribe to the CNN=Politics DAILY podcast at http://www.cnn.com/politicalpodcast
And now stay posted on the latest from the campaign trail by downloading the CNN=Politics SCREENSAVER at http://www.CNN.com/situationroom