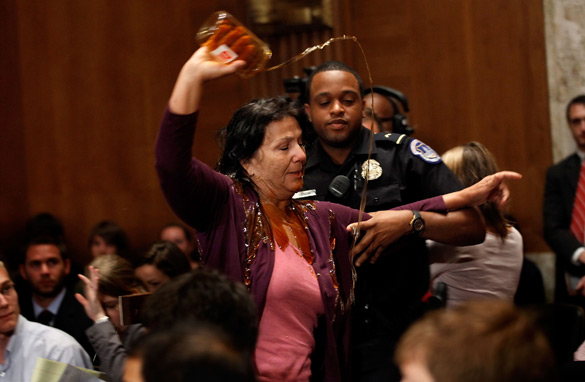 Protester Diane Wilson dumps oil on herself during a Senate hearing. (PHOTO CREDIT: Getty Images)

Washington (CNN) - Public anguish over the growing oil disaster in the Gulf of Mexico took center stage on Capitol Hill on Wednesday as a woman dumped simulated oil on herself during a Senate hearing in a graphic expression of support for legislation lifting oil companies' current liability cap.
"We're tired of the bailouts and we're tired of being dumped on in the Gulf," protester Diane Wilson yelled during the start of a Senate Energy and Natural Resources Committee hearing.
Wilson, who was arrested, described herself as a fourth-generation shrimper from the Gulf. She interrupted opening remarks by Alaska Sen. Lisa Murkowski, one of several Republicans who have expressed opposition to lifting the $75 million cap.
"I am seeing the destruction of my community and I am outraged," Wilson added in a statement released by the activist group Code Pink. "I am also seeing elected representatives like Sen. Lisa Murkowski blocking BP from being legally responsible to pay for this catastrophe. ... This is outrageous."
Several top congressional Democrats - with the backing of the White House - are pushing for a complete removal of the liability cap. Some Republicans, however, have warned that doing so could lead to the creation of a new energy monopoly while increasing U.S. dependence on foreign oil.
Updated: 5:44 p.m.