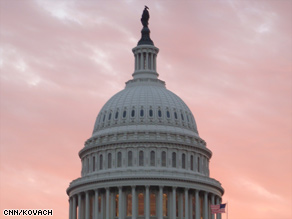 The CNN Washington Bureau's morning speed read of the top stories making news from around the country and the world.
WASHINGTON/POLITICAL
For the latest political news: www.CNNPolitics.com
CNN: Salazar defends 'pause button' on deepwater drilling
Interior Secretary Ken Salazar on Wednesday defended the Obama administration's six-month federal moratorium on deepwater drilling, which has come under fire from critics who argue that seeking offshore oil is vital for reducing the dependence on foreign supplies. Speaking before the Senate Committee on Energy and Natural Resources, Salazar said the moratorium was necessary so "as we move forward with any kind of deepwater operation, that we can assure the American public and we can assure that everyone who was watching that in fact it can move forward in a safe way." The moratorium comes as President Obama's oil spill commission investigates what caused the Deepwater Horizon oil rig explosion April 20. Its report is due in six months.
CNN: Democrats renew push for removal of oil liability cap
Top congressional Democrats renewed their push Wednesday for legislation that would remove all oil spill liability caps - a move some Republicans warn would lead to stronger monopolies in the energy sector while increasing U.S. dependence on foreign oil sources. Among other things, Democrats are targeting the 1990 Oil Pollution Act, which could limit BP's liability for economic damages incurred by the Gulf disaster to $75 million. Critics note that the amount is a small fraction of the cost a major oil spill like the Gulf disaster will inflict on communities. BP has said it will waive the cap on damages and pay "all legitimate claims" as a result of the Gulf spill, the largest in U.S. history.
Wall Street Journal: GOP Newcomers Raise Fall Stakes
Midway through a volatile primary season that has seen the electorate move right and a spate of incumbents knocked out, Republican voters are placing a clear bet that a roster of outspoken, anti-government candidates, many new to the national stage, can ride the country's anti-Washington mood to victory. Some Republican candidates are embracing the strongest small-government policies since the GOP's sweeping win in 1994, defying many analyst predictions that the election of President Barack Obama two years ago signaled a leftward tilt for the nation.
Washington Post: In primaries, female candidates didn't make gender an issue
With victories by several prominent women in Tuesday's primary elections came the familiar declarations that a "year of the woman" is underway. But in at least five races, something even more remarkable occurred: The candidates' gender never became much of an issue. Tuesday's elections put on display the increasing diversity of female candidates, as well as their growing resilience. They were for abortion rights and against them, old and young, part of the political establishment and new to it. Their male opponents attacked them - relentlessly, in some cases - apparently unworried about being seen as picking on a woman. The women touched on their gender, but did so sparingly. And they made few appeals to traditional women's issues.
Salt Lake Tribune: Bennett to endorse Bridgewater
Sen. Bob Bennett will throw his support behind Tim Bridgewater, one of the candidates who knocked the three-term incumbent from office, The Salt Lake Tribune has learned. Multiple sources familiar with the discussions between Bennett and the Bridgewater camp, speaking on condition of anonymity because they were not authorized to discuss the matter, confirmed that Bennett would formally endorse Bridgewater within the next few days. The Bridgewater campaign would not confirm an endorsement is imminent.
CNN: Open mic catches Fiorina dig at Boxer
Newly-minted U.S. Senate Republican nominee Carly Fiorina added her name Wednesday to the annals of unfortunate politicians caught by an open mic. Waiting to be interviewed by affiliate KXTV Wednesday morning, Fiorina is clearly heard taking a dig at her rival for the California Senate seat, Sen. Barbara Boxer, D-California. "God, what is that hair?" a laughing Fiorina said, while quoting a friend who had recently seen Boxer on television. "So yesterday."
Las Vegas Sun: Sharron Angle wins; Harry Reid gets race he wanted
After years of maneuvering, Senate Majority Leader Harry Reid got the race he wanted. Sharron Angle, a former Reno assemblywoman and Tea Party favorite, emerged from Tuesday's Republican primary, lifted to a landslide by a solid base of conservative supporters but carrying political baggage that experts say gives the embattled Reid a new lease on political life. Known as a staunch conservative, Angle now faces the challenge of appealing to the broader electorate, a task made difficult by her rigid ideology — she supports phasing out Social Security and dismantling the Education Department.
CNN: Haley and Barrett begin sprint to GOP nomination
Despite predictions that the Republican gubernatorial runoff might be nastier than the bitter four-way primary fight that preceded it, candidates Nikki Haley and Gresham Barrett traded only mild jibes Wednesday as their campaigns re-grouped and wrestled with strategy following Haley's dominant showing in the polls the night before. Barrett lost out on a potentially significant endorsement Wednesday when Sen. Jim DeMint, who has ties to Barrett and his advisers, declined to get involved in the race.
CNN: Barrett strikes first on TV in South Carolina runoff
Despite pressure from national Republicans, Gresham Barrett vowed Wednesday to remain in the runoff race against Nikki Haley for South Carolina's GOP gubernatorial nomination. Barrett made good on that promise Wednesday by releasing the first television ad of the runoff race – a follow-up to the well-received "Drill Sergeant" commercial that helped drive up Barrett's poll numbers in the final weeks of the race.
Cleveland Plain Dealer: Ohio Republican U.S. Senate candidate Rob Portman to begin airing ads in race against Democrat Lee Fisher
Republican U.S. Senate candidate Rob Portman is about to take advantage of his huge campaign bank account to address his disadvantage in statewide name recognition. Portman has raised $7.6 million so far for his campaign, including $2.35 million in the first quarter of 2010. His Democratic opponent, Lt. Gov. Lee Fisher, is busy re-filling his campaign account after a contested primary. Fisher raised $3.9 million and spent much of it. His total includes some donations designated for the general election battle.
CNN: Poll: Crist still on top in 3-way contest
The third straight non-partisan poll conducted since Gov. Charlie Crist announced that he would run as a independent in his big for Florida's open Senate seat indicates that the governor remains in the lead in a three way battle. According to a Quinnipiac University survey released Wednesday, 37 percent of registered Sunshine state voters back Crist, with 33 percent supporting Marco Rubio, the former Florida House speaker and the presumptive Republican nominee, and 17 percent backing Democratic Rep. Kendrick Meek. Crist's four point advantage over Rubio is within the poll's sampling error.
Houston Chronicle: Gov. Perry raises profiteering allegations against White
GOP Gov. Rick Perry on Wednesday accused Democrat Bill White of engaging in profiteering during Hurricane Rita in 2005 by directing a local water authority to award a contract to a company to which he had financial ties. Perry made the accusation in a press release and said that if the allegation was true, White should drop out of the governor's race. The accusation drew a sharp rebuke from White, who defended his record and called Perry's criticism a smokescreen to avoid a debate on issues important to Texas voters, including a looming budget shortfall of as much as $18 billion.
Washington Post: California voters choose to get rid of party primaries with passage of Prop 14
Gov. Arnold Schwarzenegger (R) and many other moderates in California say a ballot proposition passed Tuesday that puts in place an unusual "top two" primary election process could lead to a renaissance for centrist lawmakers. But it's almost certain to face a legal challenge - and its impact remains an open question. Proposition 14, modeled on a similar law in Washington State, was approved by 8 percentage points. The measure will create a single, open primary in which the top two finishers, regardless of party, advance to the general election runoff, paving the way for Republican-vs.-Democrat, Democrat-vs.-Democrat or Republican-vs.-Republican contests. With nearly one in every eight U.S. House members coming from California, the proposition brings into increased national focus an experiment underway in Washington State since 2008.
The Hill: Online lender lobbies Congress for industry consumer regulator
Prosper Marketplace, an online company that arranges loans directly between borrowers and lenders, is lobbying hard for Congress to put a new consumer financial protection regulator in charge of its industry. As part of the Wall Street overhaul package in Congress, Prosper is lobbying for a provision that would place the new consumer regulator over the industry. The company is waging a vocal battle against the Securities and Exchange Commission, which found in 2008 the firm was trading in securities and needed to comply with securities law.
CNNMoney: Congress keeps Medicare doctors waiting
As lawmakers tussle over freezing a 21% cut to doctors' Medicare fees, physicians are stuck waiting for word as to how much they'll be paid - and when. Officially, a massive cut to the rates that the government pays doctors to treat Medicare patients took effect June 1. But the Centers for Medicare & Medicaid Services said it would delay processing claims for 10 business days, in the hope that Congress will delay the cuts, making the move retroactive, as it has done for years. But Monday, June 14, marks the 10th business day of that claims delay - and lawmakers are still locked in a stalemate while doctors go unpaid.
NATIONAL
For the latest national news: www.CNN.com
CNN: BP given until Friday to provide backup plans for oil recovery
Federal authorities have given BP until Friday to devise contingency plans for the continued collection of gushing oil into a containment cap in the event of an operational failure or severe weather. In a letter written Tuesday, the government's on-scene administrator, Coast Guard Rear Adm. James Watson, instructed BP Chief Operating Officer Doug Suttles to lay out a process for the recovery of oil spewing into the Gulf of Mexico.
CNN: Source: Undercover FBI agent passed money to van der Sloot in probe
A representative for Natalee Holloway's mother who paid $25,000 for information on the whereabouts of her remains last month was an undercover FBI agent, a federal law enforcement official told CNN. However, the FBI and the U.S. attorney's office in Birmingham, Alabama, said Wednesday that the FBI did not supply the money.
INTERNATIONAL
For the latest international news: http://edition.cnn.com
CNN: U.N. votes to slap new sanctions on Iran
The United Nations Security Council voted Wednesday to impose new sanctions on Iran to try to force it to suspend its nuclear program. U.S. President Barack Obama called them "the toughest sanctions ever faced by Iran." But Iranian President Mahmoud Ahmadinejad said they were like a "used handkerchief that should be dumped in a garbage can," Iranian media reported.
CNN: Obama calls for rethinking Gaza blockade, announces aid package
The United States will contribute $400 million in development aid to the Palestinian territories and work with Israel to loosen its embargo on Gaza, President Barack Obama said Wednesday. Obama's announcement came after White House talks with Palestinian Authority President Mahmoud Abbas. The money will be used to build housing, schools, water and health care systems in both the Palestinian Authority-controlled West Bank and Gaza, which is ruled by the Palestinian Islamic movement Hamas.
Wall Street Journal: Gates Says EU Pushed Turkey Away
Defense Secretary Robert Gates accused the European Union of pushing Turkey toward the East by its resistance to letting the mainly Muslim nation join the bloc, the closest any senior U.S. official has come to saying the West risks losing Turkey. The comments, made Wednesday to reporters while Mr. Gates was in London and reported by news agencies, came as Turkey voted against a U.S.-backed resolution at the United Nations Security Council mandating new sanctions against Iran. Mr. Gates also expressed "concern" at the sharp deterioration in relations between U.S. allies Turkey and Israel, over the killing of Turkish citizens by Israeli soldiers on a ship bound for Gaza last week.
CNN: 39 dead in blast at Afghanistan wedding
A bombing at a wedding ceremony Wednesday in Afghanistan's Kandahar province killed 39 people and wounded 73 others, officials in the village of Nagaan said. The explosion came during the wedding dinner, between 9:30 and 10 p.m., striking the area where the men and boys were dining separately from the women. All the casualties were men or boys, village officials said.
BBC News: Egypt introduces Alexandria smoking ban
Egypt, the biggest Arab consumer of cigarettes, is beginning an attempt to ban smoking in public places. Alexandria is to be Egypt's first no smoking city, beginning with a ban on lighting up in government buildings. Egyptians smoke some 19 billion cigarettes each year, prompting concerns for public health.
CNN: 20-seat loss forces early exit for Dutch PM as party leader
Dutch Prime Minister Jan Peter Balkenende resigned Wednesday as leader of the Christian Democratic Alliance after exit polls from the country's national elections projected that his party would lose 20 of its 41 parliamentary seats. Balkenende, who also gave up his seat in parliament, will remain in office as prime minister until a new coalition government is formed, said Xander van der Wulp, political editor for CNN affiliate NOS. That process could take months because no clear winner was projected in Wednesday's elections.
New York Times: Views of North Korea Show How a Policy Spread Misery
North Koreans are used to struggle and heartbreak. But the Nov. 30 currency devaluation, apparently an attempt to prop up a foundering state-run economy, was for some the worst disaster since a famine that killed hundreds of thousands in the mid-1990s. Interviews in the past month with eight North Koreans who recently left their country — a prison escapee, illegal traders, people in temporary exile to find work in China, the traveling wife of an official in the ruling Workers' Party — paint a haunting portrait of desperation inside North Korea, a nation of 24 million people, and of growing resentment toward its erratic leader, Kim Jong-il. What seems missing — for now, at least — is social instability.

BBC News: Japan PM Naoto Kan vows action on debt and US ties
Japan's incoming Prime Minister Naoto Kan has vowed to make the country more "vigorous", tackle national debt and improve relations with the US. Mr. Kan was speaking before being sworn in to office by Emperor Akihito. His appointment on Friday followed the abrupt resignation of Yukio Hatoyama.
CNN: World Cup journalists robbed
Three journalists covering the World Cup in South Africa were robbed of money, passports, cameras and computers early Wednesday, police said. Armed suspects entered three hotel rooms where the journalists were staying near the town of Magaliesburg, police Col. Charmaine Muller told CNN.
The Guardian: David Willetts hints that university students will face higher fees
The universities minister tonight gave his clearest indication yet that students could soon be forced to pay higher tuition fees. In an interview with the Guardian, David Willetts warned that the cost of hundreds of thousands of students' degree courses was a "burden on the taxpayer that had to be tackled". Willetts said he did not want to pre-empt the recommendations of Lord Browne's independent review into whether fees should rise from £3,225 a year. But he added that students should consider university fees "more as an obligation to pay higher income tax" than a debt.
BUSINESS
For the latest business news: www.CNNMoney.com
CNNMoney: AT&T fixes major iPad 3G security hole
AT&T said late Wednesday that it has fixed a security hole that may have allowed hackers to access the e-mail addresses of more than 100,000 iPad 3G owners. The announcement came shortly after tech and gossip blog Gawker posted an expose of the breach. A hacker group used a vulnerability on AT&T's website to harvest the e-mail addresses iPad buyers provided to activate their devices, which went on sale barely more than a month ago. The result was a glitzy who's who list of iPad early adopters, which includes major political figures, military officials and top politicians. Rahm Emanuel, the chief of staff for President Obama, was among the iPad users whose e-mail address was exposed, according to Gawker. Hollywood producer Harvey Weinstein and New York City Mayor Michael Bloomberg were also on the hit list.
Fortune: BP: Bankrupt Petroleum?
BP shares plunged 16% in frenetic trading - nine times the oil company's average daily volume - amid speculation that a bankruptcy filing is at hand. The cost of insuring against a default on BP debt surged 48% to a new high, CMA said. It now costs $382,000 annually to insure $10 million worth of BP debt against a default for five years. That's more than triple the going rate last month.
New York Times: Saving Chevrolet Means Sending 'Chevy' to Dump
Bye-bye, indeed, Miss American Pie. If General Motors has its way, you won't be driving your Chevy to the levee ever again. On Tuesday, G.M. sent a memo to Chevrolet employees at its Detroit headquarters, promoting the importance of "consistency" for the brand, which was the nation's best-selling line of cars and trucks for more than half a century after World War II. And one way to present a consistent brand message, the memo suggested, is to stop saying "Chevy," though the word is one of the world's best-known, longest-lived product nicknames.
CNNMoney: Hello Chinese exports, good-bye U.S. jobs
For millions of unemployed Americans, the news about China's surging export market isn't necessarily cause for celebration, even if it might be a harbinger for global recovery. Chinese exports surged 50% in May from a year earlier, easily trouncing expectations for a 32% increase, according to a Reuters report citing a leaked statement from a Chinese official. This information is an unconfirmed sneak peak of China's official trade report, which is expected to be released Thursday.
Bloomberg: Asia Stocks Rise on Higher Growth; Kiwi Strengthens, Won Falls
Asian stocks rose, led by energy producers, and U.S. index futures rebounded after economic reports from Japan to Australia showed accelerating growth. The New Zealand dollar rose after the central bank raised interest rates and the Korean won fell. Japan's economy grew at an annualized 5 percent rate in the three months ended March 3, Australian employers added workers for a third straight month and the Federal Reserve's Beige Book survey said the U.S. economy expanded in all 12 Fed districts for the first time in more than two years at a "modest" pace.
Wall Street Journal: BOE Says Price Rise In the U.K. Won't Last
The Bank of England's relaxed response to Britain's surging inflation rate is raising eyebrows among some economists who worry that rapidly rising prices could spark broader concern among the public at a time when the U.K. is struggling with a fragile recovery. Economists at the Organization for Economic Cooperation and Development have questioned the central bank's belief that British consumer-price inflation, which shot to a 17-month high of 3.7% in April, is a temporary blip that will start fading this summer. Recent surveys show that the British public's expectations for future inflation are at the highest level in years, suggesting some Britons are losing confidence in officials' ability to rein in prices.
CNNMoney: Wanted: 400,000 truck drivers
The U.S. trucking industry will need to hire about 200,000 drivers by the end of this year, and will need to add another 200,000 by the end of 2011, according to the state of logistics report from the Council of Supply Chain Management Professionals. A number of factors will feed into this need for drivers, including retirements, tougher safety regulations designed to get drivers with bad records off the road and the need to replace drivers who were laid-off during the recession, according to the report. Overall the industry lost almost 150,000 driving jobs since the start of 2008.
CNNMoney: Consumers caught in CVS-Walgreens crossfire
The feud between two of the nation's largest drug chains intensified Wednesday after CVS Caremark dropped rival Walgreens from its pharmacy benefits plan, a move that could force some consumers to pay much more for drugs at Walgreens pharmacies. Stocks of both companies fell Wednesday, with CVS down about 1.5% and Walgreen Co. down nearly 3%. CVS said it was terminating Walgreens from its pharmacy benefits management after Walgreens "surprised" its rival on Monday by announcing that it will no longer participate in new or renewed plans from CVS' drug benefits unit.
In Case You Missed It
BP's senior vice president takes CNN's Brian Todd inside its command center.
Rep. Charlie Melancon believes that Adm. Thad Allen can make BP clean up the Gulf oil spill.
Subscribe to the CNN=Politics DAILY podcast at http://www.cnn.com/politicalpodcast
And now stay posted on the latest from the campaign trail by downloading the CNN=Politics SCREENSAVER at http://www.CNN.com/situationroom