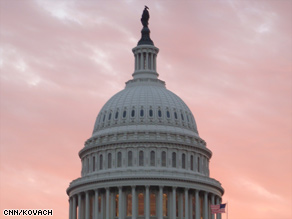 The CNN Washington Bureau's morning speed read of the top stories making news from around the country and the world.
WASHINGTON/POLITICAL
For the latest political news: www.CNNPolitics.com
CNN: November true test for Tea Party success
As Sharron Angle celebrated her win in Nevada's Republican Senate primary, she praised the Tea Party activists who backed her campaign and vowed to return the country to its constitutional principles. As Angle was declaring victory, several time zones away, a slew of Tea Party candidates were going home empty-handed after establishment candidate Robert Hurt stomped them in the primary race for Virginia's 5th Congressional District. Despite a nationwide wave of anti-incumbent fervor and a Tea Party cry to "throw the bums out," far more sitting lawmakers have survived than have been ousted.
More stories after the jump
CNNMoney: Lobbyists swarm as Wall Street bill talks start
As lawmakers began the final push Thursday on a comprehensive Wall Street reform bill, lobbyists also made their final push - in congressional hallways, on BlackBerrys and cell phones, and at restaurants and bars near Capitol Hill. On Thursday, some 40 lawmakers gathered in a House committee room to give speeches and kick off a marathon, two-to-three week session of deal-making on key differences buried in the bills.
Politico: Cantor aims to focus GOP on spending
House Minority Whip Eric Cantor will kick off a personal drive Friday to rebrand the GOP "as a party that gets it" and would focus on spending — not ideology — if Republicans win a House majority in November. Cantor, who has occasionally gotten under President Barack Obama's skin during leadership meetings at the White House, will take a few digs at him Friday when unveiling his refreshed GOP message for the Detroit Economic Club, a prestigious forum visited by every sitting president since Richard Nixon.
New York Times: An Early Campaign Gaffe Makes a Non-Issue Big
You can parse a voting record. Flip-flops — political ones — are fair game. But don't talk about a woman's hair. Carly Fiorina's were, all told, really no more incendiary than a bit of warm pasta salad — who hasn't indulged in some off-the-record chitchat about the grooming habits of others now and then? But they presented her with a political problem that could haunt her throughout the campaign. They both inform and confirm the image from her days as chief executive at Hewlett-Packard that she is tart and unpleasant. And they open the entire campaign to perceptions, however tired or unfair, that women can be dragged down the road of pettiness, perceptions that detract from the serious and pressing issues of the day.
CQ Politics: Virginia: GOP Runner-Up Forms PAC
There are plenty of political action committees attached to members of Congress. But to a candidate who lost in a primary? That's rare. It's the next step for Virginia real estate developer Jim McKelvey, who came in second on Tuesday in an eight-candidate Republican primary won by state Sen. Robert Hurt, 48 percent to 26 percent. McKelvey's campaign said Thursday he's forming Take Our Country Back PAC to "seek out, support, educate, train and elect conservative candidates on the local and state level in the fifth district and throughout Virginia."
Charlotte Observer: Jabs sharpen in Democratic primary race for U.S. Senate
Democratic Senate candidate Elaine Marshall was so perturbed that Cal Cunningham accused her of wanting to raise the retirement age for Social Security that she sicced her 90-year-old mother on him. "The guy running against her should be ashamed of himself for saying things that just aren't so," Pauline Folk said in a recorded telephone message that recently went to Democratic households. "Anyone who knows Elaine will tell you that she's 100 percent committed to protecting Social Security." The robocall is a sign of the new, more strident tone of the Democratic Senate primary heading into the final two weeks before the June 22 runoff.
Las Vegas Sun: Sharron Angle's angle: Keep the spotlight on Harry Reid
While on the stump, Sharron Angle has often used the catchphrase: "Don't read my lips, read my record." Visitors to her website Wednesday — a day after the former assemblywoman won the Republican U.S. Senate primary in a landslide — would have found that to be an impossible task. Gone were any references to policy positions, including her plan to end Social Security and Medicare. All that remained was a photo and "donate" button accompanied by the brief message: "Let's keep the momentum going! Your donation will help us beat Harry Reid in November." Angle has retrenched for a general election fight that she hopes to make a referendum on Reid's record — not hers.
Washington Post: In South Carolina, Greene is mystery man despite winning Democratic Senate nod
Alvin M. Greene never gave a speech during his campaign to become this state's Democratic nominee for Senate. He didn't start a Web site or hire consultants or plant lawn signs. There's only $114 in his campaign bank account, he says, and the only check he ever wrote from it was to cover his filing fee. Indeed, in a three-hour interview, the unemployed military veteran could not name a single specific thing he'd done to campaign. Yet more than 100,000 South Carolinians voted for him on Tuesday, handing him nearly 60 percent of the vote and a resounding victory over Vic Rawl, a former judge who has served four terms in the state legislature.
Pittsburgh Post-Gazette: Critz begins to settle in to Murtha's quarters
Walls that once held an array of images and artifacts from Rep. John P. Murtha's remarkable career are now bare, his office inhabited by a man who is still learning his way around the labyrinthine U.S. Capitol complex. For Rep. Mark Critz, D-Johnstown, who assumed the literal and figurative office of his former boss three weeks ago, it is a frantic time. He was sworn in just two days after winning a nationally scrutinized special election against Republican Tim Burns, whom he will face again in the fall, and now must come to terms with how to carry on in the place of Pennsylvania's longest-serving congressman. No, Mark Critz will not be the defense appropriations chair - but he was able to get the new chair, Rep. Norm Dicks, D-Wash., to visit Johnstown last week for the annual Showcase for Commerce. It was one of several signs that Mr. Critz is not your average freshman. That is due, in part, to how close House Speaker Nancy Pelosi, D-Calif., was to Mr. Murtha, and her continued interest in the seat.
Salt Lake Tribune: Lee raising more money, but Bridgewater's bank is bigger
GOP Senate hopeful Mike Lee is winning the cash race in the sprint to the June 22 primary, but opponent Tim Bridgewater heads into the final stretch with more than twice as much money in the bank, much of it coming from Bridgewater's own pocket. New financial disclosures show Lee raised nearly $263,000 from mid-April to early June, while Bridgewater raked in $141,000 during the same period. However, Bridgewater's previous personal loans to the campaign, plus $55,000 he tossed in since the state convention, leave him with nearly $233,000 on hand, more than doubling Lee's $107,000. Lee's deputy campaign manager, Ryan McCoy, says they are confident they will have the money they need before the primary.
Arizona Republic: Questions arise over jailing of SB 1070 violators
Although most of the attention on Arizona's new immigration law has focused on the factors allowing police to stop and question illegal-immigrant suspects, there has been little discussion about what happens after someone is cited for failing to carry immigration documents. Many legal questions remain as police agencies, prosecutors and the court system continue to sort that out. But this much is known: It is likely to substantially raise local authorities' costs for housing inmates. Various parts of the criminal-justice system are still trying to determine how they will handle cases after the measure takes effect July 29.
CQ Politics: Menendez Predicts Midterm Victories
Democratic Senatorial Campaign Committee Chairman Robert Menendez (N.J.) predicted Thursday that voters would be much kinder to his party on Election Day than others expect. Menendez argued that Republicans are nominating extreme candidates incapable of connecting with Americans on issues they care about. Gauges of the Democrats' electoral prospects continue to suggest that the majority faces an uphill climb this fall, as President Barack Obama's approval rating hovers under 50 percent in some surveys, unemployment has been stuck near 10 percent for several months and key voting blocs remain skeptical of the new health care overhaul. Additionally, Republicans are polling competitively in Senate races across the country, including in traditionally Democratic states. But Menendez brushed aside those indicators, saying at an afternoon news conference that the predictor he will be watching the day before the Nov. 2 elections is the right-track, wrong-track poll of how voters feel about the direction of the country.
The Hill: Pelosi considering rewriting ethics rules drafted two years ago
Speaker Nancy Pelosi has privately indicated she is willing to rewrite some of the ethics rules that House Democrats implemented two years ago. Pelosi late last month met with members of the Congressional Black Caucus (CBC) about the Office of Congressional Ethics (OCE), which was created to bolster the ethics of the lower chamber. At the meeting, which was also attended by CBC lawmaker and Majority Whip James Clyburn, sources said Pelosi heard complaints about the OCE's new powers and investigation tactics. Pelosi and Clyburn were sympathetic, because the OCE has produced some unintended consequences, according to two sources in the room.
CNN: Top Dem. senate campaigner blasts GOP candidates, tries to define them
The man responsible for electing more Democrats to the U.S. Senate believes that his party's roster of candidates will win in November because Republican candidates are either "poster childs" for failed policies or "fringe candidates." Sen. Robert Menendez, D-New Jersey, is Chairman of the Democratic Senatorial Campaign Committee. On Thursday at the headquarters for the Democratic National Committee he spoke with reporters about the results of a round of primaries on Tuesday.
CNN: Senate defeats measure blocking EPA from regulating greenhouse gases
A controversial bill that would have stopped the Environmental Protection Agency from regulating carbon emissions was defeated in the Senate on Thursday, falling four votes shy of the 51 needed for passage. Six Democrats joined a unified Republican caucus in backing the measure.
Wall Street Journal: White House Knot: Add Jobs but Don't Add to Deficit
White House officials are concerned that record long-term unemployment could undercut the fragile economic recovery. But they are caught in a tough spot in trying to address the problem. The central bind: Policies that might help ease long-term unemployment would add to the U.S. budget deficit at a time when Congress has little appetite for increased spending. On Thursday, the U.S. reported its 20-straight month of budget deficits, with Treasury Department data showing the government has so far spent $935.6 billion more than it has collected in fiscal 2010. The White House projects as much as a $1.5 trillion deficit for the year.
The Hill: Skelton: Panel will investigate Arlington cemetery failures
The House Armed Services Committee will investigate errors at Arlington National Cemetery after an Army probe found that 211 graves have been mishandled. Misidentified or misplaced remains, improperly marked graves, mismanagement and bad recordkeeping were among the issues uncovered by the Army's inspector general in a months-long probe.
NATIONAL
For the latest national news: www.CNN.com
CNN: New estimate: Up to 40,000 barrels a day was coming from BP well
Scientists now estimate the leaking BP oil well in the Gulf of Mexico was releasing 20,000 to 40,000 barrels - or 840,000 to 1.7 million gallons - per day through last week, the head of the U.S. Geological Survey said Thursday. The scientists' previous estimate was 12,000 to 19,000 barrels per day. The new estimate is of the well's flow rate prior to BP's cutting of the damaged riser pipe extending from the well's blowout preventer last week, U.S. Geological Survey Director Marcia McNutt said.
Wall Street Journal: U.S. Nears Racial Milestone
Whites are on the verge of becoming a minority among newborn children in the U.S., marking a demographic shift that is already reshaping the nation's politics and economy. The Census reported Thursday that nonwhite minorities accounted for 48.6% of the children born in the U.S. between July 2008 and July 2009, gaining ground from 46.8% two years earlier. The trajectory suggests that minority births will soon eclipse births of whites of European ancestry.
INTERNATIONAL
For the latest international news: http://edition.cnn.com
CNN: Police: Van der Sloot said he knows location of Holloway's body
Joran van der Sloot told investigators during an interrogation that he knows the location of Natalee Holloway's body, but he would neither identify the location nor say what happened to her the night of her disappearance, a Peruvian police official told said Thursday in Lima, Peru. Van der Sloot, a 22-year-old Dutch citizen, is suspected of killing a 21-year-old woman in Lima last month.
CNN: Sentences for Taiwan ex-president, wife reduced from life to 20 years
Taiwan's high court on Friday sentenced the island's former leader Chen Shui-bian and his wife Wu Shu-jen to 20 years in jail, Taiwan's Central News Agency reported. Both had initially been sentenced to life imprisonment after their convictions in 2009 on charges of corruption. During his trial, prosecutors said Chen embezzled 600 million New Taiwan dollars (U.S. $18.5 million), took bribes, laundered money and illegally removed classified documents from the president's office.
Bloomberg: South Korean Top General Slept Off Drink as Ship Sank
South Korea's top military officer was sleeping off a drinking session in his office as one of the nation's warships sank, killing 46 sailors, Yonhap News reported, citing state auditors. General Lee Sang-eui, chairman of the Joint Chiefs of Staff, is also suspected of falsifying a document to show that he was present in the Defense Ministry's command-and-control center on the night the Cheonan was split in two by an explosion, Yonhap cited officials from the Board of Audit and Inspection as saying. Calls to three telephone numbers at the public relations office of the Joint Chiefs of Staff weren't answered. The state inspectors yesterday recommended punishing 25 generals and civilian officials for mishandling the attack on the 1,200-ton warship, which South Korea said was carried out by a North Korean submarine.
BBC News: Turkey agrees to plans for Arab 'free trade zone'
Turkey has agreed to set up a free trade zone with three of its Arab neighbors, Syria, Lebanon and Jordan. The plan was revealed at a meeting of Arab and Turkish ministers in Istanbul. The aim is to improve economic relations between Turkey, which remains eager to join the European Union, and the rest of the region. Despite rapid growth in recent years, Turkey's trade with the Arab world represents a fraction of its commerce with Europe.
Washington Post: Iran threatens to cooperate less with U.N. nuclear inspection agency
Top Iranian officials threatened to scale back cooperation with the United Nations' nuclear watchdog on Thursday as a chorus of political leaders raged against new economic sanctions imposed on the Islamic republic's military establishment. The threats came amid revelations about the Obama administration's use of sensitive intelligence - including statements by an Iranian scientist who defected last year - to win Security Council support for the sanctions.
CNN: UK PM steps into fray to defend BP
David Cameron, the British prime minister, has leapt to BP's defense, emphasizing the "economic value" the oil company brings to the UK and US, in a clear signal of British concerns over the rhetoric about the Gulf of Mexico oil spill. The prime minister's intervention, marking a distinct shift of tone from his earlier support for the US stance, followed a day on Thursday of increasing City, media and political pressure to be more robust in responding to attacks on the British multinational.
BBC News: Deadly clashes in Kyrgyzstan's southern city of Osh
At least three people have been killed in clashes in Kyrgyzstan's second-largest city of Osh, the country's health ministry says. The authorities have now declared a state of emergency in Osh, sending armored vehicles to restore order. Osh is the power base of former President Kurmanbek Bakiyev, who was overthrown in deadly protests in April.
New York Times: Workers at Chinese Honda Plant March in Protest
Striking workers at a Honda auto parts plant here are demanding the right to form their own labor union, something officially forbidden in China, and held a protest march Friday morning. Meanwhile, other scattered strikes have begun to ripple into Chinese provinces previously untouched by the labor unrest. A near doubling of wages is the primary goal of the approximately 1,700 Honda workers on strike here in this southeastern China city, at the third Honda auto parts factory to face a work stoppage in the last two weeks.
CNN: Thai leader calls for national reconciliation
After a spring marred by political turbulence, Thailand's Prime Minister Abhisit Vejjajiva called for national reconciliation in a speech delivered Thursday. Abhisit struck a conciliatory note at a critical juncture as an appointed fact-finding chief looks into the March to May anti-government demonstrations and the crackdown that ensued. The United Front for Democracy, the formal name of the Red Shirt opposition, had been demanding that Abhisit dissolve the lower house of Parliament and call new elections.
Times of London: Millions may lose out in reform of child benefits
A radical reform of child benefits, including ending payments to more than seven million families when their children reach the age of 13, is being considered by the Government's new poverty adviser. Frank Field, appointed by the coalition last week, is also looking at taxing child benefit and allowing parents to receive payments of up to £25,000 in the first three years after a child's birth. In an interview with The Times, the former Labour minister said that the benefit, which costs the taxpayer £11 billion a year, should be linked more closely to the child's age. It is paid to every family until a child is 19 if he or she is in full-time education. Even the wealthiest parents get the £20 a week for their first child and £13.40 for each subsequent one.
Wall Street Journal: Italy Senate Passes Wire-Tap Bill
Italian Prime Minister Silvio Berlusconi advanced a draft law through the senate that restricts the use of wiretaps by prosecutors and introduces fines and prison sentences for journalists who issue reports on tapped conversations. The draft law's passage on Thursday by the senate prompted a torrent of criticism from Italian prosecutors, newspapers and opposition lawmakers. Mr. Berlusconi, a media magnate, says the bill aims to protect the privacy of Italians. Critics say the draft legislation, which still faces a vote in the lower house of Parliament, is an attempt by Mr. Berlusconi to weaken the judiciary branch's investigative powers and muzzle criticism of the prime minister in Italian media.
BUSINESS
For the latest business news: www.CNNMoney.com
CNNMoney: AIG bailout spared Wall Street, watchdog says
The federal government could have pressed the private sector to help rescue AIG when the company was on the verge of collapse in September 2008, a government watchdog has found. Instead, it let Wall Street off easy. The government's $182 billion bailout of the global insurer has left taxpayers holding the bag, while ensuring that all of AIG's creditors and business partners are paid in full, said a Congressional Oversight Panel report released Thursday.
CNNMoney: Dell banks $100 million to settle fraud charges
Dell has set aside $100 million for a potential fraud settlement, the company said Thursday, as it nears a resolution with the Securities and Exchange Commission of a mysterious case that has plagued the company for more than five years. The government first launched an investigation into the computer giant in August 2005, alleging violations of securities laws, including fraud related to Dell's financial reporting and to its disclosures about its financial dealings with chipmaker Intel. The investigation also includes allegations against the company's chief executive, Michael Dell. It is still unclear exactly what Dell did wrong.
Bloomberg: Retail Sales in U.S. Probably Increased at Slower Pace in May
Sales at U.S. retailers rose in May at the slowest pace of the year, indicating consumers boosted savings as employment slowed and stocks fell, economists said before a report today. Purchases increased 0.2 percent following a 0.4 percent April gain, according to the median estimate of 76 economists surveyed by Bloomberg News. Other reports may show consumer confidence and inventories rose. Companies reined in hiring last month, making it likely households will keep a lid on spending, which accounts for about 70 percent of the economy.
CNN: FBI probes hackers' AT&T iPad breach
The FBI is investigating a security breach of AT&T's website that allowed hackers to access the e-mail addresses of iPad owners. A hacker group called Goatse Security exploited a vulnerability on AT&T's website to harvest the e-mail addresses that iPad 3G buyers provided to activate their devices. The group sent the information to tech and gossip blog Gawker, which reported that 114,000 e-mail addresses were exposed.
CNNMoney: Homebuyers could get more time for tax credit
First-time homebuyers looking to land an $8,000 federal income tax credit may have a little more time to close on their purchases if a Senate amendment unveiled Thursday makes it into law. As it stands now, homebuyers must have signed contracts by April 30 and must close the deal by June 30. They could be eligible for an $8,000 tax credit if they are first-time buyers or a $6,500 credit if they owned and lived in their previous home for five of the last eight years. The closing deadline, however, could be pushed back to Sept. 30 under an amendment offered by Senate Majority Leader Harry Reid, D-Nev., Sen. Johnny Isakson, R-Ga., and Sen. Chris Dodd, D-Conn. The senators said they want to make sure banks have time to process the transactions - especially short-sales, which is a more involved process.
Investors Business Daily: Internal China Fight To De-Peg The Yuan Stymied By Euro Fall
The U.S. government has fruitlessly pushed China to let the yuan rise vs. the dollar, making American goods more competitive. But a more critical — and more obscure — fight is taking place between Chinese monetary and trade officials. The policy feud outcome could have a major impact on China's economy, the yuan and U.S. exports to what will one day be the world's largest consumer market. Bank of China officials are pushing for a stronger yuan that will counter inflation and help build a domestic demand-led economy that cuts China's export dependence. On the other side are China's Commerce and Agriculture ministries that are battling to keep the yuan weak to boost China's export performance.
Business Week: Snoop Dogg, Beckham World Cup Spots Fuel Ad Market Recovery
The World Cup, which starts in South Africa today, will add as much as $1.5 billion to advertising spending this year as Coca-Cola Co. and Nike Inc. pay top prices for air time during the most-watched sporting event. Whether it's rapper Snoop Dogg recast in the Star Wars cantina with David Beckham for Adidas or Cristiano Ronaldo and Homer Simpson in an ad for Nike, commercial air time during the month-long competition is commanding rates as much as 50 percent higher than typical prime time, said Vincent Letang, a senior analyst at researcher Screen Digest, based in London. "Advertising works like a commodity market, and the rates are more than ever before," Letang said. "Prices are rising like crazy this year. Last year TV ads were cheaper than ever."
In Case You Missed It
Relatives of the fallen Deepwater Horizon crew spoke about their quest for justice and their meeting with Pres. Obama.
CNN's Tom Foreman attempts to talk with several workers at a cleanup site in Grand Isle, Louisiana.
Subscribe to the CNN=Politics DAILY podcast at http://www.cnn.com/politicalpodcast
And now stay posted on the latest from the campaign trail by downloading the CNN=Politics SCREENSAVER at http://www.CNN.com/situationroom