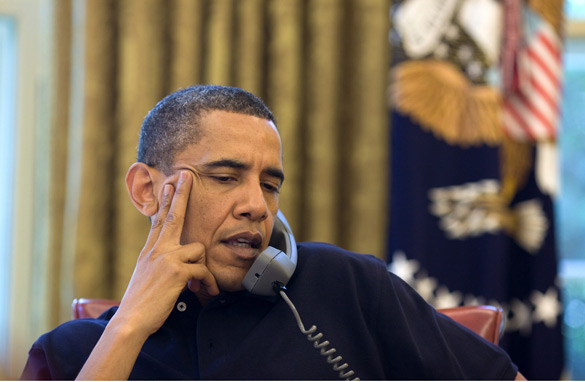 The president called Prime Minister Cameron Saturday. (Photo Credit: Pete Souza/Official White House Photo)
Washington (CNN) – President Obama and British Prime Minister David Cameron have wagered their nation's "best" beer and lager over Saturday's World Cup showdown match between their two nations, the White House said.
Obama, who spoke to Cameron by phone from the Oval Office Saturday, suggested the wager, according to a summary of the conversation provided by the White House. "The president noted that the historical record of previous World Cup matches between the United States and England favors the United States and the president wagered the best lager against the best beer in America on an American win over England."
Later: U.S., England play to a 1-1 tie
The White House did not specify what the president considers to be the nation's best beer. Obama drank a Bud Light at the White House last summer during the so-called "beer summit" which brought together a Harvard professor and police officer after an incident between them sparked controversy.

This is the second time the two leaders have spoken since Cameron came into office. They will meet face-to-face at the G-8/G-20 meetings in Canada later this month and in Washington on July 20.
According to the White House Obama and Cameron discussed Afghanistan, Iran, the Gulf oil spill, and they "agreed to disagree on the desired outcome of the U.S.-England World Cup soccer match."
Vice President Joe Biden and Dr. Jill Biden are attending the showdown match in Pretoria, South Africa.