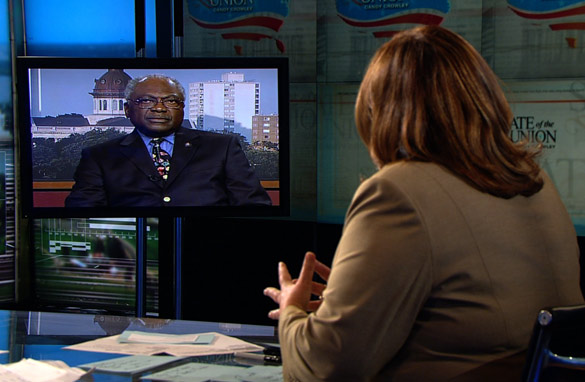 "I saw the patterns in this,' House Majority Whip James Clyburn, D-South Carolina, said Sunday of his state's recent Democratic primaries. (Photo Credit: CNN)
(CNN) – A leading South Carolina Democrat charged Sunday that his state's recent Democratic primaries had been tainted. And House Majority Whip James Clyburn used some very colorful language to do so.
In addition to the fact that Alvin Greene, an unemployed veteran with no apparent campaign apparatus, won Tuesday's race for the South Carolina's Democratic Senate nomination, Clyburn also told CNN of a suspicious element in his own primary race - a consultant with Republican ties worked for Clyburn's unsuccessful challenger.

Watch: Clyburn speaks out on recent S.C. Dem primaries
"I saw the patterns in this," Clyburn said on CNN's State of the Union. "I know a Democratic pattern. I know a Republican pattern and I saw in the Democratic primary elephant dung all over the place. And so I knew something was wrong in that primary. And this result tells us that."
Clyburn also told CNN Chief Political Correspondent Candy Crowley that he did not see himself supporting Greene in his effort to unseat popular conservative lawmaker Sen. Jim DeMint, R-South Carolina. And Clyburn reiterated his theory that Greene's candidacy was orchestrated to disrupt the electoral process in South Carolina. "Of course, Candy, I never said [Greene] was a Republican plant," explained Clyburn. "I said he was someone's plant."
Related: Clyburn calls for an investigation into Greene's bid
Speaking to CNN's Don Lemon in an interview that aired Saturday night, Greene denied that he had been planted in the race by the Republican Party.
(Video of Lemon's interview with Greene embedded after the jump)

"No, I've always been a Democrat," Greene told Lemon. "And I am the best candidate for United States Senate in South Carolina."
Greene, who is jobless and living with his father, said he used his personal savings to pay the roughly $10,000 filing fee required to initiate his Senate bid. And Greene had "no comment" about criminal charges pending against him, repeatedly telling Lemon that his lawyer "was dealing with that."
Greene also called two South Carolina lawmakers who have questioned his mental health "knuckleheads."
The chairwoman of the South Carolina Democratic Party called on Greene to withdraw from the race soon after the criminal charge against him was first reported, but Greene refused.
"The election was certified as 3 p.m. Eastern Standard Time yesterday," he told Lemon Saturday. "So, I'm on the ballot from here on out. I'm in all the way and I'm the best candidate for United States Senate in this race in South Carolina."