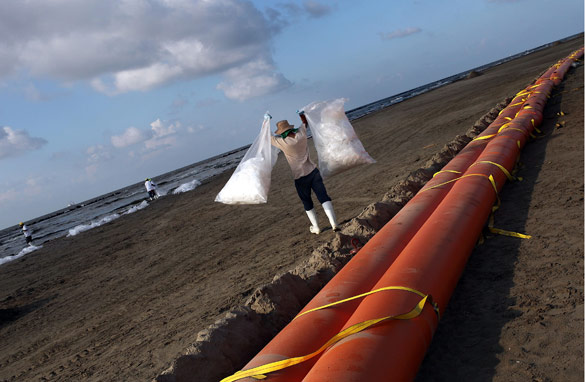 A worker hired by BP helped to clean the beach in Grand Isle, Louisiana late last week. (Photo Credit: Getty Images)
Washington (CNN) - President Barack Obama will push BP Chairman Carl-Henric Svanberg at their meeting Wednesday to create a BP-funded escrow account that will pay for a damage claims process administered by an independent third party, a White House official told CNN on Sunday.
"The president will make clear that he expects, and that if necessary will exercise his full legal authority to ensure, that BP sets aside the funds required to pay individuals and businesses damaged by this massive spill," the White House official said on condition of anonymity.
In addition, the official said, the plan would call for the money set aside by BP to be "paid out under fair, efficient, and transparent procedures administered by an independent third-party panel established just for this purpose."

–CNN's Dan Lothian contributed to this report.