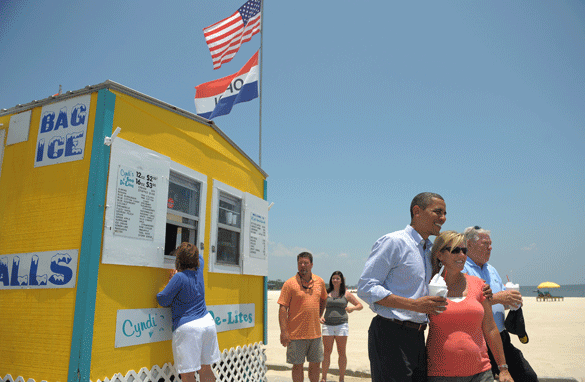 Obama poses with a local resident during his trip to the Gulfport, Mississippi. (Photo Credit: Getty Images)
Theodore, Alabama (CNN) - President Barack Obama used a lemon-lime snow cone to show that parts of the Gulf Coast remain unaffected by the oil spill –and that he's fully engaged in the ongoing crisis on a day and a half visit to the region.
At his first stop in Gulfport, Mississippi, the president was briefed by Admiral Thad Allen and other officials on the latest effort to cap and contain the oil. And the president said that many locations are still open for tourism and unaffected by the spill.
"We just want to make sure that people who have travel plans down to the Gulf area remain mindful of that, because if people want to know what can they do to help folks down here, one of the best ways to help is to come down here and enjoy the outstanding hospitality," the president said.
The president said he was updated on the need for better coordination of Skimmers and other assets involved in the effort, so that more oil is kept off area beaches.
Obama said they also discussed concerns about problems residents are facing as they file claims to recover money from BP.
In another Gulf state where the president heads next, there is optimism and despair.
Some residents around Theodore, Alabama, where Obama will tour a staging area in which booms are cleaned and de-contaminated, are glad to be getting the administration's attention.
But one man says it's nothing more than a "photo op." Jim Hall, a retired executive and longtime local resident who has lived and fished on the Gulf since the 1980's, wants the administration to talk less and do more.
There is plenty of pain to go around.
Harry Jemison, the owner of Jemison's Bait-N-Tackel shop reeled in a nice trout that he cooked up for breakfast, but the longtime family business is hurting.
He was on course to realize a record year for his small business. But the oil spill put a stop to his season.
Everyone is "afraid to fish," he said.
Some days he shuts down early. Sunday was so slow that he sent two employees home early.
The ocean views are still spectacular here. Large pelicans are perched on what once was a dock. Sometimes, it's hard to imagine that a crisis bubbles below. Or, in some spots, on the surface.