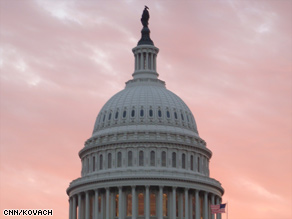 The CNN Washington Bureau's morning speed read of the top stories making news from around the country and the world.
WASHINGTON/POLITICAL
For the latest political news: www.CNNPolitics.com
CNN: BP boss facing 'nightmare well' Hill grill
BP chief Tony Hayward should be prepared to face tough questioning about the cause of the Gulf oil disaster when he appears before a key House committee this week, according to a letter released Monday by the committee's chairman. The letter to Hayward from House Energy and Commerce Committee Chairman Henry Waxman, D-California, says a congressional investigation alleges that the besieged oil company took a low-cost, speedy approach to drilling the broken deepwater well responsible for the growing spill in the Gulf of Mexico.
Washington Post: House Democrats reach deal on campaign spending exemptions for businesses, other groups
House Democrats reached a compromise that would exempt the National Rifle Association and other large organizations from proposed campaign finance disclosure rules aimed primarily at large corporations, sources said Monday. The deal paves the way for a House vote as soon as this week on the legislation, which is aimed at pushing back against a Supreme Court ruling this year that freed corporations, unions and nonprofit groups to spend unlimited amounts in support of or against political candidates.
CNN: Democrats want investigation into surprise Senate primary winner
As political newcomer Alvin Greene calls on South Carolina's Democratic establishment to get behind him, party leaders are calling for an investigation into his surprise win in the state's Democratic Senate primary. Greene, 32, is an unemployed veteran who came out of nowhere to win last week's election. Despite running no ads, Greene toppled former state legislator Vic Rawl with almost 60 percent of the vote. He'll face Republican Sen. Jim DeMint in the general election. South Carolina Rep. James Clyburn said Sunday that he has no plans to get behind Greene and repeated his suspicions that the Democratic nominee is "someone's plant."
CNN: Poll: Obama not tough enough on BP
When it comes to the oil spill in the Gulf of Mexico, a new national poll indicates that most Americans don't think President Barack Obama's been tough enough on BP. According to a USA Today/Gallup survey, 71 percent of the public says Obama hasn't been tough enough in dealing with BP, with one in five saying the president's response has been about right, three percent saying he's been too tough, and six percent unsure.
CNN: Poll: 49 percent say Democrats too liberal
Nearly half of Americans say the Democratic Party is too liberal, according to a new poll. A USA Today/Gallup poll indicates that 49 percent of the public think the political views of the Democratic party are too liberal, up ten points from two years ago and the highest level since 1994, when the Republican party grabbed back control of both houses of Congress in that year's midterm elections. Thirty-eight percent of respondents say the Democrats' policies are about right, down 12 points from 2008, with one in ten saying the party's views are too conservative.
CQ Politics: Melancon Takes On a Second Opponent: BP
Rep. Charlie Melancon hasn't made much headway in his contest against Sen. David Vitter (R) over the past seven months, but now the Democrat has a new enemy in the Louisiana Senate race: BP. With oil from the Deepwater Horizon leak threatening the shores and marshes of his 3rd Congressional district, Melancon has dramatically increased his profile. He's been making the rounds on the cable news talk shows and received plenty of national attention for his post-spill efforts. But Melancon must be careful not to look too political in a time of crisis, and it's unclear whether he has fundamentally changed the dynamics of the Senate race. Early indications are that he still has a lot of work to do.
Wall Street Journal: Texas Democrats See Red Over Green Party's Ballot Coup
Texas Democrats have filed a lawsuit after learning that an out-of-state Republican consultant helped the Green Party qualify for the state's general-election ballot for the first time since 2002—a surprising turn of events Democrats claim is a plot to hurt their gubernatorial candidate in November. The Texas Democratic Party filed the suit Thursday against Arizona-based consultant Timothy F. Mooney, a Missouri group called Take Initiative America Inc., the Texas Green Party and "unknown conspirators," alleging a slew of state election-law violations.
Cleveland Plain Dealer: Strickland picks up major endorsement from NRA in governor's race
Gov. Ted Strickland's re-election campaign received a major boost on Monday when the powerful National Rifle Association endorsed him over Republican challenger John Kasich. The Democratic incumbent celebrated the support from the gun rights group by making campaign stops with NRA lobbyist John Hohenwarter in rural, socially conservative Proctorville in Southern Ohio and Martins Ferry in Eastern Ohio, both along the West Virginia border.
Washington Post: Sen. Blanche Lincoln's derivatives-spinoff plan gains support in Congress
An effort to force some of the nation's biggest banks to spin off their lucrative derivatives-dealing operations appears to be gaining traction, as members of a House-Senate conference begin finalizing details of far-reaching new financial regulations. The measure, championed by Sen. Blanche Lincoln (D-Ark.), was included in the financial overhaul bill recently passed by the Senate. It had been opposed by Obama administration officials, some lawmakers in both parties, multiple banking regulators and Wall Street. Lincoln is seeking to restrict federal aid to banks that operate as major derivatives dealers. If enacted, the controversial measure likely would mean a significant hit to the bottom line of big banks such as Goldman Sachs and J.P. Morgan Chase.
Las Vegas Sun: Lame duck? Jim Gibbons doesn't think so
Gov. Jim Gibbons' administration plans to aggressively push conservative policies and challenge the Legislature's authority in its final six months, unbowed by last week's landslide defeat. Gibbons will issue executive orders, give direction to department heads and consider lawsuits to reshape state government right up to Jan. 2, when he leaves office, his senior staff said last week. Among the proposals his staff is considering are closing the 140-year-old Nevada State Prison in Carson City, pushing a ballot initiative opening up the collective bargaining process and challenging whether a key legislative budget committee is constitutional.
CNN: Republicans stop feared New York State government shutdown
Three Republican New York state senators crossed party lines Monday and voted "yes" for a week long budget extension, stopping the threat of a government shut down in the state. The Republican votes offset the "no" vote of Democratic Sen. Ruben Diaz, Sr., of the Bronx. The vote passed by a 34 to 27 margin. The short-term spending plan is a stop gap measure now passed 11 straight weeks while the divided state legislature struggles to come to an agreement on a complete budget. Despite the bipartisan vote, tensions remain high between the New York Democrats and Republicans.
Lexington Herald Leader: Conway challenges Paul to release Medicare billing
Rand Paul, the Republican nominee for U.S. Senate, refused again Monday to say how much money his medical practice gets from the federal Medicare program, despite a call for transparency by his Democratic opponent, Attorney General Jack Conway. Paul campaign chairman David Adams said the issue is irrelevant. The Conway campaign said Paul, a Bowling Green eye surgeon, has demanded sweeping cuts to most federal programs other than Medicare payments to doctors, which he has defended, making him a hypocrite.
CNN: Congressman apologizes for on-camera confrontation
North Carolina Rep. Bob Etheridge reiterated his apology Monday after an online video surfaced showing he was involved in a physical altercation with two young men who approached him on a Washington street and asked the Democrat whether he supported President Obama's agenda. "The truth is I had a long day, it was the end of the day, almost sunset," he told reporters on Capitol Hill. "But that's not the issue. The issue is I apologize for my actions and the people of North Carolina know me well and I apologize to these young men as well." Etheridge declined to say whether more words or actions were exchanged beyond those that were shown in the edited video posted anonymously online Monday.
Los Angeles Times: Sniping from the sidelines as budget deadline nears
Democrat Jerry Brown and Republican Meg Whitman have plenty to say about the state's lack of fiscal discipline, marveling at incompetence in the Capitol, where Tuesday's constitutional deadline for the Legislature to approve a spending plan is almost certain to be missed — again. The would-be governors express dismay at the bickering, shock at the inaction and disapproval at the influence of special interests as the state careens on the familiar path toward budget stalemate. But neither gubernatorial nominee has stepped forward with anything that resembles a roadmap to closing the state's $19.1-billion deficit.
CNN: Preliminary report clears ACORN on funds
A preliminary probe of now-disbanded community organizing group ACORN has found no sign the group or related organizations mishandled the $40 million in federal money they received in recent years, congressional investigators reported Monday. A review of grants by nine federal agencies, mostly for housing issues, found problems with only one award - and in that case, the separately administered ACORN Housing Corporation quickly provided a missing piece of documentation, the Government Accountability Office reported.
NATIONAL
For the latest national news: www.CNN.com
CNN: Obama says Gulf Coast will bounce back from oil disaster
President Obama began a pivotal week Monday in the response to the BP oil spill by assuring Gulf Coast residents that the "full resources of the federal government are being mobilized to confront" the disaster that has emptied beaches, docked fishing boats and ruined marshlands. Obama, on his fourth trip to the region since oil began spewing from a ruptured well in the Gulf of Mexico in April, presented an optimistic outlook for the future of the Gulf Coast, promising it "will bounce back just like it's bounced back before."
CNN: Obama names rest of commission to investigate Gulf oil disaster
President Barack Obama on Monday announced the remaining five members of a commission he appointed to investigate the BP Gulf of Mexico oil disaster. A White House statement said Obama named Frances Beinecke, president of the Natural Resources Defense Council; Donald Boesch, president of the University of Maryland Center for Environmental Sciences; Terry Garcia, executive vice president for mission programs for the National Geographic Society; Cherry Murray, dean of the Harvard School of Engineering and Applied Sciences; and Frances Ulmer, chancellor of the University of Alaska-Anchorage. Obama previously appointed former U.S. Sen. Bob Graham of Florida, a Democrat, and former Environmental Protection Agency administrator William Reilly, a Republican, as co-chairman of the seven-member commission.
INTERNATIONAL
For the latest international news: http://edition.cnn.com
CNN: Koreas meet with U.N. Security Council over ship's sinking
United Nations Security Council President Claude Heller said that the U.N. body is "gravely concerned" about tensions between North Korea and South Korea after hearing presentations from both sides Monday into the sinking of a South Korean naval ship in contested waters in March. After their presentation, civilian and military members of the South Korean investigative panel called on the council to "take timely and appropriate measures" against Pyongyang for its role in the alleged attack.
Wall Street Journal: France, Germany Seek to Mend Frayed Relations
German Chancellor Angela Merkel and French President Nicolas Sarkozy put on a show of unity at a summit Monday, following weeks of tension between the two countries whose fraying alliance is seen in Europe as vital to the Continent's political cohesion. The two leaders strove for compromises on the main issue that has divided them recently: How to overhaul the euro zone to prevent economic crises such as Greece's from tearing the common currency apart.
CNN: China eyes more Greek investments
China is eyeing investments valued at several billion euros in Greek shipping, logistics and airport projects to be discussed during the second visit to Athens in four weeks by a high-ranking Beijing official. The news came as Moody's downgraded Greek debt on Monday night by four notches to junk. The debt is already rated junk by other agencies. The Greek government said on Monday night that Moody's downgrade did not reflect Greece's progress over the past months in tackling its problems.
BBC News: Kenya Churches blame government for grenade deaths
Kenya's Church leaders have blamed the government for a grenade attack at a rally on Sunday that led to six deaths. The explosions at a Nairobi prayer meeting campaigning against a draft constitution caused a deadly stampede. After an emergency security meeting, Prime Minister Raila Odinga confirmed it was a grenade attack and said a top police team was investigating it.
CNN: Van der Sloot attorney quits
Joran van der Sloot's Peruvian attorney has resigned from defending the murder suspect, the attorney told Peru's Foreign Press Association on Monday. Earlier, Maximo Altez Navarro told CNN that he didn't want to be van der Sloot's attorney anymore. "This has created many problems for me," Altez said. According to Peruvian prison authorities, Altez was the only person to have visited van der Sloot in prison.
New York Times: Russia Weighs Pleas to Step In as Uzbeks Flee Kyrgyzstan
As four days of ethnic violence in southern Kyrgyzstan threatened to build into a major refugee crisis on Monday, both sides of the conflict were calling on Russia to step in, saying third-party peacekeepers were needed to defuse standoffs between Uzbeks and Kyrgyz. But an emergency meeting of the Collective Security Treaty Organization, a regional alliance dominated by Russia, ended Monday without a commitment to send in troops, though President Dmitri A. Medvedev called the situation "intolerable" and intimated that troops could be deployed if conditions worsened.
CNN: 10 Mexican police killed in ambush, government says
Ten Mexican federal police were killed and several others wounded in an ambush on a convoy Monday, the government said. An undisclosed number of criminals also were killed and wounded, the government's Information Ministry said in a release. Preliminary reports indicated a total of 26 dead, the government-run Notimex news agency reported. The attack occurred in the city of Zitacuaro, in the central coastal Mexican state of Michoacan, the ministry said.
Washington Post: Egypt in awkward position on Gaza following Israeli attack on aid flotilla
With pressure building on Israel to lift its blockade of the Gaza Strip, Egypt finds itself in the uncomfortable position of continuing to help enforce the siege while watching Turkey outflank the region's traditional Sunni Arab heavyweights in championing the Palestinian cause. Egypt, the only nation aside from Israel to control a crossing into Gaza, has its own domestic political reasons for wanting the strip to remain closed. It views Hamas, the radical Islamist group that controls the territory, as an ally of Egypt's foremost opposition movement: the Muslim Brotherhood. Egyptian officials worry that any opening of the territory could have negative political repercussions for President Hosni Mubarak's government.
CNN: Human rights commission expresses concerns in Venezuela
The Inter-American Commission on Human Rights on Monday castigated Venezuela for its recent record on freedom of expression in a letter sent to the country's foreign minister. At issue were three cases, including the conviction last week and sentencing of journalist Francisco "Pancho" Perez to nearly four years in prison and a fine of more than $18,000 for defamation of public officials. The charges were brought over a 2009 newspaper column published in the city of Carabobo that shed light on many of the mayor's family members who were hired as contractors by the local government.
BUSINESS
For the latest business news: www.CNNMoney.com
CNNMoney: Lawmakers to BP: Put up $20 billion
BP: Kick up $20 billion to pay for the recent oil spill in the Gulf region. And make it snappy. That's the message Senate majority leader Harry Reid and members of the Senate Democratic Caucus sent to BP CEO Tony Hayward in a letter on Monday. But it maybe hard for BP to comply: The London-based company only had about $7 billion in cash as of March 31, according to its most recent financial statement.
CNNMoney: The one oil stock that may be worth buying
Brazil is one of the favorites to win the World Cup. It may also be an investor favorite in the hard hit oil sector. While shares of BP continue to get crushed as the spill in the Gulf of Mexico gets worse by the day, Brazil's Petrobras has stabilized in the past month. The oil giant, which is controlled by the Brazilian government, is even considering selling a big chunk of stock in order to raise money to finance more drilling off the Brazilian coast.
New York Times: Giving In on Trading, Bankers Turn to Other Losses
Bankers have all but given up on defeating one of the most contentious provisions in the financial regulation bill — one that would effectively bar federally insured banks from trading for their own accounts — and are now focusing on battles like heading off a prohibition on derivatives trading. As House and Senate negotiators head into a final push to send the legislation to President Obama, they have largely agreed to stricter limits on so-called proprietary trading than those envisioned in the versions passed by either chamber.
CNNMoney: Hackers say iPad has more security holes
A day after AT&T fessed up to its iPad 3G customers about a security breach, the hackers that exploited the vulnerability in AT&T's website said there are still lurking security problems related to the iPad. In a blog post, hacker group Goatse Security said Monday that a "skilled attacker" could take advantage of a weakness in the iPad's Safari Internet browser. The browser's bug could potentially allow someone to gain unwanted access to a user's iPad when that user clicks a malicious link.
Bloomberg: BOJ to Offer 3 Trillion Yen to Spur Corporate Loans
The Bank of Japan will offer as much as 3 trillion yen ($33 billion) in a new credit program that will extend loans to companies for as long as four years in an effort to strengthen the economic recovery. The central bank will accept loan requests through March 2012, it said in a statement released today in Tokyo. New loans will be extended at the benchmark interest rate, which the board today unanimously voted to keep unchanged at 0.1 percent.
CNNMoney: Employer health care costs to jump 9% in 2011
Companies that offer health plans will see their costs jump 9% in 2011, and most employees will pay higher deductibles as a result, said a report released Monday. Employers will try to offset cost increases by requiring their workers to shell out more cash before coverage kicks in, according to a survey of 700 employers by PricewaterhouseCoopers. By 2011, more than 50% of workers will have a deductible of $400 or more. In 2008, only 25% of companies said they had plans with deductibles that high.
New York Times: Aiming at Rivals, Starbucks Will Offer Free Wi-Fi
Many coffee shops try to discourage people from buying a cup of coffee and then lingering for hours to use the free Internet access. Starbucks will soon encourage them to stay as long as they want. The company said on Monday that as of July 1, its stores in the United States would offer free Wi-Fi, via AT&T, that anyone can reach with a single click. In case customers run out of distractions on the Web, Starbucks is giving them even more reason to sit and browse, offering free online articles, music, videos and local information through a partnership with Yahoo.
Business Week: Uncle Sam Unlikely to Back Handouts for Newspapers
U.S. newspaper companies will probably get little help from the government after the Federal Trade Commission completes its review of the industry, says a person with knowledge of the agency's plans. The FTC is reviewing more than a dozen ways that the government could assist newspapers. The agency has held public workshops and is due to publish a report this fall. Its recommendations are likely to exclude subsidies or new taxes to support newspaper companies such as New York Times Co. and Washington Post Co., said the person, who asked not to be named because the proposals aren't yet finalized. FTC officials won't back financial aid because Congress is unlikely to approve it, the person told Bloomberg Businessweek.com. The government has faced criticism for bailing out carmakers and banks and is now dealing with a potentially expensive oil spill in the Gulf of Mexico.
In Case You Missed It
How did an unknown candidate win the South Carolina Democratic Senate primary race? Jessica Yellin looks for answers.
YouTube video shows North Carolina Democrat Rep. Bob Etheridge grab the camera from students asking him questions.
Subscribe to the CNN=Politics DAILY podcast at http://www.cnn.com/politicalpodcast
And now stay posted on the latest from the campaign trail by downloading the CNN=Politics SCREENSAVER at http://www.CNN.com/situationroom