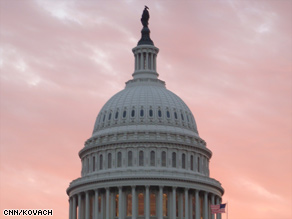 The CNN Washington Bureau's morning speed read of the top stories making news from around the country and the world.
WASHINGTON/POLITICAL
For the latest political news: www.CNNPolitics.com
CNN: Obama details oil spill response, calls for energy reform
President Barack Obama used his first Oval Office address to the nation Tuesday to say 90 percent of the oil gushing into the Gulf of Mexico will be captured within weeks, and to call for a new clean energy policy to end U.S. dependence on fossil fuels. The 18-minute speech, televised nationally, described what happened in the April 20 explosion and fire on a Gulf of Mexico oil rig that led to what Obama called "the worst environmental disaster America has ever faced." He compared the millions of gallons of oil leaking into the ocean to an epidemic "we will be fighting for months and even years." Obama meets Wednesday with the chairman of oil giant BP, which owns the broken well at the bottom of the Gulf, and the president made clear he expects BP to pay all clean-up costs and damages from the massive leak.
CNN: GOP fights Democrats on Gulf moratorium, liability
Partisan bickering over the Gulf of Mexico oil disaster intensified Tuesday as top Republicans once again slammed the Obama administration for imposing a six-month deepwater drilling moratorium and stepped up their fight against a Democratic move to lift current liability caps for oil spills. Republicans also lashed out at Democrats for allegedly using the disaster to push an alternative energy agenda that the GOP contends will cripple the economic recovery.
CNN: Poll: Disapproval of Obama handling of oil spill jumps
Nearly half of all Americans disapprove of the way President Barack Obama is handling the oil spill in the Gulf of Mexico, according to a new national poll released hours before the president gives a prime-time address from the Oval Office on the crisis. An AP-GfK survey released Tuesday indicates that 48-percent of the public disapproves of how Obama's handling the oil spill, up 15 percentage points from a month ago. Thirty-nine percent approve of how the president's dealing with the crisis, down three points from May. According to the survey, 13- percent say they neither approve nor disapprove. Other recent polls also indicate that a minority of Americans approve of the way Obama and his administration are handling the massive spill.
CNN: In Dem vs. Dem race, Meek slams Greene as a 'carpetbagger'
The bitter Democrat-versus-Democrat race to become Florida's next senator on Tuesday saw a new salvo, with one candidate slamming his opponent as a "carpetbagger" who is trying "to buy Florida's senate seat." Rep. Kendrick Meek's campaign has also said that Jeff Greene has lived in Florida for such a short time that he would be ineligible to run for other key statewide offices. Meek's campaign made the charges in a campaign statement released Tuesday. Meek and Greene are locked in a battle for the Democratic senate nomination that will be decided in a late August primary.
Politico: S.C. lawmaker proud 'redneck'
Republican South Carolina state Sen. Jake Knotts is a redneck, he's proud of it, and he plans to stay in the state Legislature even though his party wants him to resign. The Lexington County GOP passed a resolution earlier this week demanding Knotts resign after he called President Barack Obama and state Sen. Nikki Haley, the leading contender for the Republican nomination for governor, "ragheads."
CNN: Kirk camp responds to concerns about campaigning while on duty
In a timeline, the Kirk for Senate campaign states Rep. Kirk's comments during the Blagojevich controversy were consistent with his role as a congressman and permissible by military rules regardless of being on active duty. They also say Department of Defense rules do allow for some civilian political activities – particularly while in civilian clothes and acting in a civilian capacity outside of military facilities. Kirk did not make any statements during deployments to Afghanistan, according to the campaign.
St. Petersburg Times: Bill McCollum's campaign for Florida governor in trouble
Attorney General Bill McCollum's once-certain path to the Republican nomination for governor is in trouble, with supporters for the first time voicing anxiety about his chances and questioning his strategy. It's a stunning shift for a seasoned politician who seemed to have a lock on the race just two months ago. Supporters fault McCollum's TV message, inability to connect with an angry electorate, fundraising shortcomings and a dated campaign style, emphasizing endorsements from establishment figures such as Jeb Bush and Mitt Romney at a time when voters are alienated.
Las Vegas Sun: Social Security a big issue for Sharron Angle and Harry Reid, but few ideas
There's a reason Social Security reform is known as the politically perilous third rail of American politics. The issue, which seems destined to take center stage in the U.S. Senate race, has a history of derailing candidates who too aggressively talk of changing it. The popular federal program that guarantees an income for seniors has become the early focal point of the campaign for U.S. Senate. GOP candidate Sharron Angle maintains that she wants to "transition out" of Social Security but is not elaborating on how that would happen. Senate Majority Leader Harry Reid, meanwhile, remains quiet on how to fix the massive federal program that projections show is headed toward insolvency.
CNN: Reid's Senate challenger visits Capitol
The woman hoping to unseat the most powerful member of the Senate paid a visit to the Capitol on Tuesday to meet the people whom she hopes to call colleagues. Sharron Angle was officially introduced to the Senate Republican conference at their weekly luncheon, where the Nevada GOP senatorial nominee met with individuals and briefly spoke to the group about her campaign to beat Senate Majority Leader Harry Reid. While it is customary for senatorial candidates to come to Washington and meet with sitting senators, Angle's victory in the Nevada primary one week ago raised concern among some Republican party officials who deem her support for phasing out social security and dismantling the Department of Education as out of the mainstream.
CQ Politico: NRCC Kicks Off Early 'Battleground' Effort
The National Republican Congressional Committee is kicking off its biennial "Battleground" fundraising effort today with a goal of getting party leaders and rank-and-file Members to pony up a total of $20 million over the next three months to fund the effort to regain seats in November. That goal is well ahead of the $12 million mark the committee set for the program in 2008, a sure sign that Republicans are working with a much larger playing field this cycle than they were two years ago. In the 2006 midterms, when Republicans controlled both chambers in Congress and the White House, the NRCC's Battleground goal originally was set at $17.5 million but was bumped up to $22.5 million by the end of that cycle.
Detroit Free Press: Dillon's first gubernatorial ad hits a snag
It's not unusual for candidates to hire out-of-state consultants. Virtually all of the Michigan's gubuernatorial campaigns have strategists, legal help and media advice coming from across the country. But Speaker of the House Andy Dillon's first foray onto the airwaves - in which he touts his proposal to hire Michigan workers first - hit a snag when it was revealed that a Chicago firm AKPD produced the ad.
Politico: King stands by Obama racial bias claim
Rep. Steve King is not apologizing for saying that President Barack Obama "favors the black person," telling POLITICO Tuesday that his comments were not presented in their full context. Asked in a phone interview if he regrets what he said during a recent appearance on G. Gordon Liddy's radio show, the Iowa Republican said: "Not in any way." King said his comments where first highlighted by Media Matters, which he said intentionally clipped his comments to remove context.
The Hill: Sen. Hatch wants unemployed to face mandatory drug tests
Welfare and unemployment beneficiaries would have to pass a drug test to qualify for programs under an amendment offered Tuesday by Sen. Orrin Hatch. Hatch introduced an amendment to the tax extenders bill that would require those who are applying for some of the benefits in that bill, including unemployment and welfare benefits, to pass a drug test in exchange for the benefits.
Washington Post: 8 House members investigated over fundraisers held near financial reform vote
The Office of Congressional Ethics is investigating eight lawmakers who held fundraisers within 48 hours of a major House vote on a Wall Street reform bill or received substantial donations from business people with a financial stake in the bill, according to congressional sources and letters. The probe is focused on whether the timing of accepting the campaign checks created an unacceptable appearance of a conflict, according to sources familiar with the investigation and letters sent by the OCE to lobbyists requesting information. The OCE's spokesman declined to comment for this article, citing the ongoing nature of the investigation.
NATIONAL
For the latest national news: www.CNN.com
CNN: Obama names new top drilling regulator
President Barack Obama on Tuesday appointed Michael Bromwich, a former Justice Department watchdog in the Clinton administration, as the new head of a reorganized federal effort to regulate offshore oil drilling. A White House statement said Bromwich would "lead the effort to reform the Minerals Management Service," an Interior Department agency accused of corrupt practices and poor oversight of offshore drilling in the run-up to the Gulf oil disaster.
CNN: Oil estimate raised to 35,000-60,000 barrels a day
Government scientists Tuesday increased the estimate of oil flowing into the Gulf of Mexico to between 35,000 and 60,000 barrels per day, up to 50 percent more than previously estimated. That translates into 1.5 million gallons to 2.5 million gallons per day. The government's previous estimate, issued last week, was 20,000 to 40,000 barrels per day. The change was "based on updated information and scientific assessments," and was reached by Secretary of Energy Steven Chu, Secretary of the Interior Ken Salazar, and Chair of the National Incident Command's Flow Rate Technical Group Marcia McNutt, the Deepwater Horizon Incident Joint Information Center said.
INTERNATIONAL
For the latest international news: http://edition.cnn.com
CNN: American arrested searching for Osama bin Laden
An American held in Pakistan who said he was looking for Osama bin Laden is "like a bulldog" who wouldn't let go of the idea of finding the fugitive al Qaeda leader, his brother said Tuesday. Gary Faulkner, 50, is being held in Pakistan after being stopped near the border with Afghanistan's Nuristan province, Pakistani police announced Tuesday. He was carrying a pistol, a sword, night-vision equipment and Christian religious books, said Mumtaz Ahmed, a police chief in the area.
CNN: North Korea rejects torpedo findings, threatens war
North Korea on Tuesday rejected international findings that it sank a South Korean ship, warning at the United Nations the dispute could lead to war. "A war may break out any time," Ambassador Sin Son Ho said, accusing South Korea of "fabricating" the results of the investigation into the sinking of the Cheonan. The loss of the ship and 46 sailors in March raised tensions on the Korean Peninsula. North and South Korea presented their cases to the United Nations on Monday, and South Korea then urged the Security Council to take "timely and appropriate measures." North Korea's envoy responded harshly Tuesday.
Wall Street Journal: Islamist Militants Kill Somali World Cup Fans
Somali Islamist militants killed two people and arrested dozens of others for breaking a ban on watching the World Cup on television, a human-rights group and residents said. They said masked fighters from the Hizbul Islam group raided houses on Sunday and Monday in the Afgoi district, 19 miles south of the Somali capital, Mogadishu, after hard-line Islamist groups forbade watching the tournament. Hizbul Islam and another group, al Shabaab, which is widely seen as al Qaeda's proxy in the region, control large swaths of the country and much of the capital. The groups enforce their own strict interpretation of Islam, routinely banning sport, music and dancing. Some residents in Islamist-controlled areas are furtively watching the world's biggest sporting event, which is being staged in Africa for the first time, using makeshift satellite dishes to capture foreign broadcasts from South Africa.
CNN: Shootout in Mexican tourist town of Taxco leaves 15 dead
Fifteen suspects were killed Tuesday in a shootout with soldiers in the tourist town of Taxco, Mexico, the national defense secretary said in a news release. A citizen's complaint about presumed illicit activities at a house led authorities to dispatch soldiers to a house in the town, which is located about 100 miles southwest of Mexico City, the release said.
New York Times: India's Clogged Rail Lines Stall Economic Progress
As the world looks to India to compete with China as a major source of new global economic growth, this country's weak transportation network is stalling progress. Economists say India must invest heavily in transportation to achieve a long-term annual growth rate of 10 percent — the goal recently set by the Prime Minister, Manmohan Singh. But whether measured by highways, airways or — particularly — far-reaching railways, India's transportation is falling short. Critics say the growth and modernization of Indian Railways has been hampered by government leaders more interested in winning elections and appeasing select constituents, rather than investing in the country's long-term needs.
CNN: Concern over refugees grows as calm falls on Kyrgyzstan
Life in this embattled country's second-largest city appeared calm Tuesday even as concerns over the plight of refugees grew. The calm came as the Central Asian nation's news agency AKI Press reported that the death toll had risen to 176, a number that some observers discounted as low. A team of Red Cross doctors who visited Jalalabad's main hospital estimated the death toll at "several hundred." The streets of the southern city of Osh appeared deserted, except for a few pedestrians and army checkpoints. Stores, warehouses and shops were burned along miles of streets, which were patrolled armed police and soldiers.
CNN: France orders Hamas TV station off air, agency says
France has asked that the official Hamas-run TV channel Al-Aqsa not be broadcast through French-based satellite provider Eutelsat on the grounds that the station has violated a prohibition on incitement to hatred or violence based on race, religion or nationality, the French broadcasting monitoring agency said in a release. The station has broadcast "several programs ignoring this prohibition," the Conseil Superieur de l'Audiovisuel said in a June 9 release obtained Tuesday by CNN. Hazem Al-sha'rawi, the head of Al-Aqsa, said the decision was politically motivated.
BBC News: Concern over reported plans to deport Iraqis
Refugee agencies have expressed concern over reported plans by the UK to deport about 50 Iraqi asylum seekers to Baghdad later. Ten Iraqis were sent back to Baghdad from the UK last week, along with others from Sweden and the Netherlands. Some of them have been detained at Baghdad Airport since their arrival. The UN refugee agency, UNHCR, has cautioned against deportations because of the levels of violence and human rights violations in parts of Iraq.
CNN: Aruban, Peruvian authorities will 'help each other' in murder probe
Aruban and Peruvian authorities have agreed to "help each other" in the murder investigation of Stephany Flores - in which Joran Van der Sloot is the prime suspect, an Aruban government spokesman said Tuesday. Investigators hope the cooperation will lead to new information about the disappearance of Alabama teenager Natalee Holloway in 2005 in Aruba. Van der Sloot is also a suspect in that case. Following a phone meeting with Peruvian Judge Carlos Morales on Tuesday morning, Aruban government spokesman Taco Stein said Peruvian authorities have agreed to allow Aruban investigators into Peru to interview van der Sloot once a formal request has been made.
Guardian: Bloody Sunday report: 38 years on, justice at last
After a 38-year struggle for truth and justice campaigners for those killed in Derry on Bloody Sunday tonight celebrated the Saville Report's exoneration of the victims and the report's unequivocal conclusion that the shootings were "unjustified". The Bloody Sunday tribunal's repeated use of the term "unjustifiable" throughout the 5,000-page report, and its verdict that soldiers had lied to the inquiry, now opens up the possibility of legal action against former troops involved in the atrocity. Fourteen unarmed civilians were shot dead by the Parachute Regiment which had been sent into Derry's Bogside on 30 January 1972. The deaths propelled a generation of nationalists into the Provisional IRA.
BUSINESS
For the latest business news: www.CNNMoney.com
CNNMoney: Stocks stage big rally
Stocks gained from the get go Tuesday, as strength in European markets and a rally in the euro reassured investors worried about how global growth will impact the U.S. Solid demand for government debt auctioned in Spain, Belgium and Ireland helped take the edge off euro zone growth worries. Stocks managed to surpass a key point in that range by the close, with the S&P 500 ending at 1,115, above the 200-day moving average. The Dow and Nasdaq were also at key technical milestones. Closing above these so-called "resistance levels" may put the market in a better position to extend the recent advance.
Bloomberg: Asia Stocks Gain 5th Day, Dollar, Metals Rise on U.S. Optimism
Asian stocks rose for a fifth day, and metals and the dollar advanced as economic reports added to optimism a U.S. recovery will support global growth. Economists said a report today will show U.S. industrial production expanded in May by the most in four months, adding to evidence the global recovery may shrug off Europe's debt crisis. The Federal Reserve Bank of New York said yesterday its manufacturing gauge advanced for an 11th month, helping send the S&P 500 index up 2.4 percent yesterday.
Wall Street Journal: Auditors for Lehman Aim to Return $22 Billion
Lehman Brothers' European administrators, PricewaterhouseCoopers LLP, will unveil on Wednesday a proposal to expedite the return of as much as $22 billion of assets to the failed bank's unsecured creditors. The plan, called the "consensual approach," would see the majority of unsecured creditor claims agreed by the end of the year and cash distributed in 2011. In comparison, the traditional bilateral approach would take years to implement.
Business Week: Medvedev Seeks Microsoft, Nokia Expertise in Building Russia
Russian President Dmitry Medvedev takes his plea for foreign investment and technology directly to Microsoft Corp., Citigroup Inc. and Nokia Oyj as he hosts business leaders this week in his native St. Petersburg. A year and a half after Prime Minister Vladimir Putin rejected Dell Inc. Chief Executive Officer Michael Dell's offer to assist Russia's computer industry at the World Economic Forum in Davos, Medvedev will ask investors to help build a Russian "Silicon Valley" to cut the country's oil addiction.
CNNMoney: iPhone 4 stampede tramples AT&T
Customers eager to buy Apple's new iPhone 4 experienced massive and widespread difficulties when attempting to pre-order the smart phone on Tuesday, the day it went on sale. Users trying to order the iPhone on Apple's website received an error message: "Your request couldn't be processed. We're sorry, but there was an error processing your request. Please try again later." Attempts to preorder from AT&T's website yielded similar error messages.
Fortune: Got guts? What to expect from GM's IPO
Is it worth buying when your government is selling? That will be a big question when the colossal and once colossally troubled, General Motors finally has its coming out party, which could occur as early as the end of this year. The question became timely when news leaked on Friday, stating that General Motors had chosen Morgan Stanley (MS, Fortune 500) and JPMorgan Chase (JPM, Fortune 500) as the prospective underwriters for the deal, which could top $10 billion and mark the first major IPO to hit the market since Visa went public in March 2008.
CNNMoney: Is a housing shortage coming?
As the nation struggles to shrug off the worst housing crash since the Great Depression, it may be hard to believe a housing shortage could be on its way. The nation is simply not building enough homes to keep up with potential demand. Just 672,000 new homes were started in April, an annualized rate and less than half the long-term run rate needed to meet the nation's natural population growth.
In Case You Missed It
President Obama says his plan will address the economic and environmental impact of the Gulf oil disaster.
Top oil executives were grilled by Congress for "inadequate" disaster plans. CNN's Dana Bash reports from Capitol Hill.
Subscribe to the CNN=Politics DAILY podcast at http://www.cnn.com/politicalpodcast
And now stay posted on the latest from the campaign trail by downloading the CNN=Politics SCREENSAVER at http://www.CNN.com/situationroom