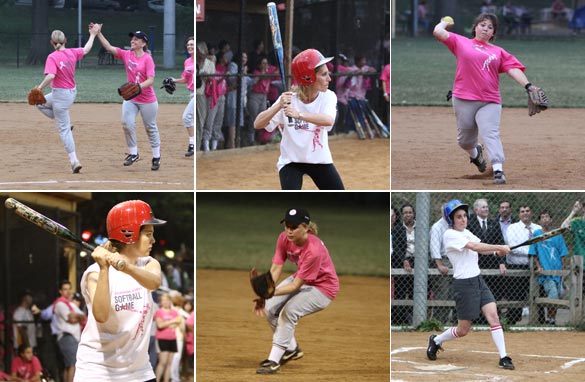 Female members of Congress and members of the media oiled up their gloves and laced up their spikes to do battle in the second annual Congressional women's softball game Wednesday evening in Washington. (PHOTO CREDITS: Bob Kovach/CNN)
(CNN) - The Washington Nationals may have been on the road Tuesday night but baseball fans were able to get their fix by two teams who were in a league of their own.
On this humid June evening, members of Congress and members of the media oiled up their gloves and laced up their spikes to do battle in the second annual Congressional women's softball game.
Reps. Debbie Wasserman Schultz and Jo Ann Emerson and Sens. Kirsten Gillibrand and Lisa Murkowski captained the congresspersons team. Leading the members of the Capitol Hill press were CNN's Dana Bash and Shailagh Murray of the Washington Post.
An overflow crowd in excess of three hundred enthusiastic fans, mostly Capitol Hill staffers and interns, cheered on the teams at Guy Mason Field in Northwest Washington.  But there were some DC luminaries in the ballpark, including Supreme Court Justice Sonia Sotomayor, former Federal Reserve Chairman Alan Greenspan, House Speaker Nancy Pelosi and Reps. John Boehner and Eric Cantor.
Check out more pictures and find out who was victorious, after the jump:

But it wasn't just about softball.  The players were there for an important cause - the Young Survival Coalition, the premier international organization dedicated to the critical issues unique to young women and breast cancer.  YSC works with survivors, caregivers and the medical, research, advocacy and legislative communities to increase the quality and quantity of life for women diagnosed with breast cancer ages 40 and under.  The event organizers met their targeted goal raising $25,000 in donations and t-shirt and raffle ticket sales.
The Congressional members scored first as Wasserman Schultz, D-Florida, smacked a stand up double and was driven in by Rep. Shelley Moore Capito, R-West Virginia, in the bottom of the first inning. Wasserman Schultz played second base and is a breast cancer survivor.  She broke her ankle in last year's game.
"The game is very personal to me as a breast cancer survivor that 38 women have spent months getting ready for a game to help make sure we can raise awareness about breast cancer and young women's risk and help make sure women who are under 40 have the ability to be saved when they have a diagnosis of breast cancer," she told CNN. "We don't do a lot of stuff in a bipartisan way; having a bipartisan team is really incredibly important."
CNN Senior Congressional Correspondent Dana Bash, who played right field for the reporters' team, said, "for any women, research for breast cancer and awareness for breast cancer is absolutely critical and this organization, the YSC, is simply about focusing attention on young women to make sure they get the proper tests and don't get stuck not realizing what is available to them and end up with this terrible disease."
The fielding of the members of Congress team were outstanding and the hot bats of California Democratic congresswomen Laura Richardson and Linda Sanchez kept the lawmakers ahead through the fifth inning.
In the top of the seventh inning, the media team increased their lead with the strong slugging of The National Journal's Amy Walter, Jackie Kucinich of Roll Call and CNN's Lisa Desjardins and Brianna Keilar.  The team scored five runs, which invoked the mercy rule to end the inning.
The members of Congress tried to make a comeback, loading the bases in the bottom of the seventh.   But they came up short and the media team went on to win 13-7.  After the game, Most Valuable Player trophies were awarded to Trish Turner of Fox News while the members of Congress saw fit to award the MVP to the entire team.
After the game, Sen. Gillibrand said, "We came together in a bi-partisan way, had a lot of fun for a good cause, but we're going to win next year."
Rep. Ileana Ros-Lehtinen, D-Florida, said, "Tomorrow we'll throw darts at each other but tonight we are a family."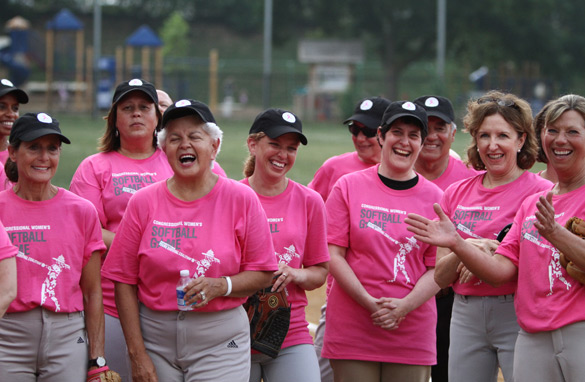 Some members of the congresswoman's softball team. (PHOTO CREDIT: Bob Kovach/CNN)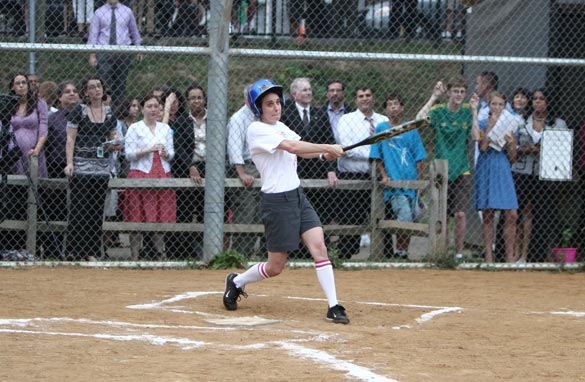 Amy Walter of The National Journal cracks a hit. (PHOTO CREDIT: Bob Kovach/CNN)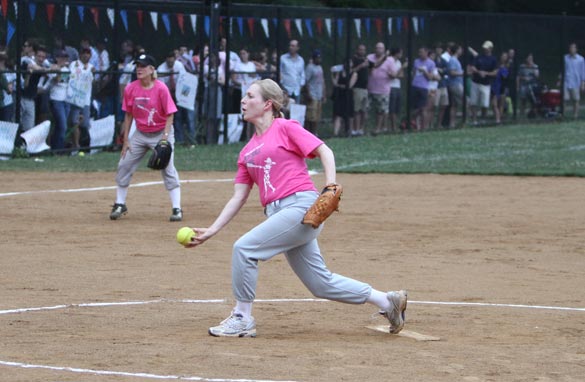 New York Sen. Kirsten Gillibrand pitching. (PHOTO CREDIT: Bob Kovach/CNN)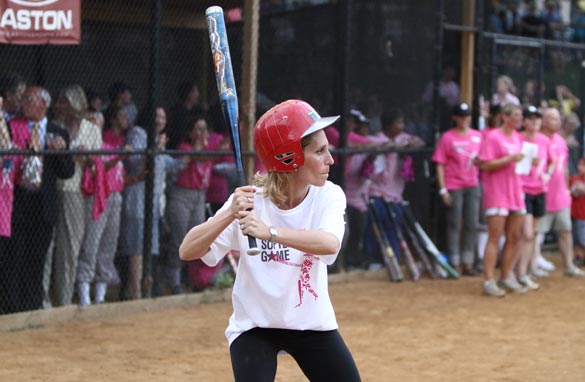 CNN Senior Congressional Correspondent Dana Bash at the plate. (PHOTO CREDIT: Bob Kovach/CNN)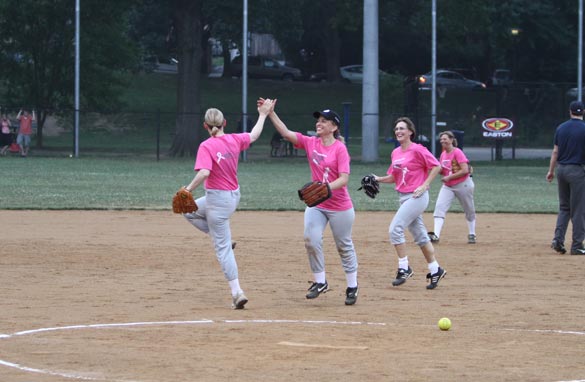 Florida Rep. Debbie Wasserman Schultz high fives New York Sen. Kirsten Gillibrand. (PHOTO CREDIT: Bob Kovach/CNN)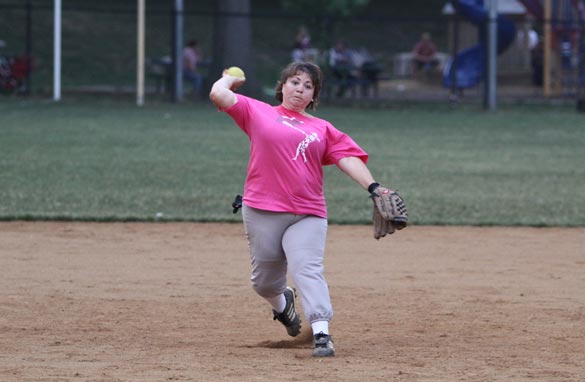 California Rep. Linda Sanchez fires the ball across the diamond to first base. (PHOTO CREDIT: Bob Kovach/CNN)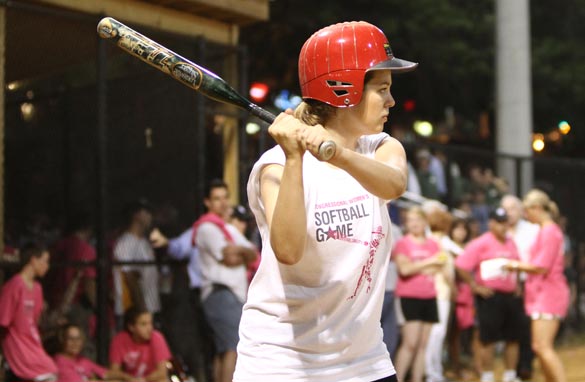 CNN Congressional Correspondent Brianna Keilar at the plate. (PHOTO CREDIT: Bob Kovach/CNN)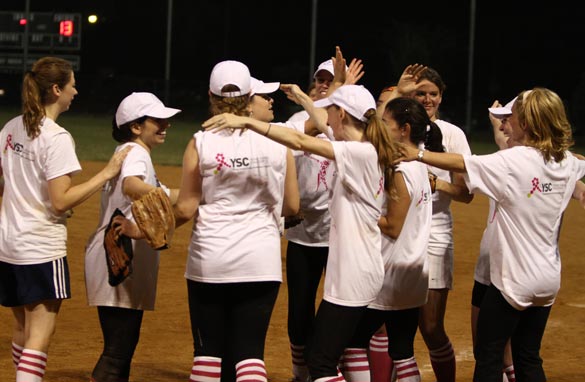 The congressional media team is victorious. (PHOTO CREDIT: Bob Kovach/CNN)