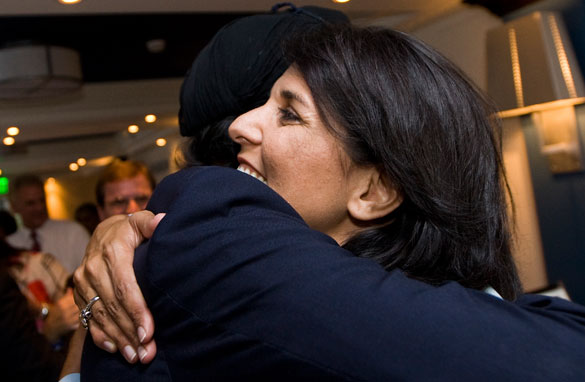 Nikki Haley celebrates her victory in Tuesday's South Carolina runoff. (PHOTO CREDIT: Getty Images)

(CNN) - The Republican Governors Association wasted no time Tuesday evening congratulating rising GOP star Nikki Haley in her bid to become South Carolina's first female governor.

Related video: Haley wins GOP runoff
The state lawmaker's victory over Rep. Gresham Barrett in the GOP runoff "is a testament to her hard work, perseverance and determination," RGA Executive Director Nick Ayers said in a statement. "Her success ushers in a new era of South Carolina politics, and represents a growing new generation of Republican leaders from across the country. We congratulate her on besting an experienced field of challengers, first capturing the most votes in the primary and then winning the short runoff."
"We look forward to working with Nikki Haley and her campaign to ensure that she earns a tremendous and well-deserved victory in November," Ayers added.
In effort to ground Haley's rising star, Nathan Daschle, executive director of the Democratic Governors Association, slammed the South Carolina Republican and her party.
"National Republicans desperate for a new rising star are prematurely attaching their hopes to Nikki Haley, who has moved so far outside the mainstream that she's damaged her general election hopes," Daschle said in a statement.
CNN projects that Haley has beaten Barrett in the GOP runoff. According to vote totals provided by the Associated Press, with 65 percent of precincts reporting, Haley had 158,539 votes or 64.4 percent of the votes reported compared to Barrett's 87,630 votes or 35.6 percent.
Earlier: Haley expected to cruise to GOP nod