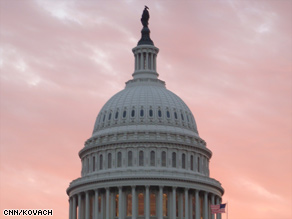 The CNN Washington Bureau's morning speed read of the top stories making news from around the country and the world.
WASHINGTON/POLITICAL
For the latest political news: www.CNNPolitics.com
CNN Poll: Uptick in economic optimism
Most Americans believe that the country is still in a recession, but one in five now say that the recession is over – the highest number since October, 2008, and double the number who felt that way last May, according to a new national poll. A CNN/Opinion Research Corporation national survey released Wednesday indicates that 78 percent of the public says the economy is still in a recession, with 21 percent saying the recession is over, more than double the number of Americans who believed the recession was over in May of last year.
Washington Post: Lawmakers across country taking immigration policy into own hands
Five states - South Carolina, Minnesota, Pennsylvania, Rhode Island and Michigan - are looking at Arizona-style legislation, according to the National Conference of State Legislatures. NDN, a Washington think tank and advocacy group, said lawmakers in 17 other states had expressed support for similar measures. Since it was adopted in April, the Arizona legislation, which gives law enforcement officers the power to check the immigration status of anyone suspected of being in the country illegally, has triggered bitter debate and been challenged in court by advocacy groups.
CNN: SC Democratic candidate Alvin Greene vows to stay in the race
Seated in the living room of the modest home Alvin Greene shares with his father, the surprise winner of this month's Democratic Senatorial nomination is still trying to deal with the notoriety and series of questions that victory has brought. On questions of how he could afford the $10,000 filing fee necessary to enter the primary race, he again insisted it was his own personal money savings he had accumulated during his time in the military. Greene, who was discharged last August, is not currently working and is drawing a monthly unemployment check. Some state Democrats have speculated he was a plant by someone hoping to disrupt the race and want the origins of the filing fee funds to be investigated.
New York Times: Cuomo Accepts Millions From Interests He Assails
Attorney General Andrew M. Cuomo, declaring his candidacy for governor of New York, could not have been clearer. "The influence of lobbyists and their special interests must be drastically reduced with new contribution limits," Mr. Cuomo said last month. "We will be taking on very powerful special interests which have much to lose. We must change systems and cultures long in the making." But as he delivered his announcement, Mr. Cuomo was sitting on millions in campaign cash from the very special interests whose influence he said he wanted to limit.
CNN: In David vs. Goliath fight, candidate aims to beat Alaska GOP senator
Many voters may never have seen or heard of him, but Joe Miller is determined to make Republican Sen. Lisa Murkowski of Alaska the next victim of an angry, anti-incumbent movement. And helping him is the Tea Party Express. Miller, an attorney in Fairbanks, is little-known in Alaska. He has been endorsed by the Tea Party Express as a true "constitutional conservative" and by former Gov. Sarah Palin. Murkowski holds a GOP leadership post in the Senate but is also under fire for being a moderate.
Salt Lake Tribune: Mike Lee says he'll stick to his guns
Republican Senate nominee Mike Lee said he doesn't believe he has to broaden his message to appeal to a broader group of Utahns as he heads into a general election matchup with Democrat Sam Granato. Lee edged out Tim Bridgewater by just under 4,000 votes in the Republican primary Tuesday night, clinching the party's nomination. But Sen. Bob Bennett, whom Lee and Bridgewater knocked out of the race in the Republican state convention, said new senators, including himself, find out that campaign speeches are "fairly irrelevant" when they arrive in Washington and they need to understand they are just one of 100 in the body, and that means working with colleagues.
CNN: New Reid ad calls Angle 'extreme'
Senate Majority Leader Harry Reid's re-election campaign is out with a new television commercial Wednesday that calls his Republican challenger Sharron Angle "just too extreme." The ad, which the Reid campaign says is running in the Las Vegas and Reno TV markets, appears to be another attempt by Reid to paint Angle as too conservative and out of the mainstream for a majority of Nevada voters.
CNN: McCain ad suggests opponent is a 'huckster'
Parts of a 2007 infomercial that features Arizona Senate hopeful J.D. Hayworth are hitting Arizona airwaves today – but this time as part of a McCain campaign ad that slams Hayworth over his involvement with a company called National Grants Conferences. Hayworth, a radio host and former congressman, recorded the infomercial in 2007. The ad promised free information about "hundreds of billions of dollars in government funding" to individuals who attend a conference on the topic.
Detroit Free Press: AFL-CIO begins Bernero-for-governor push
The AFL-CIO and its affiliate unions have launched a statewide campaign to reach most of 900,000 workers and retirees to help Lansing Mayor Virg Bernero win the Democratic nomination for governor on Aug. 3, AFL-CIO president Mark Gaffney said today. Gaffney also had harsh words for Democratic gubernatorial rival House Speaker Andy Dillon, calling him "practically a Republican" and unacceptable to be governor.
CQ Politics: Club for Growth Celebrates Record Wins So Far
Perhaps overshadowed in a primary season that has come to be defined by the noise of the tea party movement is the current winning streak of a much older conservative powerhouse: the anti-tax Club for Growth. A day after GOP House candidates Tim Scott and Jeff Duncan won their respective runoffs in South Carolina, Club for Growth President and former Rep. Chris Chocola (R-Ind.) was crowing about the rise of "Generation Club." Even in a cycle when various tea party and right-leaning interest groups are trying to put their marks on the midterm elections, the club continues to earn high praise in the conservative community.
Politico: Blanche Lincoln holds ground as Democrats seek deal
With a controversial derivatives ban threatening House Speaker Nancy Pelosi's vote count on Wall Street reform, top congressional Democrats rushed Wednesday to mend divisions within their ranks as negotiators moved toward a crucial decision on the issue. But attempts to negotiate with the author of the derivatives language, Senate Agriculture Committee Chairwoman Blanche Lincoln (D-Ark.), hit an impasse Wednesday. At a leadership meeting, top Democrats told her the language was causing vote problems in the House, but she had no plans to budge, Lincoln told POLITICO Wednesday night.
CNN: Haley praises Arizona, rejects notion of additional stimulus
Newly-minted South Carolina Republican gubernatorial nominee Nikki Haley showed her conservative bona fides Wednesday in an interview that aired on CNN's John King, USA. "Absolutely not," Haley said when asked by CNN Chief National Correspondent John King whether, as governor, she would accept additional economic stimulus funds from Democratically-controlled Washington.
CNN: Rubio slams WH, Crist over oil spill
Florida Republican Senate hopeful Marco Rubio slammed the Obama administration Wednesday for its response to the Gulf oil spill. And Rubio did not miss the opportunity to criticize his opponent Florida Gov. Charlie Crist for not doing more to get the resources Florida needs to defend against the spill's onslaught. "I think the federal government took its time responding to this early on," Rubio said of the spill in an interview that aired on CNN's The Situation Room. "I think that they weren't quick enough. I think that the bureaucracy continues to be in place."
CNN: Louisiana governor outraged at stop in dredging operations
Louisiana Gov. Bobby Jindal had harsh words for government authorities on Wednesday after sand-dredging operations to protect the state's coastline from the BP oil disaster were halted due to environmental concerns. "This is a war," Jindal said of the fight to protect shorelines from the approaching oil. Jindal called on the U.S. Fish and Wildlife Service and the Army Corps of Engineers to let workers resume dredging off the Chandeleur Islands.
The Hill: Schumer feels pressure on his China bill
The White House has pressed Sen. Charles Schumer (D-N.Y.) not to offer his China currency legislation as a floor amendment, where it would almost certainly be approved, according to two sources. White House Chief of Staff Rahm Emanuel is one of several figures in the administration to have contacted Schumer to pressure him to hold back. Schumer on Wednesday said he and other senators will move forward with legislation meant to pressure China to strengthen its currency, which would raise the price of its exports and could take pressure off the growing U.S.-China trade deficit.
NATIONAL
For the latest national news: www.CNN.com
CNN: McChrystal relieved of command, Petraeus chosen to take over
President Barack Obama on Wednesday replaced Gen. Stanley McChrystal as commander of U.S. and allied forces in Afghanistan and nominated Gen. David Petraeus to replace him while affirming support for a counterinsurgency strategy encountering problems. The dramatic shift came a day after McChrystal's disparaging comments about America's civilian leadership surfaced, and reignited the national debate on the war in Afghanistan - now in its eighth year with a June death toll of coalition forces that is close to becoming the highest of the war. Obama accepted McChrystal's resignation "with considerable regret" and named Petraeus, the head of the U.S. Central Command, to take over pending Senate confirmation.
New York Times: BP Is Pursuing Alaska Drilling Some Call Risky
The future of BP's offshore oil operations in the Gulf of Mexico has been thrown into doubt by the recent drilling disaster and court wrangling over a moratorium. But about three miles off the coast of Alaska, BP is moving ahead with a controversial and potentially record-setting project to drill two miles under the sea and then six to eight miles horizontally to reach what is believed to be a 100-million-barrel reservoir of oil under federal waters. All other new projects in the Arctic have been halted by the Obama administration's moratorium on offshore drilling, including more traditional projects like Shell Oil's plans to drill three wells in the Chukchi Sea and two in the Beaufort. But BP's project, called Liberty, has been exempted as regulators have granted it status as an "onshore" project even though it is about three miles off the coast in the Beaufort Sea. The reason: it sits on an artificial island — a 31-acre pile of gravel in about 22 feet of water — built by BP.
CNN: Containment cap back in place, siphoning oil, BP says
A containment cap over the underwater gusher in the Gulf of Mexico resumed siphoning oil and gas to a surface vessel Wednesday night, according to BP. The cap was removed Wednesday morning after an undersea robot accidentally bumped a vent on the device, shutting it off and forcing the company to remove it at 9:45 a.m. BP said the device was reinstalled and functioning again by 8 p.m. The delay in containment efforts came after a day of record crude collection from the cap system.
INTERNATIONAL
For the latest international news: http://edition.cnn.com
CNN: Gillard takes Australian helm: 'The government was losing its way'
Australia's new Prime Minister, Julia Gillard, said Thursday that she had respect for the leadership of her predecessor, Kevin Rudd, but moved to replace him because "I came to the view that the government was losing its way." The 48-year-old lawyer made her remarks after the Labor Party caucus declared vacant the positions of leader and deputy leader and then chose Gillard to take the helm, ending Rudd's two and a half years as prime minister.
CNN: Indonesian police think they've captured wanted terror suspect
Police in Indonesia captured a man believed to be one of the most wanted terrorists in the country on Wednesday, authorities said. He is Abdullah Sonata, an explosives expert. Sonata was thought to have recently returned from the Philippines and started recruiting and training militants. He is linked to the late militant Noordin Mohammed Top, responsible for terror bombings until he was killed last year by police.
Wall Street Journal: A Muslim Party Reaches Out
A political party once bent on turning Malaysia into an Islamic state is for the first time preparing to put up non-Muslim candidates for election, in a bid to grab the political center in this divided country. Some other Islamic-based political parties around the world have tried to make themselves more accessible to mainstream voters in recent years. Islam-based political parties in Indonesia have attempted to dig themselves a foothold in that country's young democracy.
Wall Street Journal: Merkel Rejects Obama's Call to Spend
Chancellor Angela Merkel roundly rebuffed U.S. President Barack Obama's call for Germans to aid the global recovery by spending more and relying less on exports, even as she warned that Europe's own financial crisis is far from over. In an interview with The Wall Street Journal in her Berlin chancellery, an unapologetic Ms. Merkel said the nations that share the beleaguered euro have merely bought some time to fix the flaws in their monetary union. She called on the Group of 20 industrial and developing nations meeting in Toronto this weekend to send a signal that tougher financial-market regulation is on its way to dispel the impression that momentum is fading amid resistance by big banks.
CNN: Hong Kong begins electoral reform debate
Protesters on Wednesday rallied outside Hong Kong's Legislative Council as lawmakers began debate over an electoral reform package that may determine the Chinese territory's political future. Police estimated that both camps of protesters numbered in the hundreds at noontime but said they were prepared for as many as 10,000. At issue: the pace of implementing universal suffrage, or direct elections. Under the reform package, Hong Kong Chief Executive Donald Tsang has said the territory may implement universal suffrage for the election of the Chief Executive in 2017 and for Legislative Council in 2020.
CNN: China flood death toll rises to 211
The death toll has risen to 211 as a result of flooding in China, state-run news outlets reported Wednesday. A fresh breach of a beleaguered dike on a river in eastern China caused fresh flooding in an area already battered by floods, state-media reported. About 100,000 people had already fled earlier flooding from the Fu River in Jiangxi province this week, the state-run China Daily newspaper reported a new breach on the river intensified the flooding, state news reports said.
BBC News: Zimbabwe: PM Tsvangirai sacks four MDC ministers
Zimbabwe's Prime Minister Morgan Tsvangirai has sacked four of his party's 15 cabinet ministers in the power-sharing government. His Movement for Democratic Change joined a unity government with President Robert Mugabe's Zanu-PF party in February 2009 after disputed polls. The ministers failed an MDC performance review of the last 16 months in power.
Washington Post: Talks on reducing whale hunting break down
Three years of talks aimed at reducing whaling activity by Japan, Norway and Iceland broke down Wednesday, leaving management of the population of the world's largest animals essentially in the hands of whale hunters. The goal of the meeting was to forge a 10-year compromise that would create a legal framework to allow limited whale hunting by Japan, Norway and Iceland. The commission has banned all types of whale hunting, but the three whale-hunting nations consistently ignore the bans. Through loopholes in the law, they have caught thousands of the mammals since the 1980s.
BBC News: Argentina achieves new debt swap
Argentina says it has achieved a debt swap that moves it a step closer to resolving the difficulties caused by its huge default eight years ago. Creditors agreed to exchange two thirds of its outstanding bad debt for new bonds, in a deal worth around $12bn. The deal means Argentina has now settled 92% of the bad debt left from its sovereign default in 2001. The government hopes it will now be able to raise new international loans at better interest rates.
CNN: Van der Sloot files complaint against police
Joran van der Sloot has filed a complaint with Peruvian police claiming that his constitutional rights and his right to a defense were violated after his arrest in connection with the killing of a Peruvian woman. According to a copy of the complaint, obtained by CNN, van der Sloot alleges that his right to due process was denied. The complaint, given to the Peruvian National Police's internal investigation unit, singles out the department's homicide director, Col. Miguel Angel Canlla Ore, and those who work for him. Van der Sloot said he has been detained without a judicial order.
BUSINESS
For the latest business news: www.CNNMoney.com
CNNMoney: Fed: U.S. recovery hurt by overseas woes
Federal Reserve policymakers believe the U.S. economy is still recovering, but they acknowledged the pace of growth has slowed over the past two months, due greatly to problems overseas. The central bank's rate-setting committee said that the "economic recovery is proceeding," but that is less bullish than what the Fed said in a statement following its last meeting in April. Back then, the Fed noted "economic activity has continued to strengthen." In its statement Wednesday, the Fed cautioned "financial conditions have become less supportive of economic growth on balance, largely reflecting developments abroad."
Bloomberg: Asian Stocks Rise for First Time in Three Days; Aussie Climbs
Asian stocks rose for the first time in three days, led by mining companies after Australia's prime minister was ousted over a proposed resource tax. The Australian dollar strengthened and the yen weakened. The MSCI Asia Pacific Index climbed 0.4 percent to 117.52 as of 12:20 p.m. in Tokyo. Australia's S&P/ASX 200 Index gained 0.2 percent, and the country's dollar appreciated by 0.1 percent to 87.47 U.S. cents. Futures on the Standard & Poor's 500 Index were little changed after the U.S. benchmark dropped 0.3 percent.
CNNMoney: Tylenol plant: From bad to worse
Government safety inspectors pushed for a recall of popular children's medicines at least three months before a Johnson & Johnson drugmaking unit removed the products from store shelves, according to documents obtained by CNNMoney. In fact, Food and Drug Administration inspection reports going back to 2003 chronicle a build up of problems at the now-shuttered plant in Fort Washington, Pa., at the center of the widespread recall of Tylenol, Motrin, Benadryl and other over-the-counter drugs.
Washington Post: New-home sales plummet in May after tax credit expires
Sales of newly built homes plunged in May to their lowest level in more than four decades after a lucrative tax credit expired, draining demand for home purchases in all four regions of the country. The Commerce Department reported Wednesday that sales of new single-family homes dropped 32.7 percent in May from the previous month, to a seasonally adjusted annual rate of 300,000. The percentage drop was the largest monthly decline since the government started tracking the numbers in 1963.
CNNMoney: Prisoners cashed in on homebuyer tax credit
More than 1,200 prison inmates, including 241 serving life sentences, defrauded the government of $9.1 million in tax credits reserved for first-time homebuyers, according to a Treasury Department report released Wednesday. Treasury's inspector general also found that thousands of people filed multiple claims or made claims outside the allotted time period. In all, more than $28 million was improperly doled out. The Internal Revenue Service program at issue is meant to stimulate the housing market by giving tax credits of as much as $8,000 to qualifying first-time home buyers.
New York Times: On Wall Street, So Much Cash, So Little Time
Only on Wall Street, in the rarefied realm of buyout moguls, could you actually have too much money. Private equity firms, where corporate takeovers are planned and plotted, today sit atop an estimated $500 billion. But the deal makers are desperate to find deals worth doing, and the clock is ticking. The stores of money inside the private equity industry have ramifications far beyond the bid-'em-up crowd on Wall Street. Millions of Americans — investors, employees, retirees — have a stake in the game too.
CNNMoney: FedEx tracking crashes – not iPhone's fault
Just as Apple fans were at their jitteriest about the impending delivery of their iPhone 4s, FedEx's online tracking system crashed Wednesday afternoon. Customers who pre-ordered the new iPhone 4 were slated to start receiving their devices on Wednesday. That had many iPhone buyers hammering FedEx's site for updates on their phone's journey to their door.
CNNMoney: Google's YouTube wins bitter Viacom battle
Google triumphed in a nasty, three-year war with Viacom on Wednesday as a federal court ruled that Google's YouTube subsidiary is not liable for its users' copyright infringements. A U.S. district court in New York ruled YouTube is covered by a "safe harbor" clause in the Digital Millennium Copyright Act that protects service providers from penalties for their users' copyright violations, as long as they address those violations once they're made aware of them.
In Case You Missed It
Michelle Obama thanks employees at the Justice Department for their work.
Ari Fleischer, the former press secretary for President Bush, says Obama handled the McChrystal situation well.
Subscribe to the CNN=Politics DAILY podcast at http://www.cnn.com/politicalpodcast
And now stay posted on the latest from the campaign trail by downloading the CNN=Politics SCREENSAVER at http://www.CNN.com/situationroom