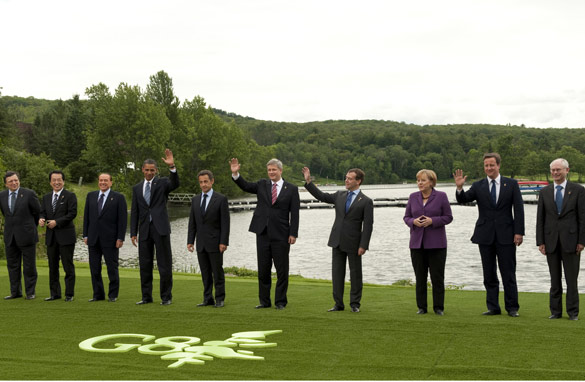 President Obama joined the other world leaders who are part of the G-8 along with two leaders from the European Union in Ontario, Canada Friday. (Photo Credit: Getty Images)
Toronto, Ontario (CNN) - President Obama arrived in Ontario on Friday for a series of high-stakes economic meetings with leaders from around the world.
Obama, who was greeted in Toronto by America's ambassador to Canada, David Jacobson, is set to meet first with his counterparts in the G-8 nations, followed a broader G-20 summit over the weekend.
The meetings are taking place against a backdrop of continued economic uncertainty, with demands for more government stimulus balanced against fears of runaway deficits. At home, the Obama administration is struggling to push a new economic relief package through an increasingly skittish, debt-wary Congress. Overseas - particularly in Europe - leaders are increasingly being forced to enact unpopular fiscal austerity measures.
Also hovering over this weekend's meetings is the specter of protests and violence, which have plagued other recent meetings of world economic leaders.