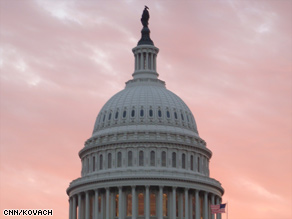 The CNN Washington Bureau's morning speed read of the top stories making news from around the country and the world.
WASHINGTON/POLITICAL
For the latest political news: www.CNNPolitics.com
CNNMoney: Wall Street reform debate goes on and on
Tired lawmakers worked into the early hours of Friday to meld two different versions of Wall Street reform. Just before midnight Thursday, lawmakers finished tackling one of the last and more controversial issues: Cracking down on the big banks' investment activities and risky bets. However, negotiations were going slow on another controversial measure requiring Wall Street banks to spin off their swaps desks. Top White House and Treasury officials met with Democrats in backrooms, talking about how to crack down on risky bets.
CNN: House passes campaign finance legislation
The U.S. House on Thursday passed a bill that would require most independent groups that pay for campaign ads to disclose their donors. The measure passed on a 219-206 vote, with most Democrats in support and Republicans opposing. The Senate is considering taking up its own version of the bill.
CNNMoney: Unemployment benefits extension nixed for nearly 1 million
Nearly a million people have lost their unemployment benefits because the Senate failed for the third time Thursday to extend the deadline to file for this safety net. Hoping to overcome deficit concerns, the Senate trimmed down the bill yet again on Wednesday night so that it would only increase the deficit by $33.3 billion over 10 years, instead of $55.1 billion. The main changes were to scale back additional Medicaid funding for the states and to reallocate some stimulus and Defense Department spending. The legislation failed by a 57-41 vote.
CNN Poll: Majority angry at both political parties
Americans are angry at both the Republican and Democratic parties, according to a new CNN/Opinion Research Corporation poll released Thursday. But the survey also indicates the public continues to blame the GOP more than the Democrats for the country's current economic woes even though the Democrats have controlled both the White House and Congress for a year and a half. Fifty-three percent of people questioned say when it comes to the way the Democrats and Republicans have been dealing with the nation's problems, they are angry at both parties, with nine percent saying they're mad only at the Republicans and seven percent angry only at the Democrats. Just over three in ten say they're not angry at either party.
Politico: Harry Reid's high-stakes climate bill gamble
Senate Majority Leader Harry Reid (D-Nev.) is planning a high-risk, high-stakes strategy for bringing climate and energy legislation to the floor ahead of the August recess. The gamble: yoking a bipartisan, fast-track measure to overhaul offshore drilling rules with a broad, contentious bill capping greenhouse gas emissions that otherwise would have almost no chance of passage on its own. Reid's own Democrats are mixed on the strategy for notching 60 votes.
Wall Street Journal: Sanders Estate-Tax Proposal Would Hit Wealthy Harder
Vermont independent Sen. Bernie Sanders and three Senate Democrats Thursday proposed an estate-tax plan that would hit wealthier taxpayers harder than another proposal on the table. The estate tax lapsed temporarily on Jan. 1 after the Senate failed to extend it last year. If lawmakers do nothing, the tax will resume in 2011 with a 55% rate on estates above about $1.2 million. Last year, estates of more than $3.5 million for an individual were subject to a 45% tax. Mr. Sanders and his co-sponsors said, "It's time for multi-millionaires and billionaires to pay their fair share."
New York Times: Democrats See Signs of Hope in Job Trends
A struggling economy has historically meant trouble for the president's party in midterm elections. So it comes as no surprise that Democrats are girding for a tough November. They should be. The economy is slowly recovering but remains on its sickbed, and most signs still point to a rough cycle for the party. Political analysts expect Republicans to make gains — possibly significant ones — in Congress in November, threatening to retake the House and maybe even the Senate.
CNN: Hunter suggests tension between military leadership, White House
Rep. Duncan Hunter, Jr., a veteran of the wars of Iraq and Afghanistan, told CNN Thursday he's not surprised there may be some tension between the military and the Obama administration. "If you look at this administration, if you look at then-Senator Biden, then-Senator Obama, then-Senator Clinton, with the way that they went after Petraeus three years ago and said that that Iraq surge was not going to work, I think that the military commanders right now, the ones that have three and four stars, have a little bit of a – a burr under their saddle when it comes to this administration," Hunter told CNN's John King.
Salt Lake Tribune: Bennett defends Senate stalling tactic
Sen. Bob Bennett says it can be a powerful tool, the one major leverage senators have to demand attention from the executive branch. But some critics say a rule that allows a single senator to block an administration nominee is a roadblock that hurts the country. Bennett, R-Utah, said his use of a hold — which allows a senator to stop movement on a nominee's confirmation — in 2009 gave him some pull over what he says was a bad Interior Department decision to shelve 77 oil and gas leases in Utah. Bennett publicly blocked the nominee for Interior's No. 2 spot, David Hayes, last year, relenting when Hayes agreed to visit Utah and face residents upset about the canceled leases.
Wall Street Journal: Utah Officials Plan for Health-Care Law They Dislike
It's hard to find a place more hostile to the federal health-care overhaul than Utah. Yet, on Thursday, Gov. Gary R. Herbert announced a step towards its implementation: Utah will join 29 other states and the District of Columbia in running its own insurance pool to cover high-risk people. Other states let the federal government handle the program, concerned they would have to pay for it if they exhausted their federal funding. Utah's tardy decision—it was the last state in the union to decide, more than a month after the legal deadline—reflects a challenge it and other Republican-led states face in balancing their concerns about the health law, and the need to implement it.
CNN: South Carolina GOP targets Haley's rival
Less than two days after South Carolina Republican Nikki Haley captured her party's gubernatorial nomination, the state GOP has begun an effort to cast her rival as "a liberal in a moderate's clothes." Haley will face off in November against Democratic state Sen. Vincent Sheheen. In a statement Thursday, the head of the South Carolina GOP took issue with Sheheen's views on illegal immigration as just one example of what the state party says is a larger pattern with the candidate.
CNN: Biden to hit campaign trail in Ohio
Vice President Joe Biden's heading to Ohio next week to lend a helping hand to a fellow Democrat. Biden will campaign and headline a fundraiser in Cleveland for Lt. Gov. Lee Fisher, the party's Senate nominee in Ohio, according to the Fisher campaign. Fisher will face off in the general election against former Rep. and Bush administration budget director Rob Portman, the GOP nominee. Recent surveys suggest the contest is extremely close. Both are vying to succeed Republican Sen. George Voinovich, who is not running for re-election.
San Jose Mercury News: November ballot initiatives shaping up as battle for California's future
California's congested November election came into focus Thursday after a last-minute flurry of measures qualified for the ballot, setting the stage for a pitched — and pricey — battle for the future of the state. Four new major initiatives joined the fray Thursday, the final day to be certified for this fall's ballot: Voters will be asked to repeal nearly $2 billion in corporate tax breaks; eliminate the two-thirds majority lawmakers need to pass a state budget; make it tougher to raise fees and other charges in the Legislature; and abolish a citizens' commission to redraw legislative districts. In all, voters will confront 10 measures Nov. 2 including some landmark initiatives, from legalizing marijuana to suspending the state's greenhouse gas laws, to borrowing $11 billion for new dams and other water infrastructure. So much of the ballot amounts to a major showdown between Big Labor and Big Business.
CNN: 'Outsider' Paul comes inside to Washington
Senate Minority Leader Mitch McConnell's handpicked candidate in the Republican Senate primary in Kentucky was trounced by Rand Paul. But that was last month. Thursday Kentucky's senior senator hosts a fundraising reception and dinner in the nation's capitol for Paul.
CNN: Dr. Phil talks cyber-bullying on the Hill
Dr. Phil McGraw, better known simply as Dr. Phil, brought his fiery brand of advocacy to Capitol Hill Thursday on the topic of student cyber-security, and specifically online bullying. As part of a panel at a House Healthy Families and Communities Subcommittee hearing, McGraw compared the World Wide Web to the Wild, Wild West of older times. The subcommittee was looking at the topic of cyber-bullying as they are considering the reauthorization of the Elementary and Secondary Education Act, more commonly known as the No Child Left Behind Act.
NATIONAL
For the latest national news: www.CNN.com
CNN: Feds, locals have their own battles with oil spill
As the Gulf of Mexico oil spill enters its 65th day, the confirmed suicide of an Alabama fisherman served as a reminder Thursday of how the effects of the disaster can be felt from the national level to the neighborhood level. While the powers in Washington wrangle over the fate of a drilling ban, residents on the Gulf coast are fighting their own battles with the oil.
CNN: Petraeus backs July 2011 Afghan withdrawal date
Gen. David Petraeus told CNN on Thursday that he supports President Barack Obama's July 2011 deadline to start withdrawing U.S. troops from Afghanistan, a key point of contention between the president and many of his Republican critics in Congress. Petraeus - tapped to replace Gen. Stanley McChrystal as the U.S. commander in Afghanistan - expressed his respect and appreciation for McChrystal's work and said the circumstances surrounding the change in command are "sad."
INTERNATIONAL
For the latest international news: http://edition.cnn.com
CNN: Obama, Medvedev pledge stronger economic ties
President Barack Obama and visiting Russian President Dmitry Medvedev pledged cooperation on stronger economic ties Thursday, announcing a deal for Russia to again accept U.S. poultry exports and touting U.S. support for Russia's bid to join the World Trade Organization. During a busy day that included White House talks, a joint news conference and participation in a U.S.-Russia business council meeting, the two presidents repeatedly cited strengthening relations between their countries after what Obama called a "drift" under the previous administration.
CNN: North Korea heats up rhetoric toward U.S.
North Korea may consider a tougher punishment for a jailed American citizen if the United States "persists in its hostile approach" toward Pyongyang, North Korea's official news agency said Thursday. North Korea said the United States is "persistently antagonizing" the country over the sinking of a South Korea warship in March, an act Seoul blames on North Korea, the Korean Central News Agency reported. "Such moves have gone beyond the tolerance limit," said North Korea, which vehemently denies the charge that it fired a torpedo at the ship, the Cheonan, sinking it and killing 46 members of its crew. The United States is ramping up international pressure against North Korea, KCNA said.
CNN: Alleged Jamaican drug lord arrives in United States to face charges
Alleged drug kingpin Christopher "Dudus" Coke was extradited Thursday from Jamaica to the United States, where he is to face drug and weapons charges. His extradition occurred two days after he was taken into custody in Jamaica and several hours after he had waived his right to an extradition hearing in Jamaica. Coke arrived at about 7 p.m. at White Plains-Westchester County Airport outside New York City.
Wall Street Journal: Cameron Takes Skeptical Approach to G-20
New U.K. Prime Minister David Cameron, making his debut on the global stage at this week's meetings of international leaders in Toronto, is striking a skeptical tone about the ability of leaders to carry out their lofty conference promises. Mr. Cameron, in office for just six weeks, has emphasized domestic policy over foreign affairs during most of his political career. Arriving in Canada Thursday for meetings of the Group of 20 and Group of Eight economies, he took a low-key approach to the possible output of the sessions. He emphasized the potential for simple bilateral agreements with individual nations over the kind of broad, unified reform that such sessions typically aim to achieve.
CNN: Iran will not send aid ship to Gaza
Iran will not send a ship carrying humanitarian aid to Gaza as it had planned to do on Thursday, according to a report from the official news agency of Iran. The Islamic Republic News Agency quoted Hossein Sheikholeslam, secretary-general of the International Conference for the Support of the Palestinian Intifada, as saying: "The Iranian ship carrying humanitarian aid will not go to Gaza." IRNA said that Sheikholeslam told reporters in the northern city of Rasht that the ship had originally been scheduled to depart for Gaza on Thursday, but that its departure was postponed until Sunday because of restrictions imposed by Israel. He added that officials then decided instead to cancel the trip altogether, shipping to Gaza the goods by other means, IRNA said.
Washington Post: U.S. and El Salvador agree to share criminal records of deportees
El Salvador and the United States have agreed to share criminal records of people being deported, the second such U.S. agreement. The agreement, signed Wednesday by Homeland Security Secretary Janet Napolitano and Salvadoran Foreign Minister Hugo Martínez, is designed to combat transnational crime, including crimes committed by Salvadoran gang members who come to the United States.
New York Times: Pakistan Is Said to Pursue a Foothold in Afghanistan
Pakistan is exploiting the troubled United States military effort in Afghanistan to drive home a political settlement with Afghanistan that would give Pakistan important influence there but is likely to undermine United States interests, Pakistani and American officials said. The dismissal of Gen. Stanley A. McChrystal will almost certainly embolden the Pakistanis in their plan as they detect increasing American uncertainty, Pakistani officials said. The Pakistani Army chief, Gen. Ashfaq Parvez Kayani, preferred General McChrystal to his successor, Gen. David H. Petraeus, whom he considers more of a politician than a military strategist, said people who had spoken recently with General Kayani. Pakistan is presenting itself as the new viable partner for Afghanistan to President Hamid Karzai, who has soured on the Americans.
Guardian: Budget cuts: top Lib Dems fire warning to Tories
Fears among senior Liberal Democrats about the coalition with the Tories were brought into the open yesterday as Simon Hughes, the party's newly elected deputy leader, raised the prospect of tabling rebel amendments to the finance bill. Hughes issued a blunt warning to the Tories that the government would break up if key pensioner benefits in the coalition agreement were cut. He launched the most significant intervention since the formation of the coalition in the debate that followed George Osborne's emergency budget on Tuesday when the Chancellor of the Exchequer said that welfare would bear the brunt of cuts.
BBC News: Kenya opens fast-track piracy court in Mombasa
A court to mainly try suspected pirates has opened in the Kenyan port of Mombasa, funded by international donors. Pirates based in neighboring Somalia have made the Gulf of Aden one of the world's most dangerous shipping lanes. Warships from several world powers now patrol the Indian Ocean but there has been confusion about where those arrested should face justice. Some 100 suspects are in Kenya and 18 pirates have already been convicted.
BUSINESS
For the latest business news: www.CNNMoney.com
CNNMoney: Stocks slump on economic woes
Stocks slumped Thursday, with the Dow losing 145 points, as investors mulled mixed reports on the economy and a sell-off in bank shares as Wall Street reform talk move toward a close. Dow Jones industrial average (INDU) lost around 145 points, or 1.4%. The S&P 500 (SPX) lost 18 points or 1.7% and the Nasdaq (COMP) composite lost 37 points or 1.6%. Stocks fell after reports showed a still-tough environment for the manufacturing and labor markets and one day after the Federal Reserve sounded a cautious tone on the economy.
Bloomberg: Asian Stocks Fall on U.S. Earnings; Yen Gains on Europe Concern
Asian stocks fell for the third time in four days on disappointing sales and earnings forecasts by U.S. companies. The yen traded near a two-week high against the euro on speculation a Group of 20 summit this weekend won't decide how to tackle Europe's debt crisis. The MSCI Asia Pacific Index lost 0.9 percent to 116.02 at 12:07 p.m. in Tokyo with five stocks down for every one that rose. The yen traded at 110.45 per euro in Tokyo from 110.52 in New York yesterday. Standard & Poor's 500 Index futures rose 0.3 percent, following a 1.7 percent drop in U.S. trading yesterday.
Wall Street Journal: Taiwan, China to Sign Trade Pact
Taiwan and China reached a historic trade agreement that promises to bind Taiwan's economy to its giant neighbor to an unprecedented degree, and to ease remaining political tensions between the onetime enemies. The wide-ranging Economic Cooperation Framework Agreement, or ECFA, announced Thursday, will remove many of the last barriers to trade and investment across the Taiwan Strait. Both sides have agreed to lower tariffs on goods in the textile, auto parts, machinery and petrochemical sectors, and to open their markets for banking and other services.
CNNMoney: BP stock punished, hits new low
BP's stock price hit a new low Thursday, amid a sell-off in the broader equity markets, as investors remained wary about the Gulf of Mexico debacle and strength of the economy. The troubled oil giant's stock fell 3.1% to close at $28.74 a share. It fell to a low of $28.56 in the day, piercing the 52-week low set on June 9. The stock is now down 52% since April 20, when its Deepwater Horizon oil rig exploded off the coast of Louisiana, killing 11 workers. Although the U.S. stock market slumped Thursday on the heels of disappointing economic news, energy stocks were battered.
Washington Post: Mortgage rates hit all-time low, but lending activity remains quiet
Mortgage rates have hit an all-time low, but consumers are responding with a big "So what?" The average rate on a 30-year fixed-rate mortgage dropped to 4.69 percent this week from 4.75 percent last week, Freddie Mac reported Thursday. That marks the lowest level since the company started tracking the data in 1971 and breaks the most recent low set in December. Rates have hovered below 5 percent since early May. Yet home sales are tumbling and mortgage applications are slipping. Potential buyers have retrenched, discouraged by employment fears, the recent expiration of a home buyer's tax credit and tough lending standards, industry experts said.
Business Week: The GMAT Gets a Makeover
Two years from now, the Graduate Management Admission Test (GMAT), the primary gatekeeper to business school for generations of MBA students, will get its biggest makeover in more than a decade, with the addition of a new section designed to test advanced reasoning skills, the Graduate Management Admission Council (GMAC) announced on June 24 at its annual industry conference in San Diego. The new section will replace one of the two writing sections currently on the exam, GMAC says. It will also be scored separately and have a new audio component for some questions. The test's current verbal and math sections will remain unchanged.
CNNMoney: Tylenol maker expects shortages through 2010
The drug-making arm of Johnson & Johnson said Thursday night it expects delays in replenishing the supply of children's medicines made at a plant it shut in May. The Johnson & Johnson division, McNeil, closed its plant in Fort Washington, Pa., where it makes several varieties of children's and infant's Tylenol, Motrin and other drugs after a scathing inspection report by the Food and Drug Administration.
Business Week: Adobe Battles the Flash-Bashing
In the fast-moving world of mobile devices there are many battles brewing. The one to watch may be the standoff between Adobe (ADBE) Chief Executive Officer Shantanu Narayen and Apple (AAPL) CEO Steve Jobs over Flash, the Adobe software that brings interactivity to millions of websites.
CNNMoney: Wal-Mart, Best Buy, RadioShack: No iPhone 4 for walk-ins
IPhone seekers hoping to avoid days-long lines thought they'd have an ace in the hole: retail outlets other than Apple's stores. Apple partner AT&T warned potential buyers that it wouldn't have inventory for walk-in buyers until next week, but Wal-Mart, Best Buy and RadioShack all announced plans to have "limited" supplies available Thursday for shoppers who didn't pre-order the iPhone 4. That was the theory. The reality hasn't played out so smoothly.
In Case You Missed It
CNN's John King moderates a debate over whether it's time to rethink the U.S. Afghan war strategy.
As world leaders meet in Toronto for the G-20 meeting, CNN's Jim Boulden examines what's on the agenda.
Subscribe to the CNN=Politics DAILY podcast at http://www.cnn.com/politicalpodcast
And now stay posted on the latest from the campaign trail by downloading the CNN=Politics SCREENSAVER at http://www.CNN.com/situationroom