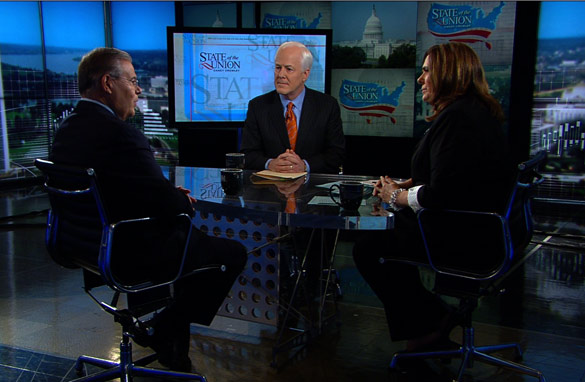 Sens. Cornyn and Menendez sparred Sunday over what Democrats inherited in January 2009. (Photo Credit: CNN)
Washington (CNN) – With the midterm elections less than five full months away, the man in charge of the GOP's election effort in the Senate issued a sharp rejoinder Sunday to an oft-repeated message from national Democrats.
In the 17 months since President Obama took office in the midst of the worst economic crisis since the Great Depression, Democratic leaders have frequently said Obama and Capitol Hill Democrats "inherited" a mess on several fronts left behind by the Bush administration acting in league with House and Senate Republicans.
Appearing on CNN's State of the Union, Sen. John Cornyn of Texas, chairman of the National Republican Senatorial Committee, suggested it's time for Democrats to take responsibility for controlling the levers of government.
"Well, I'm waiting for this administration to take responsibility for the job it volunteered for and our Democratic colleagues who are in the majority [in the House and the Senate] and who run the show in Congress," Cornyn told CNN Chief Political Correspondent Candy Crowley.
Challenged by Crowley on the frequent Democratic contention that Obama has "inherited" a difficult set of circumstances from his predecessor, Sen. Robert Menendez, chairman of the Democratic Senatorial Campaign Committee, said his party is trying to put the present situation in the proper context.

"[Y]ou have to understand where we came from to understand where we're going," Menendez said, joining Cornyn on Sunday's broadcast. "And part of it is that my Republican colleagues like to start the present in January of 2009 [when Obama was inaugurated]. They forget the history that brought us to January in 2009, and the consequences that we are in.
"And those are consequences of tax cuts unpaid for, two wars unpaid for, a new entitlement program unpaid for, huge debt, and an economy that was flat-lined that this president is trying to revive along with Democrats."
Later in the interview, Cornyn summed up the GOP's core message about Democrats and their leadership since early 2009.
" Well, first it's no accountability, no responsibility for a year-and-a-half of governing, and where things have gotten worse, not better," he told Crowley.
Then Cornyn added, "My basic message is that if you like the way things are happening in Washington these days, then vote for Senator Menendez's slate of candidates. If you want change, if you want to cut down on all of the reckless spending and this endless debt, if you want us to really focus on job creation and incentives for the private sector to create jobs, then I think our candidates bear a close looking at."
Speaking about Senate Majority Leader Harry Reid's general election matchup against Tea Party favorite Sharron Angle, Menendez said this fall's Senate races will present a clear choice when it comes to how each party approaches the struggling economy.
"And that's what all of the elections are going to be about - not the national norm –choices between a Republican who wants to take us back to the failed economic policies, and a Democrat who is working hard to bring us forward creating jobs and opportunities," he said.