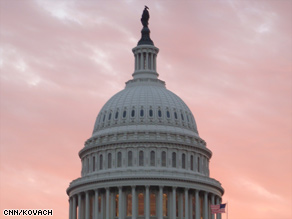 The CNN Washington Bureau's morning speed read of the top stories making news from around the country and the world.
WASHINGTON/POLITICAL
For the latest political news: www.CNNPolitics.com
CNN: Senators often talk past Kagan on opening day of confirmation hearing
Elena Kagan was the nominee at her confirmation hearing Monday for the Supreme Court, but you would not be faulted for believing the real spotlight was on those not attending– the conservative members of the bench who drew so much attention from senators on the Judiciary Committee. Time and again, the lawmakers - mostly Democrats– chose to concentrate on the high court's impact on a range of issues - business disputes, privacy and free speech. They set the tone for the intense questioning of Kagan to follow this week - probing how the 50-year-old lawyer who has never been a judge would impact the court for perhaps decades to come.
CNNMoney: Wall Street bill: It ain't law yet
The smooth passage of the final Wall Street reform bill later this week just got tougher. Senate Democrats on Monday were scrambling to secure the 60 votes they need to overcome a GOP filibuster following the death of Sen. Robert Byrd, D-W.Va., and critical comments by Massachusetts Sen. Scott Brown, a moderate Republican who had been supportive of the legislation. The hang up for Brown: A provision that would charge banks and hedge funds a new tax to pay the $19 billion ten-year tab for implementing the new reforms. A Brown spokeswoman on Monday reiterated that Brown "cannot support any bill that raises taxes."
CNN: Obama quietly moving on immigration reform
President Barack Obama on Monday met with grass-roots leaders Monday afternoon to discuss immigration reform, the White House said. Obama told those at the meeting that he wants to see a bipartisan process for immigration reform based on a proposal presented in the Senate that addresses the need to secure the border and demands accountability from both workers who are in the United States illegally and employers who take advantage of the system, the White House said. True border security requires comprehensive immigration reform, Obama said. The president will give a speech soon on the importance of passing that reform, the White House said.
CNN: Iowa Republicans expect face time as they mull Obama's challenger
Just a few days ago, two potential Republican presidential candidates traveled to this Midwestern hub and in a span of 24 hours addressed some of the most powerful GOP conservative activists in the country. During separate speeches Saturday at the Iowa Republican State Convention, former Pennsylvania Sen. Rick Santorum and Texas Rep. Ron Paul never mentioned their possible candidacies for the 2012 GOP presidential nomination. But neither had to do so. It was a given. This is Iowa after all, the first of three very important stops that can make or break a presidential candidacy.
CNN: New poll suggests Brown more popular than Obama, Kerry
A new poll suggests that Republican Sen. Scott Brown is more popular in Massachusetts than two Democrats – Sen. John Kerry, the state's senior senator, and President Barack Obama. A Boston Globe survey released Monday indicates that 55 percent of Bay Staters have a favorable opinion of Brown, with 18 percent saying they hold an unfavorable view of their new senator, 13 percent saying they have a neutral view and 14 percent unsure.
New York Times: In Nevada, Running for Senate and From Cameras
There is a game in Nevada called "Where's Sharron Angle?" that the press is tired of playing. In her silence, Ms. Angle has exposed a fault line in political journalism. Candidates typically live and die by television exposure, with interviews supplementing the usual barrage of advertisements. But in local races across the country, there are fewer reporters asking questions on behalf of voters, and there are more media alternatives than ever, including talk radio and Facebook. Still, Ms. Angle is quickly discovering that there is no better way to wake up a sleepy TV news crew than to refuse an interview request — or 10 requests, or 20.
CNN: Blagojevich: Oprah Winfrey for Senate
During his search for a successor to fill President Obama's former Senate seat, then-Illinois Gov. Rod Blagojevich considered picking talk show host Oprah Winfrey. In newly- released transcripts of telephone conversations from 2008, introduced into evidence during his trial on Monday, Blagojevich made his case for Winfrey, saying she was "the king maker."
The Hill: Graham to skip White House energy and climate meeting
Sen. Lindsey Graham (R-S.C.) will not attend a pivotal Tuesday meeting at the White House on energy and climate legislation between President Barack Obama and a bipartisan group of senators. Graham cited conflicting hearings with Gen. David Petraeus, who is the newly designated head of the military campaign in Afghanistan, and Supreme Court nominee Elena Kagan. "I can't be in three different places at the same time," Graham told reporters Monday in the Capitol. Petraeus is appearing before the Armed Services Committee and Kagan is appearing before the Judiciary Committee. Graham's absence is notable because several months ago he helped breathe life into prospects for bipartisan energy and climate legislation.
Concord Monitor: GOP bikini contest?
It was advertised as The Cigar Agency's "HOTTEST party ever." Smoke cigars by the pool, and enjoy a "bikini hula hoop contest." The event? A July 11 campaign fundraiser for Republican gubernatorial candidate John Stephen at the Holiday Inn in Nashua. There were plans for a barbecue and full bar. And, according to an e-mailed ad, "The bikini contest is professional, classy and is approved both by us and the venue."
Washington Post: U.S. lawmaker to withhold $3.9 billion in Afghan aid over corruption problems
The chairman of a key House subcommittee said Monday that she would strip $3.9 billion in aid for Afghanistan from next year's spending bill over concerns about rampant graft in the country and alleged efforts by President Hamid Karzai's government to derail corruption probes. Rep. Nita M. Lowey (D-N.Y.), chairman of the House Appropriations subcommittee that oversees the State Department's budget, said the money would be withheld until she has "confidence that U.S. taxpayer money is not being abused to line the pockets of corrupt Afghan government officials, drug lords and terrorists." Lowey also announced that the panel would begin holding hearings next month on corruption problems in Afghanistan.
CNN: Timing of Byrd's passing will affect successor's term
The timing of Sen. Robert Byrd's death is contributing to confusion about filling the remainder of his term. Under West Virginia law, Gov. Joe Manchin has the power to appoint a successor. Since Manchin, a popular two-term governor, is a Democrat, it's expected he will name a fellow member of his party to succeed Byrd, who was also a Democrat, thereby keeping Democrats' caucus in the Senate at 59 seats. But questions surround how long Byrd's appointed successor would serve before another election is held.
CNN: Obama doubles broadband spectrum
President Barack Obama signed a presidential memorandum Monday that would double commercial spectrum available for wireless broadband technologies. The amount of information flowing over wireless networks has exploded in recent years raising concerns about a "spectrum crunch." According to the White House, wireless data will increase between 20 and 45 times 2009 levels in the next five years.
CNN: Pentagon eyes $100 billion in savings by trimming overhead
The Pentagon is out to save $100 billion over the next five years in a major push to cut overhead costs, according to U.S. Defense Secretary Robert Gates. Gates officially unveiled his plan at a Pentagon news conference Monday, announcing he is putting department acquisition chief Ashton Carter in charge of finding where the $100 billion will come from in the budgets beginning in 2012.
CNN: Obama on faux deficit hawks: 'I'm calling their bluff'
President Obama says it'll be put-up or shut-up time on cutting deficits soon enough. Obama said on Sunday that he would deliver serious deficit reduction proposals next year. And when he does, those politicians who talk tough on debt simply to score votes will have to show their hand, he said. Of course, such a pledge works both ways. Tried-and-true deficit hawks - in and out of Congress - will be ready to call the president's bluff if his 2012 budget proposal, due out in February, doesn't meet their standards for substantial deficit reduction.
NATIONAL
For the latest national news: www.CNN.com
CNN: 162 cases of illness linked to oil spill reported in Louisiana
Exposure to the oil disaster in the Gulf of Mexico has resulted in 162 cases of illnesses reported to the Louisiana state health department, according to a report released Monday. Of those cases, 128 involved workers on oil rigs or individuals involved in the oil spill cleanup efforts, the report said. Among the most common reported symptoms were throat irritation, shortness of breath, cough, eye irritation, nausea and headaches, according to the department's oil spill surveillance report. The weekly report gathers data from a surveillance network of doctors, clinics, emergency care locations and medical facilities.
CNN: High court strikes down Chicago handgun ban
In another dramatic victory for firearm owners, the Supreme Court has ruled unconstitutional Chicago, Illinois', 28-year-old strict ban on handgun ownership, a potentially far-reaching case over the ability of state and local governments to enforce limits on weapons. A 5-4 conservative majority of justices on Monday reiterated its 2-year-old conclusion that the Constitution gives individuals equal or greater power than states on the issue of possession of certain firearms for self-protection.
CNN: Army spokesman says McChrystal to retire
Gen. Stanley McChrystal, removed last week as the top U.S. military commander in Afghanistan, has told the Army he will retire, Army spokesman Gary Tallman said Monday. No date was set for the retirement of McChrystal, a four-star general who assumed command of U.S. and allied forces in Afghanistan last year.
CNN: Poll: Majority back relieving McChrystal
A majority of Americans support President Barack Obama's decision to remove Gen. Stanley McChrystal as the top U.S. military commander in Afghanistan, according to a new national poll. A USA Today/Gallup survey released Monday indicates that 53 percent of the public approves of the move, with three in ten saying they disapprove and 17 percent unsure. Of those who say they are following news reports of the story very closely, approval jumps to 64 percent.
INTERNATIONAL
For the latest international news: http://edition.cnn.com
CNN: Feds arrest 10 accused of being Russian agents
Less than a week after Russian President Dmitry Medvedev visited the United States, the Justice Department announced Monday that 10 people were arrested on charges of being Russian agents involved in a long-term mission in the country. Another suspect was still being sought. Five of the arrested suspects appeared in a New York courtroom Monday. Four of the five, including a longtime U.S.-based columnist for the Spanish-language "El Diario" newspaper, were advised of their rights and ordered held due to flight risk, with their next hearing scheduled for July 1.
Wall Street Journal: Mexico Targets Cartels' Finances
The Mexican government, under fire for not doing enough to starve powerful drug dealers of billions in cash, said Tuesday it would limit cash transactions in U.S. dollars as a way to fight money laundering that helps to feed Mexico's spiraling violence. Mexico's Finance Minister Ernesto Cordero said new rules, to be published Wednesday, will limit dollar bank deposits, the payment of loans and services as well as well as foreign-exchange transactions in cash to between $1,500 and $7,000 a month.
CNN: Ousted Kyrgyzstan president calls Sunday referendum illegitimate
Ousted Kyrgyz President Kurmanbek Bakiev said Monday that Sunday's referendum establishing a new constitution was illegitimate. He vehemently denied accusations that he was behind recent violence that killed scores of ethnic Uzbeks. Bakiev maintained he was still president of the Central Asian nation but acknowledged he is no longer in charge and not likely to return to power any time soon.
Wall Street Journal: U.K.'s Plan To Limit Work Visas Draws Ire
The U.K. government began a consultation with the business community over plans to impose an immigration cap on workers coming into the country, an idea that faces opposition from industry interests who say it will restrict the recruitment of key talent. The debate underscores the difficulty Britain's new government faces in balancing public concern about immigration and a need to revive the economy. The cap, which applies only to skilled and highly skilled workers coming to the U.K. from outside Europe, is due to take effect in April. The government said Monday that it is also imposing temporary limits, effective immediately, to avoid a rush on applications ahead of the permanent new rules.
New York Times: In Ireland, a Picture of the High Cost of Austerity
As Europe's major economies focus on belt-tightening, they are following the path of Ireland. But the once thriving nation is struggling, with no sign of a rapid turnaround in sight. Nearly two years ago, an economic collapse forced Ireland to cut public spending and raise taxes, the type of austerity measures that financial markets are now pressing on most advanced industrial nations. Rather than being rewarded for its actions, though, Ireland is being penalized.
CNN: Van der Sloot to take incarceration fight to top court, attorney says
Joran van der Sloot, whose claim of unlawful incarceration was denied last week, will appeal and fight to the Peruvian Supreme Court and international courts if necessary, his attorney said Monday. Van der Sloot, a 22-year-old Dutch citizen, is jailed pending trial on charges of first-degree murder and robbery in the May 30 death of Peruvian student Stephany Flores, 21. In an attempt to nullify a confession he gave police, van der Sloot claimed his civil rights were violated following his arrest. A judge Friday ruled his confession and detention stand. His legal strategy now is to "paralyze the process," his lawyer, Maximo Altez, said.
CNN: 'Slim' survival chance for China landslide victims, government says
More than 100 people had a "slim" chance of survival after being buried by a rain-caused mudslide Monday afternoon in southwest China, the state-run Xinhua news agency reported. The dire assessment came from local rescue officials in Guizhou Province, Xinhua said. The landslide trapped 107 members from 38 families in the village of Dazhai, the news agency said. Rescue efforts were under way.
CNN: Scandal envelops sumo wrestling in Japan
The association that governs sumo wrestling in Japan plans to announce a decision Sunday involving star wrestlers and stable masters caught up in a scandal that has tarnished the country's national sport. An investigative committee made up of academics and sumo experts has urged the Japan Sumo Association to fire Ozeki Kotomitsuki, a star wrestler, and his stable master, Otake. The committee also has recommended that the association ban 15 wrestlers and 12 stable masters from a tournament that is scheduled to be held on July 11.
Washington Post: Iran's Ahmadinejad faults sanctions, delays nuclear talks till late August
Iran is ready to retaliate if its vessels are searched and will postpone nuclear talks with major powers until late August in response to new international sanctions, President Mahmoud Ahmadinejad said Monday. "This is a punishment for them so that they will learn the protocol of talking to other nations," Ahmadinejad said during a news conference, responding to a fourth set of U.N. Security Council sanctions against the Islamic republic, which call for searches of suspect Iranian vessels.
CNN: Equatorial Guinea president pledges reforms
The president of oil-rich Equatorial Guinea pledged a series of reforms Monday, saying he wants to ensure peace, political stability and transparency in the central African nation, ranked among the world's most corrupt. Obiang, who seized power in a 1979 coup, was re-elected in November in a vote that human rights groups criticized as unfair. Obiang won with 96.7 percent of the vote. The government said at the time that the elections unfolded "in an atmosphere of tranquility and peace." Human Rights Watch, however, said after the election that conditions in the country "cast serious doubt about the credibility" of the vote.
BBC News: Turkey bars Israel military flight after Gaza raid
Turkey has barred an Israeli military flight from Turkish airspace, in apparent retaliation for Israel's raid on an aid convoy bound for Gaza. Turkey's prime minister confirmed that a "ban" had been implemented following the 31 May raid, in which nine Turkish citizens on the flotilla were killed. Military flight bans are now being considered on a case-by-case basis, Turkish officials said.
BUSINESS
For the latest business news: www.CNNMoney.com
CNNMoney: Stocks end slightly lower
Stocks ended a choppy session modestly lower Monday as investors welcomed a slight increase in personal spending but remained on guard ahead of key economic reports due later this week. Dow Jones industrial average (INDU) was down 5 points, or less than 0.1%. The S&P 500 (SPX) dipped about 3 points and the Nasdaq (COMP) composite slid 2 points. Stocks struggled for direction throughout the session as investors considered a pledge from world leaders to cut public deficits over the next few years.
Bloomberg: Asia Stocks Drop on China Growth Concern; Yen Near 5-Week High
Asian stocks dropped to a two-week low as concerns over Chinese economic growth overshadowed stock buybacks in Japan and Taiwan. The yen traded near a five-week high against the dollar as signs a slowing global recovery boosted demand for Japan's safe-haven status.
Wall Street Journal: Consumers Stay Tightfisted
A gradually improving labor market is helping bolster U.S. paychecks, but workers remain cautious about spending. Gains in wages and salaries helped lift U.S. personal income 0.4% in May from April, the Commerce Department reported Monday, but consumer spending rose a more muted 0.2%. The report suggests that consumer spending, which grew at an inflation-adjusted annual rate of 3% in the first quarter, will post slower growth in the second quarter. After previous downturns, spending has tended to rebound strongly, but it seems the severe recession that most economists believe ended a year ago could have lasting effects on how readily people spend their money.
CNN: Greece in make-or-break return to markets
Greece is preparing a make-or-break return to the financial markets next month as it plans to raise about €4bn in its first borrowing attempt since last month's bail-out by the European Union and International Monetary Fund. Petros Christodoulou, head of the Greek debt management agency said: "Our intention is to roll over three-, six- and 12-month treasury bills maturing in July." The EU and IMF have approved the roll-over of short-term debt in July and October this year under the terms of a €110bn ($136bn, £90bn) loan agreement with the Greek government.
Bloomberg: Japan's Production Declines, Jobless Rate Increases
Japan's industrial production and household spending slipped in May and the unemployment rate unexpectedly increased, in signs that the recovery of the world's second-largest economy may slow. The figures underscore Japan's reliance on exports to propel its rebound, and follow calls by the U.S. for Japanese policy makers to stimulate domestic demand. For Prime Minister Naoto Kan, facing a mid-term election in less than two weeks, the figures may pose a warning that it's too soon to tighten fiscal policy to shrink the nation's debt.
CNNMoney: Investors grab Tesla Motors IPO
Tesla Motors will offer up its shares to the public for the first time on Tuesday, testing investors' faith in a company that has proven it can make functional and stunning electric cars but has never had a profitable quarter. PayPal founder Elon Musk's seven-year old auto company lost $55.7 million last year and $260.7 million since its inception. The company has performed so poorly from a financial standpoint that Musk recently said he lost his entire personal fortune on Tesla.
Bloomberg: Volcker Rule May Give Goldman, Citigroup Until 2022 to Comply
Goldman Sachs Group Inc. and Citigroup Inc. are among U.S. banks that may have as long as a dozen years to cut stakes in in-house hedge funds and private- equity units under a regulatory revamp agreed to last week. Rules curbing banks' investments in their own funds would take effect 15 months to two years after a law is passed, according to the bill. Banks would have two years to comply, with the potential for three one-year extensions after that. They could seek another five years for "illiquid" funds such as private equity or real estate, said Lawrence Kaplan, an attorney at Paul, Hastings, Janofsky & Walker LLP in Washington.
In Case You Missed It
The federal agency in charge of regulating BP is accused of allowing the oil giant to exploit a loophole to drill in the gulf.
On the first day of her confirmation hearing, Elena Kagan gets kudos from Democrats and criticism from Republicans.
Subscribe to the CNN=Politics DAILY podcast at http://www.cnn.com/politicalpodcast
And now stay posted on the latest from the campaign trail by downloading the CNN=Politics SCREENSAVER at http://www.CNN.com/situationroom