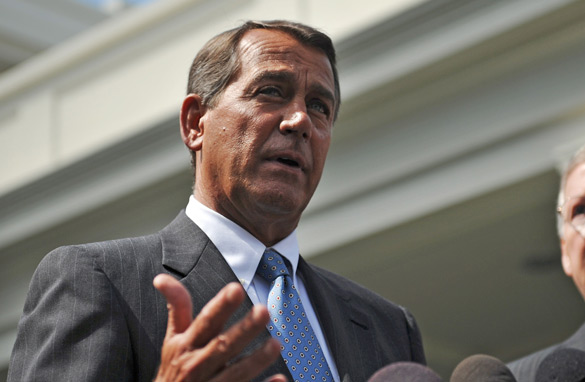 Dems are pressing Boehner over his recent interview. (Photo Credit: Getty Images)
(CNN) – Democrats are apparently doing everything they can to ensure Rep. John Boehner's recent comments to a conservative-leaning paper in Pittsburgh aren't soon forgotten.
The Democratic National Committee is out with a web video Wednesday taking aim at the portion of the interview in which the House minority leader blasts the Obama-backed financial reform bill, saying of the measure, "This is killing an ant with a nuclear weapon."
The comments came in an interview with the Pittsburgh Tribune-Review, published Tuesday.
"Congressman Boehner, this is a bunch of ants," the video's narrator says before fading to news coverage of the 2008 financial crisis. "Congressman Boehner, any questions?"
Boehner's comments couldn't come at a better time for Democrats, who are on the eve of passing the financial reform bill with little-to-none GOP support and are eager to portray Republicans as out of step with main street America.
"It's the clearest expression yet from the Republicans of what they believe – that the system in place for regulating Wall Street works fine and is in need of minor reforms – if any at all," a Democratic official said. "You can bet Boehner's comments will be heavily featured in DNC ads this fall."
But Boehner spokesman Michael Steel says the Ohio Republican was merely criticizing the Democrat's financial reform measure, not minimizing the economic crisis.
"Boehner was certainly not minimizing the crisis America faced – he was pointing out that Washington Democrats have produced a bill that will actually kill more jobs and make the situation worse," Steel said.
After a grueling 20-hour session, lawmakers early last Friday finished melding the House and Senate bills, bringing Congress closer to passing the most sweeping changes to the financial system since the New Deal. Despite promises of an open negotiating process, many of the toughest deals were reached in private conversations among Democrats, as well as White House and Treasury officials, outside the Senate meeting room session that was being broadcast on C-SPAN.
CNNMoney.com: What's in the financial reform bill?