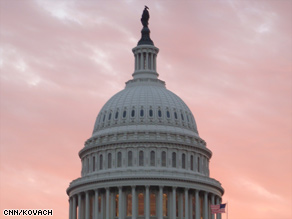 The CNN Washington Bureau's morning speed read of the top stories making news from around the country and the world.
WASHINGTON/POLITICAL
For the latest political news: www.CNNPolitics.com
CNN: Kagan takes on GOP critics at Supreme Court confirmation hearing
Supreme Court nominee Elena Kagan mounted a spirited defense against her Republican critics Tuesday, saying at her Senate Judiciary Committee confirmation hearing that she rejects the empathy standard for judges and believes the written law should be followed, including precedents in most cases. On the second day of the hearing expected to last through the week, Kagan expressed a judicial philosophy of impartiality and equality, saying the courts provide a "level playing field" for all and advocating for televising high court proceedings. Republican committee members had used their opening statements to depict Kagan as a deficient nominee because of her lack of judicial experience and the advocacy positions she has held in the Clinton and Obama administrations.
CNNMoney: Wall Street reform bill reformed
Lawmakers came up with an alternative plan to pay for a Wall Street reform bill, attempting to save the sweeping measure from falling short of the votes necessary to pass in the Senate. After key moderate Republicans who had supported earlier versions of reforms threatened opposition, Democrats leading negotiations in the Senate and House scrapped an effort to pay for reforms by taxing big banks and hedge funds to the tune of $19 billion. Instead, they agreed to pay for Wall Street reform by ending the $700 billion federal bailout program called the Troubled Asset Relief Program (TARP) immediately upon final passage of the bill.
CNNMoney: House approves homebuyer tax credit extension
The House of Representatives voted Tuesday to give first-time homebuyers three more months to close on their purchases and land an $8,000 federal income tax credit. But the Senate had better act fast – the deadline is currently Wednesday. The bill doesn't help anyone currently shopping for a home. Buyers must have signed a contact by April 30 to qualify for the tax break. At issue is when the deal must be finalized.
CNN: Bill Clinton at odds with party over Colorado race
Former President Bill Clinton announced Tuesday that he is endorsing challenger Andrew Romanoff in the battle for Colorado's Democratic Senate nomination, rather than support incumbent Sen. Michael Bennet. The move puts the former president at odds with his national party. In an email to supporters, Clinton said that he supports Romanoff, "and I hope you will too. Please make a generous contribution to his campaign today."
New York Times: Spill Is Election Issue Far Beyond Gulf
Candidates from coast to coast — and many states in between — are redirecting their campaigns in an emotional, frantic effort to turn the oil spill to political advantage. Democrats and Republicans fighting for Senate seats in the Midwest are portraying oil company contributions as a stain as ugly as the rusty sludge on Southern beaches. Candidates for governor from Massachusetts to Florida now stump for novel ideas to plug the hole (why not air bags?) and to clean up the mess (hair, hay, bacteria?), while in Washington, each party insists that the spill will help it in November.
CNN: Boehner: Dems 'snuffing out' America I grew up in
House Minority Leader John Boehner is stepping up criticism of his Democratic colleagues, telling the Pittsburgh Tribune-Review that "they're snuffing out the America that I grew up in." Boehner's comments are the latest indication the Ohio Republican is aggressively setting his sights on the November elections as it appears increasingly possible his party could take control of the House.
Lexington Herald Leader: Paul files belated financial disclosure form
In the last four months of 2009, Kentucky Republican Senate candidate Rand Paul's income as an eye surgeon increased about $116,000 and his rental income dropped by roughly $76,000, according to federal financial filings. The Secretary of the Senate's office received Paul's updated financial disclosure form June 22, after the Bowling Green ophthalmologist missed a May 17 deadline to report new financial information. Under reporting requirements, candidates are given a 30-day grace period to submit reports detailing their personal financial status. Paul's campaign filed a new report shortly after the grace period expired and might face a $200 late filing fee according to Senate ethics rules.
CNN: 'I was careless,' Kirk says
Rep. Mark Kirk, the Illinois Republican hoping to capture President Obama's old Senate seat in November, apologized Tuesday for mischaracterizing his military record. The initial controversy began weeks ago, after his Democratic opponent, Alexi Giannoulias, raised questions about a naval award Kirk claimed to have received. The Kirk campaign and the candidate himself falsely claimed he was awarded the Navy Intelligence Officer of the Year Award – a prestigious honor that is given to only one individual a year.
CNN: Conservative group launches second Nevada ad against Reid
An independent conservative organization is firing away at Senate Majority Leader Harry Reid. American Crossroads announced Tuesday that it's releasing a second television commercial in Nevada that targets the four-term Democratic senator, who is up for re-election this year. The ad, titled "Really," challenges Reid's assertion that he can do more for Nevadans because of his seniority in Congress.
CNN: Poll: Strickland leads but under 50 percent in re-election bid
Ohio Gov. Ted Strickland holds a small lead over his Republican challenger in his bid this year for a second term in office, according to a new poll. The Quinnipiac University survey, released Tuesday morning, also indicates that more Ohio voters favor than oppose passing an immigration law similar to the new controversial measure in Arizona. Forty-three percent of those questioned in the poll say they support Strickland, with 38 percent backing former Rep. John Kasich, and 15 percent unsure. Strickland's lead is just within the survey's sampling error. His advantage is basically unchanged from Quinnipiac polls conducted in March and April.
Kansas City Star: Broadcasters don't have to air commercials from white supremacist candidate, FCC says
Area broadcasters won't be required to run any more campaign commercials from white supremacist and write-in Senate candidate F. Glenn Miller, said an attorney for the Missouri Broadcasters Association. Mark Sableman said the Federal Communications Commission recently told the association that Miller isn't a "bona fide" candidate, and therefore doesn't qualify for uncensored access to the airwaves. The Aurora, Mo., resident caused a stir when he bought time to air commercials that disparaged Jews and minorities. The stations said they had to run the ads under the law.
CNN: Obama 'confident' in climate change bill's passage
President Obama met Tuesday with a bipartisan group of senators at the White House to discuss passing an energy and climate change bill this year. Obama told senators that he believes the best way to make a transition to a clean-energy economy is with a bill that "makes clean energy the profitable kind of energy for America's businesses by putting a price on pollution," the release said. Notably absent was Sen. Lindsey Graham, R-South Carolina, who has been involved in confirmation hearings on Capitol Hill. Graham has been a key player in crafting legislation with Sen. Chuck Schumer, D-New York.
CNN: Poll: Most Americans support Afghanistan timetable
A majority of Americans support President Barack Obama's timetable that calls for a withdrawal of U.S. forces from Afghanistan to begin in July of next year, according to a new national poll. A USA Today/Gallup survey indicates that 58 percent of the public favors the troop timetable, with 38 percent opposed. Around three-quarters of the 38 percent who oppose the timetable say they don't think the U.S. should set any deadline in Afghanistan.
CNN: High court affirms ban on "soft money" campaign donations
The Supreme Court has affirmed a congressional ban on "soft money"– the unlimited contributions to political parties for so-called "party-building" activities. The justices in a brief order rejected an appeal from the Republican Party, urging the court to quickly step in and decide whether the soft money ban was unconstitutional. This after the Supreme Court in January eased long-standing restrictions on "independent spending" by corporations and unions in political campaigns. The conservative majority ruling gave big business, unions and non-profits more power to spend freely in federal elections, threatening a century of government efforts to regulate the power of corporations to bankroll American politics. That case dealt with independent campaign spending, and Republicans wanted the court to extend that to campaign fundraising by the national parties.
NATIONAL
For the latest national news: www.CNN.com
CNN: Senior FBI official to take TSA reins Thursday
It's been a long time coming - one year, five months and 10 days, to be precise. But the Transportation Security Administration will get its new chief Thursday when Homeland Security Secretary Janet Napolitano swears in John Pistole during a rail security event at New York's Pennsylvania Station. Pistole, second in command at the FBI, sailed through a Senate confirmation process earlier this month after two previous nominees withdrew from consideration amid allegations of improprieties. The missteps left the agency - which includes the nation's 50,000 airport screeners, thousands of air marshals, and others - with an acting chief for almost a year and a half, a time marked by a series of transportation-related security scares, most notably the Christmas Day airplane bombing attempt.
Washington Post: Despite BP corporate code, firm has made political contributions
BP, the global energy corporation whose massive oil spill is now fouling huge swaths of the Gulf of Mexico, proclaims in its corporate code of conduct that it will "make no political contributions, whether in cash or in kind, anywhere in the world." But BP North America - the energy giant's U.S. subsidiary - has donated at least $4.8 million in corporate contributions in the past seven years to political groups, partisan organizations and campaigns engaged in federal and state elections, an analysis of campaign and tax records shows.
Wall Street Journal: As CEO Hayward Remade BP, Safety, Cost Drives Clashed
The budget squeeze on one of the British oil giant's most challenging projects underscores a tension at the heart of BP under Chief Executive Officer Tony Hayward. Until the April 20 explosion of the Deepwater Horizon oil rig in the Gulf, Mr. Hayward repeatedly said he was slaying two dragons at once: safety lapses that led to major accidents, including a deadly 2005 Texas refinery explosion; and bloated costs that left BP lagging rivals Royal Dutch Shell PLC and Exxon Mobil Corp. A Wall Street Journal examination of internal BP documents, legal filings, official investigations and reports by federal inspectors, as well as interviews with regulators, shows a record that doesn't always match Mr. Hayward's reports of safety improvements.
INTERNATIONAL
For the latest international news: http://edition.cnn.com
CNN: Alleged Russian agent was dramatic TV reporter in Peru
One of the 11 people arrested Monday and Tuesday and accused of being secret agents for Russia is no stranger to controversy. Vicky Pelaez, 55, is known for her leftist writings as a columnist for El Diario La Prensa, the largest Spanish-language daily newspaper in New York, as well as other publications. She has been a strident supporter of former Cuban President Fidel Castro and Venezuelan President Hugo Chavez.
Wall Street Journal: Putin Rips Russian Spy Bust
Russian Prime Minister Vladimir Putin on Tuesday criticized U.S. law enforcement, even as his government acknowledged that its citizens were among the 11 people that U.S. authorities charged were part of a long-running spy operation. Both Mr. Putin and U.S. officials voiced hopes that the brewing scandal would not harm relations between the two countries, and there was no sign in Moscow of the kind of tit-for-tat action that a deeper diplomatic rift would imply. Still, the emergence of an alleged cell of secret agents reporting back to handlers in Moscow undercut the Obama administration's claim of improved ties with Moscow as part of a "reset" of U.S.-Russia relations.
CNN: Dollar should be replaced as international standard, U.N. report says
The dollar is an unreliable international currency and should be replaced by a more stable system, the United Nations Department of Economic and Social Affairs said in a report released Tuesday. The use of the dollar for international trade came under increasing scrutiny when the U.S. economy fell into recession. "The dollar has proved not to be a stable store of value, which is a requisite for a stable reserve currency," the report said. Many countries, in Asia in particular, have been building up massive dollar reserves. As a result, those countries' currencies have become undervalued, decreasing their ability to import goods from abroad.
CNN: Benigno Aquino III takes office as president of Philippines
A new era is beginning in the Philippines - or you could call it the continuation of a political dynasty. Benigno Aquino III has been sworn in as president, the country's 15th, after winning election in May by a landslide. He secured more than 15 million votes, about 5.7 million more than his closest competitor, one-time president Joseph Estrada, in a vote viewed as a litmus test for the country's democracy. There were nine candidates in all.
BBC News: Italy seeks to end classroom crucifix ban
The Italian government is appealing to the European court of human rights to overturn a ban on classroom crucifixes. This case against crucifixes was brought by a woman who argued that her children had a right to a secular education under Italy's constitution. Last year the court agreed with the mother, saying parents should be able to bring up children as they saw fit. Her victory caused uproar in Italy, where 90% of the population describe themselves as Christian.
CNN: Taiwan, China sign historic trade deal
Mainland China and Taiwan signed a historic free-trade agreement Tuesday that is expected to strengthen ties and reduce the potential for cross-strait tensions. Officials signed the Economic Co-operation Framework Agreement, or ECFA, in Chongqing, China. Under the deal, China will cut tariffs on 539 items from Taiwan valued at $13.8 billion, or about 16 percent of the island's 2009 exports to the mainland. Taiwan will cut tariffs on 267 items from China worth $2.86 billion, or about 10.5 percent of the country's shipments to Taiwan in 2009.
New York Times: Israeli Rules Out Palestinian State by 2012
In remarks that could further strain peace efforts, Israel's foreign minister said Tuesday that there was no chance that a Palestinian state would be established in the next two years. Mr. Lieberman spoke at a joint news conference in Jerusalem with Sergey V. Lavrov, the Russian foreign minister. Russia, the United States, the European Union and the United Nations, in a grouping called the quartet, have called for a peace accord between Israel and the Palestinians by 2012. George J. Mitchell, President Obama's special representative to the region, was to arrive in Israel later on Tuesday.
CNN: 26 troopers killed in suspected India Maoist assault
At least 26 armed police were killed in a Maoist ambush in eastern India on Tuesday, authorities said. The assault occurred in the Narayanpur district of Chhattisgarh state, one of the regions worst-hit by Maoist attacks in recent months. Ajay Chaturvedi, spokesman for India's Central Reserve Police Force, told CNN that at least eight personnel of the federal security group were injured in Tuesday's attack. CRPF officers were on a routine road patrol when they were ambushed by the insurgents, he explained.
Guardian: Budget will cost 1.3m jobs – Treasury
George Osborne's austerity budget will result in the loss of up to 1.3m jobs across the economy over the next five years according to a private Treasury assessment of the planned spending cuts, the Guardian has learned. Unpublished estimates of the impact of the biggest squeeze on public spending since the second world war show that the government is expecting between 500,000 and 600,000 jobs to go in the public sector and between 600,000 and 700,000 to disappear in the private sector by 2015.
Der Spiegel: German Presidential Election Degraded by Party Politics
When parliamentary delegates meet in the Reichstag in Berlin on Wednesday to elect a new German president, they won't be free to pick the best man for the job. This election is about power, revenge and the fate of Chancellor Angela Merkel. Party politics has robbed the vote of its dignity. Chancellor Angela Merkel faces what amounts to a vote of confidence in her leadership on Wednesday when a special parliamentary assembly will elect a new president.
BUSINESS
For the latest business news: www.CNNMoney.com
New York Times: Bet on Private Sector for Recovery Could Prove Risky
The world's rich countries are now conducting a dangerous experiment. They are repeating an economic policy out of the 1930s — starting to cut spending and raise taxes before a recovery is assured — and hoping today's situation is different enough to assure a different outcome. In effect, policy makers are betting that the private sector can make up for the withdrawal of stimulus over the next couple of years. If they're right, they will have made a head start on closing their enormous budget deficits. If they're wrong, they may set off a vicious new cycle, in which public spending cuts weaken the world economy and beget new private spending cuts. On Tuesday and Wednesday, pessimism seemed the better bet.
CNNMoney: China slowdown fears hit global markets
Concerns about the global economy roiled world financial markets Tuesday after a report on leading indicators in China was revised lower. The Conference Board, a New York-based research group, said its Leading Economic Index for China rose 0.3% in April after an increase of 1.2% in May. The group originally reported a 1.7% gain in April, but that was revised lower due to a miscalculation.
CNNMoney: Hulu Plus launches with $10 monthly fee
Internet TV website Hulu on Tuesday unveiled a premium, subscription-based service that will be available on the iPhone, iPad, and some other devices in addition to the Web. The new service, called Hulu Plus, will cost $10 per month. It is in limited release now, but users can go to Hulu's website to request an invitation to subscribe. The company said Hulu Plus would be opened to the general public in the coming months.
CNN: ACLU sues Wal-Mart for firing employee using medical marijuana
The American Civil Liberties Union has filed a lawsuit against Wal-Mart for the termination of a Michigan employee whose doctor verified his illness qualified for medical marijuana use. Wal-Mart, the nation's largest retailer, fired Joseph Casias in November 2009 after he failed an on-the-job injury-related drug test. Casias suffers from a rare form of cancer in his nasal cavity and brain, and he relied on his doctor's medical marijuana prescription to alleviate the daily pain. Casias is one of about 20,000 legal medical marijuana users in Michigan.
Business Week: Verizon Wireless Said to Get Apple IPhone in January
Verizon Wireless, the largest U.S. mobile-phone company, will start selling Apple Inc.'s iPhone next year, ending AT&T Inc.'s exclusive hold on the smartphone in the U.S., two people familiar with the plans said. The device will be available to customers in January, according to the people, who declined to be named because the information isn't public. Natalie Kerris, an Apple spokeswoman, and Jeffrey Nelson, a Verizon Wireless spokesman, declined to comment.
Bloomberg: Deutsche Bank Hires Four Bankers for Japan Turnaround Advisory
Deutsche Bank AG, Germany's biggest lender, hired four former Merrill Lynch & Co. bankers as it adds corporate restructuring to its advisory business in Japan. Tomohiro Ishikawa, who advised companies on restructurings while at Merrill Lynch, and mergers specialist Yasuaki Hirabayashi are among the new hires who formerly worked at the Wall Street firm, said Hiroshi Jinno, co-head of mergers and acquisitions at Deutsche Securities Inc. in Tokyo. All four bankers joined in May from Tokyo-based Recof Corp.
CNNMoney: The auto rebound is a myth
The auto industry appears to be turning the corner. But the American consumer has yet to come along for the ride. Overall U.S. auto sales have rebounded nicely, up 17% through the first five months of the year. Auto companies will announce their sales for June on Thursday and analysts expect another increase from a year ago. But much of the improvement has been due to a 38% jump in fleet sales to businesses, such as rental car companies. Retail sales are up a far more modest 12%.
Wall Street Journal: Recession Strikes Deep Into Work Force
The nation's 9.7% unemployment rate tells only part of the recession's story, according to a new study that found more than half of adults in the U.S. labor force have suffered a spell of unemployment, a pay cut or reduction in work hours. Middle-age workers—50 to 64 years old—are most likely to have taken a hit in the last 30 months of the downturn, a group normally at the peak of its earning potential, according to the report being released Wednesday by the nonpartisan Pew Research Center. The survey is based on telephone interviews May 11-31 with 2,967 adults nationally. Out of the 13 recessions the U.S. has endured since the Great Depression of 1929-33, "none has presented a more punishing combination of length, breadth and depth than this one," write the report's authors. Unemployment data "don't fully convey the scope of the employment crisis that has unfolded during the recession."
Washington Post: Google applies to keep Chinese license, but censorship stalemate remains
Google's move Tuesday to assuage China by severing a direct Internet link to an uncensored companion search site in Hong Kong could buy the company a reprieve from losing its operating license, but in the long run, Chinese officials will not tolerate efforts to expand Internet freedom if that threatens the regime, analysts said. Google submitted a license-renewal application Tuesday spelling out its intention to redirect Chinese users from Google.cn to a page with Google's Hong Kong address, which users can click on. That site is uncensored, and China has made it clear that it is unacceptable.
In Case You Missed It
Supreme Court Nominee Elena Kagan says that everyone is entitled to fair consideration and equal justice.
Vice President Joe Biden visits New Orleans to announce an agreement between the NOAA and FDA on Gulf food safety.
Subscribe to the CNN=Politics DAILY podcast at http://www.cnn.com/politicalpodcast
And now stay posted on the latest from the campaign trail by downloading the CNN=Politics SCREENSAVER at http://www.CNN.com/situationroom