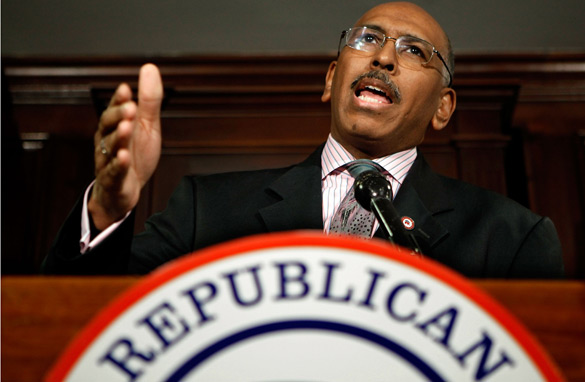 In an interview that aired Sunday, Sen. John McCain said there was no excuse for RNC Chairman Michael Steele's recent comments about the war in Afghanistan. (Photo Credit: Getty Images/File)
(CNN) - Sen. John McCain sharply criticized Republican National Committee Chairman Michael Steele on Sunday, calling his comments on the war in Afghanistan "wildly inaccurate."
In an interview from Afghanistan broadcast on the ABC program "This Week," McCain, R-Arizona, said there was no excuse for Steele's statements that the war launched by former President George W. Bush was "of (President Barack) Obama's choosing" and may be unwinnable.
"I think that Mr. Steele is going to have to assess whether he can still lead the Republican Party as chairman of the Republican National Committee," said McCain, a veteran senator who was the Republican presidential candidate in 2008.

His criticism follows calls for Steele's resignation by Liz Cheney, a former State Department official and the daughter of former Vice President Dick Cheney, Weekly Standard editor William Kristol and former South Carolina GOP chairman Katon Dawson, who finished second to Steele in the RNC chairman's race last year.
Steele has issued a statement on the matter, saying that Obama had shifted the war effort to Afghanistan since taking office in January 2009.
"That means this is his strategy. And, for the sake of the security of the free world, our country must give our troops the support necessary to win this war," Steele said in the statement.