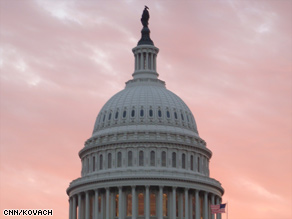 The CNN Washington Bureau's morning speed read of the top stories making news from around the country and the world.
WASHINGTON/POLITICAL
For the latest political news: www.CNNPolitics.com
CNN: Obama to use recess appointment to appoint new Medicare-Medicaid chief
President Barack Obama will sidestep Congress by using a recess appointment to make Dr. Donald Berwick the new head of the federal agency overseeing Medicare and Medicaid, the White House announced Tuesday. In a blog post on the White House website, communications director Dan Pfeiffer wrote that Obama will make the appointment on Wednesday. According to the blog post, Republicans in Congress had indicated they would stall Berwick's nomination last April as administrator of the Centers for Medicare and Medicaid Services (CMS).
CNN: Polls indicate majority support Arizona law
Recent national polls suggest that a majority of Americans support Arizona's controversial immigration law. According to a CNN/Opinion Research Corporation survey conducted in May, 57 percent of the public favored the measure, with 37 percent opposed. Since then, national polls by Quinnipiac University (51-31 percent in favor), ABC News/Washington Post (58-41 percent in favor) and Fox News/Opinion Dynamics (52-27 percent in favor) also indicate that a majority back the new law.
CNN: GOP leaders speak out on immigration lawsuit
Republican leaders reacted swiftly Tuesday to a Justice Department decision to file a lawsuit challenging a tough new Arizona immigration law. Justice Department lawyers argued that the state statute that requires immigrants to carry their alien registration documents at all times, and allows police to question the residency status of people in the course of enforcing another law, should be declared invalid because it has improperly preempted federal law. But Senate Minority Leader Mitch McConnell of Kentucky ripped the Obama administration, saying in a statement that the federal government has "utterly failed" and that today's lawsuit "will not help secure our borders."
New York Times: G.O.P. Congressman Emerges as Obama's Annoyer-in-Chief
As a sign of the pride Representative Darrell Issa takes in annoying the Obama administration, consider his account of a recent exchange with Rahm Emanuel, a former congressman and now the White House chief of staff. In describing the episode — a chance encounter outside the House gym — Mr. Issa smirked and raised his middle finger. Every Congress seems to produce a designated pest, adept at drawing attention to nuisance issues (and his nuisance self) while making trouble for the other party when it controls the White House. Representative Henry A. Waxman, Democrat of California, played that role during the Bush administration, while Representative Dan Burton, Republican of Indiana, did it before him in the Clinton years.
CNN: Reid and Angle battle over website
A political fistfight over a website claiming to spotlight "the real Sharron Angle" is heating up the campaigns of Nevada's Republican Senate nominee and that of Senate Majority Leader Harry Reid. The Angle campaign released a statement Monday night saying that they sent a "cease and desist" letter to Reid's campaign last Friday, which they say forced the Reid camp to take down a website that falsely represented itself as Angle's campaign website.
Washington Post: Many Republican leaders bypassing RNC chief Steele ahead of midterms
Michael S. Steele appears likely to weather his gaffe about the war in Afghanistan, perhaps his most significant lapse as chairman of the Republican National Committee. But many Republican leaders have lost confidence in his ability to head the GOP and are working around him to keep it on track for the midterm elections. Some Republican strategists say privately that Steele's troubles have weakened the party in an all-important election year. House Minority Leader John A. Boehner (Ohio) recently said he worries that fundraising problems at the RNC could hamper Republicans' efforts to take over the House in November, as major donors express reluctance to contribute to the organization under Steele.
CNN: Ron Paul hits government oil spill efforts; defends GOP chairman
With the first tar balls from the Gulf oil spill now washing ashore in Galveston, Texas, Rep. Ron Paul, whose district includes the affected area, said Monday the federal government is not doing enough in the recovery effort. "They have done a lot to interfere," Paul told National Political Correspondent Jessica Yellin on CNN's "John King USA." He said local residents and state officials in Louisiana and Mississippi have complained that some federal agencies, including the Environmental Protection Agency and the Fish and Wildlife Service, have not acted quickly enough to relax some regulations to fast-track recovery initiatives.
Houston Chronicle: White, state Dems and Lone Star Project raise separate issues
Democratic gubernatorial candidate Bill White told a group of Bexar County lawyers Tuesday that "integrity starts at the top" and accused Gov. Rick Perry of linking state appointments to campaign contributions. White also seized on a Texas Democratic Party ethics complaint filed Tuesday to say Perry failed to report a bank loan for a house on his personal financial disclosure statements because he does not want anyone to know to whom he is indebted. Perry, speaking at the NASA headquarters in Houston about oil spill prevention, said he has "lots of reports to file" and dismissed White's criticism as "little I-gotcha" politics.
CNN: Senate candidates leave out current jobs in first campaign ads
What do Republican Rep. Roy Blunt of Missouri and Democratic Rep. Brad Ellsworth of Indiana have in common? These two Senate candidates released their first campaign television commercials Tuesday, yet neither mentioned that they are currently members of Congress.
Washington Post: Democrats digging harder than ever for dirt on Republicans
The Democratic Party is moving faster and more aggressively than in previous election years to dig up unflattering details about Republican challengers. In House races from New Jersey to Ohio to California, Democratic operatives are seizing on evidence of GOP candidates' unpaid income taxes, property tax breaks and ties to financial firms that received taxpayer bailout money. In recent weeks, the Democratic Congressional Campaign Committee has circulated information to local reporters about Republican candidates in close races.
CNN: Pawlenty heading back to Iowa
Minnesota Gov. Tim Pawlenty's heading back to Iowa later this month to campaign for fellow Republicans. For the possible 2012 White House hopeful, it's the third trip in the past year to the state whose caucuses kick off the presidential primary season. Palwenty spokesman Alex Conant confirms to CNN that beginning on July 31, Pawlenty is lined up for three days of campaign events in eastern Iowa, lending a helping hand to several legislative candidates in hopes of regaining GOP control of the state legislature.
Charleston Post and Courier: Newsweek cover a boost for Haley
South Carolina gubernatorial hopeful Nikki Haley just saw her national star rise higher this week with her first cover on a major weekly news magazine - and state Democrats began targeting her anew, saying she's developing her national profile at the expense of the state. The Newsweek story on Haley, headlined Woman on the Verge, calls her "attractive and earthy, with a gleaming smile and a steely resolve. ... She's remarkably poised for someone fairly new to politics." The piece also compares her smarts and articulateness favorably with Sarah Palin, the former Alaska governor and tea party favorite whose endorsement of Haley provided her a key boost.
CNN: Carly Fiorina resting after completing breast reconstruction surgery
California Republican Senate candidate Carly Fiorina is resting comfortably after undergoing surgery for breast reconstruction on Tuesday. Fiorina was diagnosed with breast cancer in 2009. Following her diagnosis, Fiorina received treatment that included chemotherapy, a double mastectomy and radiation, according to a statement from Fiorina campaign Chief of Staff Deborah Bowker.
Guardian: Alvin Greene: America's most unlikely politician
A month ago nobody had heard of 32-year-old Alvin Greene. An unemployed army and air force veteran from Manning, South Carolina, he spends most of his time looking after the old man – his 81-year-old father, James Sr – and is not often seen outside the house. At least that was true until 8 June, when the results were announced of the Democratic primary race to choose the party's candidate for election to one of South Carolina's two US Senate seats. To the astonishment of most who had followed the race, the party's preferred candidate, Vic Rawl, a retired judge who had run an aggressive campaign with a war chest of $250,000 and an army of volunteers, came a miserable second with just 42% of the vote. Trouncing him, with more than 100,000 votes and 59% of the total, was one Alvin Greene.
Politico: Secret donors make Thomas's wife's group tea party player
When Supreme Court Justice Clarence Thomas's wife announced in 2008 that she was going to help run Washington operations for a Michigan college once described as "a citadel of American conservatism," she said the move was her "way of pulling away from politics" and the "safest place for me to be when it comes to conflicts" with her husband's position on the court. But, less than two years later, Virginia "Ginni" Thomas has returned to partisan politics as a fully engaged opponent of President Barack Obama, whom she has described as "hard left" and steering the nation "for tyranny."
NATIONAL
For the latest national news: www.CNN.com
CNN: Feds sue to overturn Arizona immigration law
The Justice Department on Tuesday weighed in on one of the most explosive issues in American politics, filing a lawsuit to overturn a tough new Arizona immigration law that has sharply divided people along partisan, ideological and ethnic lines. It also asked the federal courts to grant an injunction to stop enforcement of the measure before it takes effect late this month.
CNN: Crews connecting oil vessel to ruptured well
Crews are in the process of connecting the vessel Helix Producer to the ruptured oil well in the Gulf of Mexico, said the man leading the federal response to the Gulf oil disaster. The hookup has been partially completed despite rough seas. The vessel should draw up to 53,000 barrels of oil a day when it becomes operational, newly retired Coast Guard Adm. Thad Allen said Tuesday afternoon in Houston, where he traveled to meet with BP officials. He also said progress continues to be made on two relief wells.
INTERNATIONAL
For the latest international news: http://edition.cnn.com
CNN: Obama, Netanyahu emphasize strength of U.S.-Israel ties
Stressing the unbreakable ties between their nations, U.S. President Barack Obama and Israeli Prime Minister Benjamin Netanyahu called Tuesday for direct talks between Israel and the Palestinians while agreeing that the international community is strengthening efforts to isolate Iran over its nuclear ambitions. The two leaders spoke to reporters after meeting for more than an hour at the White House, twice shaking hands for the cameras as part of an effort to dispel the notion that relations between the United States and Israel have frayed in recent months.
CNN: Heiress' accountant claims cash destined for Sarkozy
French President Nicolas Sarkozy spoke out Tuesday after being linked to alleged illegal payments from France's richest woman, L'Oreal heiress Liliane Bettencourt. Sarkozy spoke after a French investigative website, Mediapart, published an interview Tuesday with a former Bettencourt accountant identified only as "Claire T." She said she prepared envelopes of cash that were to be given to both Sarkozy and current Labor Minister Eric Woerth, who previously worked in the Budget Ministry and was in charge of reforms to France's retirement system.
Wall Street Journal: China Says U.S. Went Too Far in Sanctions
China on Tuesday accused the U.S. of overstepping United Nations sanctions against Iran by signing into law tougher unilateral trade restrictions. U.S. President Barack Obama signed into law last week new sanctions on Iran that, for the first time, will bar from the American market foreign companies that work with Iranian businesses charged with aiding Tehran's nuclear program and the suppression of democracy. "China believes that countries should comprehensively and correctly implement the U.N. sanctions instead of expanding on these sanctions," Foreign Ministry spokesman Qin Gang said in response to a reporter's question about the new U.S. law during a regular news briefing.
CNN: U.K. to investigate detainee torture claims, PM announces
The British government will investigate allegations that members of its intelligence services were aware that detainees were being tortured, Prime Minister David Cameron announced Tuesday. The investigation will be conducted partly in secret to protect intelligence information, he told the House of Commons. Cameron also raised the possibility of compensation for some detainees who were held at the U.S. detention facility at Guantanamo Bay, Cuba.
CNN: Queen Elizabeth II makes first U.N. speech since 1957
Britain's Queen Elizabeth II on Tuesday addressed the United Nations for the first time in more than 50 years, saying she has "witnessed great change, much of it for the better" since her previous speech there in 1957. Later Tuesday, the queen visited ground zero to lay a floral wreath at the site of the September 11, 2001, terror attack. In a separate event in New York, she cut the ribbon to officially open the Garden of Remembrance for British citizens killed in the attack. The seven-minute speech to the U.N. General Assembly touched on her first visit decades earlier, when she was a young monarch and the United Nations itself was a young organization.
BBC News: Curfew enforced in Kashmir towns
A curfew is being strictly enforced in parts of Indian-administered Kashmir after a wave of violence between protesters and police over the past month. Police and paramilitaries have been deployed in the capital Srinagar where three civilians died in police firing on Tuesday.
CNN: Protesters lay siege to U.N. compound in Sri Lanka
Protesters led by a Sri Lankan cabinet minister laid siege to the United Nations compound in Colombo on Tuesday, demanding that the world body drop a probe into alleged human rights abuses in the final stages of the separatist war that ended last year. Staffers were prevented from leaving as a crowd of about 1,000 surrounded the compound and burned an effigy of U.N. Secretary-General Ban Ki-moon. Their placards told the United Nations to stop interfering in Sri Lanka's affairs.
CNN: Israeli soldier faces manslaughter charge in Gaza incursion
An Israeli soldier faces a manslaughter charge in the death of a Palestinian waving a white flag during a three-week incursion into Gaza, the Israeli military said Tuesday. The criminal indictment is one of three legal actions taken by the Israeli military for incidents that occurred during Operation Cast Lead. More than 1,100 Palestinians died during the operation, which began late in 2008 and ended early in 2009. It was intended to halt the firing of missiles from Gaza into Israel. The manslaughter charge was filed after an investigation into the shooting, the Israel Defense Forces said in a news release.
BBC News: Thai government extends state of emergency in Bangkok
The Thai government has extended a state of emergency in 19 provinces, including the capital Bangkok, because of fears of renewed violence. The emergency decree was revoked in five other provinces, after a three-month deadline expired. The law was imposed during mass anti-government protests earlier this year in which 90 people were killed.
BUSINESS
For the latest business news: www.CNNMoney.com
CNN: Dow breaks 7-session losing streak
The Dow ended higher Tuesday, finishing a volatile session with gains and breaking its seven-session losing streak as investors scooped up certain shares hit in the recent bloodletting. The Dow Jones industrial average (INDU) added 57 points or 0.6% after having been up as much as 171 points earlier and briefly dipping into negative territory. The Dow ended Friday's session at an 8-month low, closing lower for seven straight sessions, its worst streak since October 2008. The gains Tuesday broke that streak.
Bloomberg: Asian Stocks Fall, Yen Gains on U.S. Service Industries Report
Asian stocks fell for the first time in three days, U.S. stock futures dropped and the yen gained after American service industries expanded at a slower pace than expected, adding to concern the global recovery will weaken. The MSCI Asia Pacific Index slid 1.2 percent to 112.67 at 1:45 p.m. in Tokyo, halting a two-day, 1.9 percent rally. The yen strengthened against all 16 of its most-active counterparts, rebounding from near a one-week low against the euro. Standard & Poor's 500 Index futures declined 0.4 percent.
Business Week: Weapons Budget Grows Amid Obama Cuts, Pentagon Comptroller Says
U.S. spending on weapons through 2016 likely will grow faster than the overall defense budget, which will have annual increases of only about 1 percent above inflation, according to Pentagon Comptroller Robert Hale. An increase in weapons spending will include greater purchases of Bethesda, Maryland-based Lockheed Martin Corp.'s F- 35 fighter, new ground vehicles, ship construction, satellite systems and unmanned drones, according to the Pentagon's long- range plan. Northrop Grumman Corp., of Los Angeles, and Chicago- based Boeing Co. also stand to benefit.
Wall Street Journal: Industry Cuts Back as Steel Prices Fall
Steel prices in the U.S. are declining after holding firm for months, potentially a bad omen for the nation's economy as manufacturing activity slows and consumers grow more cautious about big-ticket purchases, such as cars and appliances. Steel prices tumbled in June, and U.S. steel mills are responding by cutting production. Earlier this year they were ramping up capacity to meet the growth in demand they hoped would emerge from the economic recovery. Instead, demand has been spotty.
Fortune: Dangerous liaisons at IBM: Inside the biggest hedge fund insider-trading ring
At 7:30 in the morning on Oct. 16, 2009, Robert Moffat had already been at his desk at IBM's headquarters in Armonk, N.Y., for an hour and a half. As he had almost every day in his 31-year career at the company, he had left home at 5:30 a.m. to get a jump on work. He had just finished his first call of the day when his phone rang. It was his wife, Amor. He needed to come home immediately, she said. Five FBI agents were at the house to arrest him for conspiracy related to insider trading. "What's going on?" Amor implored. Moffat, the senior vice president of IBM's systems and technology group, was the most prominent tech executive arrested in the federal dragnet that snagged Raj Rajaratnam, founder of the Galleon Group hedge fund.
CNNMoney: Buyout firm KKR to list on NYSE
Kohlberg Kravis Roberts & Co., the takeover titan immortalized in the book and television movie "Barbarians at the Gate," will finally start trading on the New York Stock Exchange next week. The stock will begin trading on the NYSE on July 15 under the ticker "KKR," the company said Tuesday. KKR has spearheaded some of the biggest leveraged buyout deals in history, including the $31 billion hostile takeover of RJR Nabisco in 1988.
Los Angeles Times: Apple bans developer who allegedly scammed online iTunes store
In the wake of reports that Apple Inc.'s online iTunes store had been scammed, the company said Tuesday it has banned a Vietnamese developer and removed his applications from the venue. "Developer Thuat Nguyen and his apps were removed from the App Store for violating the developer program license agreement, including fraudulent purchase patterns," Apple said in a statement. The company did not provide any other details about the incident, which came to light after iTunes customers complained their accounts had been accessed to buy applications from Nguyen.
CNNMoney: Treasury run-up won't last forever
Financial markets can make you look really foolish, even if you thought your analysis was right, and still do. Today's humbling example: the best investment by far for the first half of this year has been the one that people like me have been warning against: long-term U.S. Treasury bonds. But guess what? Even though it's been a crummy year for U.S. stocks, foreign stocks have performed considerably crummier.
New York Times: A New Generation, an Elusive American Dream
For young adults, the prospects in the workplace, even for the college-educated, have rarely been so bleak. Apart from the 14 percent who are unemployed and seeking work, 23 percent are not even seeking a job, according to data from the Bureau of Labor Statistics. The total, 37 percent, is the highest in more than three decades and a rate reminiscent of the 1930s. The college-educated among these young adults are better off. But nearly 17 percent are either unemployed or not seeking work, a record level (although some are in graduate school). The unemployment rate for college-educated young adults, 5.5 percent, is nearly double what it was on the eve of the Great Recession, in 2007, and the highest level — by almost two percentage points — since the bureau started to keep records in 1994 for those with at least four years of college.
CNNMoney: Stamps may go to 46 cents
Want to send granny a card? It might cost you a bit more next year. The U.S. Postal Service on Tuesday proposed a 2-cent increase in the price of a first-class stamp, bringing the cost to 46 cents. The change, if approved, will go into effect on Jan. 2. The Postal Service is trying to dig itself out of a deep financial hole. It projects a $7 billion deficit next fiscal year.
In Case You Missed It
Arizona's Sheriff Joe Arpaio and Congressman Raul Grijalva debate the U.S. lawsuit against Arizona.
Iran and aid to Gaza were topics of discussion during a meeting between Pres. Obama and Israeli PM Benjamin Netanyahu.
Subscribe to the CNN=Politics DAILY podcast at http://www.cnn.com/politicalpodcast
And now stay posted on the latest from the campaign trail by downloading the CNN=Politics SCREENSAVER at http://www.CNN.com/situationroom