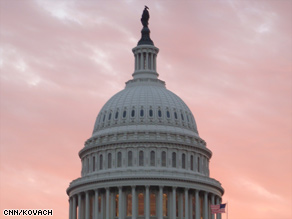 The CNN Washington Bureau's morning speed read of the top stories making news from around the country and the world.
WASHINGTON/POLITICAL
For the latest political news: www.CNNPolitics.com
CNN: Pentagon sends out "don't ask, don't tell" survey
The Pentagon on Wednesday began sending out to troops a survey of more than 100 questions seeking their views on the impact of repealing the "don't ask, don't tell" restrictions prohibiting gays and lesbians from openly serving in the U.S. military. An administration official confirmed to CNN that the survey is being sent to 200,000 active duty troops and 200,000 reserve troops. The official declined to be identified because the survey has not officially been made public.
CNN: Bush tax cuts up in the air
Odds are good that the middle-class will get to keep their tax cuts. The question now is for how long. The 2001 and 2003 tax cuts expire in six months. President Obama had promised to make them permanent for the majority of Americans. But the reality of the federal budget's impending shortfalls is making that a hard promise to keep. Indeed, some influential players in Washington have signaled that it's no longer a given that the tax cuts will be made permanent, at least not right away.
CNN: GOP touts new poll showing fading Obama support
Some national Republicans are touting a new Gallup poll that indicates a further erosion of independent support for President Barack Obama. According to the Gallup survey, 38 percent of independent voters approve of the job Obama's doing in the White House, down 18 points from last July. Gallup notes that this is the first time the president's approval rating among independents has dropped below 40 percent. The survey also notes that among Democrats, Obama's approval rating stands at 81 percent, while only 12 percent of Republicans give the president a thumbs up.
CNN: Poll: Deadlocked between Brown & Whitman
A new survey indicates that it's all tied up in the battle between Jerry Brown and Meg Whitman for California's top job. According to a Field Poll released Wednesday, 44 percent of California voters say they'll back Brown, the Democratic nominee, in the state's contest for governor, with 43 percent saying they support Whitman, the Republican nominee, and 13 percent undecided. Brown's one point advantage is well within the survey's sampling error. Brown led Whitman late last month by six points in a Reuters/Ipsos poll, the first non-partisan poll conducted since the June 8 primary.
New York Times: For Democrats, Debt Debate and Familiar Ring of Disunity
In case you've been out of the country for the last 25 years and were afraid that nothing had stayed the same, here are some current events you may find comforting: Bon Jovi is touring. The Russians are spying on suburbia. And Democrats in Washington are squabbling over the direction of their party. The latest flare-up of Democratic disunity has to do with how the party should respond to an explosion in government debt. This is a serious policy debate, obviously, and something of a political one, too, since both sides also have in mind November's midterm elections. But in a more fundamental way, the argument over fiscal policy represents the churning of a cultural fault line that has defined and destabilized Democratic politics pretty much since the onset of the Great Society. And President Obama is only the latest Democratic Party leader to find himself tossed about in the tremors.
CNN: West Virginia Gov. says he'll consider running for Byrd seat
West Virginia Gov. Joe Manchin says he'll push to hold a special election this November to fill the remaining two years of the term of late Sen. Robert Byrd. Manchin, a popular two-term Democratic governor, also told reporters that he "would highly consider" seeking the seat himself – a statement that is not surprising given Manchin was already thought to be interested in running for the Senate in 2012, when the election is currently scheduled.
CNN: Ron Paul ponders politics, 2012 run
When Rep. Ron Paul walked into Hy-Vee Hall last month, a single blue sign with a simple message was placed near the escalator that took him upstairs to a fundraiser attended by 300 Republican activists. It read: "President Ron Paul 2012." The sign was symbolic in many ways: Even as Iowa Republicans are focused on midterm elections, the 2012 presidential contest is not far from their minds. And it was just three years ago that Paul did not receive an invitation to participate in a presidential candidate forum held in this very building.
CNN: New ad targets Strickland for job losses
Ohio Gov. Ted Strickland is the target of a new Republican Governors Association ad highlighting the number of jobs that have been lost in the Buckeye State since the Democrat took office in 2007. The 30-second spot called "Gone" features three office-employees discussing recent Ohio job cuts at large corporations such as NCR, Fischbein and Novelis. "We lost 400,000 jobs under Strickland," one of the employees says. "Gotta be a world record," another responds. A spokesman for the RGA would not say where the ad is running or how much money is being spent on it.
St. Petersburg Times: Rick Scott sues to block public funds from going to rival campaigns
Rick Scott, the deep-pocketed Republican front-runner for governor, is suing the state in an effort to prevent his personal wealth from helping his primary rival, Attorney General Bill McCollum. Scott filed suit in U.S. District Court in Tallahassee Wednesday challenging part of Florida's public campaign financing system known as the "millionaire's amendment." The provision lets traditional candidates such as McCollum get tax dollars to subsidize their campaigns when they are being vastly outspent by independently wealthy candidates like Scott.
CNN: Hayworth hits back at McCain in first ad
Republican J.D. Hayworth is striking back at Sen. John McCain's recent negative TV ads, launching an ad of his own Wednesday declaring that the longtime Arizona senator "should be ashamed" of his actions. "John McCain is hiding his record behind false attacks on my husband," says Hayworth's wife Mary in the new ad. "John McCain has sold out the people of Arizona on immigration, bailouts, and tax increases.
Atlanta Journal Constitution: State tea party groups challenge each other
What's in a name? Everything when it comes to the Tea Party of Georgia. Sixteen months after its birth, the national tax movement that arguably got its biggest boost in Georgia is now splintered into several organizations that are competing for recognition. There's the Georgia Tea Party Patriots. There's The State of Georgia Tea Party, LLC. There's Georgia's Tea Party, which is also known as The Tea Party of Georgia, Inc. They might all sound like they're the same group. But they're not. In fact, the organizers of those first two groups don't much like each other.
Washington Post: N.Y. challenger Saujani embraces Wall Street in bid to unseat Rep. Maloney
It's cocktail hour on the Upper East Side of Manhattan, and dozens of rich New Yorkers are gathered around a grand piano, sipping white wine in the living room of an elegant high-rise apartment. There is plenty of gossip to be heard, but this is not a social event. The city's moneyed elite have come to commiserate about their growing distaste for their longtime congresswoman, Carolyn B. Maloney - and to open their wallets for the unlikely 34-year-old challenger they hope will defeat her. Since she entered the race in November, Reshma Saujani has received more than $800,000 in campaign contributions, an impressive tally for an untested candidate. Many of those checks came from New York financiers and their spouses.
CNN: Baucus criticizes Obama for recess appointment
Senate Finance Committee Chairman Max Baucus is the first Democrat to express displeasure with President Obama's recess appointment of Dr. Donald Berwick to head the agency overseeing Medicare and Medicaid. Baucus went on to state that he looked forward to working with the agency on health care reform's implementation "despite the recess appointment."
Pittsburgh Post-Gazette: Sestak, Toomey trade barbs over economy in campaign stops
In dueling Pittsburgh campaign stops Wednesday, Pennsylvania's U.S. Senate candidates depicted one another as threats to the economy on a day when Republican Pat Toomey released an early barrage of television ads. Mr. Toomey visited a Neville Island steel plant, arguing that its survival would be threatened by the energy policies supported by his opponent, Rep. Joe Sestak, D-Delaware County. A few hours later, Mr. Sestak struck back, calling the Republican a pawn of Wall Street. These are two candidates who profess to have respect for one another, but the barbed tone of the day's rhetoric suggested that amity wouldn't stand in the way of a tough campaign.
CNN: Arizona immigration law sponsor blasts feds over 'political' lawsuit
The Arizona lawmaker who sponsored the state's controversial new immigration law blasted Tuesday's lawsuit by the Justice Department, saying, "The misinformation out there is outrageous." Appearing on CNN's "Campbell Brown" hours after the suit against the state was filed, Arizona state Sen. Russell Pearce, a Republican, said, "The Obama administration simply is filing suit, a political lawsuit if you will, (be)cause they have no leg to stand on."
Washington Post: Oklahoma, South Carolina and Utah may follow Arizona's lead on immigration law
Attention is focused on Arizona and the federal government's challenge to the state's strict new immigration law, but three other states could adopt similar legislation next year. Lawmakers in Oklahoma, South Carolina and Utah, which have already taken steps against illegal immigration, say that Arizona-style measures have a realistic chance of passing when their legislatures reconvene in 2011. Legislators in at least 17 other states introduced bills this year similar to the Arizona law, which allows officers to question anyone they suspect of being in the country illegally. But most of those measures are not considered likely to be adopted or signed by governors. The political climate in Oklahoma, South Carolina and Utah, however, improves the chances that state legislatures there could follow Arizona's lead in 2011.
NATIONAL
For the latest national news: www.CNN.com
CNN: People in Northeast seek to beat triple-digit heat
Warnings from the National Weather Service about excessive temperatures in the Northeast remain in place through Thursday, as temperatures approached or surpassed the 100-degree mark for a second consecutive day Wednesday in many states. An "excessive heat watch" will remain in effect through Thursday afternoon in parts of Delaware, Massachusetts, Pennsylvania and New Jersey. The weather service says that temperatures maybe lower but the dew point temperatures will be higher. That combination means heat indices will be close to 100 degrees again on Thursday.
Wall Street Journal: U.S. Plans Cyber Shield for Utilities, Companies
The federal government is launching an expansive program dubbed "Perfect Citizen" to detect cyber assaults on private companies and government agencies running such critical infrastructure as the electricity grid and nuclear-power plants, according to people familiar with the program. The surveillance by the National Security Agency, the government's chief eavesdropping agency, would rely on a set of sensors deployed in computer networks for critical infrastructure that would be triggered by unusual activity suggesting an impending cyber attack, though it wouldn't persistently monitor the whole system, these people said. Defense contractor Raytheon Corp. recently won a classified contract for the initial phase of the surveillance effort valued at up to $100 million, said a person familiar with the project.
New York Times: Veterans Affairs to Ease Claim Process for Disability
The government is preparing to issue new rules that will make it substantially easier for veterans who have been found to have post-traumatic stress disorder to receive disability benefits, a change that could affect hundreds of thousands of veterans from the wars in Iraq, Afghanistan and Vietnam. The regulations from the Department of Veterans Affairs, which will take effect as early as Monday and cost as much as $5 billion over several years according to Congressional analysts, will essentially eliminate a requirement that veterans document specific events like bomb blasts, firefights or mortar attacks that might have caused P.T.S.D., an illness characterized by emotional numbness, irritability and flashbacks.
INTERNATIONAL
For the latest international news: http://edition.cnn.com
CNN: Family of jailed researcher: U.S.-Russia prisoner swap in works
A Russian researcher convicted of spying for U.S. intelligence services could soon be part of an exchange for suspects in a recent Russian spy scandal in the United States, his mother and brother told CNN Wednesday. Svetlana Sutyagina confirmed to CNN that her son, Igor Sutyagin, said he will be released from jail and sent to London, England, by way of Vienna, Austria, on Thursday. According to Svetlana Sutyagina, her son was on a list of 11 names submitted by the United States for the exchange of the Russians detained in the United States in an alleged spy ring. She said her son remembers just one other name on this list - Sergei Skripal, a former Russian military intelligence officer sentenced for spying.
CNN: Ex-Chinese official executed for corruption
The highest-ranking official accused of collusion with gangs that terrorized the central city of Chongqing has been executed, China's official Xinhua news agency reported. Wen Qiang, 55, former director of the Chongqing Justice Bureau, had been convicted of corruption charges involving organized crime, Xinhua said. He was sentenced to death by a lower court April 14 for accepting bribes, shielding criminal gangs, rape and failing to account for his cash and assets, the news agency said.
CNN: Brazilian goalie suspected in murder of missing woman surrenders
Bruno de Souza, Flamengo's goal keeper, turned himself in to police Wednesday for questioning related to the kidnapping and murder of a woman believed to have been the goalie's former lover, Rio de Janeiro police said. Souza's friend, Luiz Henrique Romao, also surrendered. The two men were held at Polinter Police Station in the Andari neighborhood before being taken for questioning to the homicide division at the police station in Barra da Tijuca in the western part of Rio de Janeiro. Their surrender came hours after a judge in Rio de Janeiro issued an order for their arrest.
Der Spiegel: Germany Agrees to Take Two Inmates from Guantanamo
German Interior Minister Thomas de Maizière announced on Wednesday that Berlin has agreed to accept two inmates from the US military prison at Guantanamo Bay. The deal is a long time in the making, and doesn't mean that President Barack Obama is any closer to closing the prison for good. The mini-success is a long time in coming. In spring of 2009, the US initially asked Berlin to consider taking Guantanamo inmates. Early speculation focused on a group of Uighur prisoners who, it was said, could be resettled within the Uighur community in Munich in lieu of being sent back to China.
CNN: 5 charged as al Qaeda plotters in US and UK
The Justice Department announced charges Wednesday against five people who prosecutors say are members of an al Qaeda plot to stage attacks in the United States and the United Kingdom. The charges link a plot against targets in New York to a scheme to attack a target in the United Kingdom, and say both were directed by "senior al Qaeda leadership in Pakistan." The cells used similar codes to communicate with their handler, both saying they were planning a "wedding" to mean an attack.
Washington Post: Cuba to release 52 prisoners, Catholic Church says
The Cuban government will free 52 political prisoners, Catholic officials in Havana said Wednesday, the largest release of captive dissidents in decades and a surprise gesture that could help thaw relations with the United States. The scheduled release of those arrested in a March 2003 crackdown against pro-democracy activists on the island was brokered by the country's archbishop, Cardinal Jaime Ortega, with help from visiting Spanish diplomats.
CNN: Attacks in Iraq kill at least 41, most of them pilgrims
The relentless violence intensified Wednesday evening, with at least 41 people killed by bomb attacks in the capital, an Interior Ministry official said. Another 174 people were wounded, the official said. The vast majority of the victims were Shiite pilgrims. In the latest attacks, which occurred despite heightened security, a roadside bomb detonated in western Baghdad Wednesday evening, killing at least six pilgrims and wounding 30 others. Another bombing, in central Baghdad's Haifa street, wounded nine pilgrims on Wednesday evening.
BBC News: Turkish key constitutional reforms annulled by court
Turkey's Constitutional Court has annulled key parts of a package of government-backed constitutional reforms. The court rejected an opposition appeal to scrap all of the measures, and said the remaining elements would be put to a referendum as planned.
BUSINESS
For the latest business news: www.CNNMoney.com
Wall Street Journal: To Fix Sour Property Deals, Lenders 'Extend and Pretend'
Some banks have a special technique for dealing with business borrowers who can't repay loans coming due: Give them more time, hoping things improve and they can repay later. Banks call it a wise strategy. Skeptics call it "extend and pretend." Banks are applying it, in particular, to commercial real-estate lending, where, during the boom, optimistic borrowers got in over their heads to the tune of tens of billions of dollars. A big push by banks in recent months to modify such loans—by stretching out maturities or allowing below-market interest rates—has slowed a spike in defaults.
CNNMoney: Wells Fargo to cut 3,800 jobs
Wells Fargo will cut 3,800 jobs and close 638 stores in its financial division, the company said Wednesday. The cuts are a result of the company closing Wells Fargo Financial, the company's consumer finance division that made "non-prime" home loans. About 2,800 of the job cuts will happen in the next 60 days, and the remaining 1,000 positions will be eliminated over the next 12 months.
CNN: BP may pay for wasted oil
Adding to BP's problems in the Gulf, the company may have to pay the U.S. government royalties on all the uncollected oil currently spewing into the water. BP (BP) is currently paying royalties on the oil it's collecting and selling from its leaking well, with the proceeds from the sale being donated to a wildlife fund. BP can only capture and sell about 16,000 barrels of oil a day, according to the latest company numbers. Yet government estimates say that each day up to 60,000 barrels could be leaking into the Gulf.
Bloomberg: IMF Raises 2010 Growth Estimate, Sees Greater Risks to Recovery
The International Monetary Fund raised its forecast for global growth this year, reflecting a stronger-than-expected first half, while warning that financial- market turmoil has increased the risks to the recovery. The world economy will expand 4.6 percent in 2010, the biggest gain since 2007, compared with an April projection of 4.2 percent, the Washington-based fund said in revisions today to its World Economic Outlook. Growth next year is projected to be 4.3 percent, unchanged from the April forecast.
CNN: Credit card delinquencies fall to 8-year low
Americans are not as far behind on their bills as a year ago. The number of consumers behind on their credit card payments fell to an eight-year low in the first quarter of 2010, the American Bankers Association said Wednesday. Overall, delinquencies across a wide-range of consumer debt categories have also fallen. High unemployment and plummeting home values during the financial meltdown appear to have spurred consumers to shore up their finances and banks to limit their lending, resulting in fewer Americans being late with payments, the industry group said.
Business Week: Smartphone Use on the Web Goes 'Mainstream'
Smartphone use is gathering steam in the U.S., new research shows. Forty percent of American adults use their cell phones to surf the Web, e-mail, or use instant messaging, according to a study from Pew Research Center in Washington. That's up from 32 percent a year ago, based on Pew's survey of 2,252 adults ages 18 and older that was released on July 7. "The smartphone has really penetrated the mainstream of American society," says Aaron Smith, a Pew research specialist. In the first quarter, smartphones accounted for 34 percent of all mobile handsets sold in the U.S., up from 31 percent in the fourth quarter of 2009, according to consultant NPD Group.
New York Times: Facebook Makes Headway Around the World
Facebook, the social network service that started in a Harvard dorm room just six years ago, is growing at a dizzying rate around the globe, surging to nearly 500 million users, from 200 million users just 15 months ago. It is pulling even with Orkut in India, where only a year ago, Orkut was more than twice as large as Facebook. In the last year, Facebook has grown eightfold, to eight million users, in Brazil, where Orkut has 28 million. In country after country, Facebook is cementing itself as the leader and often displacing other social networks, much as it outflanked MySpace in the United States.
CNNMoney: Fannie Mae and Freddie Mac delist from NYSE
Troubled mortgage finance giants Fannie Mae and Freddie Mac said goodbye to the New York Stock Exchange at the end of trade Wednesday. At the market open Thursday, Fannie and Freddie will start trading on the over-the-counter bulletin board - also known as pink sheets - under the symbols "FNMA" and "FMCC." The Treasury Department poured $83.6 billion into Fannie and $61.3 billion into Freddie to cover losses on the trillions of dollars' worth of mortgage-backed securities they own or guarantee. While that bailout money helped put a floor under the housing market, the two companies have still been shedding money - with billions of additional losses predicted in coming years.
In Case You Missed It
CNN's Jessica Yellin takes a look at polls showing President Obama is losing support among liberals and independents.
Los Angeles Mayor Antonio Villaraigosa discusses immigration reform and the controversial Arizona law.
Subscribe to the CNN=Politics DAILY podcast at http://www.cnn.com/politicalpodcast
And now stay posted on the latest from the campaign trail by downloading the CNN=Politics SCREENSAVER at http://www.CNN.com/situationroom