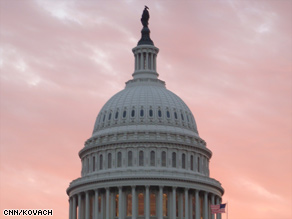 The CNN Washington Bureau's morning speed read of the top stories making news from around the country and the world.
WASHINGTON/POLITICAL
For the latest political news: www.CNNPolitics.com
CNN: Positions meet practicality for Tea Party candidates
The handful of Tea Party-backed candidates who've had successful primary wins now face an ideological dilemma - and potential backlash - as they retool for a general election campaign. Do they stick to their far-right agenda and trust that their conservative credentials will carry them to victory in November, or do they move ahead with a more mainstream, politically expedient message?
CNN: Arizona nears $500K to defend immigration law
Within hours of the Justice Department's announcement Tuesday that it would file a lawsuit challenging Arizona's tough new immigration law, thousands of contributions began flowing in to a legal defense fund set up by Gov. Jan Brewer to defend the bill she signed in April. By the end of Wednesday, more than 6,300 donations totaling more than $300,000 had been processed through KeepAZsafe.com. More than 10,000 contributions totaling nearly $500,000 have rolled in to the fund since its inception in mid-June, according to an analysis conducted by the state and provided to CNN.
Wall Street Journal: For Democrats, Politics Is Local Again
The Democratic-run Congress passed a health-care overhaul and is close to securing new rules for Wall Street. But in his re-election campaign back in southern New Mexico, Rep. Harry Teague is talking about new sidewalks and widening a freeway. Across the country, Democrats defending House and Senate seats amid the stiffest anti-incumbent mood in two decades are trying to focus attention away from Washington—and toward local factors that might persuade voters to return their lawmaker to office. The effort is designed to prevent Republicans from turning the fall elections into a national referendum on President Barack Obama and Democratic leaders in Congress, whose popularity among swing voters has been in sharp decline over the last year.
Washington Post: Obama road-tests midterm message with speeches in Missouri, Nevada
President Obama on Thursday offered a sharp-edged preview of his election season campaign message, using fundraisers for Missouri Senate candidate Robin Carnahan and Senate Majority Leader Harry M. Reid (Nev.) to cast the midterms as a choice between economic policies of the past and those of the future. In remarks reminiscent of the campaign-year Obama that the country often saw in 2008, the president sought to frame the elections as a choice between the Republican economic policies that he said created the recession and the Democratic ones he said have led to a slow recovery.
CNN: Issa: Steele is 'not my leader'
Rep. Darrell Issa has a message for Michael Steele: Represent the consensus view of the Republican Party, or resign as chairman of the Republican National Committee. "Michael Steele is supposed to reflect a consensus of Republican platform and policies," the Republican said during a taping of C-SPAN's 'Newsmakers' program. "If he does that, he certainly could remain. If he's not willing to do that, if he wants to be a political leader on his own, there are plenty of seats open in November. I suggest he run for one of them." Steele has been under fire for suggesting that the war in Afghanistan is one "of Obama's choosing" and that the conflict might be unwinnable.
Wall Street Journal: Grassley Airs Concerns As Vote Nears on Financial Bill
Iowa Republican Sen. Charles Grassley is "very concerned" about a provision in the financial overhaul bill designed to pay for the legislation, an aide said Thursday, potentially complicating White House efforts to build a filibuster-proof majority to back the measure. If Mr. Grassley decides to vote against the bill, Democrats would be left with little margin for error when they bring the bill to the Senate floor, which could happen as soon as next week. Mr. Grassley was one of four Republicans to support an earlier version of the bill when it narrowly passed the Senate in May. Democrats and White House officials likely need the support of at least two Republicans to secure the 60 votes necessary to block a potential filibuster.
CNN: Palin, Paul expose rift in Tea Party
Sarah Palin and Ron Paul are two darlings of the Tea Party movement, but their views on military spending could hardly be more different. Palin, the former Republican vice presidential nominee, invokes the importance of a strong and robust military in speech after speech, while Paul, the libertarian Republican who rocketed to the national scene during the 2008 presidential race, has long argued for drastic cuts in defense spending. It's a schism that has long existed within the GOP's fold – between hawkish conservatives and spend-weary Republicans – but one which the Tea Party movement's diverse coalition and varied figure heads have specifically laid bare over the past year.
CNN: Palin releases web video with campaign feel
In what has the familiar feel of a classic campaign commercial, Sarah Palin's political action committee is out with its first web video Thursday that is heavily laden with the former Alaska governor's appearances at political events and Tea Party rallies over the past year. The nearly two-minute video, called "Mama Grizzlies," features a portion of a speech Palin gave before the Susan B. Anthony List in May, during which she told the anti-abortion rights women's group, "It seems like it's kind of a mom awakening in the last year and a half where women are rising up and saying, 'No, we've had enough already.'"
Myrtle Beach Sun News: GOP presidential race under way in S.C.
The 2012 presidential race is under way in South Carolina. Former U.S. Speaker of the House Newt Gingrich visits Columbia and Charleston today for a pair of fundraisers – his second visit to the state since the spring. Other potential Republican presidential contenders have also made S.C. visits recently including Minnesota Gov. Tim Pawlenty, former Alaska governor and 2008 vice president pick Sarah Palin, former Massachusetts governor and 2008 presidential contender Mitt Romney and former Pennsylvania U.S. Sen. Rick Santorum. South Carolina represents some of the most fertile GOP ground in the nation because of its Republican-leaning voters and its early presidential primary, critical to selecting the Republican candidate who will take on Democratic President Obama in 2012.
CNN: Portman out raises Fisher by 2 to 1 margin
Republican Rob Portman out raised Democrat Lee Fisher by a more than two-to-one margin the past three months in the battle for Ohio's open Senate seat. Portman's campaign announced early Thursday that it brought in $2.65 million in the second quarter of this year. Hours later, the Fisher campaign announced it raised more than $1 million dollars during the same three month period. The Portman campaign also says it has $8.8 million cash on hand, far more than the over $1 million the Fisher campaign says it has in the bank.
CNN: New Reid ad goes after Angle on jobs
A new television commercial by Senate Majority Leader Harry Reid aims to use Republican challenger Sharron Angle's own words against her. The ad, which the Reid campaign says starts running statewide in Nevada on Thursday, uses an audio clip of Angle saying "people ask me: What are you going to do to develop jobs in your state. Well, that's not my job as a U.S. senator." The commercial also includes a video clip of Angle saying, "I am not in the business of creating jobs."' Jobs are a crucial issue in Nevada, which currently has the highest state unemployment level in the country.
Lexington Herald Leader: Conway and Paul highlight differences during first joint appearance
Republican Rand Paul and Democrat Jack Conway were sharply critical of each other in their first joint appearance since winning their party's U.S. Senate nominations. Paul said Conway, the state attorney general, had engaged in a conflict of interest by taking contributions from utility companies over which his office has some oversight. Conway said Paul's comment that "sometimes accidents happen" when discussing the Gulf Coast oil spill and a fatal Kentucky mining accident on national television revealed a "cold and callous world view" that doesn't speak well of his attitude toward holding Wall Street accountable. Each said the other had misstated his views.
CNN: Whitman launches Spanish language ad campaign
Republican candidate Meg Whitman is sign-posting her desire for Latino voters in the California gubernatorial race – literally, with billboards and bus stop advertisements. The new outdoor advertising campaign includes Spanish language ads opposing Proposition 187 and the Arizona immigration law. One ad reads, "NO a la Proposición 187 y No a la ley de Arizona," and translates to "No to proposition 187 and No to the Arizona law." The other reads "Más Trabajos" or "More Jobs." The campaign is a self-professed effort to reach out to California's Latino voters, according to a Whitman campaign press release.
CNN: Obama: Economy 'headed in the right direction'
President Barack Obama said Thursday the U.S. economy is "headed in the right direction," and he challenged Republican critics to work with him to continue making progress instead of trying to obstruct his agenda. "What is absolutely clear is that we are headed in the right direction – and that the surest way out of this storm is to keep moving forward," Obama told workers at a Kansas City, Missouri, electric vehicle company that had been helped by economic stimulus funds. He urged his political opponents to visit Smith Electric Vehicles, which makes batteries for electric trucks, and other businesses across the country to hear how government initiatives such as the stimulus bill and tax credits are creating and saving jobs, particularly in future-growth industries such as clean energy.
Wall Street Journal: Push for Public Funds to Finance Campaigns
Advocates of government funding for congressional campaigns have argued for years that their plan would reduce the influence of wealthy donors and corporate executives. Now, legislation to put a publicly funded system in place is gaining a boost from an unusual set of allies: wealthy donors and corporate executives. A group of about a dozen former corporate executives and other wealthy individuals has made $5 million in donations and pledges to bankroll a lobbying effort for government financing of House and Senate campaigns, according to David Donnelly, the head of Campaign for Fair Elections and the man leading the effort. The group hopes to raise $15 million this year. The bill is backed by 157 House members, up from 56 in the previous session of Congress.
NATIONAL
For the latest national news: www.CNN.com
CNN: Federal appeals panel denies government bid to reinstate drilling ban
A federal appeals panel on Thursday upheld a district judge's order to block the Obama administration's six-month ban on deepwater drilling in the Gulf of Mexico. In a brief ruling just a few hours after the hearing, the three-judge appellate panel denied the government's request to reinstate the moratorium while the full appeal of the case continues.
CNNMoney: BP gets stricter with claims
BP is becoming increasingly stringent with its demands for documentation from victims filing claims for lost wages and income in the Gulf region. Immediately following the spill, many initial payments were distributed in uniform amounts with minimum documentation based on estimates. Now, BP will make payments based on each claimants' documented losses. As a result of the tightened standards, some claimants could get more money than the standardized industry check they have been receiving while others could get less.
INTERNATIONAL
For the latest international news: http://edition.cnn.com
CNN: Expelled Russian agents en route to Austria
Ten Russian agents, who were expelled from the United States for intelligence gathering, were expected to arrive in Vienna, Austria, Friday morning on a chartered flight, a U.S. federal law enforcement official said. U.S. Marshals were on board the jetliner that left New York's LaGuardia Airport Thursday evening, the official said. They were released in exchange for Russia's release of four Russian prisoners accused of spying for the United States, officials from both countries said Thursday.
CNN: Obama says Middle East peace deal doable, but will be 'wrenching'
President Barack Obama told an Israeli television network that he thinks there can be a Middle East peace agreement by the end of his current term, but "it's going to be wrenching." In an interview conducted Wednesday with Channel 2 Israel that was made public Thursday, Obama said Israeli Prime Minister Benjamin Netanyahu might be "well positioned" to bring about a deal with the Palestinians because of his reputation as a conservative "hawk."
CNN: Iran denying woman will be executed by stoning
Iran's government is denying reports that an Iranian woman convicted of adultery will be executed by stoning, though her death sentence may still be carried out by some other method. In the Islamic republic's first public statement on the case of Sakineh Mohammedie Ashtiani, 42, the Iranian Embassy in London, England, said Thursday that "this mission denies the false news aired in this respect and ... according to information from the relevant judicial authorities in Iran, she will not be executed by stoning punishment.
CNN: Terror suspects arrested in Norway and Germany
Norwegian authorities announced the arrests of three suspects Thursday in connection with an ongoing investigation into terrorist plots in New York and the United Kingdom. Their apprehension was made possible through international cooperation, including information from U.S. authorities, they said. The suspects had been under surveillance for several months, the Norwegian authorities said. The three are suspected of plotting terrorist attacks and having connections to al Qaeda, the Norwegian prime minister's office said earlier. All three of the suspects are in their 30s and of foreign descent, the Norwegian Police Security Service said. One is a Norwegian citizen and the other two are permanent residents.
CNN: U.N. Security Council to condemn sinking
The United Nations is set to formally condemn the action - but not a particular nation - for the March sinking of a South Korean warship, the Cheonan. U.S. Ambassador Susan Rice emerged from a closed-door Security Council session Thursday afternoon, telling reporters that the United States had proposed a "presidential statement," agreed to by the five permanent Council members, plus Japan and South Korea. The Security Council will convene Friday morning in a formal meeting to vote on the proclamation. Rice called the statement "a very clear and appropriate response." She said the step "shows the Council's unity in confronting threats to peace and security."
Wall Street Journal: Czechs Wary of Joining Troubled Euro
The new Czech central bank governor said uncertainty surrounding the euro zone in the wake of the Greek debt crisis is so great that there is no point considering adopting the common currency for now and expressed serious reservations about possible new Europe-wide regulations. Miroslav Singer, a former vice governor of the Czech National Bank who was named to the top job last week, also said Czech interest rates are likely to stay at their current low levels "longer than people generally think." But he said further cuts were unlikely unless the economy slowed sharply.
CNN: French court jails Noriega for seven years
A French court on Wednesday sentenced Manuel Noriega to seven years in prison for money laundering – but the former Panamanian dictator could be eligible for parole as early as next year, his lawyer told CNN. Noriega, who has been a prisoner since being toppled in a U.S. invasion more than 20 years ago, was also fined 2.2 million euros ($2.7 million), the amount he was accused of laundering in drug trafficking profits through French banks. The former dictator, who was was extradited from the U.S. to France in April, looked shaken and disconsolate at the sentence.
New York Times: Smugglers in Iraq Blunt Sanctions Against Tehran
Even as the United States imposes new sanctions on Iran, one of the biggest gaps in the American strategy is on full display here in Iraq, where hundreds of millions of dollars in crude oil and refined products are smuggled over the scenic mountains of Iraqi Kurdistan every year. Day after day, without formal authorization from Baghdad, more than a thousand tankers snake through this town on Iraq's border with Iran, not only undercutting recent American sanctions but also worsening tensions with the Iraqi government over how to divide the country's oil profits.
BBC News: Cameroon denies homosexuals face persecution
Cameroon's government has rejected the claim by a gay asylum seeker in the UK that he would face persecution if he returned home. On Wednesday, the Supreme Court in London ruled in favour of the man, and a similar claimant from Iran. Homosexuality in Cameroon is punishable by up to three years in jail.
CNN: U.N. recalling envoy, closing office in Sri Lanka
The U.N. secretary-general is recalling an envoy from Sri Lanka and closing a U.N. office there because authorities in that country "failed to prevent" protests disrupting the "normal functioning" of the world body's offices in Colombo, the nation's capital. The move is a rare rebuke of a member U.N. state by Secretary-General Ban Ki-moon, who on Thursday called the "unruly" demonstrations organized and led by a Cabinet minister "unacceptable." Ban recalled U.N. Resident Coordinator Neil Buhne to New York for consultations and decided that the United Nations Development Program Regional Center in Colombo will be closed.
BUSINESS
For the latest business news: www.CNNMoney.com
CNNMoney: Toxic bank assets haven't gone away yet
All those loan problems that once plagued U.S. financial institutions don't seem so noxious anymore. Many banks managed to put a substantial portion of their problems behind them after drastically writing down the value of those assets starting in 2007. Other institutions regained some viability after committing to scrub their books clean.
New York Times: Biggest Defaulters on Mortgages Are the Rich
No need for tears, but the well-off are losing their master suites and saying goodbye to their wine cellars. The housing bust that began among the working class in remote subdivisions and quickly progressed to the suburban middle class is striking the upper class in privileged enclaves like this one in Silicon Valley. Whether it is their residence, a second home or a house bought as an investment, the rich have stopped paying the mortgage at a rate that greatly exceeds the rest of the population.
CNNMoney: Credit crunch alive and well
Two years after the credit squeeze began, Americans are still pulling back. A government report released Thursday showed that consumer credit fell at an annual rate of 4.5% in May, making it the fourth consecutive month of declining credit. Total consumer credit fell a seasonally adjusted $9.1 billion to $2.4 trillion, the Federal Reserve reported.
Investors Business Daily: Retail Sales So-So In June As Job Fears Weigh On Shoppers
June sales were sluggish despite heavy discounts, retailers reported Thursday, the latest evidence of a cautious consumer and slowing economic expansion. Sales at stores open at least a year rose 3.1% vs. June 2009, Retail Metrics said. That was below its forecast for 3.5% growth following May's 2.7% gain. Sales have moderated in the past few months amid high unemployment, falling stock prices and an uncertain economic outlook.
CNNMoney: U.S.: Yuan still too cheap
A Treasury report on foreign exchange rates has lawmakers in a tizzy about China's cheap currency. In its latest report to Congress following China's decision to end its peg to the dollar, the U.S. Treasury said that while the People's Republic did not "manipulate" its currency, the yuan is still "undervalued." The semi-annual document reports on whether countries manipulated their exchange rates to gain an unfair advantage in international trade. The most recent edition covers the second half of 2009 and part of 2010, and during that time, no countries, including China, manipulated their currencies, the Treasury said.
CNNMoney: Smart cars in any color you want... really
Smart USA, the company that sells the ultra-small Smart ForTwo, is now offering customers the option to choose to have their car painted any color they choose. Seriously. Any color. They mean it. Red, blue, green, fuchsia, burnt sienna, cyan, lavender, turquoise with a hint of gold, plaid... you name it. Customers will still be able to choose one of Smart's six basic colors at no additional cost but, for $1,550 more, they can choose from a palette of 93 other colors as part of the brand's "smartExpressions" offer. If none of those 93 shades quite does it for you, there's the less cleverly named "Any Color You Want" program. The name says what it means.
Business Week: RIM Needs a Lift with BlackBerry 6
Research In Motion (RIMM) presented Queen Elizabeth II with a white BlackBerry during a royal visit to the Canadian company's headquarters on July 5. Her Royal Highness is an apt representative of RIM's customer base: established, traditional, and likelier to use a phone to e-mail instructions to staff than download Lady Gaga videos. In short, not the audience co-Chief Executive Officer Jim Balsillie has to woo as RIM loses ground to Apple's (AAPL) iPhone and handsets running Google's (GOOG) Android operating system. Despite an 11 percent drop in RIM's share price on June 25 after the company released first-quarter results, Balsillie is buoyant. With RIM poised to unleash a wave of new technology, he says, "the wind is about to gust on our back." Consumers, he promises, will be "blown away."
CNNMoney: Tylenol recall is expanded
Johnson & Johnson is expanding a recall of over-the-counter medicines including Tylenol, Motrin and Benadryl, the company said Thursday. McNeil Consumer Healthcare, a division of Johnson & Johnson (JNJ, Fortune 500), said it is recalling 21 lots of OTC drugs as a follow-up to a Jan. 15 recall following complaints of a "musty or moldy odor." Thursday's recall includes certain types of Children's Tylenol as well as adult-strength Benadryl, Motrin IB, Tylenol Extra Strength, Tylenol Day & Night and Tylenol PM.
In Case You Missed It
Four senators have been victims of a hoax - emails appearing to emanate from their own offices announcing their deaths.
Three people with links to al Qaeda and plots in U.S. are arrested. CNN's Paula Netwon and Jim Clancy discuss.
Subscribe to the CNN=Politics DAILY podcast at http://www.cnn.com/politicalpodcast
And now stay posted on the latest from the campaign trail by downloading the CNN=Politics SCREENSAVER at http://www.CNN.com/situationroom