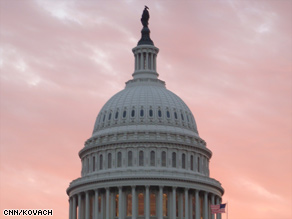 The CNN Washington Bureau's morning speed read of the top stories making news from around the country and the world.
WASHINGTON/POLITICAL
For the latest political news: www.CNNPolitics.com
CNNMoney: Congress is back – and so is the spending debate
Lawmakers come back to work Monday facing a tough decision: Whether it's more important to spend money to keep the economic recovery going or to watch their pennies. One camp, made up mostly of Democrats, is arguing that Congress must spend to help cash-strapped states and people who are hurting from the downturn. The other side - mainly Republicans but also a few fiscally conservative Democrats - says that adding to the nation's deficit poses an even bigger economic problem. They don't mind helping the unemployed and the states, as long as the measures are paid for. Lawmakers don't have much time to argue.
CNN: Dems sound the alarm on GOP spending
National Democrats are out with a new strategy to gin up enthusiasm among members of the base and line their campaign coffers, warning supporters that the party is likely to be significantly outspent by Republican groups this election cycle. The memo – sent to Democratic activists and fundraisers around the country – says Republican-supporting groups are likely to spend more than $300 million leading up to the midterm elections – a total, Democrats say, that dwarfs previous midterm election spending.
CNN: Dems propose delaying primary season
With memories of a 2008 primary season that almost began before Christmas and lasted into the summer, Democratic party officials are proposing delaying the start of the 2012 presidential nominating primaries. The Democratic National Committee's Rules and Bylaws Committee has formally suggested Iowa and New Hampshire hold their nominating contests in early February of 2012 – a month later than the first-in-the-nation New Hampshire primary and Iowa Caucuses were held in 2008. Specifically the committee is proposing the Iowa Caucuses be held on February 6, 2012 and the New Hampshire Primary on February 14. Nominating contests in Nevada and South Carolina would then occur at the end of February, before the rest of the states are permitted to hold their primaries or caucuses on March 6 or later.
CNN: Greene cleared in South Carolina investigation
South Carolina's top law enforcement agency announced Friday that it will not file charges against Democratic Senate nominee Alvin Greene. The South Carolina Law Enforcement Division (SLED) had been investigating how Greene, a political newcomer who could not afford a lawyer when facing criminal charges last year, came up with the $10,440 needed to get his name on the Democratic Senate primary ballot. "After a thorough investigation, SLED has concluded that there is no evidence of wrongdoing, criminal intent or deception to the court when Greene applied for a public defender last year," the agency said in a statement Friday.
Los Angeles Times: Big money from special interests attempts to sway three local elections
The issues and the special interests that pursued them in last month's primary election are familiar: Big oil, tobacco and insurance companies seeking armor against litigation and taxes; trial lawyers looking for more opportunities to sue; the state Chamber of Commerce working against proposals its members deem costly. But even battle-hardened veterans of special-interest wars were alarmed by how some of California's most influential groups flooded a few small campaigns with money in an effort to achieve their goals. Under innocuous umbrella names such as the California Alliance and Put California Back to Work, they poured more than $1 million into each of three contests for rank-and-file legislative seats — races that merely determined who would advance to the general election.
New Orleans Times Picayune: Miss. Gov. Haley Barbour could be 2012 presidential candidate, or GOP kingmaker
Hurricane Katrina curtailed Mississippi Gov. Haley Barbour's presidential aspirations last time around. His response to the devastation from the Gulf oil spill and his work to elect Republican governors this year are stirring talk of a White House bid in 2012.Barbour's standing within the Republican Party is so high these days that he's certain to be a force in the presidential race even if he decides not to challenge President Barack Obama. The governor insists his top priority is helping his state, devastated by the oil spill, and lifting the GOP in the November elections. Beyond that, Republicans uniformly suggest that one of two things will happen: Either Barbour becomes a serious contender for president, siphoning staff and donors from likely opponents, or he takes on the role of kingmaker, giving his blessing and delivering his contacts as a former national party chairman to his anointed candidate.
CNN: Inglis goes after Palin: 'Lowest form of political leadership'
Republican Rep. Bob Inglis, who last month lost a primary battle to retain his seat, is now taking aim at some members of his own party – the second ousted Republican to express frustration with the GOP in as many weeks. In an interview with the Associated Press and confirmed to CNN by his office, Inglis targets the "death panels" phrase made famous by Sarah Palin when the former Alaska governor inaccurately claimed the Democratic-backed health care legislation would ration health care for the elderly.
Politico: Sarah PAC steps into the big leagues
A new financial report filed Sunday evening showed Sarah Palin's political action committee has taken its fundraising to a higher level – and suggests that she has begun building a more sophisticated political operation in place of a bare-bones organization powered mostly by her rock star status and scrappy on-line presence. The report, filed with the Federal Election Commission, shows that Palin's political action committee raised more money in the second quarter of this year – $866,000 – than it had in any previous three-month stretch since Palin formed the group in January 2009. The committee, Sarah PAC, also spent nearly twice as much – $742,000 – as it had in any previous quarter, the lion's share of which went to the type of list-building and fundraising (including its first major direct-mail campaign) that typically undergird top-tier political committees.
Detroit Free Press: Tea party has GOP candidates' attention
Across Michigan, they are meeting in libraries and diners, talking up friends and neighbors about free markets and bloated government, hoping to stir excitement for like-minded candidates. In other states, candidates with the perceived blessing of the tea party movement have done well - sending some veteran lawmakers to defeat. As Michigan heads to its Aug. 3 primaries, Republicans running for governor and Congress from the U.P. to southeast Michigan are paying attention and - in some cases - homage to the growing influence of the nascent, largely anti-government movement. If the tea partiers fail to move the voting needle, it won't be for lack of trying.
CQ Politics: Vitter Draws More Opponents
The final hours of Louisiana's candidate qualifying period brought surprise challenges to embattled Sen. David Vitter. Vitter drew two opponents in the Republican primary, which will force him to spend campaign money earlier as he tries to convince his party to stick with him. Then, if he wins the nomination, the unexpected addition of extra names to the November ballot will change the complexion of the general election campaign. Altogether, 17 candidates qualified to run for the Senate seat by Friday's deadline - Vitter; two other Republicans; three Democrats; two Libertarians; a Reform Party candidate; and eight no-party candidates.
Las Vegas Sun: Republicans call for party unity at state convention
U.S. Senate candidate Sharron Angle and national GOP Chairman Michael Steele tried to unite Nevada Republicans with a call Friday night to defeat Senate Majority Leader Harry Reid. The two spoke at a "Unity Dinner" held as part of the Nevada Republican Party Convention at Green Valley Ranch. Angle stuck to her already-known positions on issues, repeatedly praising former President Ronald Reagan and condemning Reid in her 20-minute speech.
Washington Post: GOP takeover could make committee staff member Democrats' 'worst nightmare'
If there's one congressional aide White House officials might wind up fearing most, it's Larry Brady. He's all but unknown, but Brady is the secret weapon for Rep. Darrell Issa (R-Calif.). As minority staff director of the House Oversight and Government Reform Committee, Brady stands ready to wield almighty subpoena power if Republicans seize control of the chamber in November and make Issa chairman of the panel. Handing subpoena power to Issa and his staff would be the White House's "worst nightmare," says Don Goldberg, a crisis-management expert at Qorvis Communications.
CNN: Bennett warns of Tea Party 'mischief'
A Republican Senator predicted Friday that Senate Majority Leader Harry Reid is likely to retain his Senate seat despite a challenge from Tea Party favorite Sharron Angle. Utah Sen. Bob Bennett made his prediction during an interview with the Associated Press, and added that the GOP may also falter in other competitive Senate races in Colorado and Kentucky. "With the Tea Party creating the mischief that it is in Colorado, we may not win that seat. My sources in Nevada say with Sharron Angle there's no way Harry Reid loses in Nevada," Bennett told the Associated Press.
New York Times: Governors Voice Grave Concerns on Immigration
In a private meeting with White House officials this weekend, Democratic governors voiced deep anxiety about the Obama administration's suit against Arizona's new immigration law, worrying that it could cost a vulnerable Democratic Party in the fall elections. While the weak economy dominated the official agenda at the summer meeting here of the National Governors Association, concern over immigration policy pervaded the closed-door session between Democratic governors and White House officials and simmered throughout the three-day event.
CNN: Obama announces changes for vets with post-traumatic stress
President Barack Obama is announcing upcoming changes in the way veterans with with Post Traumatic Stress Disorder qualify to receive help. In his weekly internet and radio address, Obama said the Department of Veterans Affairs will lead efforts in reforming the way veterans with PTSD receive benefits to pay for the care they need. "For years, many veterans with PTSD who have tried to seek benefits – veterans of today's wars and earlier wars – have often found themselves stymied. They've been required to produce evidence proving that a specific event caused their PTSD," said Obama.
NATIONAL
For the latest national news: www.CNN.com
CNN: BP "pleased" with containment cap operation so far
BP said Sunday that it is "pleased" with how the operation to place a new cap on its ruptured undersea well is proceeding. Officials hope the containment cap will stop oil from gushing into the Gulf. But while robots replace the old cap, crude is flowing freely. The procedure - expected to take four to seven days - continued to progress Sunday as crews worked to position a transition spool over the gushing well to prepare for the new connection, according to BP's Senior Vice President Kent Wells.
CNN: Feinberg lays out plan for $20 billion BP claims fund
The man charged with independently administering the $20 billion fund set up to compensate for damage caused by the Gulf oil disaster said Sunday that he is prepared to provide up to six months in emergency compensation without the requirement of releasing BP from liability. In an appearance on CNN's State of the Union, attorney Kenneth Feinberg said he expected to have his independent compensation program running by the first week of August. Feinberg told CNN Chief Political Correspondent Candy Crowley that his operation will be superimposed on top of the claims process already put in place by BP, which has more than 1,000 people working out of 35 offices in the Gulf Coast region.
INTERNATIONAL
For the latest international news: http://edition.cnn.com
CNN: Death toll in Uganda bomb attacks at 60
The death toll from a pair of bombings that struck a restaurant and a rugby ground in Uganda's capital is around 60, a police spokeswoman told CNN on Monday. Seventy-one more people were injured, said police spokeswoman Judith Nabakooba. The blasts occurred Sunday night as patrons gathered to watch the World Cup final game between Spain and the Netherlands. One explosion took place at an Ethiopian restaurant in Kampala; the other at a rugby field. Americans may be among the dead or wounded, the U.S. State Department said.
CNN: Spain celebrates Iniesta, World Cup
Spain won the World Cup for the first time in its history as an extra-time goal from midfielder Andres Iniesta gave his country a last-gasp 1-0 victory over the Netherlands in the final at Soccer City. The showpiece game of the South Africa-hosted tournament on Sunday was littered with no less than 13 yellow cards and one red but was settled by a moment of magic by the Barcelona man after he was played in by substitute Cesc Fabregas. His 116th-minute strike was the goal all Spaniards were waiting for and spared both sides the agony of deciding the new world champions by penalties. The breakthrough came after the Dutch had been reduced to 10 men, following Johnny Heitinga's dismissal in the second half of extra time by referee Howard Webb for a foul on Iniesta.
CNN: Iran execution of woman temporarily halted, state media reports
Iran's judiciary chief has temporarily halted the execution of a woman convicted of adultery, state media reported Sunday, citing a judicial official. "Although the verdict still stands and is definite, the execution has been halted on humanitarian grounds from the order of the honorable judiciary chief, and will not be implemented at this time," Malek Ajdar Sharifi, a judiciary official in East Azerbaijan province, told Iran's Islamic Republic News Agency. The well-publicized case involves Sakineh Mohammedie Ashtiani, who faces the possibility of execution by stoning after being convicted in 2006 of adultery.
Wall Street Journal: Seoul Forum Helps Heal IMF Wounds
A conference the South Korean government is co-hosting with the International Monetary Fund on Monday is designed to yield high-minded discussions and headlines about Asia's growing importance in the world economy. It is also aimed at repairing the image of the multinational organization in a country where the assistance it provided 12 years ago remains controversial at best and vilified by many here despite its necessity then and its success since. The IMF's help to Asian countries during the regional financial crisis of 1997 and 1998 gave it the image of a foreign taskmaster with little care for local customs, particularly if they interfered with conventional fiscal wisdom. The fund lent money to Thailand and Indonesia as well as to South Korea in the period. The troubles of that time are widely known as the Asian financial crisis, but South Koreans call it the "IMF crisis."
CNN: Japanese PM vows to keep job despite party defeat
Japanese Prime Minister Naoto Kan vowed to keep his job Sunday despite a defeat at the polls for his Democratic Party of Japan, which apparently failed to gain a majority in the upper house of parliament. "I am very sorry that we could win far less than what we (had) originally anticipated," he said at a news conference. "... I take this outcome very seriously and will make a fresh start by continuing responsible government management." Kan's initial honeymoon period after taking office ended when he said he would like to start a debate on raising the consumption tax in order to fix the nation's financial problems. He suggested an opposition party's proposal to raise the tax to 10 percent might be a starting point for the debate.
Washington Post: Karzai to push for removing up to 50 ex-Taliban officials from U.N. blacklist
Afghan President Hamid Karzai plans to seek the removal of up to 50 former Taliban officials from a U.N. terrorism blacklist - more than a quarter of those on the list - in a gesture intended to advance political reconciliation talks with insurgents, according to a senior Afghan official.The Afghan government has sought for years to delist former Taliban figures who it says have cut ties with the Islamist movement. But the campaign to cull names from the list, which imposes a travel ban and other restrictions on 137 individuals tied to the Taliban, has taken on renewed urgency in recent weeks as Karzai has begun to press for a political settlement to Afghanistan's nearly nine-year-old conflict.
Guardian: Peter Mandelson: Clegg told Brown he would have to go
Nick Clegg, the Liberal Democrat leader, repeatedly told Lord Mandelson and Gordon Brown that the latter would have to step aside as prime minister as the price of a Lib-Lab deal, in secret talks after the hung general election in May, according to the former business secretary. Mandelson also claims that one Liberal Democrat negotiator, Danny Alexander, now Treasury chief secretary, pressed Labour to agree to enact legislation imposing a new way of electing MPs without bothering with a referendum. David Cameron has denied in the Commons that the Liberal Democrats had ever sought in talks with him to get him to agree a switch to the alternative vote for electing MPs, without first staging a referendum to obtain voters' approval. Both claims about the Lib-Lab talks have been made before, but it is the first time the assertions, likely to put Clegg in a questionable light, have been backed by detail.
CNN: 10 suspected al-Qaeda militants arrested in eastern Yemen
Yemen security services arrested 10 al Qaeda terrorists Sunday in Hadramout province, east Yemen, according to the Ministry of Interior. The state-run news agency, Saba, reported that the security services raided a house where four suspected members of an al Qaeda cell were hiding in Fuh, located west of Mukalla in Hadramout. Security forces arrested two who were wounded in the clash, while two others escaped.
BBC News: Gaza aid ship to dock in Egypt after Israel pressure
A ship with supplies for Gaza will dock at el-Arish in Egypt, officials say, after Israeli pressure to stop the vessel breaking its Gaza blockade. The Moldovan-flagged ship chartered by a charity run by the son of Libyan leader Col Muammar Gaddafi, left a Greek port on Saturday. Israel asked for help from the UN, and had talks with Greece and Moldova. But organizers insist they will go to Gaza.
BUSINESS
For the latest business news: www.CNNMoney.com
CNNMoney: The real test for stocks
The stock market's best week in a year has restored some confidence to battered investors, but the real test begins Monday when companies start reporting second quarter profits and losses. Dow component Alcoa kicks things off Monday. Four other Dow names report this week: Intel on Tuesday, JPMorgan Chase on Thursday and General Electric and Bank of America on Friday. Also on tap: Google on Thursday and Citigroup on Friday. A total of 21 S&P 500 companies will announce results this week, with most of the rest spread out over the next three weeks.
Bloomberg: Asian Stocks Rise; Yen Weakens Against Euro on Japan Elections
Asian stocks rose, led by Japanese exporters and commodity producers. The yen fell on concern efforts to cut Japan's public debt will be undermined after the ruling party lost control of the upper house. The MSCI Asia Pacific Index rose 0.2 percent at 116.46 as of 1:03 p.m. in Tokyo, extending a two-day, 2.6 percent rally. The yen weakened against all 16 of its most-active counterparts, sliding to 112.22 per euro from 112.01 in New York on July 9. Standard & Poor's 500 Index futures slipped 0.1 percent.
CNNMoney: A stimulus program even a Republican can love
There's at least one stimulus program that's creating jobs and winning praise from both sides of the political aisle. A little-known Recovery Act initiative is expected to put more than 200,000 unemployed people back to work in 32 states and the District of Columbia. It's called the Temporary Assistance for Needy Families Emergency Fund, and it subsidizes jobs with private companies, nonprofits and government agencies. But the $5 billion it receives runs out on Sept. 30, even though employers and state officials administering the money say there's lots more demand out there.
Wall Street Journal: BP Mulls Selling Off Billions in Assets
BP PLC is in talks with U.S. independent oil and gas producer Apache Corp. on a deal worth as much as $10 billion that could include stakes in BP's vast Alaska operations, according to people familiar with the matter. A deal, which would go a long way to helping BP cope with the financial stress of paying for the clean-up of the Gulf oil spill, could be reached in the coming weeks, though there is no guarantee it will succeed, one of these people said. BP and Apache declined to comment. The Apache deal is one of a number of options the U.K. oil major is exploring to raise cash as it struggles to clean up a spill that has fouled huge sections of the Gulf coast. BP has already suspended its dividend and trimmed capital spending.
CNNMoney: Tesla: Toyota electric prototypes coming soon
Electric carmaker Tesla Motors will deliver two prototypes to Toyota Motor Co. by the end of the month, a Tesla executive said Saturday. The prototypes will use Tesla's electric motors and battery packs and the bodies of Toyota vehicles. Toyota announced in May that it planned to invest $50 million in Tesla Motors (TSLA) following the electric car maker's initial public offering, which took place on June 29. Tesla's stock closed Friday at $17.40, down 21% over five days.
Fortune: Apple plants its flagship in Shanghai
Apple (AAPL) made its first foray into retail sales in China just before the 2008 Olympic games with a standard-size Apple Store set in a newly constructed Beijing retail development called the Village at Sanlitun. Its second Chinese Apple Store, which opened Saturday amid the luxury shops in Shanghai's gleaming financial district, is something else: A 40-foot glass tower that sits atop one of the largest stores in Asia, with 16,000 square feet of retail space and more than 100 Wi-Fi connected Macs on display.
CNN: China exports up 44 percent in spite of global fears
China defied widespread fears about a new slowdown in the global economy to record another surge in exports last month compared to the same period last year, although the figures will also draw attention again to whether the Chinese currency remains undervalued. A 44 percent increase in exports last month year-on-year led China to rack up another large monthly trade surplus in June, the $20 billion result adding to the surplus of $19.5 billion in May, which could indicate that China's external surplus might balloon again in the second half of the year.
New York Times: End of Census, and for Many, End of Job
It was a finely honed machine, this United States Census team, and it had a good run. But in the coming days and weeks, many of its members will experience the pain of unemployment — once again. When the Census Bureau hired upward of 700,000 Americans over the last two years — most in the last six months — it landed more experienced workers with more sophisticated skills than any time in recent memory. This was the unintended upside of the nastiest recession of the last 70 years. Now, its decennial work largely done, the Census Bureau is shedding hundreds of thousands of workers — about 225,000 in just the last few weeks, enough to account for a jot or two in the unemployment rate, say federal economists. Most of those remaining will be gone by August; a few will last into September.
CNNMoney: Debt collectors get nasty
Debt collectors are getting desperate and dirty. Harassing phone calls, abusive language and physical violence are becoming a bigger part of business as debt collectors struggle to round up money from people who don't have it. Complaints of harassment by debt collectors surged 50% to 67,550 in 2009, according to the Federal Trade Commission. And they are on track to jump 13% this year, based on the number of FTC complaints filed in the first six months.The No. 1 complaint is repeated calls, and it is not uncommon for collectors to bombard consumers with back-to-back calls for days, weeks, months and even years.
In Case You Missed It
Rep. Phil Gingrey discusses new GOP project, America Speaking Out.
White House Senior Adviser David Axelrod talks about the realities of this election year.
Subscribe to the CNN=Politics DAILY podcast at http://www.cnn.com/politicalpodcast
And now stay posted on the latest from the campaign trail by downloading the CNN=Politics SCREENSAVER at http://www.CNN.com/situationroom