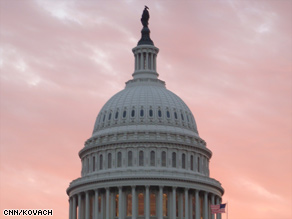 The CNN Washington Bureau's morning speed read of the top stories making news from around the country and the world.
WASHINGTON/POLITICAL
For the latest political news: www.CNNPolitics.com
CNNMoney: Wall Street reform and the price of milk
Congress is expected to finally pass the massive Wall Street reform bill later this week. And the lobbyists have already moved on to their next line of attack: The regulators who will issue the hundreds of new rules called for in the legislation. Regulators will have lots of leeway. They will decide everything from when a risky financial firm should be taken over to how to crack down on debit card swipe fees. And some of those decisions could directly affect consumers' wallets.
CNN: Dems target Republicans against Wall Street reform
As the Wall Street reform bill appears to be on the verge of passing with little GOP support, Democrats are aiming to put Republicans in races across the country on the hook for not backing the measure. With many national polls indicating that a majority of Americans support increased regulation of Wall Street practices, the Democratic Senatorial Campaign Committee is seizing on the opportunity to flag Republicans in the midst of Senate bids who have either come out against the bill or have hesitated supporting it.
CNN: Obama leaning heavily on Bill Clinton for election help
Facing a bruising midterm election in less than four months, President Barack Obama's aides are putting together an aggressive schedule to deploy former President Bill Clinton at campaign and fundraising events in key states around the country, according to Democratic officials familiar with the plans. "It's a no-brainer you would use one of the most talented politicians the country has ever had," said one Democratic official familiar with the discussions. "There are few as good at laying out the contrast with Republicans." There has been speculation Clinton might not be used that frequently because of lingering frostiness between the two presidents dating to the divisive days of the 2008 campaign.
CNN Poll: Americans split on Obama
Americans are divided over how President Barack Obama is handling his job in the White House, according to a new average of the most recent national surveys. A CNN Poll of Polls compiled and released Tuesday indicates that 47 percent of the public approves of the job Obama's doing in office, with 46 percent disapproving of how the president is handling his duties. According to the CNN Poll of Polls, Obama's approval rating has slowly deteriorated this year, and has been below 50 percent since early March.
Washington Post: Robert Bentley clinches Republican nod for governor in Alabama
Alabama Republicans selected their nominee for governor tonight, handing state Rep. Robert Bentley a come-from-behind victory over former state Sen. Bradley Byrne. Bentley held a steady double digit edge over Byrne throughout the night, a reversal of the June 1 primary where Byrne placed first while Bentley barely made it into the runoff - eking out a 267-vote win over the businessman Tim James (R). Byrne was backed by much of the state's Republican establishment including outgoing Gov. Bob Riley (R); he also out-raised his rival by more than three to one.
CNN: Poll: Plurality oppose lawsuit against Arizona immigration law
More Americans oppose rather than support the federal government's lawsuit against Arizona's tough new immigration law, according to a new poll. A Pew Research Center/National Journal survey indicates that 45 percent of the public disapproves of the Justice Department's move last week to block implementation of the law, with 36 percent approving of the action, and 19 percent unsure.
Politico: Pelosi rips Gibbs's House prediction
House Speaker Nancy Pelosi bashed White House Press Secretary Robert Gibbs Tuesday night, even as the president's top spokesman continued to backpedal from his assertion that Democrats could lose control of the House in the November election. The fusillade from Pelosi and other Democrats at a closed-door meeting escalated an already fiery clash between the White House and its own party in Congress. During the tense evening meeting, the speaker grilled the top White House aide in attendance, senior legislative affairs staffer Dan Turton, about the impact of Gibbs' comments.
CNN: Reid to push energy bill
Senate Majority Leader Harry Reid Tuesday announced the broad outlines of an energy bill he said he will bring to the floor in two weeks. The legislation, cobbled together after months of politically sensitive negotiations, will likely include a controversial cap on emissions from electric utilities that could make it very difficult for the bill to pass. Reid declined to give specifics of "the rough draft," but said it would have four main sections. The first will be a response to the oil spill in the Gulf of Mexico. The second will focus on clean energy, consumer savings, and jobs. The third deals with reducing consumption, and the fourth is aimed at reducing emissions from power plants.
CNN: Dems claim Angle 'wishes death upon her critics' after she criticized Bennett
One day after Nevada Senate candidate Sharron Angle said that a Republican senator has "outlived his usefulness," Democrats on Tuesday are claiming Angle "thinks people who criticize her political positions should die." In response, her campaign is blasting that characterization of her remarks as "absurd." "Outlived" and "die" are the latest entrants in an increasingly bitter war of words between Angle, her supporters – and her detractors. Both sides are throwing sharp verbal knives as Angle hopes to oust the most powerful Democrat in the Senate, Majority Leader Harry Reid. The Democratic National Committee is responding to comments Angle made to Neil Cavuto of Fox News on Monday.
Washington Post: Pennsylvania, other states in tug of war before congressional redistricting
As the Beltway remains riveted on November's congressional midterm elections, another political war is taking shape in small communities nationwide, elevating hundreds of unknown [politicians] to the front lines. The reason: Next year, state legislatures will take up redistricting, the once-a-decade task of redrawing congressional boundaries based on population shifts gleaned through the census. Redistricting plays a central political role every 10 years, but the stakes seem particularly high this cycle. In Pennsylvania and elsewhere, Republicans see an opportunity to improve their prospects for winning back Congress and controlling it for years to come - by shaking loose the Democrats' grip on state governments.
CNN: Vitter's 'birther' comments draw heat
Louisiana Sen. David Vitter, already bruised politically for failing to adequately explain why he continued to employ a staffer who was arrested for threatening to stab his girlfriend, is now facing heat over his apparent support of investigations into President Barack Obama's place of birth. "I personally don't have standing to bring litigation in court," Vitter told voters in Metairie, Louisiana Sunday. "But I support conservative legal organizations and others who would bring that to court. I think that is the valid and most possibly effective grounds to do it." Video of Vitter's remarks were posted by the liberal web site Talking Points Memo on Monday.
CNN: Rand Paul loses top adviser
Kentucky Republican Senate candidate Rand Paul's campaign chairman David Adams has left the campaign, a Paul aide told CNN Tuesday. "He decided he preferred in-state politics to federal politics," Paul campaign manager Jesse Benton said in an email. "He's a great guy and will be missed."
St. Petersburg Times: The billionaire's business: how U.S. Senate candidate Jeff Greene made his money
Billionaire Senate candidate Jeff Greene is spending millions on TV and campaign mailers casting himself as the "proven job creator," but proving how many jobs he's created isn't so easy. Greene, 55, is a stunningly successful businessman — worth an estimated $1.3 billion, according to Forbes last year — but little is known about his track record.
Detroit Free Press: GOP gubernatorial debate focuses on jobs
With three weeks left before voters decide who will be the finalists in the race for Michigan governor, jobs were the overwhelming focus among four of the five Republican candidates in their last scheduled debate. The fifth, Ann Arbor businessman Rick Snyder, skipped the debate to attend a town hall meeting in Grand Rapids. The debate at Oakland University was the third and final in a series sponsored by the Michigan Republican Party. The Democratic Party also has no other debates scheduled between its candidates, Lansing Mayor Virg Bernero and House Speaker Andy Dillon, before the Aug. 3 primary.
Washington Post: Capitol Hill's calendar is looking fuzzy
The stakes are high this November. The Republicans are looking to retake the House. (Ah, the subpoenas, the subpoenas.) They need to pick up 39 seats. They also have a shot at taking the Senate, where they need to pick up 10 seats. And they may be able to make inroads on the Democrats' numbers there even before the new Congress convenes in January. While each Senate seat is important, some may be more valuable than the others. Depending on how somewhat opaque state laws are interpreted, winners might be able to take office shortly after the election results are in on Nov. 2, rather than waiting until the new Congress convenes Jan. 3. Early arrivers would garner two months more seniority than other members of their class. That may not seem like much, but every day of seniority is critical in the Senate.
CNN: NAACP passes resolution blasting Tea Party 'racism'
The National Association for the Advancement of Colored People has passed a resolution that condemns what it feels is rampant racism in the Tea Party movement. Members passed the measure on Tuesday at the NAACP's 101st annual convention being held in Kansas City, Missouri. Tea Party activists have swiftly denounced the action as unfounded and unfair. The resolution pits the nation's oldest civil rights organization, with a storied history of wins on behalf of racial justice, against a grassroots conservative movement that has won some recent political races and is flexing its muscle in Republican circles.
NATIONAL
For the latest national news: www.CNN.com
CNN: 'Integrity' testing on Gulf well cap delayed
BP has put off crucial "integrity tests" on the new stacking cap on its ruptured Gulf oil well so it can review testing procedures, a review expected to take place through the night and into Wednesday. The oil giant had expected the tests - to check pressure in the well and determine if it can be sealed once and for all - to get under way Tuesday afternoon. But late Tuesday night, BP announced that additional analysis of the well testing procedure was needed. The move following a meeting with Energy Secretary Steven Chu and his team of advisers.
CNN: Obama administration unveils national HIV/AIDS strategy
The Obama administration aims to cut the annual number of new HIV infections in the United States by 25 percent over the next five years, according to a nationwide HIV/AIDS strategy unveiled Tuesday. Federal officials are also seeking to combat a growing sense of complacency about the disease, partly by reducing the percentage of infected Americans who are unaware of their status.
INTERNATIONAL
For the latest international news: http://edition.cnn.com
CNN: Source: Iranian researcher headed back to Tehran from U.S.
Shahram Amiri - an Iranian nuclear scientist Tehran claimed was kidnapped by U.S. agents - is leaving Washington Tuesday night for Iran, a diplomatic source has told CNN. Amiri, who is a researcher from Tehran's Malek Ashtar University, mysteriously disappeared in June 2009 while on a religious pilgrimage to Saudi Arabia, according to Iranian media reports. The Iranian government has accused the United States of involvement in Amiri's disappearance, with Iran saying the researcher was taken to force him to give up data about Tehran's nuclear program.
CNN: Russian who emerged in recent spy case deported
A 23-year-old Russian who came to light during the recent spy case has been deported for violating U.S. immigration law, a Department of Homeland Security spokesman told CNN Tuesday. An immigration judge ordered Alexey Karetnikov removed from the United States, said spokesman Matthew Chandler, who said Karetnikov admitted being in the country illegally and voluntarily agreed to be deported. "Once deported, Mr. Karetnikov would face criminal and civil penalties if he returned without express U.S. government permission," Chandler said. Another U.S. government official said that Karetnikov was en route to Russia.
CNN: Burqa ban passes French lower house overwhelmingly
France's lower house of parliament Tuesday overwhelmingly passed a ban on any veils that cover the face - including the burqa, the full-body covering worn by some Muslim women. The vote was 335 to 1. The measure must still go to the French Senate before it becomes law. The Senate is expected to vote on it in the week of September 20. Amnesty International immediately condemned the vote.
CNN: Palestinians outraged at demolition of East Jerusalem homes
Jerusalem municipal officials Tuesday defended the demolition of three Palestinian homes - including one that was inhabited - in two East Jerusalem neighborhoods, saying they were built without legal permits and the demolitions were court-ordered. However, Palestinians expressed outrage at the actions, with a member of the Fatah revolutionary council calling Monday's demolitions "a clear statement" from the Israeli government on the Mideast peace process.
New York Times: Italy Arrests Hundreds in Mob Sweep
The Italian police arrested more than 300 people, including local government officials, and seized millions of dollars in property, money, weapons and drugs across the country on Tuesday in one of the most extensive law enforcement operations against the crime syndicate known as 'Ndrangheta. The organization is mainly based in the southern region of Calabria. The man believed to be the organization's top boss, Domenico Oppedisano, 80, was arrested in a predawn raid there. About 160 people were also arrested in the northern region of Lombardy, among them one of the group's reputed leaders in Milan, Pino Neri.
CNN: China to tighten rules on food safety
Chinese government officials pledged Tuesday to improve regulations on food, particularly dairy products, following last week's seizure of 64 tons of milk powder containing 500 times the acceptable level of toxic melamine. At a news conference at the Ministry of Health, authorities attempted to reassure citizens rattled by reports of the tainted milk. Two years ago, six babies died and hundreds of thousands of children were sickened by melamine-tainted milk.
BBC News: Nigeria state oil firm insolvent, says minister
Nigeria's state oil firm is insolvent, unable to pay debts of $5bn (£3.3bn), a government minister has said. Junior Finance Minister Remi Babalola said the Nigerian National Petroleum Corporation had asked for help to cover its debts and fund its operations. But the NNPC denied the claim and said the government was not paying its own debts to the firm. Nigeria is a major crude oil producer and exporter but must import refined oil to meet its domestic needs.
Guardian: Renegade Afghan kills three British soldiers
The government's Afghanistan exit strategy suffered a severe setback yesterday after three British troops, including a senior army officer, were murdered by an Afghan colleague inside a patrol base in Helmand province. The soldiers, from the Gurkha Rifles, were killed by a rogue member of the Afghan national army in a "suspected premeditated attack", the Ministry of Defence said. The Afghan, who fled the scene, is understood to have shot one man in his bed and killed the other two by firing a rocket-propelled grenade into a control room. The killings are the latest blow to British efforts to train the Afghan security forces, which is key to government plans to withdraw UK troops by 2015 and raises questions about the extent of Taliban infiltration of the Afghan army.
New York Times: Argentina Senate to Vote on Gay Marriage Bill
Already known for having one of the most gay-friendly capitals in the world, Argentina is in the throes of a debate this week over granting the broadest marital protections to gay people in Latin America. In what is expected to be a fierce discussion, Argentina's Senate is scheduled to vote Wednesday on a bill allowing gay people to wed. The proposed law has increased frictions between the Roman Catholic Church and the government of President Cristina Fernández de Kirchner, which is pushing the bill. The war of words continued on Tuesday as church leaders staged large protests around the country against the proposed law.
BUSINESS
For the latest business news: www.CNNMoney.com
CNNMoney: Stocks rally on Alcoa profit, Greek auction
Stocks surged Tuesday as investors welcomed Alcoa's better-than-expected profit report and a well-received auction of Greek debt that lifted global markets and strengthened the euro. After the close, Intel reported higher quarterly sales and earnings that rose from a year ago and topped expectations. It was the company's best quarter ever, reflecting strong demand from business customers. The Dow Jones industrial average (INDU) added 147 points, or 1.4%. The S&P 500 (SPX) index rose 16 points, or 1.5%, and the Nasdaq (COMP) composite jumped 44 points, or 2%.
Bloomberg: Asian Stocks, Currencies Climb on Intel Sales, Singapore Growth
Asian stocks rose, pushing the region's benchmark index to a three-week high, and currencies climbed after Intel Corp. reported record second-quarter sales and Singapore raised its 2010 economic growth forecast. The MSCI Asia-Pacific Index gained 1.5 percent to 117.81 as of 11:14 a.m. in Tokyo, reaching the highest level since June 22. Futures on the Standard & Poor's 500 Index advanced 0.7 percent. The Korean won strengthened 1.2 percent to 1,198.38 per dollar, snapping a two-day drop.
Wall Street Journal: Fed Sees Slower Growth
Federal Reserve officials, who are likely to reveal Wednesday a cut in their assessment of the growth outlook, are divided on how aggressively the central bank should act if the economy slows further. Fed officials still expect the U.S. economy to keep growing. But an updated forecast to be released Wednesday afternoon with the minutes of the Fed's late-June policy meeting is likely to show that officials have trimmed their second-half forecasts—as have many private forecasters. One topic under debate is the possibility that today's already-low inflation may turn into a debilitating bout of deflation, a broad drop in prices across the economy. Fed officials disagree on the risk of deflation. A few see it as a threat; others call it very unlikely, Fed officials said in recent interviews.
Bloomberg: Singapore GDP Expands at Record Pace, Currency Gains
Singapore's economy expanded at a record 18.1 percent pace in the first half of the year, spurring the nation's currency and adding to evidence of Asia's resilience to Europe's sovereign debt crisis. Gross domestic product expanded at a 26 percent annual pace in the second quarter from the previous three months, after a revised 45.9 percent gain in January to March, the trade ministry said today. Growth in the first half was the fastest pace since records began in 1975, prompting the government to predict GDP will rise 13 percent to 15 percent in 2010. A year after Singapore exited its worst recession since independence in 1965, tourists are arriving in record numbers, companies have increased hiring and vessels are leaving the city's ports carrying more cargo.
CNNMoney: FCC indecency ban struck down
A federal appeals court struck down the Federal Communications Commission's indecency policy Tuesday, calling the agency's longstanding rules "unconstitutionally vague." A three-judge panel on the U.S. Second Circuit Court of Appeals said in a 32-page ruling that the FCC's indecency rules created "a chilling effect that goes far beyond the fleeting expletives at issue here." FCC commissioner Michael Copps said in a statement that the court's decision was "anti-family." He said the FCC's policy was "constitutional and enforceable," but he called on the commission to "immediately to clarify and strengthen its indecency framework."
Wall Street Journal: Monthly Trade Gap Is Biggest Since '08
The U.S. trade deficit hit its widest level in a year and a half, as increased imports from China more than offset growth in exports, an imbalance that is weighing on the tepid economic recovery. The U.S. trade deficit, the difference between exports and imports, increased 4.8% to $42.3 billion in May, the Commerce Department said Tuesday. That was the widest since November 2008. April's trade gap was revised upward from earlier estimates. U.S. exports grew 2.4% to a 20-month high of $152.3 billion. Imports grew faster, expanding 2.9% to $194.5 billion. The U.S. trade deficit with China expanded to $22.3 billion in May, the widest level since October and 15% larger than the previous month. Imports expanded by $3.1 billion, far outpacing a $162 million gain in exports.
Business Week: AIG Said to Weigh Giving Stake in Mortgage Bonds to Repay U.S.
American International Group Inc. is considering repaying part of its U.S. bailout by handing over stakes in the mortgage-linked bonds that pushed the firm to the brink of collapse, said three people with knowledge of the plan. The assets are contained in Maiden Lane II and Maiden Lane III, entities created in 2008 as part of the U.S. effort to remove toxic securities from the New York-based insurer. AIG's proposal reflects the firm's confidence in the rebound in value of these holdings, said the people, who declined to be identified because the plan hasn't been approved.
CNNMoney: Intel has best-ever quarter as PC sales pick up
Intel on Tuesday posted a record quarter that gave worried investors reason to believe again. The world's largest chipmaker said PC and server sales continued to gain steam in the second quarter, helping the company post its best-ever quarterly sales and profit. That growth flies in the face of investors' concerns that the European debt crisis would weigh on sales for Intel - and the entire tech sector - in the coming months. Since mid-April, Intel's stock slipped more than 13%, and many tech stocks have fallen along with it.
CNNMoney: Windows XP just won't go away
Windows XP, which debuted nine years ago in 2001, will continue to be with us for yet another decade. Microsoft (MSFT, Fortune 500) announced late Monday that it would allow some Windows 7 customers to buy Windows XP "downgrade" licenses until January 2020. Those licenses allow customers to swap out the newer operating system and instead install a legal copy of the older one. Microsoft initially planned to let Windows 7 customers downgrade to Windows XP only through April 2010, but that end-date was quickly extended until October 2011. Now, the company says it will extend the downgrade option through the entire Windows 7 sales cycle, which is scheduled to last until January 2020. The move is intended to appease business customers, many of whom skipped an upgrade cycle by ignoring the widely panned Windows Vista.
In Case You Missed It
President Obama's HIV/AIDS plan focuses on prevention, improving HIV treatment and narrowing health disparities.
Obama press secretary Robert Gibbs clarifies recent comments about Democrats' chances in November midterm elections.
Subscribe to the CNN=Politics DAILY podcast at http://www.cnn.com/politicalpodcast
And now stay posted on the latest from the campaign trail by downloading the CNN=Politics SCREENSAVER at http://www.CNN.com/situationroom