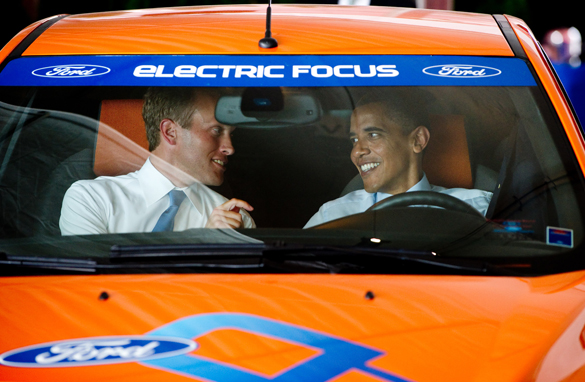 President Obama sits in an electric Ford Focus alongside Holland, Michigan, Mayor Kurt Dykstra. (PHOTO CREDIT: Getty Images)

Holland, Michigan (CNN) - President Barack Obama on Thursday touted the clean energy technology of a new plant that will make electric car batteries as an example of economic growth created by his administration's policies.
At the groundbreaking for the Compact Power plant in Holland, Michigan, Obama said the country is on the path to recovery from the economic recession that wiped out 8 million jobs.
However, he acknowledged the slow pace of the recovery and said the goal of his policies was never to "create a government program, but rather to unleash private-sector growth."
Obama noted that advances in the manufacture of batteries for electric cars are expected to lower their costs by nearly 70 percent in the next few years.

The lower cost "will make electric and hybrid cars and trucks more affordable for more Americans," Obama said. "And that not only means more jobs, but also that we'll be less dependent on oil."
Previewing the Democratic message for the November mid-term congressional election, Obama said it is "absolutely clear" the nation's economy is headed in the right direction, and that "the surest way out of the storms we've been in is to keep moving forward, not to go backward."
"There are some folks who want to go back - who think we should return to the policies that led to the recession," Obama said of Republican critics, accusing them of choosing political obstruction over working with Democrats for solutions.
At a Republican news conference Thursday, GOP senators called for an end to policies that they said hinder job creation.
"It is time this administration and its Capitol Hill ally stop this job-killing agenda," said Sen. Orrin Hatch, R-Utah.
Obama is simply "out of touch with the American people and out of touch with the economic realities of our country in the summer of 2010," added Sen. John Barrasso, R-Wyoming.
The president, however, reiterated his long-standing assertion that things would have been worse without the economic stimulus bill and other job creation efforts.
New projects like the Michigan plant are helping the United States compete with other nations for a foothold in the clean energy industry of the future, Obama said.
He challenged his GOP critics to ask workers filling the new jobs if they would have preferred for the batteries they will be building to instead be manufactured overseas.
Stimulus bill money helped Compact Power build the new battery plant, Obama said, bringing hundreds of jobs to economically hard-hit Michigan.
"It will be a boost to the economy of the entire region," he said.