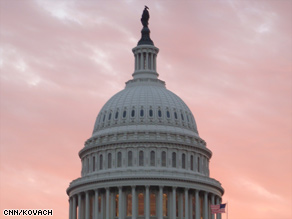 The CNN Washington Bureau's morning speed read of the top stories making news from around the country and the world.
WASHINGTON/POLITICAL
For the latest political news: www.CNNPolitics.com
CNN: House Democrats still fuming over Gibbs comments
House Democratic leaders met with President Barack Obama on Wednesday night to discuss legislative priorities in the run-up to the November mid-term election, but one topic was bypassed - the weekend assessment by White House Press Secretary Robert Gibbs that Republicans could win back the chamber. Aides to the House Democratic leaders told CNN that the meeting with Obama was productive and focused mostly on economic issues and policy. One leadership aide said Obama declared the Democrats would retain control of the House in November, but there was no mention in the meeting of the remark by Gibbs.
CNN: Cornyn to oppose Kagan nomination
Sen. John Cornyn, R-Texas, announced Wednesday he will not support Elena Kagan's nomination for the Supreme Court. Cornyn is the second Republican member of the Senate Judiciary Committee to oppose Kagan's nomination. He joins Utah Sen. Orrin Hatch who announced his opposition earlier this month.
CNN: Report: Controversial Tea Party billboard covered
A controversial Mason City, Iowa billboard that featured President Barack Obama next to images of Adolf Hitler and Vladimir Lenin was papered over Wednesday, according to a report by the Mason City Globe Gazette. The billboard went up last week, the local newspaper reported, and was ordered and paid for by the North Iowa Tea Party. The billboard showed Obama underneath the label "Democrat Socialism," Hitler under the label "National Socialism," and Lenin under the label "Marxist Socialism." The word "change," one of Obama's trademark slogans from his White House run, appeared beneath each of the images. And the phrase "Radical Leaders Prey on the Fearful & the Naïve" was written across the bottom of the billboard. The North Iowa Tea Party, the local Tea Party group behind the billboard, has not responded to requests for comment.
Wall Street Journal: Senate VIP Loans Mount
U.S. senators or Senate employees received 30 loans—far more than had previously been known—under a controversial lending program at Countrywide Financial Corp. that provided cut-rate terms to favored borrowers. The information is contained in a letter sent to the Senate Select Committee on Ethics by Rep. Darrell Issa (R., Calif.), who has been spearheading the House Oversight and Government Reform Committee's investigation into Countrywide's so-called VIP mortgage program. No specific loan recipients were named in the letter. But Mr. Issa's letter said borrowers on a dozen loans listed their place of employment as the office of "Senator Robert Bennett." Available public records don't indicate that Sen. Bennett, a Utah Republican and member of the Senate Banking Committee, received a Countrywide home loan.
CNN: Obama quietly huddles with Buffett
As the recession continues to play a monumental role in the midterm election battle, CNN has learned that President Barack Obama quietly met with billionaire Warren Buffett for an hourlong meeting at the White House Wednesday, according to senior officials familiar with the chat. The 11:15 a.m. meeting was not listed on Obama's public schedule, the officials said, but the White House released a photograph of the encounter after it had ended. In addition to the economic crisis, the two men discussed energy reform and other issues, according to the officials.
CNN: Poll: McCain topping primary opponents by wide margin
Sen. John McCain is widely ahead of his two primary challengers, according to a new poll. A Behavior Research Center survey released Thursday indicates that 64 percent of likely Arizona Republican primary voters support McCain, with19 percent backing former Rep. J.D. Hayworth, five percent supporting Jim Deakin, a Tea Party activist, and 12 percent undecided. The primary is scheduled for August 24. McCain, the GOP's 2008 presidential nominee, is bidding for a fifth term in the Senate.
Charleston Post and Courier: DeMint: I don't want top spot
South Carolina's junior U.S. senator said he has no plans to challenge Sen. Mitch McConnell of Kentucky as leader of Senate Republicans. U.S. Sen. Jim DeMint told The Greenville News that he would not rule out accepting a leadership position in the Senate, but said he doesn't plan to challenge McConnell for the top GOP spot.
CNN: Angle on refusing 'mainstream media' interviews: 'There's no earnings for me'
Nevada Senate candidate Sharron Angle is explaining why she routinely refuses to do mainstream media interviews, saying that "there's no earnings for me there." The Republican made the comments to David Brody of The Christian Broadcasting Network in an interview on Tuesday. Angle is battling to oust Senate Majority Leader Harry Reid in the November election. "People say that I went 'dark.' I didn't," Angle said. "I have done over 60 interviews. I quit counting a couple of weeks ago. But the whole point of an interview is to use it like they say, 'earned media,' to earn something with it. And I'm not going to earn anything from people who are there to badger me and use my words to batter me with." The candidate went on to explain how mainstream media interviews won't pay off for her campaign politically – or financially.
CNN: Rand Paul hopes for 'Tea Party Caucus' in Senate
Next year's Congress will likely feature an array of fresh faces and entertaining personalities – and it might even have a new voting bloc if Kentucky Senate candidate Rand Paul has his way. Paul told the National Review Wednesday that if elected, he hopes to band together with like-minded conservatives to form what he called a "Tea Party Caucus" that will advocate for small government ideals.
CNN: Analyst sees large number of state legislatures in play
Democrats racing to protect their congressional seats also face a serious battle on their other flank: state capitals. One analyst has found that a quarter of state legislatures are in play this November, with the vast majority of the bodies at risk controlled by Democrats. "I've been doing this for five cycles now and already we have the most chambers in play as basically at any point, going back to 2002," said Lou Jacobson, who writes for PolitiFact and recently completed an extensive analysis on state legislatures for Governing magazine. Jacobson estimates a quarter of all state legislative chambers could see a change in power from one party to another this year, and that 21 out of 25 of those are chambers are now controlled by Democrats, but could switch to Republican hands after the election. Four chambers are currently Republican and could move Democratic.
Detroit Free Press: GOP party leader: Republican governor is sure thing
State Republican Party chairman Ron Weiser said today there's a 100% chance Michigan voters will elect a Republican governor in November because of their dissatisfaction with the economy and Democratic leaders Gov. Jennifer Granholm and President Barack Obama. Michigan Democratic Party chairman Mark Brewer said Republicans have guaranteed victories in the past, only to lose. He noted Republican-nominated Supreme Court Chief Justice Clifford Taylor, who lost re-election in a major upset in 2008.
CNN: Poll: Senate battle in Pennsylvania deadlocked
A new poll indicates it's dead even in the battle for Pennsylvania's open Senate seat. According to a Quinnipiac University survey released Wednesday, 43 percent of Pennsylvania voters back Rep. Joe Sestak, the Democratic nominee, with an equal number supporting former Rep. Joe Toomey, the Republican nominee, and 12 percent unsure. Toomey held a 42 to 40 percent advantage in Quinnipiac's last poll, which was conducted in May.
Pittsburgh Post- Gazette: 2 television stations to pull ad critical of Sestak
Responding to charges of inaccuracy from Rep. Joe Sestak's Senate campaign, two Pittsburgh-area television stations have agreed to stop airing a commercial, sponsored by the U.S. Chamber of Commerce, which sharply attacks the Democrat's voting record. Mr. Sestak is running against former U.S. Rep. Pat Toomey for the seat held by Sen. Arlen Specter. The Chamber ad is independent of the Republican's campaign and is an early example of what is certain to be a flood of third-party ads targeting the nationally prominent Senate race. The commercial, which began airing Monday across the state, contends that the Senate nominee "voted with Nancy Pelosi 100 percent of the time" and that he voted for "a government takeover of health care."
CNN: Holbrooke: McChrystal dismissal 'necessary'
President Barack Obama's dismissal of the top commander in Afghanistan was "extremely unfortunate" but "necessary," according to Richard Holbrooke, the U.S. special envoy to Afghanistan and Pakistan. Holbrooke told members of the Senate Foreign Relations Committee on Wednesday that Gen. Stanley McChrystal is a "very distinguished and fine officer." He noted some of the barbs in the Rolling Stone magazine article that led to McChrystal's downfall were aimed at him, but Holbrooke said the story "made no difference to me" personally and didn't change his positive opinion of McChrystal.
New York Times: Inquiry Looks at Fund-Raisers Before Votes in Congress
The Office of Congressional Ethics has sent corporate donors and fund-raising hosts more than three dozen requests for documents involving eight members who solicited and took large contributions from financial institutions even as they were debating the landmark regulatory bill, according to lawyers involved in the inquiry. The requests are focusing on a series of fund-raisers last December, in the days immediately before the House's initial adoption of the sweeping overhaul, which could win final approval this week. Some of the fund-raising events took place the same days as crucial votes.
NATIONAL
For the latest national news: www.CNN.com
CNN: BP begins steps on test of oil well with new cap
BP is proceeding with a critical test of its crippled well in the Gulf of Mexico - a test that could show whether an end finally is in sight to the environmental disaster that's been unfolding for nearly three months. The U.S. government told BP Tuesday to proceed with an "integrity" test on the well in the Gulf of Mexico, and BP began the process of shutting off valves on its new capping stack, to see whether the well can hold the pressure. It's hoped the tests will show whether the well can be contained - either by closing the 30-foot, 75-ton cap stack or siphoning off oil to the surface.
CNN: Government nears new standards for cribs, ban on drop-side cribs
In an effort to make children safer while they sleep, the U.S. Consumer Product Safety Commission voted unanimously Wednesday in favor of new proposed mandatory standards for cribs. The new rules, likely to go into effect next year after a final vote by the federal commission, would render many cribs in the country as not up to code, regardless of whether the crib style and model was ever considered unsafe, and essentially would ban the manufacture and sale of drop-side cribs.
INTERNATIONAL
For the latest international news: http://edition.cnn.com
CNN: N. Korea talks rescheduled for Thursday
Military talks between the U.S.-led United Nations Command and North Korea regarding the sinking of a South Korean warship have been rescheduled for Thursday, U.N. Command spokesman David Oten told CNN. The talks were initially slated for Tuesday. The delay was announced earlier this week. The much-anticipated meeting between military officers representing the United Nations and North Korea are to take place in the demilitarized zone between North and South Korea.
Washington Post: U.S. paid Iranian nuclear scientist $5 million for aid to CIA, officials say
The Iranian nuclear scientist who claimed to have been abducted by the CIA before departing for his homeland Wednesday was paid more than $5 million by the agency to provide intelligence on Iran's nuclear program, U.S. officials said. Shahram Amiri is not obligated to return the money but might be unable to access it after breaking off what U.S. officials described as significant cooperation with the CIA and abruptly returning to Iran. Officials said he might have left out of concern that the Tehran government would harm his family.
CNN: Top Mexican anti-drug official resigns
Mexican President Felipe Calderon has announced the resignation of Interior Secretary Fernando Gomez Mont, who oversaw security efforts against drug cartels in Mexico. Gomez Mont will be succeeded by attorney Jose Francisco Blake Mora.
CNN: Libyan aid ship to dock in Egypt, not Gaza
The Libyan-backed ship carrying humanitarian goods for Gaza is headed to Egypt, a move that averts a showdown between Israel and the people on the vessel and generates more aid for the people in the beleaguered Palestinian land. The Gadhafi Foundation, a charity headed by the son of Libyan leader Moammar Gadhafi, told CNN in a statement Wednesday that it ordered the aid ship to dock at Al Arish in northeastern Egypt near Gaza. It said the ship was in Egyptian waters and will be at the port in two or three hours.
Financial Times: Russian agent had job at Microsoft
A 12th Russian spy acting inside the US worked at Microsoft before his arrest and deportation, suggesting that he and the other Kremlin agents apprehended in the country were seeking inside information on technology as well as personal contacts. Before Alexey Karetnikov, 23, was picked up for immigration law violations on June 28 he had tested codes at the world's biggest software company's headquarters in Redmond, Washington, Microsoft confirmed on Wednesday. Mr Karetnikov, who was deported on Tuesday, had only been in the junior-level job nine months, and like other spies arrested at the same time apparently collected nothing that would damage US security.
CNN: Brotherly spat reaches Ecuador's presidency
Fabricio Correa, brother of Ecuadorian President Rafael Correa, called the president corrupt and said he has formed a political party that will challenge his brother, he told CNN en Español. "There is a band that operates from the presidency, widely known, that acts with impunity thanks to the nation's attorney general," Fabricio Correa said. The high-level spat between the brothers stems from the cancellation of government contracts with Cosurca, a company linked with Fabricio Correa's business interests. Rafael Correa canceled the contracts because he called his brother's involvement in the contracts unethical.
New York Times: Afghans to Form Local Forces to Fight Taliban
After intensive negotiations with NATO military commanders, the Afghan government on Wednesday approved a program to establish local defense forces that American military officials hope will help remote areas of the country thwart attacks by Taliban insurgents. Details of the plan are sketchy, but Americans had been promoting the force as a crucial stopgap to combat rising violence here and frustration with the slow pace of training permanent professional security forces — the bottom-line condition for the American military to begin pulling back from an increasingly unpopular war. Many parts of Afghanistan have no soldiers or police officers on the ground.
CNN: 4 killed, 16 wounded in Baghdad violence
At least four people were killed and 16 wounded in a string of attacks since Tuesday night in the Iraqi capital, the Interior Ministry said Wednesday. Bombs attached to vehicles - dubbed "sticky bombs" - killed a judge in western Baghdad's Yarmouk district and wounded a Sons of Iraq leader in southwestern Baghdad, a Ministry of Environment employee in western Baghdad and two civilians in southern Baghdad's Dora district. At least two civilians died when a roadside bomb detonated in western Baghdad's Adel neighborhood. Four others were wounded.
CNN: Tropical storm rakes Philippines; 18 dead
Eighteen people were killed, and 57 others are missing, as Tropical Storm Conson moved over the Philippines, the country's National Disaster Coordinating Council reported Wednesday. The storm, known locally as "Basyang," had weakened slightly, the council said. As of 4 p.m. Wednesday (4 a.m. ET), its maximum sustained winds were at 53 mph (85 kph) near its center and gusts of up to 62 mph (100 kph).
BUSINESS
For the latest business news: www.CNNMoney.com
Business Week: The Numbers Say Tech Stocks Are Cheap
Computer and software stocks have slumped to their lowest valuations in two decades, a sign to some analysts that they are poised for a rebound. Tech companies in Standard & Poor's 500-stock index traded as low as 15.1 times reported annual income this month, according to Bloomberg data. The biggest industry in the index hadn't been that cheap since at least 1992, excluding the six months between Lehman Brothers' bankruptcy and the start of the bull market in March 2009. Using analysts' estimates for 2010 earnings, the group is even cheaper, at 13.4 times projections as of July 13.
CNNMoney: Fed expects weaker recovery
The Fed's latest forecast, included in the minutes of the central bank's June 23 meeting released Wednesday, is the latest sign of growing concern that the recovery is losing steam. Those worries led Fed policymakers to discuss what steps they might take to further spur economic activity "if the outlook were to worsen appreciably." Only a few months ago, many economists thought the Fed would no longer need to consider moves to stimulate the economy. Instead, the Fed was expected to start worrying more about the possibility of inflation.
CNNMoney: Business leaders: Obama policies 'job-destroying'
The U.S. Chamber of Commerce slammed President Obama's economic policies Wednesday, saying administration officials "took their eyes off the ball" and "neglected" to focus on job creation. A letter posted to the business group's site and a summit with 500 business leaders were the latest moves in an ongoing battle between big business and the Obama administration. The two are at odds over the best way to keep the recovery from slipping into a double-dip recession. The Chamber believes tax cuts are key to job creation. The Obama administration, however, has focused on stimulus and spending to create jobs.
Wall Street Journal: Banks Gain in Rules Debate
The world's banks appear to be winning a reprieve from tough new capital requirements and curbs on risk-taking, as regulators and central bankers are moving toward less stringent rules than initially proposed. Bowing in part to fears that tougher requirements would diminish the credit needed to revive a sluggish global economy, officials gathered in Basel, Switzerland, are trying to strike a compromise over a set of new international banking standards initially proposed in December. The final accord will have a more global reach, and thus in some respects a more potent impact, on banks and borrowers than the financial regulatory bill likely to pass the U.S. Congress Thursday.
CNN: China's economic growth eases to 10.3 percent
China's economy continued to grow at a robust pace last quarter, a spokesman for the National Statistics Bureau said Thursday. China's gross domestic product, the broadest measure of economic output, grew at an annual rate of 10.3 percent during the second quarter of 2010. But the pace eased compared to the 11.9 percent rate during first quarter. With more than 1.3 billion people, China is the world's largest country, and that fact, combined with its rapid economic growth of recent years, has made it a major player in the global economy.
Fortune: For small businesses, loans are plentiful as long as they're plastic-backed
On Monday Federal Reserve Chairman Ben Bernanke took up the growing issue of lack of lending to small businesses by banks, and the havoc it's causing in the economy. Lending to small businesses contracted by $40 billion for the first quarter of 2010 as compared to 2008. Only a third to half of small businesses were able to secure a loan or line of credit in 2009. And Small Business Administration lending all but disappeared in June, thanks to the end of a popular stimulus program. Because of the dry-up, Bernanke said small businesses "have had difficulty obtaining the credit that they need to expand and, in some cases, even to continue operating." But while banks have closed the window for small business loans, they've happily opened the back door to any business that wants that money in the form of a credit card loan.
Washington Post: Companies pile up cash but remain hesitant to add jobs
Corporate America is hoarding a massive pile of cash. It just doesn't want to spend it hiring anyone. Nonfinancial companies are sitting on $1.8 trillion in cash, roughly one-quarter more than at the beginning of the recession. And as several major firms report impressive earnings this week, the money continues to flow into firms' coffers. Yet all the good news from big business hasn't translated into much promise for jobless Americans, leading many to wonder: If corporations are sitting on so much money, why aren't they hiring more workers?
CNNMoney: Apple plans iPhone 4 announcement on Friday
Two weeks after a "stunned" Apple announced to the world that it had found a major software glitch in the iPhone's signal-strength display, Apple plans to hold a press conference to discuss the iPhone 4. The gathering will take place Friday at Apple's Cupertino headquarters. An Apple spokesman declined to divulge any further details of the event. IPhone customers are still waiting for the software update that Apple (AAPL, Fortune 500) promised to release "within a few weeks" to address the way iPhones display the bars used to measure signal strength.
CNNMoney: AIG chairman Harvey Golub resigns
American International Group chairman Harvey Golub resigned effective immediately Wednesday, citing issues with chief executive Bob Benmosche. Benmosche told AIG's board of directors that his working relationship with Golub was "ineffective and unsustainable," Golub said in his resignation letter. "I view asking the Board to choose between us [as] an abdication of my responsibility to lead," Golub added.
CNN: Airlines getting billions from new fees, House panel hears
U.S. airlines make billions of dollars in fees for check-on luggage, refreshments and other services formerly included in ticket prices, but consumers have a hard time figuring out how much they'll pay in total to fly, a congressional committee heard Wednesday. The House subcommittee on aviation held the sometimes contentious hearing to consider a U.S. Government Accountability Office report on the fees airlines have charged in recent years on unbundled services that once were considered part of the ticket price.
In Case You Missed It
Tea Party Express spokesman Mark Williams fires back at the NAACP.
CNN's John King shares his thoughts on BP's delay in testing a new containment cap that could stop the gushing well.
Subscribe to the CNN=Politics DAILY podcast at http://www.cnn.com/politicalpodcast
And now stay posted on the latest from the campaign trail by downloading the CNN=Politics SCREENSAVER at http://www.CNN.com/situationroom