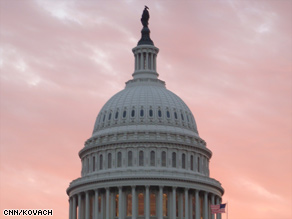 The CNN Washington Bureau's morning speed read of the top stories making news from around the country and the world.
WASHINGTON/POLITICAL
For the latest political news: www.CNNPolitics.com
CNNMoney: Wall Street reform: On to Obama
The Senate on Thursday afternoon passed the most sweeping set of changes to the financial regulatory system since the 1930s, sending the Wall Street reform bill to President Obama. The Senate voted 60 to 39 to pass the reforms, ending more than a year-long effort to pass legislation in response to the 2008 financial crisis. Obama is expected to sign the bill into law next week. The bill aims to strengthen consumer protection, rein in complex financial products and head off more bank bailouts.
CNN: Republicans blast Obama amid Democratic Party tension
Republicans wasted no time Thursday in calling out President Obama and Democrats for their handling of the economy, warning the country should not follow the Democratic Party down the road to ruin. "It is time this administration and its Capitol Hill ally stop this job-killing agenda," Sen. Orrin Hatch, R-Utah, said at a press conference with other Republican senators. Obama is simply "out of touch with the American people and out of touch with the economic realities of our country in the summer of 2010," said Sen. John Barasso, R-Wyoming.
CNN: Specter criticizes Kagan but says he'll support confirmation
Pointing to Solicitor General Elena Kagan's support for televising Supreme Court arguments and her affinity for the late Justice Thurgood Marshall, Sen. Arlen Specter says that Kagan has done 'just enough' to win his support for her high court nomination.
CNN: Obama not celebrating Gulf news yet
Inside the West Wing of the White House, President Obama's top aides call it "the G's" – the Gulf oil spill and the Greek debt crisis – two major crises that have slowed the administration's mojo though officials are hopeful it will get better before the midterm election. When the Obama went behind closed doors with Senate Majority Leader Harry Reid, D-Nevada, and other top Senate Democrats at the White House on Tuesday, senior Democratic officials familiar with the conversation tell CNN that Obama recalled that "things were looking up" for his party in April after the signing of health care reform on March 23. But the officials said Obama noted to the senators that momentum was slowed by the Gulf oil spill that started with an explosion on April 20, just weeks after the health care signing, coupled with the Greek debt crisis that over the same time period has spread across world markets and helped slow economic recovery in the United States.
Wall Street Journal: A Referendum on Democrats v. a Choice of 2 Parties
Campaign tactics can be complex, full of computerized voting analyses, 24/7 communications strategies and elaborate get-out-the vote schemes. Campaign strategies, by contrast, are often very simple. And so it is with this year's congressional campaign strategies, which boil down to this: Republicans want November's election to be a referendum, while Democrats want it to be a choice. More precisely, Republicans want the vote to be a referendum on Democrats and their economic record. Democrats want it to be a choice between them and the still-not-popular Republican Party. Those calculations explain much of the maneuvering seen in the political world right now. Both strategies make sense given the jaundiced state of public opinion.
CNN: Pelosi dismisses reports of tension with White House
House Speaker Nancy Pelosi on Thursday downplayed recent reports of a strained relationship between congressional Democrats and the White House, telling reporters the administration has been "cooperative" in the run-up to this November's midterm elections. "We had a very positive meeting with the president yesterday," Pelosi told reporters on Capitol Hill. "There is absolutely no reason to think that the White House has been anything but cooperative with us" in efforts to maintain a Democratic majority in the House of Representatives.
CNN: Obama publicly takes on congressman who opposed stimulus
Is it bad form to attend a ribbon cutting celebration when you voted against paying for the project? Rep. Peter Hoekstra, R-Michigan, sat smiling in the front row today as President Obama marked the groundbreaking of a new stimulus-funded project in Holland, Michigan. "We are pleased to have in attendance with us today, and seated in the front row, Congressman and Republican gubernatorial candidate Pete Hoekstra, in attendance to show his support for a robust Recovery Act investment right here in Michigan," tweaked President Obama. Yet Hoekstra, who represents the district, voted against the very stimulus funding that provided the $151 million to build the LG Chem Power Plant where the presidential event was held.
CNN: Democrat has cash lead over Perry in Texas
Texas Gov. Rick Perry has been in office for 10 years in a heavily Republican state, but his Democratic challenger raked in more campaign cash during the most recent fundraising period. Former Houston Mayor Bill White collected nearly $7.5 million between Feb. 20 and the end of June, while Perry took in $7 million. But more impressive for White is the substantial war chest he has amassed since launching his bid last December.
CNN: Romney outraises potential 2012 rivals
Former Massachusetts governor Mitt Romney raised $1.8 million during the second fundraising quarter of this year, far outpacing the other Republicans he may face in the next presidential race. Romney has also devoted considerable money to building an extensive national political network, doling out more than $400,000 since January to various 2010 candidates through his Free and Strong America political action committee and its state-level affiliates. All told, Romney has collected $3.4 million since the beginning of the year – more than double the roughly $1.3 million that each of his next closest rivals in the money chase, Minnesota Gov. Tim Pawlenty and former Alaska Gov. Sarah Palin, raised during the same period.
New York Times: A Senate Run Brings Wrestling Into the Spotlight
Over the past quarter century, Vince and Linda E. McMahon have built the W.W.E. from a small regional operation into a $1.2 billion empire operating in 145 countries. But along the way, the McMahons have become known for hard-nosed tactics and have been accused of putting profits ahead of the well-being of the wrestlers who attract millions of fans with their daredevil stunts and cartoonishly sculpted physiques. With Ms. McMahon all but certain to be the Republican candidate for the United States Senate in Connecticut, the W.W.E., its treatment of its work force and the way it came to dominate the industry are drawing renewed scrutiny.
CNN: Boxer holds cash advantage in tight CA race
Incumbent Sen. Barbara Boxer, D-California, holds a significant cash advantage over Republican challenger Carly Fiorina, according to financial reports released Thursday by both campaigns. Boxer raised $4.6 million during the second quarter of 2010, and has $11.3 million cash on hand, her campaign said Thursday in a statement. Meanwhile, the Fiorina campaign said it has $950,000 cash on hand, a deficit it acknowledged.
CQ Politics: Barrow Has Big Cash Advantage Over Primary Foe
Recent financial reports show Rep. John Barrow is burying former state Sen. Regina Thomas in a mountain of cash ahead of their Democratic primary in Georgia's 12th district next week. The primary is one of several top races on the Peach State docket Tuesday. Barrow raised almost $204,000 from April 1 to June 30 and dished out about $374,000 during that time period. He's spent more than $776,000 on his re-election bid so far this cycle. During the second quarter alone, Barrow spent more than $140,000 on field and grass-roots strategy consulting fees. Other big-ticket items include a $53,000 fee for survey work in mid-April, more than $86,000 for media production costs in early June and $15,000 for a late June media buy.
Cleveland Plain Dealer: Portman makes K Street all-star list. Lobbyists really, really like him.
Rob Portman has not tried to hide the fact that lobbyists help raise money for his U.S. Senate race. Now comes the Center for Responsive Politics with this metric: Portman, who is not in office, has raised more money from lobbyists in the 2009-2010 election cycle than any other Republican running for the Senate or House. That includes all incumbent Republicans. His total so far from lobbyists is $223,849. The Democrat in Ohio's U.S. Senate race, Lt. Gov. Lee Fisher, has tried to seize on Portman's ties to lobbyists several times.
CNN: Surprise player in Iowa GOP primary revealed
Beginning in May, a group called Iowans for Responsible Government spent over three quarters of a million dollars on television ads and mailers lumping Republican gubernatorial candidate Terry Branstad in with "liberal" politicians like President Obama, Nancy Pelosi and Bill Clinton. Branstad at the time was engaged in a GOP primary fight against conservative activist Bob Vander Plaats, a race he won on June 8 by 10 points.
Denver Post: McInnis: "I'm not getting out. They are bullying the wrong guy."
Gubernatorial candidate Scott McInnis, tracked down at Gate 84 at DIA this afternoon, said he's not getting out of the governor's race. McInnis was getting ready to board a United flight to Aspen, where the Republican Governors Association is meeting. It was his first remarks to The Denver Post since the paper broke the story Monday that the "Musings on Water" articles he submitted as original works as part of a $300,000 fellowship included passages that were similar to or copied directly from a 1984 essay by now-Colorado Supreme Court Justice Gregory Hobbs.
Politico: Nelson says no to climate vote
Democratic Sen. Ben Nelson of Nebraska said Thursday he would not support a procedural vote later this month to begin debate on a climate bill that includes a cap on electric utility emissions, a declaration that underscores the tough climb that Majority Leader Harry Reid will have in trying to cobble together a 60-vote supermajority on the controversial issue. Nelson has long been known as an opponent of proposals for tackling greenhouse gases with a cap-and-trade plan. But his opposition to the procedural vote stands out given party discipline that at least allows the majority leader to take a bill up on the floor.
NATIONAL
For the latest national news: www.CNN.com
CNN: No oil leaking as BP conducts critical pressure tests in Gulf oil well
A highly anticipated test designed to measure pressure within BP's ruptured Gulf of Mexico oil well finally began Thursday, and for the first time in nearly three months, oil stopped flowing into the Gulf. The move was lauded by a variety of officials as a positive step, accompanied by a strong note of caution that the cutoff was simply part of the test, as BP and government experts try to assess how the well is holding up. The test got under way after two days of delays, first as government scientists scrutinized testing procedures and then as BP replaced a leaking piece of equipment known as a choke line.
CNN: Judge hears arguments over Arizona immigration law
An attorney for a Phoenix police officer challenging the state's new immigration law argued in court Thursday that his client could be fired or disciplined if he doesn't enforce the law. Stephen Montoya countered the state's position that Officer David Salgado can't prove he will be harmed because the law has not yet taken effect. U.S. District Judge Susan Bolton heard the motions from Salgado and attorneys representing Gov. Jan Brewer, who wants Salgado's case dismissed. Bolton took the case, the first challenge to have a hearing, under advisement. Thursday's arguments in a standing-room-only courtroom set the table for the much-anticipated July 22 hearing at which the Obama administration will argue the law is unconstitutional.
INTERNATIONAL
For the latest international news: http://edition.cnn.com
CNN: U.S. came out ahead with Iranian nuclear scientist, official says
The United States "clearly got the better end of things" in the saga of Iranian nuclear scientist Shahram Amiri, a U.S. official familiar with the case said Thursday. Amiri, who Tehran claims was kidnapped by U.S. agents, arrived in his homeland early Thursday, Iran's state-run media reported. In return for his information, Amiri received about $5 million from the United States, another U.S. official said. The second official referred to the payment as a "long-term benefits package" that enabled Amiri, 32, to defect and comfortably resettle in the United States for many years.
CNN: Gaza aid ship unloads at Egyptian port
A Libyan-backed ship carrying humanitarian goods for Gaza docked Thursday at Al Arish in northern Egypt and unloaded tons of aid from the Gadhafi Foundation, a charity headed by the son of Libyan leader Moammar Gadhafi. The vessel reached Egypt after sailing from Greece on Saturday with 2,000 tons of aid. It was the latest ship attempting to breach an Israeli naval blockade of the Palestinian territory of Gaza whose captain was persuaded to dock elsewhere instead. The aid includes food, medicine, and construction materials to be taken from the port to the Gaza border about 25 miles (42 km) away.
Der Spiegel: Denmark Debates a Lower Minimum Wage for Immigrants
A Danish politician has suggested paying immigrants half the current minimum wage. The idea has gone down well with center-right parties, but it's opposed by the left - and the far right. Right-wing populists fear low wages for immigrants could take jobs away from "regular Danes." The debate over integration is shrill in Denmark. The small country repeatedly makes international headlines on the issue. The current coalition government of conservatives and right-wing liberals has already introduced Europe's toughest immigration law. The far-right Danish People's Party constantly agitates against the nation's 450,000 immigrants. And in 2006, the crisis over the Muhammad cartoons spilled over from Denmark to the rest of the world.
Wall Street Journal: Tehran Plans To Attend Kabul Talks
Iran will send its foreign minister to an international conference in Kabul next week, a senior British official said, after snubbing an earlier round of multilateral talks aimed at revitalizing Afghanistan's stability efforts. The conference comes as Afghanistan and Western nations, including the U.S., disagree on issues such as how much international aid should go through the Afghan government and timetables for the war-torn country to agree to anticorruption and governance safeguards, a person familiar with the matter said.
CNN: U.S. hands over its last detention facility in Iraq
The U.S. military handed over to Iraq the Camp Cropper detention facility Thursday, calling the moment a milestone in Iraq's history and another step in the drawdown of U.S. forces there. Established in 2003 as a holding facility for security detainees near Baghdad International Airport, the prison had the capacity to hold up to 4,000 detainees. With this handover, the U.S. military's oversight on detainee operations significantly diminishes, a cause of concern for Iraqis who largely don't trust their justice system. The United States will continue to have advisers and special teams inspect facilities if there are reports of torture and abuse.
New York Times: Vatican Revises Abuse Process, but Causes Stir
The Vatican issued revisions to its internal laws on Thursday making it easier to discipline sex-abuser priests, but caused confusion by also stating that ordaining women as priests was as grave an offense as pedophilia. The decision to link the issues appears to reflect the determination of embattled Vatican leaders to resist any suggestion that pedophilia within the priesthood can be addressed by ending the celibacy requirement or by allowing women to become priests.
CNN: After Kampala attack, Somali militants promise more operations
Al-Shabaab, the Somali militant group that claimed responsibility for Sunday's deadly attacks in Uganda, is promising to "unleash a new tide of terror," but Uganda's leader has vowed to "deal with the authors of this crime and fight back." "This is only the beginning," Al-Shabaab warned Thursday in a statement on the internet. Al-Shabaab claimed responsibility for the bombings that killed 76 people in two locations in the Ugandan capital of Kampala. The attackers struck an Ethiopian restaurant in a neighborhood dotted with bars and popular among expatriates. Two other bombs exploded at a rugby center.
Wall Street Journal: Japan Citizen Panel Advises Indictment for Party Official
Ichiro Ozawa, the beleaguered former leader of Japan's ruling party, came under fresh attack Thursday after a judicial panel composed of ordinary citizens looking into his fund-raising activities recommended that he be indicted by prosecutors. The latest ruling is unlikely to have an immediate impact on Mr. Ozawa, due to the complex and convoluted nature of the citizen panels and their rulings. Two separate citizen panels are debating similar but separate allegations that Mr. Ozawa was aware of false statements made at his fund-raising organization. The first citizen panel already delivered a similar verdict. A representative for Mr. Ozawa's office declined to comment.
BBC News: Venezuela 'harbours rebel groups' – Colombian minister
The Colombian defence minister has said that intelligence sources now have irrefutable evidence of rebel bases in neighbouring Venezuela. Gabriel Silva said that intelligence agencies had gathered grid references of rebel camps in Venezuela. He said the evidence proved the "permanent toleration" of rebel groups like the Farc and ELN by Caracas.
BUSINESS
For the latest business news: www.CNNMoney.com
CNNMoney: BP still a top supplier to U.S. military
BP is still among the biggest suppliers of fuel to the U.S. military, and the Defense Department has no plans to stop awarding the company lucrative contracts. As of last week, BP has been awarded 17 contracts valued at just under $1 billion, the Defense Logistics Agency (DLA) said. That makes BP the third-largest supplier of fuel to the armed services so far this fiscal year. In fiscal 2009, the DLA granted BP a total of 26 contracts valued at $2.2 billion, or nearly 12% of overall fuel purchases, making it the military's largest fuel supplier that year.
CNNMoney: BP jumps 7% after temporarily stopping Gulf oil leak
BP's stock jumped Thursday after the energy company temporarily stopped the flow of oil from a ruptured well in the Gulf of Mexico for the first time since April. U.S. listed shares of BP (BP) jumped $2.74, or 7.6%, to $38.92 on the New York Stock Exchange. The stock went as high as $39.81 earlier in the day.
Bloomberg: Asian Stocks Fall for 2nd Day, Yen Strengthens on U.S. Output
Asian stocks declined, led by the biggest slump in Japanese shares in almost six weeks, after the yen strengthened and as U.S. manufacturing weakened and Google Inc. posted disappointing earnings. The MSCI Asia Pacific Index lost 0.8 percent to 115.84 at 1:10 p.m. in Tokyo and Japan's Nikkei 225 Stock Average tumbled 2.3 percent. Standard & Poor's 500 Index futures fell 0.1 percent. The yen gained versus all 16 of its major counterparts and rose toward the strongest level this year.
CNNMoney: Goldman settles with SEC for $550 million
Goldman Sachs paid $550 million to settle charges of defrauding investors in a sale of securities tied to subprime mortgages, the Securities and Exchange Commission said Thursday. Goldman (GS, Fortune 500) shares jumped almost 8% in after-hours trading on the announcement, as many predicted the company would be forced to pay $1 billion to settle the case. The settlement amount represents roughly 4% of the $13.4 billion in profits Goldman earned last year. In its first quarter of this year, the bank logged $3.5 billion in profits.
CNNMoney: New Orleans takes another hit: 5,000 jobs to go
First it was Hurricane Katrina, then it was the BP oil spill. Now the Louisiana coastal region faces a third economic crisis: Northrop Grumman Corp. will close the shipyard in Avondale, eliminating 5,000 jobs. Northrop Grumman (NOC, Fortune 500) said late Tuesday that it will "wind down" the shipyard, located in the immediate vicinity of New Orleans, by 2013. First it must finish building two LPD-class Navy ships, which are used to transport Marines.
Investors Business Daily: JPMorgan Tops Q2 Views As Credit Trends Improve
With loan-loss trends improving sharply, JPMorgan Chase JPM on Thursday reported second-quarter earnings that more than doubled, beating Wall Street forecasts. The No. 2 U.S. bank by assets earned 73 cents a share excluding various items, up 161% vs. a year earlier. Analysts, who kept lowering their guidance the last several weeks, expected 67 cents. Net income rose 78% to $4.8 billion. The huge gain came despite weakness in trading and investment banking. Revenue fell about 8% year over year to $25.6 billion, roughly in line with views.
CNNMoney: Is the U.S. battery business for real?
President Obama is once again stumping for stimulus at one of his favorite spots: a plant that makes batteries for electric cars. These plants have been a high profile piece of the controversial stimulus package, and Obama has visited at least four of them since stimulus was enacted. Dozens of projects dedicated to advanced batteries have received over $2 billion in federal funding as part of the administration's $800 billion-plus plan to revive the economy, create jobs, and push the manufacturing sector into the 21st century. "These are jobs in the industries of the future," Obama said Thursday at the groundbreaking of the Compact Power plant in Holland, Mich.
Wall Street Journal: Bank of America Branches Sit On Front Lines of Overhaul
Earlier this year, Bank of America Corp. began using a new five-letter acronym to prepare its branch and call-center employees for the expected new era of regulatory restrictions. Now posted on bulletin boards in the bank's offices nationwide is the word "GUEST." G is for "genuine welcome," U means "undivided attention," E is for "empowered," S stands for "solutions" and T is for "thank you." The acronym is to remind employees that the largest U.S. bank by assets intends to respond to the new regulatory climate by drastically changing how it relates to more than 55 million customers.
CNNMoney: Troubled Tylenol plant to lay off 300 workers
The drugmaking arm of Johnson & Johnson said late Thursday that it is laying off hundreds of workers at the manufacturing plant at the center of a recall of millions of units of children's Tylenol, Motrin and other over-the-counter drugs. Johnson & Johnson's (JNJ, Fortune 500) McNeil Consumer Healthcare division said 300 of more than 400 positions at the Fort Washington, PA facility will be eliminated as the company conducts a complete quality overhaul at the facility.
CNNMoney: Google's profit rises but falls short of estimates
Google's second quarter didn't do much to help get the company's stock out of its current rut. The world's online search leader reported a quarterly profit on Thursday that rose from its year-ago results but missed Wall Street's forecasts. Though quarterly earnings rose 24% from a year earlier - healthy by any standards - it's far from the nearly 40% average growth rate that Google posted over the past five years. The company said its non-core businesses are growing nicely, most notably in the mobile field. Google reported that its advertising partners are becoming more receptive to mobile-specific advertising, and smart phones running its Android operating system are selling at a rate of 160,000 a day.
In Case You Missed It
Senator Minority Leader Mitch McConnell says the GOP "got their groove back."
Key Republicans insist the government needs more "clarity and predictability of taxation and regulation" to create jobs.
Subscribe to the CNN=Politics DAILY podcast at http://www.cnn.com/politicalpodcast
And now stay posted on the latest from the campaign trail by downloading the CNN=Politics SCREENSAVER at http://www.CNN.com/situationroom