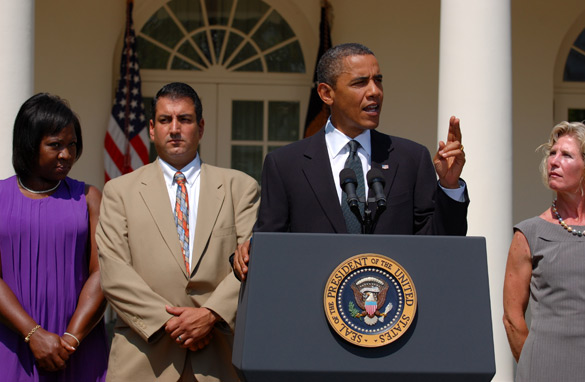 President Obama spoke in the Rose Garden on Monday alongside three unemployed American workers. (PHOTO CREDIT: Emily Schultze/CNN)

Washington (CNN) - President Barack Obama tore into congressional Republicans on Monday for blocking an extension of unemployment benefits, arguing that a "partisan minority" had allowed short-term political calculations to trump genuine economic need.
The Senate is set to consider a bill Tuesday that would extend the deadline to file for unemployment benefits through the end of November. The bill would cost $33 billion in additional deficit spending, according to the Congressional Budget Office.
Watch: President Obama urges Senate to act on jobs
Senate GOP leaders have blocked a vote several times, highlighting deficit concerns by arguing that any benefits extension should be offset by spending cuts. Democrats are counting on the seating Tuesday of the replacement for Sen. Robert C. Byrd of West Virginia to break the logjam.
The Republicans are guided by a "misguided notion" that a new relief bill would discourage people from looking for work, the president said at the White House. "That attitude reflects a lack of faith in the American people," he said. The unemployed "aren't looking for a handout. They desperately want to work."
Republicans should stop holding people "hostage to Washington politics," Obama declared. "There are times when you put elections aside. This is one of those times."
House Minority Leader John Boehner, R-Ohio, immediately fired back, releasing a statement slamming Obama for fiscal irresponsibility.
"The president knows that Republicans support extending unemployment insurance, and doing it in a fiscally responsible way by cutting spending elsewhere in the $3 trillion federal budget. At a time of record debt and deficits made worse by Washington Democrats' massive spending spree, that's the right thing to do and the right way to do it. The American people are asking 'where are the jobs?' and President Obama continues to offer only disingenuous attacks, not answers."
More than a million Americans are estimated to have exhausted the unemployment benefits lifeline since the deadline expired in June.
The U.S. unemployment rate stood at 9.5 percent as of June. The jobless rate has averaged 9.7 percent over the first half of the year, and many economists expect it to remain elevated into 2011.
Seventy-eight percent of Americans still believe the U.S. economy is in a recession, according to a CNN/Opinion Research Corp. poll released last month. Forty-one percent believe Republicans are more responsible for the nation's current economic problems, while 28 percent blame the Democrats. Twenty-six percent blame both political parties.
- CNN's Aaron Smith and Dan Lothian contributed to this report