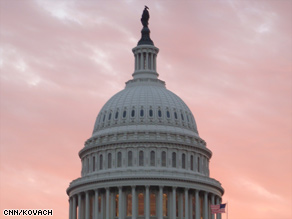 The CNN Washington Bureau's morning speed read of the top stories making news from around the country and the world.
WASHINGTON/POLITICAL
For the latest political news: www.CNNPolitics.com
CNN: Political rhetoric shows November election campaign is in full swing
If anyone doubted whether campaigning had started for the mid-term congressional elections in November, the answer became clear on Sunday. Democratic and Republican politicians rolled out their main campaign themes on morning talk shows less than four months before voters will decide races for all 435 House seats and at least 36 of the 100 Senate posts.
Wall Street Journal: GOP Sees Path to Control of Senate
Democrats for the first time are acknowledging that Republicans could retake the Senate this November if everything falls into place for the GOP, less than two years after Democrats held a daunting 60-seat majority. Leaders of both parties have believed for months that Republicans could win the House, where every lawmaker faces re-election. But a change of party control in the Senate, where only a third of the members are running and Republicans must capture 10 seats, seemed out of the question. That's no longer the case.
CNN: Leading Dem: I don't think we're looking at a big loss
Pointing to victories in recent special elections, the number two Democrat in the House sought Sunday to buck the conventional wisdom about his party's prospects in this fall's midterms. "I don't think we're talking about a big loss," House Majority Leader Steny Hoyer of Maryland, said on CNN's State of the Union. Hoyer told CNN Chief Political Correspondent Candy Crowley that his party has done well in special congressional elections since the passage of the health care bill.
CNN: Tea Party leader says he's done talking about race controversy
Tea Party activist Mark Williams says he's done discussing the controversy stirred up by his attack on the NAACP, accusing a fellow movement leader of turning the debate into "a World Wrestling style personality conflict." The National Tea Party Federation, an organization that seeks to represent the Tea Party political movement around the country, has expelled Williams and his Tea Party Express organization because of the inflammatory blog post Williams wrote last week, federation spokesman David Webb said Sunday.
CNN: Manchin names Carte Goodwin to replace Sen. Byrd
West Virginia Gov. Joe Manchin named attorney and political confidante Carte Goodwin on Friday to fill the late Sen. Robert C. Byrd's seat until a special election is held. Goodwin will be sworn in Tuesday. A date for a special election still needs to be set, but it could occur as early November 2. Manchin himself has expressed interest in running for the seat. Goodwin, a 36-year-old Democrat, served as Manchin's general counsel from 2005 until 2009. He is a lawyer in the Charleston law firm Goodwin & Goodwin.
CNN: S.C. Senate candidate aims to 'get America back to work'
South Carolina Democratic Senatorial candidate Alvin Greene urged voters Sunday to "get South Carolina and America back to work" in his first major public speech since surprising the political world last month by capturing his party's nomination. "My campaign is about ... moving South Carolina and America forward," the 32-year-old Greene told a friendly audience in his hometown of Manning during a brief, halting speech that at times jumped from one topic to the next. The speech, given at a meeting of the local chapter of the NAACP, was voters' first glimpse of Greene's campaign vision as he mounts an unlikely challenge against Republican incumbent Sen. Jim DeMint.
Politico: What cap? Dems join climate word war
Senate Majority Leader Harry Reid played dumb last week when a reporter asked him if the energy and climate bill headed to the floor would come with a "cap" on greenhouse gas emissions. "I don't use that," the Nevada Democrat replied. "Those words are not in my vocabulary. We're going to work on pollution." Moments earlier, Reid had confirmed he was trying to craft legislation targeting the heat-trapping pollution that comes from power plants. But he's determined to win the war of words when it comes to a carbon cap — and that means losing the lexicon attached to past climate battles. Gone, in the Democrat's mind, are the terms "cap" and "cap and trade," which are synonymous with last June's House-passed climate bill as well as other existing environmental policies for curbing traditional air pollutants.
CNN: FEC fines Biden more than $200,000 for violations
A day after the Federal Elections Commission slapped Joe Biden with a $219,000 fine for spending violations during his failed presidential bid, a spokeswoman for the vice president is calling the ruling "commonplace." In a report released Friday, the FEC said a mandatory audit showed the campaign had accepted contributions above the legal limit, failed to adequately pay for rides on a private jet, and issued several checks that had never been cashed.
The Hill: Dems seize on GOP candidates' comments about unemployed
Conservative Republicans have appeared anything but compassionate when talking about unemployment benefits this election cycle. Nevada Senate candidate Sharron Angle (R) said the unemployed are "spoiled." Kentucky Senate candidate Rand Paul suggested people on unemployment insurance need "tough love." And most recently, in Pennsylvania, gubernatorial Tom Corbett (R) said "the jobs are there," but the out-of-work don't want them. Observers said Republicans want to capitalize on voters' antipathy toward government spending by talking tough on the benefits, but Democrats have tried to capitalize on their remarks.
CNN: Kasich launches first ad in Ohio gubernatorial race
Ohio gubernatorial candidate John Kasich is going on the defensive in his first campaign ad, hitting back against Democratic efforts to portray him as a former Wall Street big wig. "Ohio has lost 400,000 jobs under Ted Strickland. He can't campaign on his record, so he and his friends try to tear me down," says the Republican in the new spot released Saturday. "Here's the truth. I didn't run Lehman Brothers. I was one of 700 managing directors. I worked in a two-man office in Columbus. I have a record of balancing budgets, cutting taxes, and creating jobs." Strickland, the incumbent Democratic governor, has repeatedly portrayed Kasich as a creature of Wall Street because of his ties to the now-defunct investment banking house.
Pittsburgh Post-Gazette: Chamber's anti-Sestak ad revised a little, back on air
Two Pittsburgh-area television stations have put a slightly revised version of an ad attacking Senate candidate Rep. Joe Sestak back on the air after yanking them earlier this week. The U.S. Chamber of Commerce had bought the ad time on 16 stations across Pennsylvania, but the Sestak campaign protested them as inaccurate. The campaign wrote to the stations saying that the ad was false for claiming Mr. Sestak votes with House Speaker Nancy Pelosi 100 percent of the time and for calling the health care reform bill a "government takeover." WPGH and WPMY, sister stations owned by Sinclair Broadcasting, pulled the ad from the air for a day - citing the 100 percent voting record as inaccurate - but reversed course Friday after station sales manager Rich Cook spoke with the Chamber.
CNN: McCain challenges Obama in new TV ad
Sen. John McCain, R-Arizona, the former GOP presidential hopeful running for re-election debuted a new TV ad Friday, but instead of targeting his opponents he focused directly on Washington attacking President Barack Obama. "President Obama has made protecting our border incredibly difficult," the ad's narrator says. "But, Arizona has a senator with the courage and character to stand up to a president who is wrong: John McCain." McCain's new ad highlights endorsements from Arizona sheriffs, including Sheriff Paul Babeu of Pinal County, who is a Republican candidate also up for re-election in November.
CNN: Poll: Palin hot amongst Republicans, others not so much
For many Democrats in Washington, a Sarah Palin presidential run would be a dream come true. As their thinking goes, Palin's popularity among Republican base voters in early primary states would be enough to swamp the rest of the 2012 field and vault the conservative firebrand to the GOP nomination. But in a general election, her standing among independent and swing voters, which began to crater in the closing weeks of the 2008 presidential race, might be too much to overcome.
Las Vegas Sun: Sharron Angle's take on separation of church and state
Republican U.S. Senate candidate Sharron Angle describes her motivation for seeking elected office as a religious calling. Politics, including her bid to unseat Senate Majority Leader Harry Reid, is God's purpose for her life — one he has long been preparing her for, she says. Although those remarks triggered surprise and even outrage last week, people familiar with Angle's career in public life understood.
NATIONAL
For the latest national news: www.CNN.com
Washington Post: A hidden world, growing beyond control
The top-secret world the government created in response to the terrorist attacks of Sept. 11, 2001, has become so large, so unwieldy and so secretive that no one knows how much money it costs, how many people it employs, how many programs exist within it or exactly how many agencies do the same work. These are some of the findings of a two-year investigation by The Washington Post that discovered what amounts to an alternative geography of the United States, a Top Secret America hidden from public view and lacking in thorough oversight. After nine years of unprecedented spending and growth, the result is that the system put in place to keep the United States safe is so massive that its effectiveness is impossible to determine.
CNN: Government says leak detected 'a distance from' oil well
The federal government's oil spill response director says testing has revealed that there is a "detected seep a distance from the well" and has ordered BP to quickly notify the government if other leaks are found. "When seeps are detected, you are directed to marshal resources, quickly investigate, and report findings to the government in no more than four hours," retired Adm. Thad Allen said in a letter to BP Chief Managing Director Bob Dudley. "I direct you to provide me a written procedure for opening the choke valve as quickly as possible without damaging the well should hydrocarbon seepage near the well head be confirmed."
CNNMoney: Florida: BP's next big mess
Oil just stopped gushing out of the leak on the ocean floor Thursday, but its impact in Florida has only just begun to surface. More claims have now been submitted to BP in Florida than in Louisiana. Of the claims submitted in Florida, 60% have been filed in the last month, according to Pat Wright, BP spokeswoman. As of Friday, Floridians have submitted TK claims, more than the TK claims submitted in Louisiana. "Louisiana became affected before anyone else so as the oil has moved east, the impact has moved," said Wright. Florida overtook Louisiana in the number of claims filed on July 6.
INTERNATIONAL
For the latest international news: http://edition.cnn.com
CNN: 17 killed at party attack in Mexico
Seventeen people were killed and 10 injured in an attack on a party in Torreon, Mexico, the state-run news agency Notimex reported, citing a representative of the federal attorney's general office. A group of men armed with automatic rifles stormed the party early Sunday morning at a party hall called the Quinta Italia Inn and opened fire on the guests, the official, Fernando Adrian Olivas, told Notimex.
CNN: Uganda releases photos of Kampala bombers
Ugandan police Sunday released photo reconstructions of two men they say were the suicide bombers behind last week's attacks on World Cup fans that left 76 dead. "Our intelligence so far confirms that last Sunday's bomb attacks were suicide attacks," Maj. Gen. Kale Kayihura, Uganda's national police chief, told reporters. The international police organization Interpol was distributing the photo reconstructions in an attempt to identify the attackers, Kayihura said.
CNN: Clinton witnesses Afghan-Pakistani trade deal during visit
Pakistan and Afghanistan signed a landmark trade agreement Sunday night, with U.S. Secretary of State Hillary Clinton witnessing the deal as part of American efforts to bring the two countries closer together. Washington is hailing the deal as the most significant bilateral treaty yet between the estranged neighbors, both of which are U.S. allies in the battle against al Qaeda and the Taliban. The agreement was 46 years in the making but pushed by the Obama administration over the last 15 months, senior U.S. officials said.
CNN: Ahmadinejad: U.S. behind Iran suicide bombings
Iranian President Mahmoud Ahmadinejad said Sunday that only U.S. troops in Afghanistan and Iraq could be behind such bombings as the ones that struck the southeastern Iranian city of Zahedan last week, state-run media reported. "No grouping other than U.S.-backed terrorist groups which are devoid of human feelings can commit such acts," the official Islamic Republic News Agency quoted Ahmadinejad as saying. Ahmadinejad's comments were his first public statements on Thursday's suicide bombings that killed at least 27 people and wounded dozens more.
Wall Street Journal: Small Bank in Germany Tied to Iran Nuclear Effort
As the international sanctions noose tightens around Iran's nuclear program, Tehran is increasingly relying on a small, Iranian-owned bank in Germany to conduct business on behalf of the regime's blacklisted companies, Western officials say. The European-Iranian Trade Bank AG—known as EIH Bank for its German initials—has done over a billion dollars of business for Iranian companies associated with Iran's conventional military and ballistic missile procurement programs, including companies blacklisted by the U.S., the United Nations and the European Union, according to a person familiar with the matter. Among those companies are units of Iran's Defense Industries Organization, the Aerospace Industries Organization and the Iranian Revolutionary Guard Corps, Western officials told The Wall Street Journal.
New York Times: Pakistan's Elite Pay Few Taxes, Widening Gap
Much of Pakistan's capital city looks like a rich Los Angeles suburb. Shiny sport utility vehicles purr down gated driveways. Elegant multistory homes are tended by servants. Laundry is never hung out to dry. But behind the opulence lurks a troubling fact. Very few of these households pay income tax. That is mostly because the politicians who make the rules are also the country's richest citizens, and are skilled at finding ways to exempt themselves. That would be a problem in any country. But in Pakistan, the lack of a workable tax system feeds something more menacing: a festering inequality in Pakistani society, where the wealth of its most powerful members is never redistributed or put to use for public good.
CNN: Biden: Afghan withdrawal may start with 'a couple of thousand troops'
As few as "a couple of thousand" U.S. troops may leave Afghanistan in the first phase of withdrawing forces from there beginning a year from now, Vice President Joe Biden said in an interview broadcast Sunday. "It could be as few as a couple of thousand troops; it could be more," Biden told ABC's "This Week." Asked about a book that quotes him as saying the troop withdrawal would start with "a whole lot of people" leaving Afghanistan, Biden confirmed the comment but said he was responding to an assertion that there might be no withdrawal at all at that time.
CNN: Aid from Libya arrives in Gaza
Thirty-five truckloads of humanitarian aid from Libya began arriving in Gaza on Sunday, more than a week after a Libyan-backed ship set sail from Greece transporting the supplies, according to a spokesperson for the Israel Defense Forces. The ship from the Gadhafi foundation, a charity headed by the son of Libyan leader Moammar Gadhafi, docked in Al Arish in northern Egypt on Thursday and began unloading aid. But the goods, which include food, medicine and construction materials, sat in storage awaiting transfer to the Gaza border while the medical materials - a top priority for delivery - were sorted from the other supplies.
Wall Street Journal: IMF Pulls Out of Hungary Loan Talks
Negotiators for the International Monetary Fund and European Union walked away from talks with Hungary over the weekend, saying Budapest needs to do more to shrink its budget deficit before it can get any more bailout money. The move is likely to alarm markets already suspicious of the new populist government's pledges to cut spending. After nearly two weeks of meetings with senior Hungarian officials, the IMF and EU teams on Saturday called an abrupt halt to the discussions. They said Hungary couldn't have access—for now, at least—to the remaining funds in a 20 billion euro ($25.9 billion) loan package secured in late 2008 to rescue the country from a financial meltdown.
BBC News: David Cameron to launch Tories' 'big society' plan
Prime Minister David Cameron is set to launch his "big society" drive later. In a speech in Liverpool, he is expected to promise to train more community organizers, allow charities to consult civil servants and use dormant bank accounts to fund projects. Mr. Cameron's stated aim is to transfer power from the state to individuals by allowing communities and voluntary groups to help run public services. The idea was a central theme in the Conservative general election campaign.
CNN: 30 killed, 13 trapped in separate Chinese mine incidents
Rescue crews on Sunday worked to retrieve the remains of 28 workers killed in a coal mine accident in northwest China, state media said. The accident occurred Saturday when an underground cable in the mine caught fire, the Xinhua news agency reported. Rescuers had retrieved the remains of five miners, Xinhua said. The owner of the coal mine in Shaanxi province was detained.
BUSINESS
For the latest business news: www.CNNMoney.com
CNNMoney: Warning! Avalanche of earnings ahead
The quarterly reporting period kicks into full swing this week, with 122 of the largest companies due to report, giving investors more clarity on how corporate America – and the consumer - are faring amid the economic slowdown. "So far, so good on the earnings front, but some of the revenue results have been mixed," said John Butters, senior research analyst at earnings tracker Thomson Reuters. "This week we get into the meat of the reporting period." Disappointing revenue results from Bank of America, Citigroup and General Electric on stocks at the end of last week, overshadowing better results earlier in the week from Alcoa and Intel.
Bloomberg: Asia Stocks, Currencies Drop, Bond Risk Jumps on Slow Recovery
Asian stocks fell the most in more than two weeks, regional currencies declined and bond risk climbed on concern the global economic recovery is faltering. The MSCI Asia Pacific excluding Japan Index lost 1.1 percent to 390.50 at 12:09 p.m. in Singapore, heading for its biggest decline since July 1. South Korea's won decreased the most this month, leading a drop in higher-yielding currencies, and bond risk climbed the most in six weeks. Standard & Poor's 500 Index futures gained 0.1 percent after the gauge slumped 2.9 percent on Friday.
CNNMoney: Watchdog: Auto dealers shut down too fast
Automakers GM and Chrysler were pressured to quickly close hundreds of dealerships by the Treasury department without regard for the job losses that would result, according to a government watchdog report out Sunday. Treasury was charged with helping the car companies out of bankruptcy through the Troubled Asset Relief Program. Together they've received over $80 billion in government funding.
Investors Business Daily: Jobs: iPhone 4 Issue Overblown, Offers Bumpers To Buyers
Apple (AAPL) went on the offensive Friday against reports that the new iPhone 4 has serious antenna reception problems. CEO Steve Jobs admitted that the company is "not perfect," but he described the concerns as exaggerated, saying only a tiny percentage of iPhone 4 buyers (0.55%) have reported reception problems. But in the interest of making its customers happy and end a public relations mess, Apple will provide free protective cases to all iPhone 4 owners who want them to insulate the antenna from interference.
Wall Street Journal: States to Protect Borrowers Who Turn to Cars for Cash
Several states are putting curbs on loans backed by car titles—short-term, high-interest debt that critics say too often results in consumers losing their vehicle when they can't keep up with the payments. Auto-title lending, where the owner of a car hands over its title as collateral, will become illegal in Wisconsin later this year. Virginia will impose new regulations Oct. 1, structuring the loans to keep consumers from falling into a cycle of debt. Illinois last year capped car-title loans at $4,000 and slapped numerous restrictions on the industry. At least six other states have implemented new regulations since 2007.
Business Week: Motorola Said Near $1.3 Billion Sale of Unit to Nokia Siemens
Motorola Inc. is near a deal to sell its wireless-network equipment business to Nokia Siemens Networks for more than $1.3 billion, according to one person familiar with the sale. The sale may be announced as early as today, according to the person who wouldn't agree to be identified because the deal hasn't yet been made public. The final price is expected to be between $1.3 billion and $1.4 billion, the person said. Jennifer Erickson, a spokeswoman for Motorola, declined to comment.
New York Times: After Job Training, Still Scrambling for Employment
Hundreds of thousands of Americans have enrolled in federally financed training programs in recent years, only to remain out of work. That has intensified skepticism about training as a cure for unemployment. Even before the recession created the bleakest job market in more than a quarter-century, job training was already producing disappointing results. A study conducted for the Labor Department tracking the experience of 160,000 laid-off workers in 12 states from mid-2003 to mid-2005 — a time of economic expansion — found that those who went through training wound up earning little more than those who did not, even three and four years later. "Over all, it appears possible that ultimate gains from participation are small or nonexistent," the study concluded.
Bloomberg: BP Talks With Apache Said to Stall on Selling Prudhoe Bay Stake
BP Plc's talks to sell half its stake in Alaska's Prudhoe Bay oil field to Apache Corp. stalled twice over the weekend, raising doubts about whether the deal will be completed, said a person with knowledge of the matter. Talks between BP and Apache faltered late in the evening on July 16 before resuming yesterday. They hit a snag again early today over issues ranging from the valuation of the deal to how current and future legal liabilities will be addressed, the person said.
In Case You Missed It
CNN's Candy Crowley looks at the recent negative exchanges between Nancy Pelosi and Robert Gibbs.
Democratic Senate hopeful Alvin Greene delivers his first campaign speech at an NAACP meeting in South Carolina.
Subscribe to the CNN=Politics DAILY podcast at http://www.cnn.com/politicalpodcast
And now stay posted on the latest from the campaign trail by downloading the CNN=Politics SCREENSAVER at http://www.CNN.com/situationroom