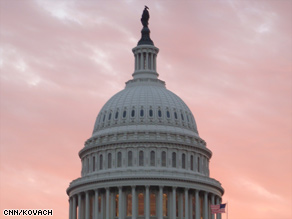 The CNN Washington Bureau's morning speed read of the top stories making news from around the country and the world.
WASHINGTON/POLITICAL
For the latest political news: www.CNNPolitics.com
CNN: West Virginia lawmakers approve special election to fill Byrd's seat
The West Virginia state legislature on Monday approved a plan to hold a special election in November to fill the seat of the late U.S. Sen. Robert Byrd. Gov. Joe Manchin, a Democrat considered a likely candidate for the Senate race, signed the measure after a compromise worked out by state lawmakers won final approval.
CNN: British PM to meet with senators about Lockerbie case
British Prime Minister David Cameron has offered to meet with four U.S. senators Tuesday to discuss the 2009 release of a Libyan man convicted of playing a role in the bombing of Pan Am Flight 103 over Lockerbie, Scotland. Cameron is in the United States on his first visit as Britain's leader. He's scheduled to meet with President Barack Obama and Senate leaders.
CNN: Interim senator from West Virginia to take oath in time for key vote
Carte Goodwin will be sworn in Tuesday afternoon as the new senator from West Virginia, temporarily filling the seat formerly held by the late Sen. Robert C. Byrd. The Democrat is expected to cast a key vote when the U.S. Senate considers extending unemployment benefits later in the day. A Republican filibuster has prevented Democrats from ending debate on the measure, but with Goodwin's vote and support from two Republicans, Democrats believe they can overcome the GOP maneuver.
Bloomberg: Bunning's Pitch on Jobless Aid Cost Lures Republicans
It turns out U.S. Senator Jim Bunning was ahead of the curve. Four months after the Kentucky Republican, a Hall of Fame former major league baseball pitcher, made colleagues squirm by blocking an extension of unemployment benefits for Americans out of work long-term, the party has adopted his cause as its own. …While Bunning was called insensitive and accused of throwing a "beanball" at the unemployed, Republicans now find that blocking jobless aid in an election year can be good politics.
CNN: Senate Democrats say House must cut education money from war spending bill
Senate Democratic leaders have concluded that the only way to pass critical war-funding before the fast-approaching August congressional recess is for the House to drop its insistence that the measure include billions of dollars for unrelated domestic programs, a top Senate Democratic leadership aide told CNN. The extra money, which includes funds to help cash-strapped states avoid teacher layoffs, has drawn fire from Republicans who complain it's a giveaway to the teachers' unions.
CNN: Spy chief confirmation hearing set for Tuesday
The Senate Intelligence Committee will hold a confirmation hearing Tuesday afternoon for Gen. James Clapper, President Barack Obama's nominee for director of national intelligence. The Office of the Director of National Intelligence oversees 16 intelligence agencies. The post was created following the September 11, 2001, terrorist attacks.
CNN: Senate Judiciary Committee to vote on Kagan nomination
The Senate Judiciary Committee is scheduled to vote on the nomination of Elena Kagan to the Supreme Court on Tuesday. A vote was originally scheduled for July 13, but was delayed at the request of Republicans. The Judiciary Committee held four days of hearings on Kagan's nomination before Congress went on its Fourth of July recess.
Washington Post: Battle looms over new job heading financial watchdog
President Obama has yet to sign the bill that will overhaul financial regulations, and already a tug of war is unfolding over whom he will tap for the highest-profile position created by the landmark legislation. At the center of this wrangling is Elizabeth Warren, an outspoken Harvard law professor who served as a key architect of the Consumer Financial Protection Bureau, the new regulator that she is a top candidate to lead.
CNN: USDA employee resigns over statements about white farmer
A black Agriculture Department employee resigned Monday after conservative media outlets aired a video of her telling an audience she had not given a white farmer "the full force of what I could do" to help him save the family farm. Agriculture Secretary Tom Vilsack said he had accepted the resignation of Shirley Sherrod, the department's state director of rural development for Georgia.
Salt Lake Tribune: Key Utah senator pushing for guest-worker cards
A powerful Republican state senator said Monday he plans to sponsor legislation creating a one-of-a-kind Utah guest-worker card for immigrants. In doing so, Sen. Howard Stephenson will challenge federal authority as sole enforcer of immigration law and present a business-backed alternative to Arizona-style reform.
New York Times: Obama Wins Unlikely Allies in Immigration
At a time when the prospects for immigration overhaul seem most dim, supporters have unleashed a secret weapon: a group of influential evangelical Christian leaders. Normally on the opposite side of political issues backed by the Obama White House, these leaders are aligning with the president to support an overhaul that would include some path to legalization for illegal immigrants already here. They are preaching from pulpits, conducting conference calls with pastors and testifying in Washington — as they did last Wednesday.
Investors Business Daily: Anti-ObamaCare Dems Struggle
Tom Gallup of Redfield, S.D., voted for Democratic Rep. Stephanie Herseth-Sandlin in 2008. But this year he is undecided. "I thought (Herseth-Sandlin) would do a better job than she has done," he said. Herseth-Sandlin, a three-term House member, is known as a more moderate Blue Dog Democrat. Like 25 of her fellow House Democrats, she voted against both the House and Senate versions of ObamaCare. …Yet it may be those votes that, in part, are hurting her with a voter like Gallup.Indeed, many House Democrats are finding that their votes against ObamaCare are not boosting their re-election chances. Some, like Herseth-Sandlin, appear to have alienated part of the Democratic base.
Washington Post: To Congressional Black Caucus, Rep. Steve Cohen remains an admired outsider
Rep. Steve Cohen (D-Tenn.) arrived on Capitol Hill three years ago ready to join the Congressional Black Caucus. His logic was simple: More than 60 percent of the people in his Memphis-based congressional district are black. So was the caucus's logic in its reply: The organization is reserved for black members of Congress, and Cohen is white.
CNN: Tea Party infighting heats up
Political bickering within the conservative Tea Party movement intensified Monday as a representative of one group, the Tea Party Express, ridiculed a decision by another, the National Tea Party Federation, to expel the Express from its ranks. The Express has been under fire since one of its organizers, conservative talk radio host Mark Williams, wrote an incendiary blog post last week in response to an NAACP resolution calling on Tea Party leaders to crack down on racist elements in the movement. The post was a fictional letter from what Williams called "Colored People" to President Abraham Lincoln.
Anchorage Daily News: Tea Party Express leader rejects race message, not messenger
Tea Party Express chairwoman Amy Kremer, in Anchorage Monday to support Joe Miller's campaign for U.S. Senate, would not condemn her group's spokesman, Mark Williams, after his controversial blog post satirizing what he called "colored people." …Kremer said the post was wrong but the Tea Party Express isn't dumping him. Kremer and other Tea Party Express leaders were in Anchorage to talk about their support for Miller's Republican primary campaign against U.S. Sen. Lisa Murkowski. The California-based group said the Miller-Murkowski race would be its "singular focus" between now and the Aug. 24 primary, and that it will do whatever it takes for him to win.
Atlanta Journal Constitution: Careers will end, careers will be made on primary day
Georgia's political landscape will make a first step toward massive changes Tuesday when many veteran state political leaders find their careers derailed in the aftermath of primary election results. When polls close Tuesday evening at 7, no more than four of 14 candidates for governor will still have an immediate political future, and that assumes a runoff is necessary in both the Democratic and Republican campaigns. The would-be governors, seven Democrats and seven Republicans, have more than 150 years of combined state and federal government experience.
Wall Street Journal: Crist Uses His Old Party as a New Foil
Florida's Republican-led legislature will gather Tuesday on the order of Gov. Charlie Crist—and then is expected to quickly refuse his call for a state-constitution ban on offshore oil drilling in Florida waters. While no real legislative action seems likely to come of the special session, the showdown has become a signal event in Mr. Crist's campaign for the U.S. Senate and in his transformation from a rising Republican star to a political free agent.
Los Angeles Times: Jerry Brown: Attorney general by day, gubernatorial candidate also by day
Standing before a bank of television cameras, photographers and reporters, Atty. Gen. Jerry Brown announced last week that he was filing a lawsuit against the nation's two largest mortgage lenders and the federal agency that oversees them. The elected leaders who flanked Brown, the Democratic gubernatorial nominee, lavished him with praise for the move, meant to allow lending to homeowners for a clean-energy program that could create tens of thousands of jobs in the state. …The press conference, which was featured on nightly news programs around the state and in newspapers across the country, also served another purpose — to keep the Democratic candidate in the spotlight at a time when his gubernatorial campaign is barely treading water compared to that of his Republican rival, Meg Whitman.
Kansas City Star: Kansas GOP Senate hopefuls' ads could help distinguish, but might backfire
The race for the Kansas GOP Senate nomination, to be decided two weeks from today, has reached its scowling, finger-pointing, "yes, you did/no, I didn't" phase. In TV commercials now playing across the state, Republican hopefuls U.S. Rep. Todd Tiahrt and U.S. Rep. Jerry Moran are bitterly accusing the other of misinformation and distortion in the race's final days. The ads feature all the familiar traits of televised political pitches: ominous music, grainy photographs, lots of small print and misleading claims. And to no one's surprise, each is blaming the other for the nasty turn in a race that will yield the overwhelming favorite to be the state's next U.S. senator.
Denver Post: GOP gubernatorial candidate McInnis back on campaign trail, and "ready to fight"
An upbeat Scott McInnis bounded back onto the campaign trail here Monday, making his first public appearance since it was reported last week that large sections of "original" works published in his name were plagiarized. … McInnis, who canceled a public event Thursday and did not appear at a GOP event with Minnesota Gov. Tim Pawlenty on Friday, spoke to the media afterward with his wife, Lori, at his side. He reiterated that he was in the race for the long haul and jump-starting his campaign in southern Colorado.
NATIONAL
For the latest national news: www.CNN.com
Washington Post: National Security Inc.
To ensure that the country's most sensitive duties are carried out only by people loyal above all to the nation's interest, federal rules say contractors may not perform what are called "inherently government functions." But they do, all the time and in every intelligence and counterterrorism agency, according to a two-year investigation by The Washington Post.
CNN: Officials: National Guard troops headed to border next month
U.S. National Guard forces will begin deploying along the U.S. border with Mexico in August and will be fully trained and deployed by the end of the month, government officials announced Monday. Some 1,200 Army and Air National Guard troops will be in place for a year to assist the border patrol in monitoring and capturing illegal immigrants crossing the border into the United States.
CNN: Gulf well tests held over another day
Tests on the ruptured BP well in the Gulf of Mexico will go on for another 24 hours as federal and company officials try to explain "anomalous" pressure readings and possible leaks, the federal government's point man on the spill said Monday.
New York Times: A City Outsources Everything. Sky Doesn't Fall.
City officials last month fired all of Maywood's employees and outsourced their jobs. While many communities are fearfully contemplating extensive cuts, Maywood says it is the first city in the nation in the current downturn to take an ax to everyone. …At first, people in this poor, long-troubled and heavily Hispanic city southeast of Los Angeles braced for anarchy. Senior citizens were afraid they would be assaulted as they walked down the street. Parents worried the parks would be shut and their children would have nowhere to safely play. Landlords said their tenants had begun suggesting that without city-run services they would no longer feel obliged to pay rent. The apocalypse never arrived. In fact, it seems this city was so bad at being a city that outsourcing — so far, at least — is being viewed as an act of municipal genius.
INTERNATIONAL
For the latest international news: http://edition.cnn.com
CNN: Clinton unveils major aid package to Pakistan
U.S. Secretary of State Hillary Clinton announced a major aid package for Pakistan on Monday – with hundreds of millions of dollars pledged on projects to address the country's water and power shortage, and its floundering economy. Clinton made the announcement at the beginning of a day-long "strategic dialogue" in Islamabad on the second day of her visit to the South Asian country.
The Guardian: White House shifts Afghanistan strategy towards talks with Taliban
The White House is revising its Afghanistan strategy to embrace the idea of negotiating with senior members of the Taliban through third parties – a policy to which it had previously been lukewarm. Negotiating with the Taliban has long been advocated by Hamid Karzai, the Afghan president, and the British and Pakistani governments, but resisted by Washington.
Bloomberg: Karzai Seeks More Funds, Control at Summit as U.S. Hints Assent
Afghan President Hamid Karzai will ask a foreign donors' summit to give him more funding and responsibility to run his country, and the U.S. is signaling it may back that move if Karzai's government can tame corruption. Karzai will ask representatives of more than 70 governments and international institutions at today's conference in Kabul to channel at least half of their financial backing for Afghanistan through his government within two years, Finance Minister Omar Zakhilwal said last week, up from the current 20 percent. He will propose "to take control of all security for the country by the end of 2014," Defense Ministry spokesman Zahir Azimy said in a telephone interview.
CNN: U.S. sends carrier to South Korea
The United States is sending the aircraft carrier USS George Washington to South Korea this week in a display of "the strength of our alliance and our constant readiness to defend the Republic of Korea," the ship's commander said Monday. The visit comes after months of heightened tensions on the Korean peninsula after the sinking of a South Korean warship in a torpedo attack in March. A multinational inquiry found North Korea responsible for the attack on the corvette Cheonan, in which 46 South Korean sailors were killed. North Korea has denied any connection with the attack and said it is the victim of an international conspiracy.
Washington Post: Departing U.N. official calls Ban's leadership 'deplorable' in 50-page memo
The outgoing chief of a U.N. office charged with combating corruption at the United Nations has issued a stinging rebuke of Secretary General Ban Ki-moon, accusing him of undermining her efforts and leading the global institution into an era of decline, according to a confidential end-of-assignment report.The memo by Inga-Britt Ahlenius, a Swedish auditor who stepped down Friday as undersecretary general of the Office of Internal Oversight Services, represents an extraordinary personal attack on Ban from a senior U.N. official. The memo also marks a challenge to Ban's studiously cultivated image as a champion of accountability.
CNNMoney: Stress week for Europe's banks
European banking regulators will announce the results of their stress tests at noon Eastern time Friday, the Committee of European Banking Supervisors said Monday. The committee is coordinating efforts to check the financial soundness of 91 banks across the Continent, along with governments and the European Union. Investors have been eager to see the results of the tests, amid the latest round of questions about the stability of Europe's banking system.
Der Spiegel: US Leapfrogs Sluggish EU on Financial Reform
The United States has passed a comprehensive law to reform banking legislation in a bid to prevent a repeat of the financial crisis. In doing so, it has set a benchmark for the world. Europe, meanwhile, is lagging behind because it is hamstrung by sluggish lawmaking procedures.
CNN: Gel cuts HIV transmission rate in study
A new topical gel has shown promise in helping to protect women from HIV infection, according to a study being presented at the International AIDS Conference in Vienna, Austria. The gel contains the antiretroviral drug tenofovir, which keeps the virus from multiplying.
BUSINESS
For the latest business news: www.CNNMoney.com
Wall Street Journal: A City Feels the Squeeze in the Age of Mega Banks
The financial-overhaul bill that will be signed into law by President Barack Obama on Wednesday won't address one of the most far-reaching consequences of the recent crisis: Market power is concentrating in the hands of the nation's largest banks. Fortified by infusions of taxpayer capital and takeovers of other large institutions killed or wounded in the crisis, a handful of hulking banks is emerging from the mess to dominate everything from mortgages to checking accounts to small-business loans.
CNNMoney: Amazon sells more Kindle books than hardcovers
In the latest sign that readers are flocking to e-books, Amazon.com said Monday that it is now selling more Kindle books than hardcovers. Over the past three months, for every 100 hardcover books Amazon.com has sold, it sold 143 Kindle books. That trend accelerated even more over the last month, when Kindle books outsold hardcovers by a 180-to-100 margin.
CNN: Google quietly kills its once-hyped Nexus One phone
With the eyes of the technology world squarely on Apple's iPhone 4, Google quietly announced it will stop selling the Nexus One, its first and possibly only foray into the smartphone world. In a two-paragraph post on its official blog, Google's Nexus One team said the next shipment of the phones will be the last.
In Case You Missed It
Controversial U.S. Senate nominee Alvin Greene gives his first major campaign speech. CNN's Jessica Yellin reports.
http://www.cnn.com/video/#/video/politics/2010/07/19/yellin.sc.alvin.greene.speech.cnn
CNN's Barbara Starr reports on an investigation into the U.S. intelligence community.
http://www.cnn.com/video/#/video/politics/2010/07/19/starr.pentagon.wash.post.cnn
Subscribe to the CNN=Politics DAILY podcast at http://www.cnn.com/politicalpodcast
And now stay posted on the latest from the campaign trail by downloading the CNN=Politics SCREENSAVER at http://www.CNN.com/situationroom