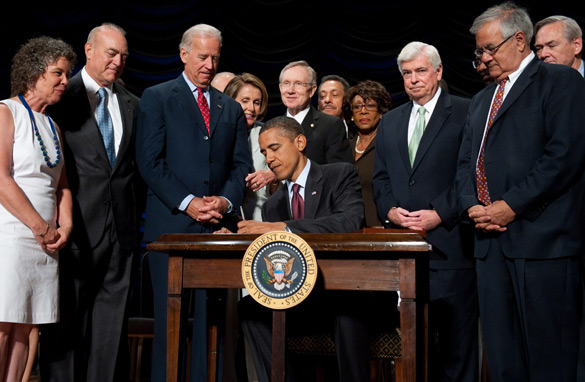 President Obama signed financial reform legislation into law on Wednesday. (PHOTO CREDIT: Getty Images)

New York (CNNMoney.com) - After more than a year of work and months of grueling debates on Capitol Hill, President Obama on Wednesday signed the Wall Street reform bill, the most sweeping overhaul of the financial system since the New Deal.
"These reforms represent the strongest consumer financial protections in history," Obama said. "And these protections will be enforced by a new consumer watchdog with just one job: looking out for people – not big banks, not lenders, not investment houses – in the financial system."
In a major signing ceremony at the Ronald Reagan Building in Washington, Obama was flanked by a number of lawmakers who worked on the legislation, including Sen. Christopher Dodd, D-Conn., and Rep. Barney Frank, D-Mass., the two committee chairmen who sponsored the bill.