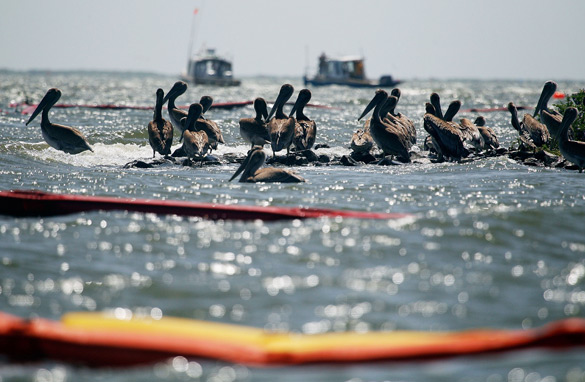 According to a new CNN poll, 33 percent of the public says the situation in the Gulf region is under control. (PHOTO CREDIT: Getty Images)

Washington (CNN) - On day 95 of the massive oil spill in the Gulf of Mexico, a new poll indicates that two-thirds of Americans think the situation is still out of control, but the number who say that things are getting worse in the Gulf Coast region has dropped 30 points since June.
According to a CNN/Opinion Research Corporation national survey, 33 percent of the public says the situation is under control, up from just seven percent in June. Sixty-five percent of those questioned say things are out of control, down from 92 percent in June.
"Optimism about the situation in the Gulf has grown most among women," says CNN Polling Director Keating Holland. "Last month, only 35 percent of women thought the situation there had stabliized; now that is up to 60 percent. The number of men who think things have stabilized also grew since June, but only by 12 points, to 55 percent."
The poll indicates that 24 percent say the situation is getting better, up 10 points from last month. Fifty-eight percent say things are stabilizing, up 20 points from June, and 18 percent say things are still getting worse, down from 48 percent last month.
The CNN/Opinion Research Corporation poll was conducted July 16-21, after the damaged deep sea oil well was capped last week, choking off the flow of oil for first time since an April 20 explosion sparked the massive spill. One-thousand and eighteen adult Americans were questioned by telephone. The survey's overall sampling error is plus or minus three percentage points.
–CNN Deputy Political Director Paul Steinhauser contributed to this report