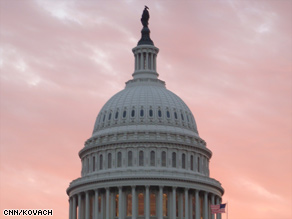 The CNN Washington Bureau's morning speed read of the top stories making news from around the country and the world.
WASHINGTON/POLITICAL
For the latest political news: www.CNNPolitics.com
CNN: Senate OKs more funding for wars, sends package back to House
The Senate passed an emergency supplemental spending bill to fund the wars in Afghanistan and Iraq, setting aside a House package that includes additional social spending. The Senate action late Thursday sends the package back to the House for its consideration. "The provisions included in the bill by the Senate are critical for protecting Americans at home and abroad," said Daniel Inouye, D-Hawaii, Senate appropriations committee chairman.
CNNMoney: Jobless benefits restored for millions
Millions of jobless Americans are getting their unemployment benefits back. Hours after the House voted Thursday to push back the deadline to file for extended unemployment benefits until the end of November, President Obama signed the measure into law. The approval came a day after the Senate voted 59 to 39 to restore the payments, ending a seven-week stalemate.
CNN Poll: Obama approval dips but not among blacks
President Barack Obama's approval rating among all Americans has dipped below 50 percent for the first time since March, but he remains extraordinarily popular among African-Americans, who also overwhelmingly approve of how the president has handled race relations, according to a new national poll. A CNN/Opinion Research Corporation survey released Thursday indicates that 47 percent of the public approves of the job Obama is doing in the White House, with half saying they disapprove of his performance in office.
New York Times: More of the Rich Run as Populist Outsiders
Call it the Great Recession paradox. Even as voters express outrage at the insider culture of big bailouts and bonuses, their search for political saviors has led them to this: a growing crowd of über-rich candidates, comfortable in boardrooms and country clubs, spending a fortune to remake themselves into populist insurgents. The number of self-financed candidates has crept up the last few election cycles, and this year seems to be on pace for another uptick. Through just the second quarter of the year, at least 42 House and Senate candidates — 7 Democrats and 35 Republicans — in 23 states had already donated $500,000 or more of their own money to their campaigns, according to the most recent data available from the Center for Responsive Politics.
CNN: Rangel faces a House ethics committee hearing
The House Ethics Committee will hold a formal hearing on alleged violations by Rep. Charles Rangel, the New York Democrat forced to step aside as chairman of the House Ways and Means Committee earlier this year over ethics questions. In a document issued Thursday, the panel appointed an eight-member adjudicatory subcommittee to determine if allegations against Rangel "have been proved by clear and convincing evidence." A formal hearing will be a trial-like session involving formal charges with lawyers for the House acting as prosecutors and Rangel's lawyers defending him.
CNN: Obama talks with USDA employee forced out of her job
Shirley Sherrod got her wish Thursday: a conversation with President Barack Obama about her forced resignation from the U.S. Department of Agriculture. The president and Sherrod spoke by telephone after Obama apparently had some trouble getting through to her. Afterward, Sherrod told CNN that the call was "very, very good." Obama offered his support and said the two had faced similar issues in their pasts, Sherrod said. However, she said they didn't discuss whether the White House had a role in her ouster by Agriculture Secretary Tom Vilsack, which came after misleading and incomplete video footage of a speech she gave was posted on the internet and picked up in media reports.
Politico: Norm Coleman eyes challenge to Michael Steele
Former Minnesota Sen. Norm Coleman is considering a run for chairmanship of the RNC, POLITICO has learned, and has begun talking to associates about taking on Michael Steele, should the embattled current chairman seek another term in January. Coleman is planning to attend the RNC's summer meeting next month in Kansas City, in part to be on hand for a tribute to longtime New Jersey Committeeman David Norcross, who is stepping down from his party post. But senior Republicans say the former senator's appearance at the committee's gathering will also allow him to meet the party members who will pick the next chairman and signal to them that he's interested in the job.
Washington Post: Tea party favorite Sharron Angle back on Senate campaign to win over Nevada
Sharron Angle was about to do something unusual: answer a question. At a recent appearance here at a women's business lunch, the elusive Republican Senate candidate and "tea party" favorite went from table to table, listening to the concerns of potential supporters and trying to convince them that they should fire her opponent, Senate Majority Leader Harry M. Reid. A local actress named Dee Drenta asked Angle what she would do to help people find work. But instead of seizing what seemed like an easy chance to explain her jobs plan, the candidate revealed that she didn't have one. After six weeks of virtual silence, Angle has emerged from the cocoon she retreated into after winning the Republican nomination. She has hired Washington consultants, raised money and gathered a staff. And for the first time, she has begun to release a public schedule of her campaign stops.
Detroit Free Press: Hoekstra leads big in individual donors
There's one area where U.S. Rep. Pete Hoekstra – running for the Republican nomination for governor – appears to be vastly outdistancing the competition: Individual donors. The Michigan Campaign Finance Network in Lansing today looked at the candidates' application for public campaign funds as a way to gauge how many eligible contributions each has received from individual donors. Under Michigan law, candidates are eligible for a 2-to-1 for the first $100 contributed by any individual (though because the state Legislature tapped into the funds, the actual amount may be more like 84 cents to the $1.) What the applications showed was that Hoekstra, of Holland, may be eligible for more than $700,000 based on 6,862 individual contributions.
The Hill: Schumer files new version of campaign-finance bill to court centrist votes
Sen. Charles Schumer (D-N.Y.) has filed a new version of a campaign-finance bill aimed at winning the support of Maine's key GOP centrist senators, Olympia Snowe and Susan Collins. The new version strips out several provisions included in the House-passed bill that conservative groups, as well as Collins, had said provides an unfair advantage to unions over corporations and other groups. Democrats are courting Snowe and Collins and could bring the bill to the floor for a vote as early as next week. The bill specifically jettisons a provision dealing with requirements that all businesses, unions and groups must disclose transfers to or from or between their affiliates of $50,000 or more, according to a Senate aide familiar with the changes.
CNN: 'High heels' comment causes stir in Senate race
Ken Buck, a Republican Senate candidate in Colorado, is causing a stir after recent comments asking voters for support "because I do not wear high heels." The off-color remark that drew roaring laughter at a recent campaign event, came in response to an ad campaign from his GOP opponent in the primary race, former Lieutenant Gov. Jane Norton. In the ads, Norton says Buck is not "man enough" to attack her in person but instead lets third-party groups do it.
Kansas City Star: Carnahan, Blunt meet with black clergy members in pursuit of Missouri U.S. Senate
Robin Carnahan and Roy Blunt have been meeting with members of the black clergy lately. Not to save their souls, but to win one of the top political contests in the country. Both see African-American voters as important to their chances of becoming Missouri's next U.S. senator. And that road goes through the pulpits of black churches in Kansas City and St. Louis. The meetings have been get-acquainted sessions and full of questions, according to several attendees.
Chicago Sun Times: Two elections likely to be held for Illinois U.S. Senate seat
Get ready to cast two votes for senator. A federal appellate court ruling Thursday makes it even more likely that a judge will order the state to hold two elections to fill Barack Obama's old senate seat on Nov. 2. Voters will not only choose a senator to fill the normal, six-year senate term, but also one to fill out the last 1 1/2 months of the current senate term.
CQ Politics: Feingold's in a Fight
The anti-Democratic mood of the electorate may finally be catching up to Sen. Russ Feingold, the three-term Wisconsin Democrat who's made a career of positioning himself as something of a political outsider. He was, for instance, the lone Democrat in the Senate to vote against the new financial regulation legislation. A string of summer polls have charted a trend in which Feingold has been unable to break free of the margin of error, keeping him tied or slightly trailing Oshkosh plastics executive Ron Johnson, the favored Republican. Earlier this year, Feingold was thought to be in safe territory when former Gov. Tommy Thompson (R) decided against a run.
CNN: Greene's military record reveals blemishes
New documents indicate that Senate candidate Alvin Greene, a political novice who shocked observers by winning the South Carolina Democratic primary, has a less than stellar military record. According to records obtained by the Associated Press, Greene was denied two promotions and made "mistakes as severe as uploading sensitive information improperly, and as basic as an overall inability to clearly express his thoughts and perform basic tasks." The records cover a short, three year period of Greene's service in the Air Force. Greene was discharged from the military last August.
CNN: Can Obama sell Democrats' legislative victories?
A legislative win is a win - but not necessarily when it comes to swaying voters facing the worst economic conditions since the Great Depression. High unemployment and fears over an ever-increasing federal debt are weighing heavily on Americans. That could drown out President Obama's message as he heads out on the campaign trail to tout Democrats' legislative wins: health care reform, financial regulatory reform and economic stimulus projects, among others.
NATIONAL
For the latest national news: www.CNN.com
CNN: Study: Deepwater Horizon workers were afraid to report safety issues
A confidential report on safety conditions aboard the Deepwater Horizon oil rig, conducted about one month before the rig's explosion, points to widespread fear of reprisal for reporting employee mistakes that could undermine safety aboard the rig. "There was a stated fear of reprisal related specifically to the reporting of dropped objects," states an executive summary of the report obtained by CNN.
CNN: BP acknowledges another altered photo, posts originals
BP said Thursday it has removed a second substantially altered photo from its Gulf of Mexico oil disaster website and has instructed its contract photographers to not make any more cut-and-paste changes to its images. The acknowledgement of the doctored photo - of a helicopter that appears to be flying over the Gulf near the spill site - came a day after BP admitted it had posted an altered photo of engineers examining screens at BP's oil spill control center in Houston, Texas. In both instances, the same contract photographer used cut-and-paste techniques in Photoshop to change some features of the images, BP spokesman Scott Dean said.
INTERNATIONAL
For the latest international news: http://edition.cnn.com
CNN: Venezuela breaks relations with Colombia
Venezuelan President Hugo Chavez said Thursday that he is breaking off relations with Colombia. His decision comes as the Organization of American States meets to discuss Colombian claims that Venezuela is protecting FARC and ELN rebels in its territory. The move is the biggest escalation in a year of simmering tensions between the two countries and their presidents. Chavez said that under President Alvaro Uribe, Colombia has isolated itself and become "aggressive and violent."
CNN: U.N., North Korea to discuss sinking of South Korean ship
North Korea has agreed to hold talks Friday with the U.S.-led U.N. Command on the peninsula over the sinking of a South Korean warship. It will be the second meeting between the two parties since the March attack on the Cheonan, which killed 46 South Korean sailors. An international investigation blamed North Korea for the sinking, an assertion the North has denied. Officers from both sides will meet in Panmunjom in the demilitarized zone between North and South Korea. The talks are designed to set the stage for higher-level discussions on the disputed naval incident.
Guardian: US and UK locked in standoff over Senate's Lockerbie investigation
Britain and the US were locked in a standoff over Lockerbie last night after a Scottish minister flatly turned down a request to appear before a Senate committee and Jack Straw expressed unease about attending. Days after David Cameron tried to ease transatlantic tensions by announcing a Whitehall review of the Lockerbie papers, Straw said it would be "highly unusual" to expect a British MP to answer in Washington for decisions made in London. There were reports, too, last night that Tony Blair had been asked to appear before the Senate foreign relations committee in Washington, but a spokesman for the former prime minister said: "We have not received anything at all."
Wall Street Journal: Watching for Ripple Effects as Sanctions Nip at Iran
A small but intriguing news nugget emerged from the world of international shipping this week, one saying something much larger about the effort to economically isolate Iran because of its nuclear program. The owner of a large tanker, which was to carry gasoline from a Turkish refinery to Iran, stopped the ship from sailing as scheduled. The uncertainties of doing business with Iran these days, and the potential penalties under international sanctions for firms that do so, apparently created too much doubt about the wisdom of completing the transaction. Just one deal in an ocean of global commerce, to be sure, but also a sign of how sanctions imposed on Iran in a United Nations Security Council resolution six weeks ago appear to have some real bite.
CNN: Kosovo's independence is legal, court finds
Kosovo's declaration of independence from Serbia in February 2008 was legal, the International Court of Justice ruled in a 10-4 vote Thursday. There were celebrations in Pristina, with fireworks being set off in the capital of Kosovo after the finding was announced, journalist Vlora Rrustemi told CNN. But Serbia's Foreign Minister Vuk Jeremic expressed disappointment, saying Belgrade had hoped for a "peaceful compromise solution" that did not create "dangerous secessionist precedents" elsewhere in the world.
BBC News: Nigerian senate votes for earlier elections
The Nigerian senate has voted to change the constitution to bring forward the date of next year's presidential and parliamentary elections. The changes mean elections originally set for April could take place in January. Nigeria's House of Representatives must still give its approval to the changes. The new date is intended to allow any legal challenges after the election to be settled before the new president takes office in May. Correspondents say the announcement puts pressure on President Goodluck Jonathan – both to declare if he will run, and to push through reforms to ensure fair elections.
CNN: Pakistani government extends tenure of Army Chief Kayani
The Pakistani government has extended by three years the tenure of the national army chief, Gen. Ashfaq Pervez Kayani, who has overseen anti-terrorism efforts against the Taliban. Pakistani Prime Minister Yousuf Raza Gilani made the announcement late Thursday in a brief televised address to the nation. Gilani said Kayani's new tenure will begin in November, the same month he had been scheduled to retire.
Washington Post: In China, an oil spill and a low-tech cleanup
Hundreds of firefighters and civilian volunteers used bare hands, chopsticks and plastic garbage bags Thursday to wage a low-tech battle against a giant oil slick spreading off China's northeastern coast. The slick, near the oil port of Dalian, in Liaoning province, was caused when two pipelines exploded last Friday as crude was being unloaded from a Libyan tanker. Government officials said the accident released about 1,500 tons - or 400,000 gallons - of oil into the Yellow Sea, where the slick now covers up to 170 square miles, according to news reports, making it China's largest recorded spill.
Wall Street Journal: Hungary's Leader Brushes Off IMF
Hungary's prime minister Thursday defied foreign critics of his fiscal policies, saying Budapest no longer needs help from the International Monetary Fund and won't seek to extend an emergency financing agreement it signed in 2008. "We want to regain Hungary's lost economic sovereignty," said Prime Minister Viktor Orbán in a speech to parliament. Unless that happens, he said, "the country cannot rise, there can be no economic growth." Mr. Orbán, a populist politician who pledged to take a firmer stance in negotiations with the IMF after he was elected in April, has grown increasingly tough in his public comments this week, after bailout-loan talks with the IMF and the European Union broke down over the weekend.
BUSINESS
For the latest business news: www.CNNMoney.com
CNNMoney: Dow's 200-point rebound
Stocks rallied Thursday after better-than-expected earnings and forecasts from 3M, Caterpillar, AT&T and UPS helped reassure investors about the pace of the economic recovery. The Dow Jones industrial average rose 202 points, or 2%. The S&P 500 index jumped 24 points, or 2.3%. The Nasdaq composite gained 58 points, or 2.7%. Stocks slumped Wednesday after Federal Reserve Chairman Ben Bernanke told Congress the outlook for the economy was "unusually uncertain," adding to worries about the pace of the recovery.
Bloomberg: Asian Stocks Rise, Bond Risk Falls on Profit, Economy Outlook
Asian stocks rose the most in more than a week and a measure of bond risk fell to the lowest in a month after companies boosted profit forecasts and growth accelerated in European manufacturing and services. The MSCI Asia Pacific Index gained 1.4 percent to 117.20 at 12:50 p.m. in Tokyo. The yen strengthened against the euro and oil traded above $79 a barrel, near an 11-week high. Futures on the Standard & Poor's 500 Index were little changed after the index soared 2.3 percent yesterday.
New York Times: Top Banks Paid $1.6 Billion in Excessive Bonuses, U.S. Finds
With the financial system on the verge of collapse in late 2008, a group of troubled banks doled out more than $2 billion in bonuses and other payments to their highest earners. Now, the federal authority on banker pay says that nearly 80 percent of that sum was unmerited. In a report to be released on Friday, Kenneth R. Feinberg, the Obama administration's special master for executive compensation, is expected to name 17 financial companies that made questionable payouts totaling $1.58 billion immediately after accepting billions of dollars of taxpayer aid, according to two government officials with knowledge of his findings who requested anonymity because of the sensitivity of the report.
Washington Post: Retailers hold Black Friday-style summer sales for Christmas shoppers
Looks as though Santa's summer vacation is getting cut short. Retailers are trying to drum up some Christmas magic five months early with Black Friday-style sales that they hope will put shoppers in the spending spirit. At Target, the clock begins ticking on its 24-hour sale Friday. Toys R Us had daily mystery discounts this week and bonus promotions Friday and Saturday. And Sears and Kmart, owned by the same company, have brought back Christmas-club savings plans. Some of the sale merchandise is traditional holiday fare - video games, toys, Blu-ray players - but other products would seem odd under the tree. Target has 25 percent off tank tops and bathing suits. Maybe the North Pole is having a heat wave?
Fortune: Finding Europe's banking skeletons
European officials are scheduled to issue report cards Friday afternoon following stress tests of 91 major banks. The tests will rate how big banks would fare in another economic downturn. Bank supervisors and officials at the European Union want to publish the results to ease fears that another banking meltdown is on the way. A similar test carried out last year helped U.S. megabanks raise tens of billions of dollars of capital. The goal is to end speculation that a bank collapse will add to the economic problems in Europe, which is already struggling with slow growth and massive debt.
Wall Street Journal: Wal-Mart Radio Tags to Track Clothing
Wal-Mart Stores Inc. plans to roll out sophisticated electronic ID tags to track individual pairs of jeans and underwear, the first step in a system that advocates say better controls inventory but some critics say raises privacy concerns. Starting next month, the retailer will place removable "smart tags" on individual garments that can be read by a hand-held scanner. Wal-Mart workers will be able to quickly learn, for instance, which size of Wrangler jeans is missing, with the aim of ensuring shelves are optimally stocked and inventory tightly watched. If successful, the radio-frequency ID tags will be rolled out on other products at Wal-Mart's more than 3,750 U.S. stores.
CNNMoney: A first: Lincoln hybrid costs the same as a gas-only car
When the Lincoln MKZ Hybrid sedan goes on sale in the fall, the price will probably be surprising to a lot of people. The sticker price will be $35,180 - exactly the same as the non-hybrid version of the car. Hybrid cars generally cost considerably more than non-hybrid versions of the same car. In many cases the extra cost of the car can cancel out what the owner saves on gas. Hybrids cost carmakers more to produce because they require additional batteries, electric motors and other technologies that regular gasoline-only cars don't have.
Wall Street Journal: Home Sales Dip as Unsold Inventory Persists
Sales of existing homes declined in June while the inventory of unsold homes rose, a combination that doesn't bode well for prices in the months ahead. In its monthly report on home-sale transactions on Thursday, the National Association of Realtors said sales were running at a seasonally adjusted annual pace of 5.37 million last month, down 5.1% from May but up 9.8% from one year ago. Home sales surged in the spring as buyers rushed to take advantage of tax credits worth as much as $8,000. To qualify, buyers had to sign purchase contracts by April 30.
In Case You Missed It
Shirley Sherrod tells CNN's John King she has received hate mail in the aftermath of the recent race debate.
The federal government takes Arizona to court over the state's immigration law. CNN's Casey Wian reports.
Subscribe to the CNN=Politics DAILY podcast at http://www.cnn.com/politicalpodcast
And now stay posted on the latest from the campaign trail by downloading the CNN=Politics SCREENSAVER at http://www.CNN.com/situationroom