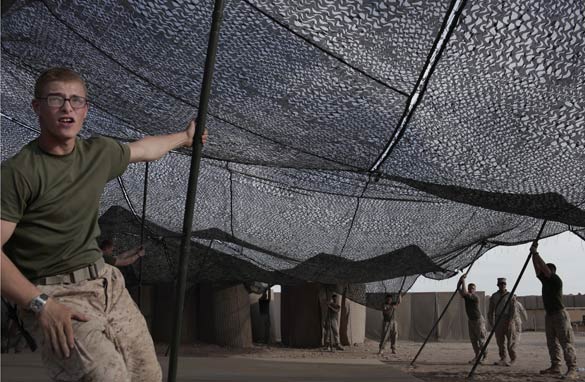 U.S. Marines set up a camouflage shade at their combat outpost in northern Marjah in mid-April. (Photo Credit: Getty Images/File)
(CNN) - It would be inaccurate to call the U.S.-led offensive in Afghanistan's Marjah district a failure, and yet it's too early to call it a success, the U.S. special representative for Afghanistan and Pakistan told CNN Sunday.
"What's happening in Marjah is that the U.S. military and NATO went into one of the most difficult areas of the country, one of the bellies of the insurgency, displaced the Taliban and settled in," Richard Holbrooke told CNN's "Fareed Zakaria GPS."
"The people are pleased with this," he said. "This was an area called 'Little America' in the Kennedy and Johnson era. They remember the Americans. We came in with agricultural support and seed. And we broke up big drug bazaars. So a tremendous amount of gain occurred immediately.
"I met with the tribal leaders and the Shura and they said, 'Thank you for coming.' But they also said three important things - we risked our lives to come here today; we must have agricultural assistance; and we must have security.'"
The United States can't provide that security indefinitely, he said, and will have to train the Afghan police and army to replace them. Such a "clear, hold and build" strategy is "at the heart of counterinsurgency," Holbrooke said. "It's not accurate to say Marjah's a failure and it's premature to say Marjah's a success."