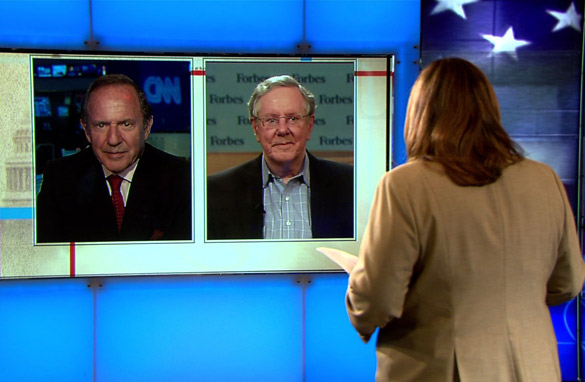 Mort Zuckerman, left, and Steve Forbes, right, spoke out in an interview that aired Sunday about the president's relationship with the business community. (Photo Credit: CNN)
Washington (CNN) – Just days after President Obama signed landmark legislation increasing oversight of Wall Street, he is again being slammed for being anti-business.
Asked about recent perceptions among business leaders that Obama is not in their corner, Steve Forbes, chairman and CEO of Forbes, Inc., agreed with that assessment.

Related video: Forbes, Zuckerman on the economy, Obama, the business community

"Well, the president clearly is [anti-business]," Forbes, a former Republican presidential hopeful, said in an interview that aired Sunday on CNN's State of the Union. "I mean you can take excesses [of some on Wall Street] and tar the whole business community, which is like taking election fraud and saying that's why we shouldn't have free elections. He caricatures them, and you saw it in that letter that his top aides sent to the Business Roundtable saying our doors are open even to the business community."
Forbes told CNN Chief Political Correspondent Candy Crowley that the Obama administration would do well to heed some of the business community's concerns.

"The business community employs 110 million people; companies and the people who work with them pay most of the taxes in this country. That's where the innovation comes from," he said.
"So whenever business talks about the need for a stable currency, about the need for a better tax code, they always say, oh, well they're always whining, that's what they always want as if there's some dog that keeps barking or baby crying on an airplane instead of dealing with the substance of the thing. And that is: when you have a tax environment where you don't punish success, where you don't trample on the rule of laws – as they did with Chrysler and other situations - where you can trust the currency, where you're not going to have massive, thousands of new rules come and hit you, and you have no idea what they're going to be, they don't take that stuff seriously. They just think they're a bunch of greedy crybabies, and the business community is reacting to that."
Mort Zuckerman, a prominent supporter of Obama's campaign and the editor-in-chief of U.S. News & World Report, told Crowley that he believes Obama's rhetoric when it comes to the business community runs counter to the kind of confidence the economy needs right now to turn itself around.
"I'm not saying that Washington hasn't tried to do some good things," Zuckerman told Crowley. "They've also done some things that I think are really, really very, very counter to trying to get this economy growing.
"One of them is not only regulation, but expensive regulation. The other is - and they've done something here that affects everybody's confidence in the attitudes of this administration to the business community and to the economy - they've demonized the business world; they've blamed everything on the business world. Frankly, I don't think that's accurate, but more than that, it's counterproductive to what this administration wants, which is a much more optimistic and confident business community."
As passage of the Wall Street reform bill seemed imminent, the White House began battling the perception that it is anti-business. The top Republican in the House recently called for a moratorium on new federal regulations as a way to provide more certainty to businesses and the Chamber of Commerce, one of the key national voices on behalf of business interests, slammed the White House for not doing enough to create jobs. In a letter posted on its website, the chamber said the Obama administration "vilified industries while embarking on an ill-advised course of government expansion, major tax increases, massive deficits and job-destroying regulations."
Updated: 6:28 p.m.