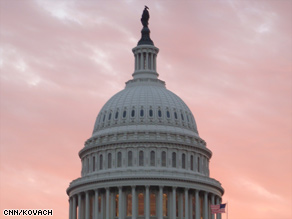 The CNN Washington Bureau's morning speed read of the top stories making news from around the country and the world.
WASHINGTON/POLITICAL
For the latest political news: www.CNNPolitics.com
CNN: Obama blasts GOP opposition to campaign finance bill
President Barack Obama on Monday criticized Republican opposition to a Senate campaign finance bill, calling it partisan gamesmanship that threatens to give special interests undue influence on U.S. elections. The Senate is expected to hold a procedural vote Tuesday on whether to end debate on the bill, and Democrats fear a unified Republican filibuster will prevent the measure from moving to a final vote.
CNN Poll: One in four angry over illegal immigration
Only a quarter of Americans are angry about the number of illegal immigrants in the country, according to a new national poll. But the CNN/Opinion Research Corporation survey indicates that nearly three-fourths of the public are dissatisfied on the same issue. Twenty-three percent of people questioned in the poll say they are angry, with 51 percent adding they are dissatisfied, one in five saying they are satisfied on the issue and six percent saying pleased."
Politico: Amid oil spill, governors make gains
President Barack Obama may be taking a hit for his handling of the BP oil spill, but the disaster has been a political boon for those closer to the action. Louisiana Gov. Bobby Jindal, whose rise in the GOP faltered after a lackluster response to Obama's 2009 State of the Union speech, has seen his approval ratings jump nearly 13 percentage points to 74 percent. Mississippi Gov. Haley Barbour, a potential 2012 GOP presidential candidate who was reelected in 2007 with 60 percent of the vote, now has a job approval rating of 70 percent. And Florida Gov. Charlie Crist, whose independent bid for the U.S. Senate was sputtering before the spill, has seized on the crisis to remake his image and reset the race. While they're not exactly celebrating their political fortunes in the face of the unfolding tragedy, it's hard to miss what it's done to advance their careers.
CNN: House Democrats uneasy about upcoming Rangel allegations
House Democratic leaders preached patience Monday in awaiting an ethics committee report on veteran Rep. Charles Rangel of New York, but rumblings emerged from House members for Rangel to somehow deal with the issue before a public hearing later this week. Both House Speaker Nancy Pelosi, D-California, and Majority Leader Steny Hoyer, D-Maryland, told reporters Monday that they have not spoken to Rangel about the ethics issues.
CNN: Breitbart to headline RNC fundraiser
Conservative activist and blogger Andrew Breitbart will headline a fundraiser this August hosted by Republican National Committee Chairman Michael Steele in Beverly Hills. A Republican National Committee spokesperson confirmed to CNN a report in Talking Points Memo, which also published a copy of the event invitation.
Washington Post: Among House Democrats in Rust Belt, a sense of abandonment over energy bill
When Democratic Rep. John Boccieri went home to Ohio early this year to talk with voters in his Canton-based district, he figured he would have to do battle with at least some constituents over his support for health-care reform. And the economic stimulus. And the auto company bailouts. But at a meeting with business leaders, he had to come up with fast answers on something completely different: Why, the businessmen wanted to know, had Boccieri voted for a bill last summer to cap carbon emissions, which they feared would drive up their energy bills in the middle of a recession?
CNN: Poll: Obama not helping Carnahan in Missouri?
A new poll in Missouri provides more evidence that President Barack Obama and his administration's agenda are hurting more than helping Democratic candidates running in moderate to conservative states in this year's midterm elections. The president's approval rating stands at 34 percent in Missouri, according to a new Mason-Dixon survey conducted for the St. Louis Post-Dispatch and KMOV-TV, with 57 percent saying they disapprove of the job Obama's doing in the White House.
CNN: Tancredo running for gov, gets in shouting match with GOP chair
Conservative firebrand Tom Tancredo will run for governor of Colorado despite strident objections from the state GOP, the former congressman is set to announce later Monday. The Republicans – Scott McInnis and Dan Maes – both scoffed at Tancredo's threat, prompting the onetime Republican presidential candidate to step up his announcement. "I will officially announce at noon that I will seek the nomination of the constitution party," Tancredo told The Denver Post. The move gave rise to a heated exchange between Tancredo and Colorado GOP chairman Dick Wadhams on local radio station KHOW Monday, with the two men descending into a shouting match over what is best for the Colorado Republican party.
Lexington Herald Leader: Conway blasts Paul, Jeb Bush on 20th anniversary of disabilities act
Democratic U.S. Senate nominee Jack Conway blasted Republican opponent Rand Paul Monday for questioning aspects of a 20-year-old federal act that makes it illegal to discriminate against the disabled. Conway said it was ironic that former Florida Gov. Jeb Bush, whose father, President George H.W. Bush, championed and signed the Americans With Disabilities Act in 1990, was holding a $1,000-a-person private fund-raiser Monday night for Paul's campaign in Louisville. Conway accused Jeb Bush of "tarnishing the family legacy."
CNN: Tough Florida Senate fight gets even rougher
A new ad is raising the stakes in an already increasingly negative battle for the Democratic Senate nomination in Florida. Rep. Kendrick Meek's campaign announced Monday they're releasing a new television commercial that slams billionaire real estate investor Jeff Greene, who jumped into the race earlier this year. "Meet the real Jeff Greene: Ran for Congress as a California Republican. Moved to Florida two years ago. Became a billionaire on Wall Street betting middle class families would lose their homes. Helped fuel the economic meltdown. Warren Buffett called Greene's scheme 'financial weapons of mass destruction'," says the narrator in the ad. Greene, 55, made millions investing in real estate and multiplied that money by investing in credit-default swaps during the real estate bubble of recent years. He rebuffs Meek's charges that he made his fortune on the backs of the Sunshine State's suffering homeowners.
Dallas Morning News: Bill White questions Texas Gov. Rick Perry's ethics in lake lot deal
Democratic gubernatorial nominee Bill White on Monday questioned whether Gov. Rick Perry acted ethically when he bought and sold a Hill Country lake lot while enhancing his investment by almost $500,000. White told a conference of Texas sheriffs that one of them would be under criminal investigation if similar questions had been raised about their land sales at other than market values.
CNN: Senators demand answers in release of Lockerbie bomber
Two U.S. senators ratcheted up the pressure on BP and British government officials Monday to provide answers to the questions now swirling around the release of Abdelbaset Ali Mohmed al Megrahi, the Libyan man convicted in the 1988 bombing of Pam Am Flight 103, which killed 270 people. Obama administration officials, meanwhile, took what was described as an "exceptional step" to make clear that they had strongly opposed al Megrahi's release.
Las Vegas Sun: Tea Party's threat comes from within
When thousands of angry conservatives launched themselves off their couches and into the Tea Party movement last year, some Republicans viewed them as an untapped well of motivated voters who could help them oust Democratic incumbents at all levels of government. The results at the ballot box were mixed. Many Tea Party candidates across the country won Republican primaries. Nevada, however, has been a different story, with the Tea Party movement remaining an amorphous collection of activists. They often clash with their national counterparts and have yet to become an electoral powerhouse. Although GOP U.S. Senate nominee Sharron Angle successfully cultivated Tea Party voters and earned a national Tea Party endorsement, Nevada Tea Party activists backed one of her opponents, to no avail. Now, as Republicans try to capitalize on what is widely expected to be a difficult election for Democrats, the Tea Party could become more of a hindrance than a help.
The Hill: Poll shows majority of seniors are bewildered by new healthcare reform law
The majority of the nation's seniors have little understanding of what the Democrats' newly enacted healthcare law actually does, according to poll results released Monday. The survey, sponsored by the National Council on Aging (NCOA), an advocate for seniors, found that only 17 percent of respondents could answer even half of the 12 questions about key provisions in the law selected by the NCOA. Only 14 percent of respondents, for instance, knew that the new reforms don't include cuts to doctors treating Medicare patients; just 24 percent were aware that the changes will extend the solvency of the Medicare program; and only 14 percent were aware that the reforms are projected to cut deficit spending. Not one of the 636 respondents answered all 12 questions correctly, NCOA reported.
NATIONAL
For the latest national news: www.CNN.com
CNN: Leaked reports describe Afghan war, sometimes in mundane detail
Journalists and other observers around the world spent Monday poring over a vast cache of documents a whistleblower website says are U.S. reports that exhaustively chronicle the twists, turns and horror of the 9-year-old war in Afghanistan. The whistleblower website WikiLeaks.org published more than 75,000 of the reports on Sunday. The documents date from between 2004 and January 2010, and are divided into more than 100 categories. Tens of thousands of pages of reports document attacks on U.S. troops and their responses, relations between Americans in the field and their Afghan allies, intramural squabbles among Afghan civilians and security forces, and concerns about neighboring Pakistan's ties to the Taliban.
Washington Post: Pentagon can't account for how it spent $2.6 billion in Iraqi funds, audit finds
Because of poor record-keeping and lax oversight, the Department of Defense cannot account for how it spent $2.6 billion that belonged to the Iraqi government, according to the inspector general for Iraq reconstruction. An audit of a $9.1 billion fund of Iraqi oil proceeds showed that most American military agencies entrusted with spending the money on reconstruction projects failed to adhere to U.S. rules on how such money must be tracked and spent, the inspector general found. U.S. officials failed to create bank accounts for $8.7 billion in the Development Fund for Iraq, as mandated by the Department of Treasury, creating "breakdowns in controls [that] left the funds vulnerable to inappropriate uses and undetected loss," according to the report, which is scheduled to be released Tuesday.
Arizona Republic: Brewer seeks dismissal of feds' challenge to law
Attorneys for Gov. Jan Brewer asked a judge Monday to throw out the U.S. Justice Department's challenge to the Arizona new immigration law. The governor's lawyers say the federal government hasn't shown that it has suffered actual harm from the law and instead bases its claim on mere speculation.
INTERNATIONAL
For the latest international news: http://edition.cnn.com
CNN: Afghan president says NATO responsible for 52 civilian deaths
Afghanistan President Hamid Karzai on Monday condemned a NATO strike in Helmand province that he said caused 52 civilian deaths. NATO says there is no evidence of casualties beyond insurgents. A statement from Karzai's office said Friday's attack killed people in Sangin district's Rigi village. Karzai called on NATO forces to make avoiding civilian casualties a top priority.
New York Times: In Cuba, Revolution Day Without Castro at Podium
Raúl Castro is known among Cubans as a pragmatist, not an orator. But the Cuban president surprised even those accustomed to his reticence on Monday, when he chose not to address an expectant crowd gathered to celebrate Revolution Day in this university town. Instead, he delegated the task to the 79-year old vice president, José Ramón Machado Ventura, who appealed for discipline and patience as Cuba tackles economic reforms and condemned the United States for its economic isolation of the island as Mr. Castro applauded from his seat.
CNN: Ping: AU peacekeepers in Somalia need help
The lack of a global response to the Somali crisis has created fertile ground for threats to regional peace in Eastern Africa and the rest of the continent, the president of the African Union Commission said. African leaders believe Somalia has been largely forgotten by the U.N. Security Council, which is primarily responsible for peacekeeping, Jean Ping said Monday.
BBC News: Kyrgyzstan seeks $1bn in international aid pledges
Kyrgyzstan is asking for $1bn in aid at an international conference in Bishkek. Reconstruction of the southern Kyrgyz city of Osh, damaged in violence in June, will be high on the agenda. But questions are being asked about the government's commitment to human rights and to the reconstruction of Osh. In a leaked letter obtained by the BBC the UN calls on Kyrgyzstan's president not to press ahead with redevelopment of the city at the expense of the Uzbek minority.
CNN: Merkel orders 'intensive' investigation into festival stampede
German Chancellor Angela Merkel has called for a thorough investigation into the stampede at a music festival that resulted in the deaths of 20 people over the weekend. In a television interview Merkel said: "Now an intensive investigation is needed to find out what really happened." And in a statement released by the German government Monday, Merkel added that she was "horrified and saddened" by the tragedy at the Love Parade in Duisburg that also left up to 400 people injured, according to local police.
New York Times: Iraqi Militants Stealing Blood for the Injured
Members of Al Qaeda in Mesopotamia have been holding up blood banks and hospitals at gunpoint, stealing blood for their wounded fighters rather than risk having them arrested at medical facilities, according to Iraqi doctors, employees at health centers and the Sunni insurgents themselves. Iraqi health officials say the raids have been occurring for some time in provinces with large Sunni Arab populations and appear to signal an insurgency desperate to safeguard its core group of fighters. But the insurgents have a diminished ability to intimidate hospital staffs into caring for them directly and dwindling support among fellow Sunni Arabs, including doctors, the officials said.
CNN: Stealth fighters, sub warfare focus of Korea exercises
Anti-submarine exercises and flights from U.S. Air Force F-22 Raptors were the focus Monday of the second day of the "Invincible Spirit" exercises by U.S. and South Korean forces, according to news reports from the Korean peninsula. Four F-22s, the United States' most advanced stealth fighter, flew missions over South Korea for the first time, said the commander of the U.S. 7th Air Force, Lt. Gen. Jeffrey Remington, according to a report from South Korea's Yonhap news agency. "As with all of our combined air assets in theater, the F-22s stand ready to respond in the defense of the Republic of Korea," Remington said at Osan Air Base, according to Yonhap.
Wall Street Journal: Russian Probe of Prison Death Stalls
More than seven months after the jailhouse death of lawyer Sergei Magnitsky prompted Russian President Dmitry Medvedev to order a full investigation, official probes into the case appear stalled, according to members of a Kremlin group monitoring the case. "According to our information, the president's orders to conduct a full investigation of all the agencies involved haven't been fully implemented," said Kirill Kabanov, an anticorruption activist who is part of the working group set up by the Kremlin's human-rights advisory panel to follow the case. The group sent a report to President Medvedev on the issue early this month, but there has been no public reaction.
CNN: Iran sends letter to nuclear watchdog about restarting talks
Iran submitted a letter to the International Atomic Energy Agency on Monday, proposing to restart limited talks on an exchange of nuclear fuel. Foreign Minister Manouchehr Mottaki told reporters about Iran's planned letter to the U.N. nuclear watchdog Sunday after a lunchtime meeting with diplomats from Brazil and Turkey to discuss Tehran's nuclear program. "And then we can immediately start negotiation for the details of the exchanging of the fuel," he said.
Washington Post: Mexican drug cartels bring violence with them in move to Central America
Drug cartel violence in Mexico is quickly spilling south into Central America and is threatening to destabilize fragile countries already rife with crime and corruption, according to the United Nations, U.S. officials and regional law enforcement agents. The Northern Triangle of Central America - Guatemala, El Salvador and Honduras - has long been a major smuggling corridor for contraband heading to the United States. But as Mexican President Felipe Calderón fights a U.S.-backed war against his nation's drug lords, trafficking networks are burrowing deeper into a region with the highest murder rates in the world.
BUSINESS
For the latest business news: www.CNNMoney.com
CNNMoney: BP ousts CEO Hayward and taps an American
Tony Hayward will step down as chief executive of BP, the company announced Tuesday, amid ongoing outrage over the oil spill in the Gulf of Mexico. BP said Hayward will be replaced by Robert Dudley effective October 1. Dudley is another long-time BP employee with more than 30 years in the oil business. A chemical engineer by training, Dudley was put in charge of the day-to-day leadership of the Gulf Coast clean-up operation in June.
CNNMoney: Who is Bob Dudley?
So just who is Bob Dudley, the man named Tuesday to replace Tony Hayward as BP's chief? A chemical engineer by training, Dudley got his start in the oil business working for Amoco, where he spent nearly two decades before the company merged with BP in 1998. Since then, he's worked with various BP (BP) divisions, including a brief stint helping to oversee the company's solar, wind and hydrogen businesses. Most recently, he headed up TNK BP, a joint venture that would become Russia's third-largest oil and gas company. He was named to BP's board in 2009.
Wall Street Journal: IMF Sees Yuan as Undervalued
Despite China's decision to adopt a "flexible" exchange rate, the International Monetary Fund's long-delayed review of the Chinese economy found that the yuan is "substantially undervalued," according to IMF officials. The IMF determination is bound to put pressure on Beijing to let the currency appreciate more than the 0.7% it has risen since China loosened the yuan's peg to the dollar on June 19. The IMF determination was backed by the U.S., Germany, France, the United Kingdom, among others, say two individuals familiar with the deliberations, as the IMF's executive board debated the China report on Monday, though none of the countries pushed China to boost its currency quickly.
CNNMoney: Jailbreaking iPhone apps is now legal
IPhone users can now legally hack their phones to download applications that aren't in Apple's App Store. The U.S. Copyright Office, a division of the Library of Congress, has authorized several new exemptions to the Digital Millennium Copyright Act (DMCA), one of which will allow mobile phone users to "jailbreak" - or hack into - their devices to use apps not authorized by the phone's manufacturer. The new rules will be published on Tuesday in the Federal Register.
Investors Business Daily: New-Home Demand Soared 24% In June From Record Lows
New-home sales surged nearly 24% in June from a record low, the Commerce Department said Monday, offering hope that housing has found some sort of floor. Sales jumped 23.6% to an annual rate of 330,000, beating analyst views for 310,000. Sales were still 16.7% below year-earlier levels. Also, May sales were revised down sharply from 300,000 to 267,000. That's the lowest since records began in 1963 and a 36.7% tumble from April, when the homebuyer tax credit expired.
CNNMoney: BP's disastrous, but profitable, quarter
BP is set to report its second-quarter financial results on Tuesday, and by anyone's measure it's been a bruising period for the company. The company's shares have lost nearly half their value since its Gulf well blew up April 20. BP has committed $20 billion to pay compensation to individuals and businesses hurt by the disaster. Bankruptcy, takeover, and jail time have all been discussed. Eleven people lost their lives. And speculation is swirling about the fate of CEO Tony Hayward.
Wall Street Journal: Oracle's Ellison: Pay King
Larry Ellison, founder and chief executive of software maker Oracle Corp., topped the list of best-paid executives of public companies during the past decade, receiving $1.84 billion in compensation, according to a Wall Street Journal analysis of CEO pay. Coming in No. 2 on the compensation list was Barry Diller, who received roughly $1.14 billion from IAC/InterActive and Expedia.com, the online travel site IAC spun off in 2005, where he remains chairman. Following Mr. Diller were Occidental Petroleum Corp. CEO Ray Irani at $857 million, Apple Inc.'s Steve Jobs with $749 million and, in fifth place, Capital One Financial Corp. CEO Richard Fairbank at $569 million.
CNNMoney: IBM subject of European antitrust probe
The European Union has launched an antitrust investigation into whether IBM has abused its dominant position in the mainframe computer market. The formal probe, announced Monday, stems from the EU's own findings in a preliminary investigation as well as complaints by software vendors T3 and TurboHercules. Both companies make software that allows users to run applications on non-IBM hardware. IBM immediately accused Microsoft of pushing TurboHercules and T3 to lodge complaints with the EU. Microsoft invested in both of those companies just two months before they filed their complaint against IBM.
New York Times: Retailers Pay More to Get Cargo (No Guarantee)
Retailers and suppliers like Mattel, Polo Ralph Lauren, Jones Apparel Group, Costco, the VF Corporation, Big Lots and Lifetime Brands have reported being hit with higher prices and capacity shortages. The fight for space means many retailers are expecting higher sales, which is a glimmer of good news. And air carriers are picking up some last-minute shipments from desperate retailers; FedEx reported on Monday that it expected increased earnings for its first quarter, ending next month.
CNNMoney: Madoff investors may have to cough up profits
The man in charge of recovering funds for investors duped by Ponzi mastermind Bernard Madoff has a new target: Investors who profited from Madoff's crimes. In an interview with the Wall Street Journal published Monday, court-appointed trustee Irving Picard said he was preparing to file lawsuits against half of 2,000 individuals who made money through their investments with Madoff. The move would represent a new tack in Picard's efforts to compensate Madoff's victims. Thus far, most of his energies have been focused on recovering money from those who were closest to Madoff, including his family members, and from funds that invested with him as well.
In Case You Missed It
Former DNC Chairman Howard Dean called FOX News' coverage of the Shirley Sherrod story 'absolutely racist'.
Two House members debate the war in Afghanistan following a website's posting of classified documents regarding the war on John King USA.
Subscribe to the CNN=Politics DAILY podcast at http://www.cnn.com/politicalpodcast
And now stay posted on the latest from the campaign trail by downloading the CNN=Politics SCREENSAVER at http://www.CNN.com/situationroom