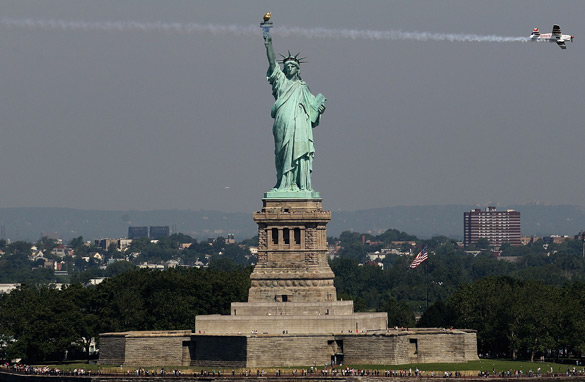 A new CNN poll reveals how Americans feel about immigrants. (PHOTO CREDIT: Getty Images)

Washington (CNN) - A new poll indicates Americans have complicated views towards immigrants.
According to a CNN/Opinion Research Corporation national survey, the vast majority believe that most immigrants are basically good, honest people who are hard-working. However, nearly seven in ten say that immigrants are a burden on the taxpayer, 62 percent think they add to the crime problem, and 59 percent believe they take jobs away from Americans.
The poll, released Wednesday, asks about all people who have immigrated from other countries in the past ten years, and not just about illegal immigrants in the U.S.
"The results may explain why most Americans think that the policies that made the U.S. a 'melting pot' strengthened the country a century ago but do not make the country stronger today," says CNN Polling Director Keating Holland.
Taking the "melting pot" metaphor a bit further, do Americans think that immigrants should maintain their own culture, or blend into the existing culture in this country?
"Two-thirds of whites say that immigrants should give up some important aspects of their culture to blend in; only about four in ten Hispanics, and an equal number of blacks, agree with that view," adds Holland.
And what about the "American Dream" that attracts so many immigrants to this country?
According to the survey, 45 percent of whites say that have achieved the American Dream, compared to 38 percent of Hispanics and only 23 percent of blacks. Roughly one in five of each racial group says they will never achieve the American Dream.
The CNN/Opinion Research Corporation poll was conducted July 16-21, with 1,018 adult Americans questioned by telephone, including a special sample of 308 black and 303 Hispanic respondents. The survey's overall sampling error is plus or minus three percentage points.

–CNN Deputy Political Director Paul Steinhauser contributed to this report